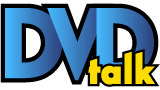 List Price: $29.98 [Buy now and save at Amazon]
---
If you're wondering what it takes for a movie to feature two top-shelf Hollywood stars and a well-respected Oscar-nominated director and still wind up going straight to video, any random ten minutes of "The Contract" should answer all your questions.



The film stars John Cusack and Morgan Freeman and features Bruce Beresford ("Driving Miss Daisy," "Tender Mercies") behind the camera, yet even then, Millennium Films couldn't be bothered with granting it a theatrical distribution in the States. (The company did give the movie a slight release throughout portions of Europe before exiling it to DVD here, a business model in which Millennium has much expertise.) This makes "The Contract" one of the most expensive, star-heavy direct-to-video releases yet.



But it's no surprise to see the thing skip the multiplexes. It's a woefully formulaic thriller and a predictable one-note affair. Its stars barely seem interested in the thing, while Beresford only provides enough tension to keep the story mildly awake. For all involved, it's a forgettable one-off, an easy paycheck, a slight time-filler.



Freeman plays Frank Cordell, the sort of slick, sophisticated professional assassins that only exist in the movies. You know the type: former government agent gone bad. Elegant manners and sophisticated wardrobe. Never caught, despite the umpteen dollars he spends and umpteen people he publicly kills during his assignments. Do screenwriters think we think these people actually exist, and if we do, do we really think they prefer to call themselves "exterminators"?



Anyway. Before he can start his latest job, Frank winds up in a car wreck that puts in him the hospital - and in the custody of the local cops. Despite Frank's being the most dangerous man in the nation, the cops figure there's no need for tight security while transferring him to the feds, which explains how Frank's henchmen are able to stage a break-out on the highway. Ah, but the break-out goes bad, as Frank's car crashes into the river, where he is rescued by Ray Keene (Cusack) and his teenage son Chris (Jamie Anderson).



You see, Ray's wife died recently, and Chris has been acting out, getting in trouble, that sort of thing. So Ray takes Chris for a weekend camping trip, which is promptly interrupted by the arrival of a handcuffed hitman.



What follows is generic cat-and-mouse nonsense in which: Frank's crew keeps trying to kill Ray and Chris; Frank keeps trying to smooth talk his way to freedom; the feds (an underused Alice Krige among them) try to lend a hand; Ray and Chris try to avoid the feds/henchmen crossfire; Ray finds a romantic interest (in the form of a hiker they meet along the way); Chris gains a new appreciation for his dad; Frank becomes just enough of a not-bad-guy (thanks to multiple dopey tonal changes throughout), which does little other than keep the movie barely afloat for an extra twenty minutes or so. There's also something about a possible presidential assassination, but that thread's so undercooked that it barely even registers.



The whole thing is competent enough to survive, but only barely. It's well-made and well-acted, from the big names, at least (much of the supporting cast is fairly forgettable), but only to the point where Freeman and Cusack, knowing they're working with a crap script, are content to deliver only the bare minimum. Beresford does little with the few set pieces tossed his way, like a bridge-crossing sequence that loses its potential for suspense fairly quickly.



Perhaps the screenplay, by Stephen Katz and John Darrouzet, was so by-the-numbers that nobody, not even these talents souls, could rescue it. After all, "The Contract" is little more than a clumsy pile-up of hackneyed themes, one-dimensional characters, and mediocre tension. It's nothing you haven't already seen before a hundred times, and there's no need to make it one hundred and one.



The DVD



Video & Audio



At least the thing looks and sounds great. The anamorphic widescreen (2.35:1) transfer is very polished, showcasing some keen cinematography, while the soundtrack sizzles in your choice of Dolby 5.1, DTS 5.1, or Dolby stereo. Optional English and Spanish subtitles are offered.



Extras



At twenty minutes, "Inside The Contract" is longer than your usual EPK-style making-of fluff piece, but the extra time doesn't really equal better information. It's mostly on-set interviews about how great everything is. Cusack looks even more apathetic here than he does in the movie itself, which explains quite a bit.



A gallery of production stills and a series of previews for other First Look releases round out the set.



Final Thoughts



"The Contract" is a slightly serviceable but entirely unremarkable thriller. Rent It, but only if you're interested in seeing two fine actors plod through such lousy material.
Sponsored Links
Sponsored Links