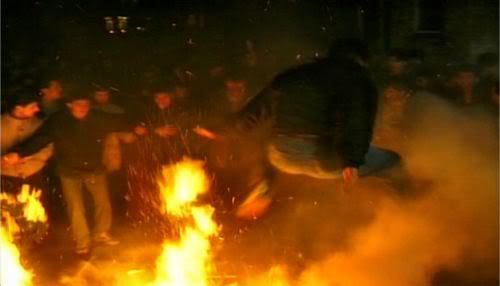 At age 14 in Kirkuk, Iraq, Karzan Sherabayani was arrested by the Mukhabarat, Saddam Hussein's secret police. Held captive and tortured until his wealthy older brother paid a hefty bribe, Sherabayani was exiled from his home country after being blacklisted by Hussein. His only crime, of course, was that he was of Kurdish descent. Eventually, the young man became a British citizen with a wife and three children, yet the pain of not being able to return to his homeland still gnawed at him. During his exile, several of his friends and even his parents passed away---so while his new life was just getting started in England, Sherabayani's life back home grew smaller with each passing year.
After the fall of Hussein in 2003, a window for re-entry into Iraq became painfully apparent. Return to Kirkuk: A Year in the Fire documents Sherabayani's trip back into his homeland, paired with cameraman Claudio von Planta---though it's worth noting that Sherabayani was prepared to go alone, as scheduling conflicts almost prevented Planta from making the trip. Aside from the emotional pain involved, the physical danger was much higher than Sherabayani's peaceful, domestic life in Britain. Still, it was a trip he had to take---and with Iraq's first democratic Election Day fast approaching, it seemed to be the perfect time.
A Year in the Fire takes its name for two reasons: Sherabayani's re-entry into such a conflicted area, and the literal fires that still pepper Kirkuk's vast oil fields. Situated in northern Iraq just above the Kurdish regional border, Kirkuk is home to a massive oil reserve---roughly 10 billion barrels' worth, or half of Iraq's oil export---yet the area remains poor and dilapidated. Of course, such facts and figures are generally confined to the background during A Year in the Fire; more than anything else, it's a simple tale of a man returning home to a city he loves. Sherabayani's struggle to forgive the man who indirectly sent him to prison is even documented here, as it turns out to be the same man who will craft his parents' tombstones. His interactions with friends and family members are heartfelt and genuine, though portions may seem a bit self-indulgent to outsiders.
Recorded during 2004-2005, A Year in the Fire hits most of the right notes during its 90-minute runtime. The camerawork is generally quite good and paints a rich portrait of the struggling region, while a solid amount of local history rounds out the story nicely. Sherabayani's home life is glimpsed early on, but the bulk of the footage is recorded in Kirkuk and the surrounding areas. The director's voice-over narration also ensures that the events are clear and detailed, even though the film's structure is almost too linear for its own good. Those who enjoy foreign documentaries could certainly do a lot worse---and while Eagle Media's DVD package isn't exactly well-rounded, it's solid enough for a weekend viewing. Let's take a closer look, shall we?
Quality Control Department
Video & Audio Quality
Presented in its original 1.78:1 aspect ratio and enhanced for widescreen displays, Return to Kirkuk looks very good for a modestly-budgeted, two-man documentary. The film's subdued color palette appears clean and natural, though a few artifacts and hints of softness keep this from scoring higher. Older clips look only as good as their source materials will allow, though it's obvious some of it has been cropped to fit the 1.78:1 frame.
The 2.0 Stereo mix certainly isn't immersive, but it gets the job done with clean dialogue and music cues. Unfortunately, no optional subtitles or Closed Captions are offered during the main feature, though burnt-in subtitles appear for translation purposes.
Menu Design, Presentation & Packaging

Seen above, the plain-wrap menu designs are basic and easy to navigate. The 89-minute main feature has been divided into a scant 6 chapters, while no obvious layer change was detected during playback. This one-disc release is housed in a standard black keepcase and includes no inserts of any kind.

Bonus Features

Unfortunately, no bonus features have been included here. Although an audio commentary may have been a bit excessive, a retrospective interview with Sherabayani or a few deleted scenes would've been good enough.

Final Thoughts

It's almost frustratingly linear in structure, but Karzan Sherabayani's Return to Kirkuk still maintains a sense of urgency and passion that almost seems effortless. Though some of the details and footage are a bit self-indulgent, the personal perspective ultimately creates a sense of intimacy that keeps things grounded nicely. Unfortunately, the DVD package from Eagle Media doesn't provide a great deal of support; though the technical presentation is decent enough, a complete lack of extras severely weakens this otherwise solid release. It's not quite recommended as a blind buy, but most documentary fans will want to give Return to Kirkuk a weekend spin. Rent It.
---
Randy Miller III is an affable office monkey based in Harrisburg, PA. He also does freelance graphic design projects and works in a local gallery. When he's not doing that, he enjoys slacking off, second-guessing himself and writing things in third person.
---