Hard Boiled: 2-Disc Ultimate Edition
List Price: $24.95 [Buy now and save at Amazon]
---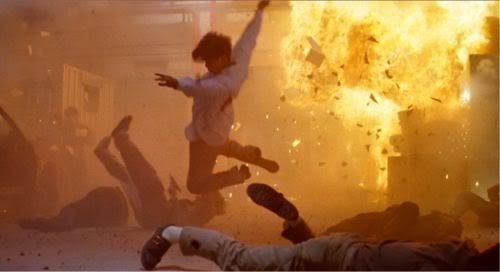 Fans of John Woo's Hong Kong output should regard films like A Better Tomorrow I & II, The Killer, Bullet in the Head and Hard Boiled as his most exciting and memorable to date. Firmly stamping his own style on these crime-riddled, blood-soaked sagas, Woo's films achieved popular success while making a box-office star out of leading man Chow Yun-Fat. Hard Boiled (Lat sau san taam, 1992) marks Woo's last film collaboration with Yun-Fat, not to mention his last hurrah before answering Hollywood's call. Though mainstream efforts like Face/Off (1997) and Hostage (2002) offer a solid amount of thrills and entertainment, they're not quite as dynamic as his films from the late 1980s and early 90s.
Hard Boiled introduces us to "Tequila" Yuen (Yun-Fat), a brash Hong Kong inspector whose partner is gunned down by a henchman of Johnny Wong (Anthony Wong) in a violent tea house shootout. Desperate to even the score with Wong, Tequila somewhat reluctantly teams up with Tony (Tony Leung), an undercover cop posing as a skilled upstart in Wong's gun-smuggling mob, the Hong Kong Triads. Working together and separately, Tequila and Tony's partnership is often rocky but effective---and as they climb higher in the ranks to get a shot at Wong, more roadblocks appear in their path. It proves to be a tricky balance indeed.
More than the dialogue, story structure and plot twists, Hard Boiled is anchored firmly in place by amazingly over-the-top action sequences that rival any of Woo's past efforts. Countless bullets are fired as Tequila and Tony fight through hundreds of henchmen. Action sequences can be immediately recalled just by naming their location (such as "the tea house", "the warehouse" or "the hospital". The latter proves to be quite the climax indeed: after Tony is admitted for a shotgun wound, the last half of Hard Boiled spirals into a dizzying orgy of action filled with gunfire and explosions. After a final stand-off (and third act, for that matter) almost eerily similar to that of The Killer, Woo's final Hong Kong epic literally brings down the house with style and energy to spare. As if it weren't painfully obvious by now, action fans will get more than their money's worth.
Originally conceived as a story where the antagonist poisoned babies, Hard Boiled was thankfully reshaped into a more conventional crowd-pleaser. Though elements of the story certainly aren't new by any stretch, the kinetic action sequences and strong performances by Yun-Fat, Leung and the supporting cast keep Hard Boiled rolling from start to finish. Philip Kwok (who plays the one-eyed thug "Mad Dog") is perhaps the film's secret weapon, turning in a vicious performance and doubling as Hard Boiled's action coordinator. Whether it's dynamic hand-to-hand combat or the near-endless amount of gunfights, the action is tense, tight and terrific throughout.
Originally released on DVD in Region 1 by Criterion and Fox Lorber, Hard Boiled never really got a fair shake unless fans resorted to importing. Criterion's special features weren't bad in their own right (and both earlier versions featured excellent commentaries), but the non-anamorphic presentation looks painfully outdated by today's standards. Dragon Dynasty's two-disc Ultimate Edition hasn't necessarily righted all the wrongs, but those limited to Region 1 will find this package much more satisfying. Combining an improved technical presentation with a host of new interviews and other extras, fans of Hard Boiled should enjoy most of what's on board.
Video & Audio Quality
Presented in its original 1.85:1 aspect ratio and enhanced for widescreen displays, Hard Boiled looks quite good from start to finish. Colors are generally bold and accurate, though a portion of the source material shows a mild amount of wear. Edge enhancement, pixellation and other digital eyesores are practically non-existent, rounding out the visual presentation nicely. The only mild complaint is that the image appears to be stretched a bit vertically---but unless you're doing a direct comparison, it's fairly tough to notice. This certainly won't hamper the viewing experience for most fans of the film, though videophiles may sit up and take notice.
The audio is virtually problem free, as we're given a variety of options to choose from (including Cantonese DTS, Dolby Digital 5.1 Surround and Mono, as well as an English 5.1 dub). It's good to see the mono track retained for posterity, though the DTS and 5.1 remixes are fairly well done. Surround activity is strong during the film's bombastic action sequences, though music cues and other background effects are also tweaked a bit. I'm generally not a fan of English dubs, but it's nice to see one as an alternate.
Optional English subtitles and captions, as well as French subtitles, have been included during the main feature...but that's where one other nitpick arises. These are "dubtitles", meaning that the English dub has been copied word for word in lieu of a proper translation---and though it doesn't affect any major plot points, this is a technical shortcut that shouldn't have been taken. It may not be a deal-breaker for most fans, but let's hope Dragon Dynasty doesn't use this approach on future releases.
Menu Design, Presentation & Packaging

Seen above, the animated menu designs are basic and easy to navigate. The 128-minute main feature has been divided into 16 chapters, while no obvious layer change was detected during playback. This one-disc release is housed in a standard black keepcase and includes no inserts of any kind.

Bonus Features

A few of the bases are left uncovered, but this two-disc Ultimate Edition serves up a platter of interesting extras nonetheless. Disc 1 is home to a feature-length Audio Commentary with Hong Kong cinema expert Bey Logan, who provides a light and engaging track. Die-hard fans of Hard Boiled won't find a deep technical analysis, but Logan is obviously a great admirer and does a fine job here. Owners of the Criterion and Fox Lorber discs may want to hang to their copies, as the respective commentaries have not been included here. Don't worry, though: actual members of the cast and crew will show up soon enough.

Disc 2 kicks off with "Baptism of Fire: A Featurette with Iconic Director John Woo" (38:20, below left), an extended interview that covers everything from Woo's Hollywood influences to the production of Hard Boiled and several more of his Hong Kong films. If there's one complaint here, it's that Woo's English isn't exactly the clearest and there are no optional subtitles or captions; this makes the 38-minute chat a bit taxing, but it's still a valuable inclusion.

Up next is an Interview Gallery; featured in separate chats are producer Terence Chang (24:57), co-star Philip Chan (15:56) and leading villain Kwok Choi (25:04). All three take different approaches: Chang explains quite a bit about the production and early stages of the film, Chan shares a few stories of his years as an undercover police officer in Hong Kong and Choi talks about his contributions to the action sequences. All three are well-spoken and easy to follow; Choi's interview is the only conducted in Cantonese, though subtitles are provided for translation purposes.
Also here is a fluffy but entertaining Hong Kong Location Guide with Kea Wong (8:48, above right), who provides a brief tour of where the action took place. Some of the sights include the former façade of Maple Group Hospital (now a Coke bottling plant), the boat harbor, the library and the former site of the tea house. For clarity's sake, brief film clips have been peppered throughout.
Closing things out is a Trailer Gallery featuring Hard Boiled's original trailer (3:22) and a Dragon Dynasty promo piece (2:12). Also included is a brief Making-Of Featurette for the upcoming John Woo game "Stranglehold" (3:02), feature creative input by Woo and voice acting by Chow Yun-Fat.
All bonus features are presented in anamorphic widescreen when applicable, though no optional subtitles have been included (save for the Choi interview, of course). This is a solid collection of extras and easily the most well-rounded DVD release available, though the lack of input by Yun-Fat and Tony Leung proves to be slightly disappointing. Even if the film's visual and subtitle nitpicks get under your skin, many fans should find this two-disc Ultimate Edition worth it for the bonus features alone.

Action-packed and supremely entertaining, Hard Boiled remains one of Hong Kong's finest film exports. Woo's direction has arguably never been tighter, while the performances of Chow Yun-Fat, Tony Leung and the supporting cast are solid across the board. From start to finish, there's almost never a dull moment---and at 128 minutes in length, that's an achievement in itself. The two-disc DVD by Dragon Dynasty has stiff competition in a multitude of regions, but holds its own quite well: even though the image appears to be slightly stretched and the dubtitles are a mild disappointment, this "Ultimate Edition" is salvaged by solid bonus features. Owners of international releases may want to proceed with caution, but the $20 price tag makes this one almost impossible to pass up. Recommended.
---
Randy Miller III is an affable office monkey based in Harrisburg, PA. He also does freelance graphic design projects and works in a local gallery. When he's not doing that, he enjoys slacking off, second-guessing himself and writing things in third person.
---

---
C O N T E N T

---
V I D E O

---
A U D I O

---
E X T R A S

---
R E P L A Y

---
A D V I C E
Recommended
---
E - M A I L
this review to a friend
Sponsored Links
Sponsored Links