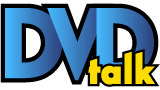 List Price: $34.99 [Buy now and save at Amazon]
---
The Movie:

Who by now has not heard the tale of King Leonidas and the brave 300 who kept the uncountable numbers of Xerxes' Persian Army at bay, at the cost of their own lives? And if this glorious feat of ancient history was destined to be relayed only as an aside in history classes around the world, it spurred enough interest in author Frank Miller (best known for The Dark Knight Returns and Sin City) to pen a graphic novel retelling the story, albeit with a twist. And now Miller's version has been immortalized as a feature film by director Zack Snyder (the Dawn of the Dead remake, the director of the upcoming Watchmen adaptation). And while the ads for it certainly looked exciting, no one expected the runaway success the film had in early 2007, making over $70 million in its opening weekend, and over $200 million overall.



King Leonidas of Sparta (Gerard Butler), born and bred for war, is met by a messenger of the Persian King Xerxes (Rodrigo Santoro), hellbent on conquering the known world. The messenger requests that Sparta give an offering of earth and water, as a symbol of their submission to Xerxes' rule. Despite the misgivings of some on the Spartan High Council, Leonidas rejects the offer and prepares to go to war. But before he does, he must get the blessing of the Spartan oracle. Unfortunately, the priests of the oracle have been paid off by Xerxes, and they declare that Sparta is not to go to war under any circumstances. Bound by ancient laws he dare not break, Leonidas makes a desperate gamble and takes 300 of his best warriors to fight, as a personal bodyguard. These men face legions of Persian soldiers, so numerous that their marches shake the very ground. But these Persians face not just men, they face Spartans. And they, they shall learn is no small thing indeed, as wave after wave of Persian attack break against the Spartans like water against rock.



There was a King Leonidas of Sparta. He did lead his army to fight the Persians. At his last stand, he had 300 Spartans and 700 Thespians at his command. The days that Leonidas held off the Persians allowed the Athenian Navy to collect themselves and eventually defeat Xerxes. This is known as The Battle of Thermopylae. Beyond these details, there is very little connecting the actual historical events to 300, whether we're discussing Miller's graphic novel or Snyder's cinematic adaptation. Miller was not interested in a line for line retelling. He used the battle, and the story of the 300 as a symbol. A symbol of freedom, a symbol of glory, pride, and bravery. That he throws in mythical beasts, grotesque creatures, and massive exaggerations matters not. They're included to make the telling more grand, to make the Spartans victory that more astonishing. Furthermore, the Battle of Thermopylae took place in Ancient Greece, in a time where people believed in magic and gods and eastern mysticism. It makes sense that Miller, and by extension Snyder, include some of the more outlandish creatures spoken of in those days.



But even these are mere window dressing. The main tale is a story of comrades at arms, men who live for war and for each other. Gerard Butler plays Leonidas as firm but fair, harsh but not cruel. It's easy to understand why his men fight and die for him, as he would undoubtedly die for any one of them, and says as much. His men are brave and fearless, welcoming death with a devil may care grin, making the Persian feel fear through their sheer ferocity and efficiency.



Some have called 300 Bush-era propaganda. Others call it sadistic, with extreme portrayals of death in many forms. But at its heart, it's a story of people. People coming together to fight a common enemy, people with a purpose. It's not about a presumptuous king sending his armies to fight faceless men who hide in caves. This is a story about people who, when annihilation is brought to their doorstep, did the brave thing, against all odds, and won a greater victory than any single military mission could ever have brought them. By fighting for their lands and their bretheren, they found glory.



The Blu-ray Disc:



The Image:

300 was shot in a very distinctive way. Director Zack Snyder took panels from Frank Miller's graphic novel and tried to match the filmed scenes to the composition of the panels as closely as possible. Furthermore, Snyder shot the entire film (with the exception of one scene) against bluescreen, adding digital backdrops in every scene. The end result is highly stylized, and is further affected by extreme desaturation and other image manipulations. The end result was striking in the theaters, and I'm glad to say that Warner Bros. 2.40:1, VC-1 encoded 1080p transfer perfectly replicates the unique look Snyder brought to the production. This should be, in my opinion, the ultimate goal of any home video release, whether it be HD or not. So, that being said, 300 doesn't have the immediate "pop" that King Kong or Pirates of the Caribbean does. But it does perfectly recall the theatrical experience, which is exactly what it should do. There's no artifacting or other video issues. There's good detail when the image is meant to be detailed. Some people want every HD release to have an immediate "wow" factor, but I'm glad WB is sticking to its guns and maintaining the look the filmmakers spent so much time achieving.



The Audio:

One word: Wow. 300 was designed to induce massive sensory overload, and the sound design more than achieves it. WB has thankfully released both the Blu-ray and HD DVD versions with Dolby True HD lossless soundtracks. The Blu-ray version additionally features an uncompressed PCM track. I barely noticed any differences between the PCM or Dolby True HD tracks (which isn't surprising, considering that they're two different routes of getting to the same place), because both of them will bring down the house. The aural fidelity, detail, and surround use are just astonishing. The film is a non-stop barrage of image and sound, and these lossless tracks perfectly bring the experience home to you. This is some of the best sound I've heard on any HD disc, rivaled only by the very cream of the crop. Also included is a standard Dolby Digital 5.1 mix that understandably pales in comparison to the lossless tracks.



Supplements:

Warner Bros. has included all of the special features included on the 2-disc DVD edition, and most of them are in 1080p high definition. Unfortunately, Warner has been bizarrely unable to figure out how to work the interactive features on the Blu-ray format (which Lionsgate and Disney have both been able to do without problem), and thus several interactive features made specifically for the HD formats are only available on the HD DVD version. While this is certainly irksome, there are still a lot of excellent features available here.




Commentary with Director Zack Snyder, Cinematographer Larry Fong, and Writer Kurt Johnstad: Snyder, Fong, and Johnstad team up for this commentary. Considering how high octane the picture is, the commentary is very sedate by comparison. Most of the discussion revolves around the technical aspects of the production.





The 300 - Fact or Fiction: This intriguing feature has many of the film's participants (including Frank Miller), along with several Greek historians, discussing how accurate the film is (or isn't) to the actual events. There's some excellent footage here, both of the participants and actual Greek artifacts.





Who Were The Spartans - The Warriors of 300: A short featurette which has the actors discussing the historical figures they are portraying on screen.





Preparing For Battle - The Original Test Footage: A look at some of the demo footage Snyder shot in order to help the WB execs understand (and finance) his vision for 300. This is some really cool stuff, and a must-see.





Frank Miller Tapes: Frank Miller used to be against any filmed adaptation of his comic work. That all changed when Robert Rodriguez invited him to be a full collaborator on his adaptation of Sin City. Now Miller is much more involved with the cinematic versions of his graphic novels, and this extra details the history of 300 and his involvement with it.





Making of 300: Promo fluff, made to be aired between shows on channels like HBO.





Making 300 in Images: Essentially a shorter version of the Making Of.





Webisodes: An hour's worth of material, in five minute segments, that were originally made for the 300 website. They're all included here, and together make a nice overview of the production. These are the only features not in high definition.





Deleted Scenes: A short collection of scenes with Snyder introducing each one. None feel particularly essential, although, like everything else to do with this movie, they are cool.

The Conclusion:

300 is a chest-beating tale of bravery and valor set in Ancient Greece. Zack Snyder took special care to bring Frank Miller's beloved graphic novel to the screen, and his enthusiasm for the material is infectious. The image is just as the director intended it, and the sound is so good that it alone makes this disc worth purchasing. And while this Blu-ray disc has all of the supplements from the DVD edition, most of them in HD, they are missing several major interactive features found only on the HD DVD version. It's only their exclusion that prevents this disc from getting the coveted DVD Talk Collector's Series rating. Still, for anyone who only owns a Blu-ray player, the purchase of 300 is a no-brainer. Highly Recommended.
Daniel Hirshleifer is the High Definition Editor for DVD Talk.
---
C O N T E N T

---
V I D E O

---
A U D I O

---
E X T R A S

---
R E P L A Y

---
A D V I C E
Highly Recommended
---
E - M A I L
this review to a friend
Sponsored Links
Sponsored Links