Dynasty - The Second Season
List Price: $38.99 [Buy now and save at Amazon]
---
Ah, Dynasty: the bastard child of night-time super-soap Dallas. Fans of the series who bought Season One on disc, and who very well may have thought that CBS/Paramount had forgot about them (Season One was released over two years ago), will be pleased to see that Season Two of the slap-happy bitch-fest that featured big hair, big shoulder pads and big-time over-acting, is now available in all its campy glory. With the wise decision on the producers' part to ratchet up the gloss and the backstabbing this season, while adding all-time favorite villainess Alexis Carrington (Joan Collins), and super-tramp Sammy Jo (Heather Locklear), sleepy Dynasty suddenly became a ratings contender, with audiences clamoring for more.
In 1980 and 1981, as ABC enviously watched the meteoric rise in the ratings of CBS' powerhouse Dallas, naturally they looked to exploit their own night-time sudser; after all, ABC had been a leader in the field, bringing out the iconic smash Peyton Place back in the 1960s. Pushing through a project entitled Oil, developed by TV vets Esther and Richard Shapiro, the network had the newly titled Dynasty ready for the viewers as a mid-season replacement in January, 1981. Not unlike aspects of Dallas (with the later spin-off of Knots Landing), Dynasty explored the intersection of a super-wealthy family (the Carringtons), who controlled a vast, powerful oil company, and a middle-class family (the Blaisdels) who worked in the lower tiers of the oil industry, and whose family struggles mirrored those found at the Carrington mansion.
Unfortunately for ABC, audiences stayed away. Too obviously an inferior Dallas knock-off, with viewers particularly indifferent to the boring domestic tribulations of the middle-class Blaisdel family, an immediate re-tooling of the expensive series was undertaken by producer Aaron Spelling. Something was needed to make Dynasty stand out. Where Dallas had nasty, mean-spirited financial subplots focusing on the oil industry (and a relative realism to its dramatics), Dynasty was going straight for the women viewers, emphasizing glamour, glitz, romance, and dirty, nasty sex. A mysterious, beautifully dressed stranger was seen walking into the courtroom during the season's finale (Blake was on trial for murdering his gay son Steven's lover), with the network subsequently orchestrating quite a lot of hype over the summer, priming viewers for the mystery revelation at the start of Season Two. As well, the entire Blaisdel angle of the series was dropped, save for keeping mentally unbalanced Claudia Blaisdel (Pamela Belwood) in the cast. Dreary middle-class worries be damned; Dynasty was going to wallow whole-hog in the lives of the super-rich and super-powerful.
Expectant audiences tuning into Season Two were rewarded with the introduction of one of the all-time best TV villains, Collins' Alexis, Blake's ex-wife. Dynasty was no longer a semi-serious attempt to do a standard family drama set against big oil, but an amped-up, glitz-heavy soap seething with sex and sin. The re-tooling worked spectacularly - as did a judicious day and time change. Escaping its deadly 9:00pm Monday night slot, where it was getting slaughtered by M*A*S*H and the NBC Monday Night Movie, Dynasty moved over to weak night Wednesday at 10:00pm (so as not to scare the kiddies who may have stayed up for ABC newcomers Greatest American Hero and The Fall Guy). Limp competition from failing series vet Quincy, M.E. over on NBC, and non-starter Shannon on CBS, no doubt helped Dynasty's chances enormously. Audiences responded overwhelmingly to the changes; Dynasty went from almost being canceled, to finishing out this second season 19th for the year in the Nielsen's, climbing higher each subsequent year until it hit the coveted number one position in the 1984-1985 season.
I hadn't seen the series since it first ran, so I wasn't sure what to expect when I started wading through the 22 episodes of Dynasty: The Second Season. Having reviewed the past three season releases of Dallas, I was a little spoiled by that series' superior scripting, direction and performances, and I wasn't sure how well Dynasty was going to hold up in comparison to the mighty Dallas. Well, I have to admit that I had a marvelous time watching Dynasty: The Second Season. In comparison to Dallas' "realism," Dynasty's presentational style may be cheap, but it's engaging as hell, with the plots never pausing for a moment to ponder subtleties of character motivation. Don't let the expensive gowns, beautiful cars, and the lavish sets of Dynasty fool you: this is cheap, crude melodrama at its most basic - and most enjoyable.
The dramatic framework of Dynasty is as old as the hills, with tit-for-tat revenge in both business and personal lives creating the most base thrills for the audience (it's hard to imagine today, considering the almost X-rated material that's available on basic cable shows, that Dynasty caused quite a bit of controversy when it came out). Of course, audiences always "rediscover" such devices when they're repackaged to fit the times, and Dynasty did this quite adroitly, enhanced by ABC's slick house style in the production design and lensing. The series' main story arc ostensibly revolves around oil baron Blake Carrington's (every woman with a daddy complex's dream, John Forsythe) efforts to keep his family united. In reality, most episodes of Dynasty devolve into Blake, knee-deep in financial trouble (which is usually background filler), trying to stay out of the way of the squabbling wildcats in his life, best illustrated by the epic battle between former wife - and obvious spawn of Satan - Alexis (played to utter perfection by delicious Joan Collins) and current wife Krystle (played as well as can be expected, considering the sometimes sappy character, by Linda Evans). As much as business matters in Dallas, where complicated oil deals and financial setbacks involving wills and probate courts are routinely strung along multiple season story arcs (and the viewer is expected to remember them), business doesn't matter in the slightest in Dynasty. Only games of sexual one-upmanship and constant, bitter emotional betrayals are deemed necessary here.
And while later seasons of Dynasty increasingly spun out of control because the series became too self-aware of its own camp aspects (the "Moldavian wedding massacre" would be a prime example), we're seeing just the beginnings of those leanings here in this second season. Collins' character, designed as a direct knock-off of Dallas's J.R. Ewing, is a monstrous "Joan Crawford on steroids" creation that started Dynasty down its self-reflexive road. And she's a character that never fails to entertain, precisely because Collins plays her right to the back stalls. Shoulders always held back at a haughty angle, with an imperious upward tilt to her nose (unless she's coldly peering down at her next victim), Collins is hysterical in her late-career making role. There's no time in Dynasty's plots for subtlety, and Collins compensates by sweeping into her scenes to start immediately chewing the scenery. Delivering dialogue that would mortify Jacqueline Susann ("I'm glad to see your father had your teeth fixed...if not your tongue."), Collins proves a more than adept comedian. And let's not forget our other prime-time vixen added to this year's cast: little sex shooter Heather Locklear as white trash angel turned spoiled Carrington, Sammy Jo. Her scantily clad appearances definitely helped skew Dynasty towards the more desirable younger demographics, and it's not hard to see why, considering the almost spooky fixation the series has on showcasing her rear end, episode after episode (why, you may ask? Because it's perfection, that's why).
With these two hellions butting heads - and rutting in-between the sheets at every opportunity - it's not surprising that the more serious aspects of the series seem rather tame by comparison, including Krystle's gradual disengagement from Blake, Steven (Al Corely) finally coming out of the closet for good, Fallon's (Pamela Sue Martin) near-abortion, Claudia's further mental derailment, and mysterious Dr. Toscanni's (James Farentino) murderous revenge plot against Blake and his family. Certainly, Collins scores the season's highlights, including a hysterical catfight with Krystle (where the stunt doubles are so obviously not Evans and Collins that it must have been intentionally shot that way), that became an audience favorite and a much-anticipated staple in later seasons. However, the season's final episode, where Collins makes love to Lloyd Bochner's Cecil Colby, has to be one of the greatest moments in camp TV history. As we see dissolve after dissolve of Collins and Bochner in what looks like bizarre G-rated porno shots of them making love, Bochner, no doubt not used to the almost supernatural quality and duration of Alexis' lovemaking skills, suffers what appears to be a fatal heart attack. As he screams and grasps his chest, Alexis responds by viciously slapping his face, over and over again to the point of hilarity, as she berates him for spoiling her plans to get back at Blake. While he's dying. Too ridiculous to be sick, it's one of the funniest scenes I've seen this year, and deserves big kudos for being so blatantly audacious and crude. No wonder people couldn't wait for Season Three of Dynasty to start in the fall.
Here are the 22, one-hour episodes of the six-disc box set Dynasty: The Second Season, as described on its insert. PLEASE NOTE: As with most vintage TV series released by CBS/Paramount, there is a small disclaimer (smaller than normal, actually, with no prominent border box for this one) at the back of the DVD slimcase that states, "Some episodes may be edited from their network versions." There is no further explanation of what cuts, if any, were made. I don't have a photographic memory of the show, but I didn't notice anything egregious in the editing. Most of the episodes time out at a little more than 48 minutes, which is about right for the original network run times. It's possible, though, that these are the syndicated versions, which may account for the minor cuts for time. Edited TV shows are one of the hottest topics concerning DVD releases, and as a reviewer, I've taken both sides of the issue, depending on what title I'm reviewing. It's usually a case-by-case basis. Here, with Dynasty: The Second Season, the show is so enjoyable, and the fact that most of the run times seem close if not complete, prompts my favorable rating. I've included run times for all the episodes:
DISC ONE

Enter Alexis (46:52)
Alexis testifies against Blake and proves that he can be a violent man. Claudia awakens in the hospital and discovers Matthew has run off with Lindsay.
The Verdict (48:26)
Blake is sentenced to two years in prison. Alexis' true colors show when she moves in to her old studio on Blake's property and their hatred for each other is evident. Tension rises as Blake tries to talk to Steven. Krystle discovers she's pregnant.
Alexis' Secret (48:10)
After Claudia is released from the hospital, she attempts suicide. She's saved by Blake's friend Dr. Nick Toscanni, who has a secret vendetta against Blake. Fallon and Jeff decide to have a baby, while Alexis confesses to Steven that Blake isn't Fallon's real father.
Fallon's Father (48:24)
Alexis confesses to Blake that he's not Fallon's father and urges him to reconcile with Steven. Blake also learns that his associates don't like dealing with an accused murderer, and that Cecil Colby closed a deal without consulting him. Alexis reveals to Cecil that he is Fallon's father. Meanwhile, Steven is diagnosed with possible brain damage after a drunken fall in the family's swimming pool.
DISC TWO

Reconciliation (48:23)
As Steven recovers at home, he and Blake reconcile. Krystle's ex-brother-in-law, racecar driver Frank Dean, sends his stepdaughter, Sammy Jo, to stay with her. Alexis hires a private investigator to uncover Krystle's past, while Cecil puts pressure on Blake to repay the $9 million loan he's owed.
Viva Las Vegas (48:24)
In order to repay the loan, Blake travels to Vegas and borrows the money from gangster Logan Rhinewood. Sammy Jo finds comfort in the arms of Steven, but it's Claudia he asks to marry him. Fallon and Nick find love together. While skeet shooting, Alexis spots Krystle on horseback. With a premeditated shot, the frightened horse throws Krystle to the ground and she's rushed to the hospital in fear of losing the baby.
The Miscarriage (48:31)
Krystle is devastated after learning that she's not only lost her baby, but she can no longer have children. Jeff quits his uncle Cecil's business to join Denver-Carrington while Fallon continues her affair with Nick. Although Steven and Sammy Jo spend time away together in his cabin, he still asks Claudia to marry him. She declines, stating that she's still in love with the husband who abandoned her. More trouble comes to Blake by way of his attorney, Andrew Laird, regarding Middle Eastern oil leases.
The Mid-East Meeting (48:37)
Blake and Jeff fly to the Middle East to try and meet with Rashid Ahmed to obtain his help with releasing their overseas oil tankers. Meanwhile, Alexis flies to Rome to meet with Ahmed, a former lover, under the guise of helping Blake. Fallon learns she's pregnant, makes plans for an abortion, and asks Jeff for a divorce. He agrees only if she'll keep the baby. Fallon confesses her love to Nick. Alexis persuades Blake to come to Rome under false pretenses.
DISC THREE

The Psychiatrist (47:59)
Traveling to Rome, Blake phones a despondent Krystle in another attempt to get her to see psychiatrist Nick Toscanni. Consumed with jealously over Krystle, Fallon tells Jeff their marriage was a business arrangement to benefit Blake and she only became pregnant to compete with Krystle. Krystle becomes shattered over suggestive photos that appear in a tabloid of Blake and Alexis together in Rome. Nick comforts Krystle, and passion soon ignites.
Sammy Jo and Steven Marry (47:55)
Krystle stops Nick before they sleep together, but Nick confesses his love for her. She tells him she won't cheat on her husband. Blake returns and explains the photos were not what they seem. Steven marries Sammy Jo and decides to be a racecar driver.
The Car Explosion (48:15)
When Steven and Sammy Jo return home, they tell everyone of their marriage except Blake. Alexis goes out of her way to make Krystle believe that an affair happened in Rome. Nick persuades Krystle to leave Blake. To make matters worse, Ray Bonning, a representative for Rhinewood, interferes in the business. When a bomb is thrown at Blake from a speeding car, he become blind.
Blake's Blindness (48:07)
Convinced that Ray is behind the explosion, Blake settles plans to exact revenge. Krystle decides to hold off on telling Blake about her divorce plans until he's feeling better. Fallon tells Alexis about her affair with Nick and her feelings for him. Alexis promises to rid Krystle from their lives.
DISC FOUR

The Hearing (47:55)
After doing some research, Blake discovers that Nick's brother, Giani, worked for Denver-Carrington, but was killed in the Mideast problems. Fallon tells Alexis that she doesn't want her help in her problem with Krystle. An anonymous note is delivered to Blake suggesting Krystle is with Nick. Blake's sight returns, but no one knows except Joseph, the butler.
The Iago Syndrome (48:11)
Blake pretends to still be blind and has a talk with Nick about the death of his brother. Krystle ends things with Nick and decides to leave Denver but is convinced to stay by Blake. Sammy Jo takes advantage of being married to a Carrington and behaves like a spoiled rich housewife.
The Party (48:20)
Blake finally tells everyone his sight is back. During a party to celebrate Steven and Sammy Jo, Sammy Jo becomes drunk and embarrasses the entire Carrington family. The truth about Cecil being Fallon's real father is revealed. Afterward, Alexis and Fallon are in a car accident that leaves Fallon unconscious.
The Baby (48:15)
At the hospital, Fallon gives birth to a son, who's born so weak that his chances are slim for survival. Claudia sleeps with Jeff in order to steal a key to the archive in Blake's office. Meanwhile, Sammy Jo leaves Steven. When Krystle discovers the truth surrounding her miscarriage, she and Alexis have a catfight in her studio.
DISC FIVE

Mother and Son (48:05)
After a surgery, Fallon's baby recovers, but she and Jeff fight over custody. Jeff discovers that it's Claudia who has been leaking information to Cecil about Denver-Carrington.
The Gun (48:07)
Blake discovers, through a blood test, that he is Fallon's real father. Steven follows Sammy Jo to Hollywood, where she's been modeling at a sleazy studio. Claudia tries to shoot Cecil after hearing that Matthew and Lindsay are dead, but in a struggle between them and Krystle, the gun fires.
The Fragment (47:57)
Claudia is wounded by the gunshot, and the police suspect Krystle in the shooting. Claudia doesn't remember the incident when she awakens. Blake gets a meeting, via microphone, with the reclusive Logan Rhinwood.
The Shakedown (48:16)
Steven is arrested for assault after beating up a con man who tries to blackmail him. Blake threatens Alexis when he learns of her involvement in Krystle's miscarriage.
DISC SIX

The Two Princes (48:08)
Little Blake Colby comes home from the hospital along with Susan, the nurse hired to look after him. Alexis accepts Cecil's proposal of marriage and plans her wedding. Rashid Ahmed returns to conduct more business with Blake.
The Cliff (48:07)
When Nick discovers that Blake was responsible for his brother's death, a fight breaks out. Blake falls unconscious down a cliff and Nick leaves him there. Little Blake disappears, and Cecil suffers a heart attack while making love to Alexis.
The DVD:
The Video:
Even though there were the occasional dirt specks and screen anomalies, I was surprised at how sharp and clean the full frame image was for Dynasty: The Second Season. Colors are bold and bright, with true values and good skin tones. Some scenes show signs of wear and tear (some of the credit sequences show signs of too much reprinting), but overall, quite a nice picture.
The Audio:
The Dolby Digital English mono accurately reflects the original broadcast presentation. It's clear and strong. There are alternate Spanish and Portuguese mono tracks, as well as English, Spanish, and Portuguese subtitles. Close-captioning is available.
The Extras:
The only extra included for Dynasty: The Second Season is an interactive text feature where you can look up the Carrington family tree, which give little, short bios on the characters (not the actors). It's pretty lame, and totally useless for fans of the show.
Final Thoughts:
Deliriously crude and manipulative, with gloss and money vomited all over it to keep the stench down, Dynasty: The Second Season is just as much fun as it was twenty-five years ago. The addition of Joan Collins as the over-sexed, vengeful Alexis Carrington, rockets Dynasty: The Second Season into the stratosphere of camp TV. It certainly ain't art, but it's ten times more entertaining. Even with the unspecified edits to the episodes (I couldn't tell what they were, and CBS/Paramount isn't telling us), I highly recommend Dynasty: The Second Season.
---
Paul Mavis is an internationally published film and television historian, a member of the Online Film Critics Society, and the author of The Espionage Filmography.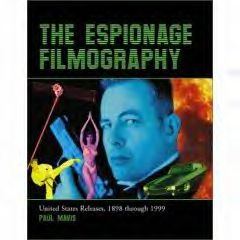 ---
C O N T E N T

---
V I D E O

---
A U D I O

---
E X T R A S

---
R E P L A Y

---
A D V I C E
Highly Recommended
---
E - M A I L
this review to a friend
Sponsored Links
Sponsored Links