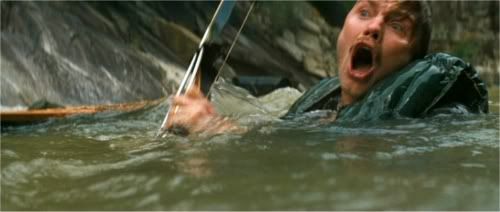 For better or for worse, Hollywood just can't make films like John Boorman's Deliverance (1972) anymore. Based on the best-selling 1970 novel by James Dickey, this unfortunate tour of rugged Georgia terrain reminds us that we can always be in the wrong place at the wrong time. We're introduced to four city slickers (or at least three, since one fancies himself a steely outdoorsman) bound for a weekend canoe trip down a river facing extinction via damming. Their journey to the river itself proves to be challenging on its own terms, leading them past decaying gas stations and winding roads far off the beaten path. Unfortunately, things don't get much better once the boats are dropped.
Luckily, Deliverance is much more than "Dueling Banjoes" and...well, squealin' like a pig. Shot on a shoestring budget on location in northern Georgia, Boorman's most arresting film is a simple story told with passion, heart and urgency. We can identify with the main characters almost immediately: they're given a real three-dimensional quality, each possessing different ideals, ambitions and moral codes. It's especially amazing that such an even-handed film was born from this challenging production: two of the lead actors (Ned Beatty and Ronny Cox) made their film debuts, everyone did their own stunts and no one had any type of health insurance. Again, Hollywood just can't make films like Deliverance anymore; this type of recklessness is now reserved for independent filmmakers.
Rough and unflinching, Deliverance doesn't pull many punches and is still a fairly shocking story in retrospect. Dickey's imagination spawned this fictional tale of violation, murder and survival, but the visualization by Boorman and company raises the stakes even higher. The story starts off relaxed and deliberately paced, but the arc boils before the halfway point and refuses to let up for quite some time. It's as much about the aftermath of traumatic events as it is the events themselves, dragging our protagonists through the mud and watching their attempts to wash themselves clean. For these reasons and many more, Deliverance is much more than the sum of its parts: it's a taut, tense thriller that remains one of the decade's most visceral adventures.
In the acting department, Deliverance is home to some of the most natural performances in the adventure or thriller genres, anchoring the often over-the-top story with logic and believability. The tough-guy persona of Lewis (Burt Reynolds) is almost larger than life as the story unfolds, yet he's reduced to a shell of himself after a gruesome injury on the river. Ed (Jon Voight) provides a reluctant yet poised center, virtually forced into leadership during the film's third act. Drew (Ronny Cox) provides most of the team's heart and moral core, bringing his love for music and a strong conscience even in dire circumstances. Bobby (Ned Beatty) plays the unfortunate victim during the film's most chilling and disheartening sequence, emphasizing the team's perseverance through innocence lost. Since they don't all return from the weekend trip (and none completely intact, for that matter), the tragic events seem all the more affecting when told in such a linear fashion. Through it all, Deliverance remains a gripping tale of morality and mortality, as effective and muscular now as it was 35 years ago.
Originally released on DVD in 1999, Deliverance was paired with a decent technical presentation and a few modest bonus features. It's surprising that it took so long for this Academy Award-nominated film to receive a more fitting treatment, but Warner's new Deluxe Edition proves to be a satisfying package from top to bottom. Boasting an improved visual presentation and a handful of new retrospective supplements, there's enough great content here to make fans...*ahem*...squeal with delight. Let's take a closer look, shall we?
Quality Control Department
Video & Audio Quality
Presented in its original 2.35:1 aspect ratio and enhanced for 16x9 displays, Deliverance looks better than ever on this newly remastered DVD. Though the original disc is no longer part of my collection, the previous transfer looked satisfactory but rough around the edges. Here, the earthy color palette appears richer and more natural, while most of the excess dirt and debris has been cleaned up. A few sequences suffer slightly due to the source material, such as the manually darkened cliff-top scene which has never looked very convincing. Overall, though, fans should be pleased with Warner's excellent visual treatment here.
The included Dolby Digital 5.1 mix is a solid effort but obviously lacks the punch of modern films, though the rear channel tweaks are tastefully done. This appears to be the same mix as heard on the previous release---and it obviously isn't demo material by any stretch, but it certainly gets the job done. A French 2.0 dub is also included during the main feature only, as are English captions and Spanish or French subtitles.
Menu Design, Presentation & Packaging

Seen above, the animated menu designs are basic and easy to navigate. The 109-minute main feature has been divided into 30 chapters, while no obvious layer change was detected during playback. This one-disc release is housed in a standard black keepcase and includes no inserts of any kind. The cover art is disappointingly generic, especially after seeing original poster designs and book covers during some of the bonus features.

Bonus Features

The original 1999 release had a few scraps but nothing remotely substantial; luckily, more effort was put forth this time around. The main feature itself is paired with an all-new Audio Commentary featuring director John Boorman, who does a fine job of detailing the outdoor experience. A few lapses into silence are present along the way, but this is a fairly entertaining and enlightening commentary on the whole. It's a shame that more members of the cast and crew didn't join in, but we'll hear from them soon enough.

The second centerpiece of this new Deluxe Edition is a brand new Retrospective Documentary divided into four parts: "The Beginning" (16:43), "The Journey" (14:03), "Betraying the River" (14:36, below left) and "Delivered" (10:36). Featuring comments by Boorman, Christopher Dickey (the author's son), all four of the main characters and other cast and crew members, this is a terrific overview of what must have been a difficult but exciting production. From the success story of the original novel to memories of author James Dickey's involvement on location, the ups and downs are recounted with great detail and clarity. It's odd that all four parts weren't combined into one, but it's good to have such interesting material in any format.

Also included is "The Dangerous World of Deliverance" (10:12, below right), the original vintage featurette present on the previous release. This is fairly promotional in nature and peppered with plenty of worn-out clips from the film, but there's plenty of time devoted to James Dickey in action, the film's dangerous stunt work and other snippets of behind-the-scenes footage.

Closing things out is the film's original Theatrical Trailer (2:52), which shows its age but does a fine job of hinting at Deliverance's dark underbelly. The documentary and featurettes are presented in 1.33:1 format, while the trailer is presented in anamorphic widescreen. Sadly, none of the bonus material includes optional subtitles or Closed Caption support. Why can't all of the content be treated with the same respect that the film gets?
Final Thoughts
Raw and riveting, Deliverance still packs quite a punch for a 35 year-old thriller. The brilliantly-paced story holds our attention the whole way through: we can't help but watch, even as our main characters are put through the wringer in brutally unfamiliar territory. It's still easy to appreciate the strong performances by Jon Voight, Burt Reynolds, Ned Beatty and Ronny Cox, especially since the cast and crew worked under such difficult conditions. Warner's excellent (and long overdue) Deluxe Edition gives the main feature plenty of support and respect, including a solid technical presentation and a handful of new retrospective bonus features. This is an extremely well-rounded disc, all things considered, and one that's easy to endorse as an affordable double-dip or a worthwhile blind buy. Highly Recommended.
---
Randy Miller III is an affable office monkey based in Harrisburg, PA. He also does freelance graphic design projects and works in a local gallery. When he's not doing that, he enjoys slacking off, second-guessing himself and writing things in third person.
---