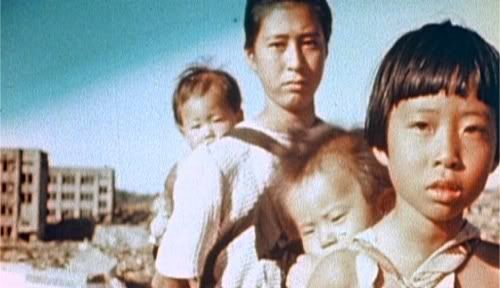 It's hard to watch a film like White Light / Black Rain: The Destruction of Hiroshima and Nagasaki (2007) without feeling a certain sense of guilt. Director Steven Okazaki has crafted a powerful and moving documentary about aging survivors of the 1945 atomic bombings, reminding us that such events should never be repeated under any circumstances. Interviewed in their homes and surrounding areas, these folks share their memories of the fateful events that killed many of their friends and relatives...but not them. Some are angry with the American military for using such a weapon on civilians. Others are frustrated with the Japanese government for their lethargic attempts at medical treatment and assistance. As the 85-minute main feature drifts by, deliberately paced yet urgent on its own terms, one thing becomes startlingly clear: the world is, unfortunately, starting to forget what happened to them.
Interestingly enough, White Light / Black Rain doesn't focuses solely on the Japanese civilians affected by the bombings. A modest amount of time is also devoted to American personnel who were directly involved, including weapons test officer Morris Jeppson and navigator Theodore Van Kirk; both were on board the Enola Gay when the bombs were dropped, so they remember the explosion as vividly as the survivors. Some of their comments are difficult to stomach, but it's refreshing to see a documentary unafraid to let both sides speak without pointing fingers.
Still, the lion's share of White Light / Black Rain tells the story from ground level. The survivors are still noticeably disfigured from their injuries, while their painful stories of losing loved ones make the situation even more grim. Keiji Nakazawa was just six years old when the bombings occurred, eventually re-telling his story in graphic novel (and eventually cinematic) form with Barefoot Gen. Sakue Shimohira was ten and survived with her sister, but the latter eventually committed suicide a few years later. Yasuyo Tanaka and Chiemi Oka (aged nine and ten, respectively) were the only survivors from their Catholic orphanage. Shigeku Sasamori was thirteen and eventually came to the US as one of the "Hiroshima Maidens", a group of twenty-five women invited to undergo free plastic surgery to help disguise their injuries.
Many others are given ample time to tell their stories, which have been punctuated by graphic photos and footage; for this reason, White Light / Black Rain is certainly not for sensitive and younger viewers. The film pulls no punches, showing victims of all ages in unimaginable physical states. Still, these gruesome visuals are a necessary part of the story---and to the director's credit, it never feels sensationalistic. This is simply a tragic event recounted in great detail, presented with the intention of educating and reminding its audience what happened more the sixty years ago. To make a long story short, it speaks for itself.
HBO presents White Light / Black Rain on DVD in a plain-wrap package that documentary fans should appreciate. The technical presentation is solid, yet a lack of extras shows a missed opportunity to offer additional support. Let's take a closer look, shall we?
Quality Control Department
Video & Audio Quality
Presented in its original 1.78:1 aspect ratio and enhanced for 16x9 displays, White Light / Black Rain looks very good from start to finish. Since a great deal of the footage was taken from worn source elements, certain sequences are predictably dirty and faded (and cropped to fill the frame, unfortunately). Still, the newer footage is clean and problem-free, boasting a strong color palette and crisp details. HBO's excellent track record earns them the benefit of the doubt, but fans shouldn't be disappointed in the least.
The Dolby Digital 5.1 mix is equally solid, boasting clear dialogue and subtle atmospheric moments. The film's soundtrack also has a bit of punch, while several destructive sequences are surprisingly heavy on the low end. Overall, it's about as good as documentary enthusiasts could hope for. The optional English subtitles are frustratingly used for translation purposes only, though Closed Captions are also included during the main feature.
Menu Design, Presentation & Packaging

Seen above, the animated menu designs are basic and easy to navigate. The 85-minute main feature has been divided into 11 chapters, while no obvious layer change was detected during playback. This one-disc release is housed in a standard black keepcase and includes no inserts of any kind.

Bonus Features

No extras have been included here, unfortunately. The film stands up fairly well on its own, but a commentary or interview with the director would've been more than welcome.

Final Thoughts

There's no doubt that White Light / Black Rain: The Destruction of Hiroshima and Nagasaki is a powerful documentary about one of the greatest tragedies of the 20th century. Steven Okazaki's film is poised and potent, filled with painful details and gruesome images that may keep more sensitive viewers away, but it's recommended viewing for anyone interested in the subject. HBO's DVD is decent but thin on the whole, boasting a solid technical presentation and absolutely no bonus content. Those with a casual interest may want to rent this one first, but White Light / Black Rain is strong enough to endorse as a blind buy for documentary fans. Recommended.
---
Randy Miller III is an affable office monkey based in Harrisburg, PA. He also does freelance graphic design projects and works in a local gallery. When he's not doing that, he enjoys slacking off, second-guessing himself and writing things in third person.
---