Spongebob Squarepants - Season 5, Vol. 1
List Price: $36.99 [Buy now and save at Amazon]
---
And they keep coming out on DVD. Nickelodeon has released the latest SpongeBob SquarePants offering on DVD - SpongeBob SquarePants: Season 5, Volume 1 - a two-disc, twenty-episode collection from the funniest cartoon on television today. I've written three times already this year about SpongeBob SquarePants (please click on SpongeBob SquarePants: Season 4, Vol. 1, SpongeBob SquarePants: Season 4, Vol 2, and SpongeBob SquarePants: Friend or Foe, for more detailed background on the series), and even though I won't go into detail again about the background of the series and its place in pop culture today, to be honest, I never get tired of watching this show.
SpongeBob SquarePants doesn't seem like a show that would wear all that well. After all, it's relentlessly cheery (something that goes against the grain of most youth-oriented entertainment offerings today that seem to thrive on grim irony and deadpan apathy); it's juvenile in the extreme (SpongeBob often acts like a four-year-old - a very annoying, dim-witted four-year-old, I might add), and the stories often retrace the same ground, episode after episode (SpongeBob loves his job; Squidward wants some peace and quiet; Plankton wants the secret Krabby Patty formula; Mr. Krabs wants more money; and Patrick...well, who the hell knows what goes on in Patrick's head). Why does it keep working, time and time again? Why is there an anticipation factor every time that insanely catchy theme song pops up?
Perhaps it does succeed because it's a combination of the exceedingly familiar (after all, The Honeymooners was basically the same show, week after week, and it's arguably still the greatest sitcom in the history of television) with the endlessly inventive writers and directors - and most importantly voice talents - in charge of delivering the goods. As funny as the stories are, and in this collection, there are some real gems, I can't stress enough the importance of those voice talents in conveying the unhinged, manic quality that is so integral to the success of SpongeBob SquarePants.
Without Bill Fagerbakke as the seriously stupid sidekick Patrick, Rodger Bumpass as the almost-suicidally depressed Squidward, Clancy Brown as the boisterous, money-grubbing Eugene Krabs, Mr. Lawrence as the deliciously evil, stentorously-voiced Plankton, and most importantly, Tom Kenny as the insanely happy SpongeBob, I suspect that SpongeBob SquarePants, no matter how well integrated and executed, wouldn't be near the success it is today. There's a serious expression of total commitment on the part of the voice talents here, a willingness to take every line and deliver it with maximum energy, that frequently makes the show hilarious even when the line delivered isn't particularly funny in itself. Often times, I'm working in my office when SpongeBob SquarePants comes on, and as my kids watch it and laugh, I can only hear it - and it's just as funny to listen to, sight unseen.
Here are the 20 episodes of the SpongeBob SquarePants: Season 5, Volume 1 box set, as described on their slimcases, along with my comments in red:

DISC ONE


Friend or Foe?
It's the history of the Krabs/Plankton rivalry! Mr. Krabs and Plankton were once best friends, but things went bad when they tried going into business together. With a special appearance by Patchy!
Patchy and Potty are always funny, so it's great to see them slinging hamburgers in honor of their idol, SpongeBob. I particularly liked the gorilla at the end, whipping burgers at Patchy ("You got me right in the buns!"). This episode is brilliant, partly because Krabs and Plankton are strong enough characters, with their own mythology, that they can sustain their very own episode with only a cameo from SpongeBob. It's also hilarious (I love the fact that it's a barely disguised version of Rashomon), with an especially funny look at Krabs, Plankton, and even SpongeBob, as babies.

The Original Fry Cook
The Krusty Krab's original fry cook, Jim, stops by. Now SpongeBob is convinced Jim is taking his job.
Yet another variation on the "SpongeBob freaks out when he thinks he's lost his job," yet just as fresh and funny as the first time they pulled it. Anyone who's ever worked a job, and had the "popular" guy come back for a visit, will appreciate this one. I particularly like how SpongeBob ominously refers to the period before working at The Krusty Krab as "The Before Time."

Night Light
When SpongeBob reads a scary book before bedtime, everything starts to go bump in the night!
"I've got dreams inside me!" A good superhero villain shows up here, The Moth, which SpongeBob dispatches in a particularly funny way. I also enjoyed the Batman-like NAP! that comes up when Patrick goes into action.

Rise and Shine
Check out Patrick's alarming morning routine!
The shortest of the cartoons (only four minutes), it's still quite funny, with Patrick hilarious as he caroms around his house.

Waiting
After sending in box tops to claim his free Kelp cereal prize, SpongeBob waits by the mailbox for his toy. And waits....
If you have kids who already saw this cartoon, you know the mantra: "We're waiting! We're waiting! We're waiting! We're waiting!" SpongeBob has never been funnier than when he freaks out after Patrick breaks his toy.

Fungus Among Us
SpongeBob develops a nasty, itchy sea fungus that grows over everything it touches!
Easily one of the most gross SpongeBob cartoons -- and so of course, one of the most popular with kids. They love to see parents squirm at stuff like this, don't they? I love it when they turn SpongeBob into The Boy in the Plastic Bubble.

Spy Buddies
Mr. Krabs sends SpongeBob and Patrick on an undercover spying mission.
One of the all-time best SpongeBob moments: SpongeBob doing the classic James Bond gun barrel walk! Some cool Bondian gadgets, including the jet pack, the Pantsophone, the Spymobile (watch the duo list all the gadgets on the car, only to have Patrick immediately hit the "Self Destruct" button the second he sees it). Hilarity ensues when Patrick aims his Laser Pants and wreaks havoc.

Boat Smarts
Mrs. Puff presents an instructional video on the differences between a driver with boat smarts (played by Squidward) and one without (played by, well, you guess).
Do they show those horrible Drivers' Ed films anymore to students? If you've seen one, then you'll doubly appreciate this funny SpongeBob outing. One of the funniest moments in a SpongeBob SquarePants toon occurs when they superimpose Squidward's head on real crash-test dummy footage. I also love the guy in the boat pile-up who screams, "I can't feel my head!"

Good Ol' Whatshisname
Mr. Krabs holds a contest between SpongeBob and Squidward: the one to learn the most customers' names wins a fabulous prize.
The more I watch SpongeBob SquarePants, the more I appreciate the background "extras" who increasingly provide some of the shows' funniest moments. I particularly like the anger coming off Mr. Whatshisname, and the cop snarling, "Tell it to the judge, law breaker," is pretty funny.

New Digs
After arriving one minute late for work, SpongeBob moves into the Krusty Krab so he'll never be late to work again.
Another variation on SpongeBob's obsession with keeping his job, this funny outing features a cool Six Million Dollar Man sound effect when SpongeBob leaps over a downed bridge, and a priceless overhead shot of various customers falling on their rear-ends, slipping in Gary's slime trail. Best line: "You, sir, are Mr. TardyPants."

Krabs a la Mode
Plankton tries to freeze the Krusty Krab out of business!
Plenty of slapstick in this hilarious Plankton adventure. Watch SpongeBob take a terrific pratfall on the ice, and see him nail a customer in the mouth with a frozen Krabby Patty (the guy sliding down the wall after getting hit, is priceless).
DISC TWO

Roller Cowards
SpongeBob and Patrick are psyched to ride the scariest roller coaster ever!
One of the best SpongeBob SquarePants I've seen in quite some time, Roller Cowards perfectly sums up the quasi-sick quality of the show, including the suspiciously perverted "Fiery Fist O' Pain" roller coaster from Glove World -- make you own jokes there, if you please. The ride itself is hilarious, particularly the mushroom cloud that appears every time the cars smash into the ground, and the sight of Patrick and SpongeBob's skeletons being ejected out of their body by centrifugal force.
Bucket, Sweet Bucket
Plankton tricks SpongeBob, Squidward and Patrick into giving the Chum Bucket a complete overhaul. With them occupied, Plankton makes his way to the Krabby Patty formula!
A good showcase for my favorite character Plankton, I hit the floor when he sneers/screams, "Forget this! I also like the three things in Plankton's past that didn't "pan out" for him: telemarketing, life guarding, and creative writing -- all "bitter failures."
Breath of Fresh Squidward
When Squidward is electrocuted by his own electric fence, he turns into the sweetest, happiest guy in Bikini Bottom...making him totally annoying!
Some great lines in this one, with Squidward hissing "Get out!" at Patrick and SpongeBob, and Mr. Krabs laying out the mission of the Krusty Krab: "Me customers come for cheap food and verbal abuse." I love the Cherish music cue for Squidward's spiritual rebirth.
To Love a Patty
SpongeBob creates the Krabby Patty of a lifetime and now he can't part with it. But after a few days, his perfect Patty starts to stink!
One of the funniest songs SpongeBob ever sings, the arena-rock power-ballad that SpongeBob wails to his beloved patty is laugh-out-loud funny. I also like the Ren and Stimpy-inspired grotesque close-ups of the rotting Krabby Patty.
SpongeBob vs. The Patty Gadget
Patchy narrates the story of SpongeBob's competition against Squidward's patty-making machine.
A short filler episode, it's cleverly written, all in rhyme, but I would say this is one of the weaker entries in this collection.
Money Talks
Mr. Krabs makes a wish that he could talk to money. When his wish is magically granted, he learns to his horror that the money wants to be...spent!
Again, the background customers rule in this particular episode, with the old, toothless geezer whining, "Don't rush me!" as his wife counts the number of times he's chewing his food. The trapped money in Mr. Krabs' cash drawer, imploring the new money to "Run!" and "Jump!" is pretty funny, as is SpongeBob very clearly saying he has to go pee.
Slimy Dancing
When he doesn't make it into the Bikini Bottom Dance-a-Thon, Squidward agrees to train SpongeBob for the contest.
Squidward ripping off various pieces of SpongeBob's anatomy is good, but Squidward's excruciating agony as he suffers a leg cramp is priceless. I love the epilogue where a teenager does the dance craze inspired by Patrick, that's sweeping the nation: The Cramp.
The Krusty Sponge
When SpongeBob gets rave reviews from a food critic, Mr. Krabs wants to cash in on SpongeBob's newfound celebrity.
Gene Shalit posing as "Gene Scallop" is pretty funny, but there are some classic throwaways here, too, including the SpongeBob bibs that say, "I Soiled Myself at the Krusty Krab!" and the nightly news that comes back from a story, saying, "...and there were no survivors," as they show a box of adorable kittens.
Sing a Song of Patrick
Patrick's written a song. Now SpongeBob's going to help him get it on the radio!
Remember, you can't throw a riot without cotton candy. Best line of this funny outing: "It made my eyeballs throw up." Patrick's song is perfectly attuned to his backward character.
The DVD:
The Video:
The full screen digital perfection of SpongeBob SquarePants: Season 5, Volume 1 is really something to see. Perfect transfer.
The Audio:
The Dolby Digital stereo mix for SpongeBob SquarePants: Season 5, Volume 1 is quite strong - and it needs to be with all those great/horrible songs. Close-captioning is available.
The Extras:
On disc one, there's an option to watch Friend or Foe episode with "Bubble Burst Trivia," which is the same as those old Pop-Up Video-type trivia bubbles. It played fine on my television, but that particular feature didn't work on my computer. There's also a minute or two of short clips from Friend or Foe - pretty worthless. On disc two, there's another episode, The Krusty Sponge, offered in "Bubble Burst Trivia," which is really kind of fun. Not a great amount of extras, actually.
Final Thoughts:
Consistently the most inventive, hilarious animated series out there, SpongeBob SquarePants: Season 5, Volume 1 is another winner from Nickelodeon DVD, and a must-have for parents who can't get enough of the braying little yellow sponge. Oh yeah; the kids will probably like it, too. I highly recommend SpongeBob SquarePants: Season 5, Volume 1.
---
Paul Mavis is an internationally published film and television historian, a member of the Online Film Critics Society, and the author of The Espionage Filmography.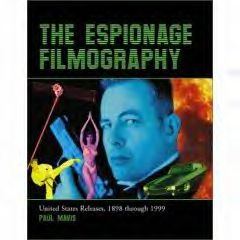 ---
C O N T E N T

---
V I D E O

---
A U D I O

---
E X T R A S

---
R E P L A Y

---
A D V I C E
Highly Recommended
---
E - M A I L
this review to a friend
Sponsored Links
Sponsored Links