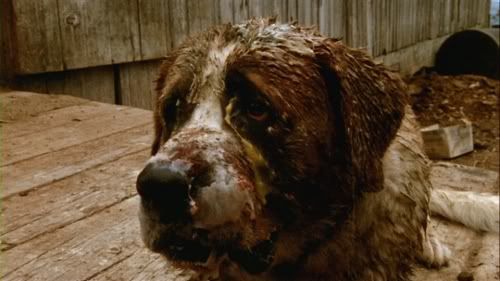 Though I grew up in a relatively quiet and peaceful neighborhood, there was one yard on our street that kids always steered clear of: it was occupied by a Doberman Pinscher named "Thor", whose owner was pretty much drunk all the time and abused the dog regularly. Thor was, of course, aggressive towards anyone who approached within ten feet of his grassy domain, angrily barking and jumping as high as his back legs would propel him. After enough neighbors complained, Thor's owner put up an eight-foot high wooden fence---but during one overcast summer afternoon in the mid-1980s, such a barricade wouldn't prove to be enough. With a mighty leap after a bout of ferocious barking, Thor cleared the fence and went about roaming the neighborhood. The few of us playing outside crowded together quickly on a friend's porch, trying to remain calm until Thor was re-captured by his owner. No one was hurt, and that's the last we ever saw of Thor---but it was enough to shake us up quite a bit.
Of course, anyone familiar with Stephen King's Cujo---either in book form or Lewis Teague's 1983 film adaptation---should know where I'm going with this. Our story revolves around a rabid dog who terrorizes anyone in his path; specifically, a mother, her son and a few other unfortunate victims. Divided almost completely in two, Teague's adaptation spends the first half developing its characters: it almost resembles an average family drama, save for the tension mounting on Cujo's property after he's bitten by a bat while hunting. The Saint Bernard's gradual transition from friendly to ferocious at his owner's isolated repair shop is almost depressing, especially if you're a die-hard dog lover.
Before long, it's painfully obvious that anyone in Cujo's vicinity is Puppy Chow.
Enter Donna Trenton (Dee Wallace), whose sputtering Ford Pinto is in serious need of some TLC. If that weren't enough, Donna's family life is gradually breaking apart after her husband Vic (Daniel Hugh Kelly) discovers her affair with the rugged Steve Kemp (Wallace's late husband, Christopher Stone). While Vic is away on a business trip, Donna drives to the repair shop with her young son, Tad (Danny Pintauro)---and when the property appears to be deserted, she soon discovers why. Before Donna and Tad know it, they're trapped in her broken-down car with the angry Cujo on patrol. Things get much worse once hunger, exhaustion and dehydration creep in.
Originally published in 1977, Cujo is regarded as one of King's bleakest novels. Luckily, the oppressively dark ending was changed for the film adaptation...and with King's blessing, no less. Even so, the film's distinct division between personal drama and suspense works well, as the family's crumbling foundation makes the dangerous canine standoff all the more gripping. It's also largely due to the strong performances by Wallace and the young Pintauro, who manage to create a realistic mother-son dynamic and sell the terror with energy to spare. Certain plot points seem a bit convenient (Vic drives a Jaguar, they've got a huge house by the ocean...and Donna drives a hatchback?), but the meat of Cujo's story is surprisingly fluid and believable. Here's the bottom line: though certain elements of the production appear dated as Cujo approaches its 25th anniversary, Teague's stripped-down adaptation still packs quite a punch.
Speaking of the film's 25th anniversary (which isn't until next year), Lionsgate has started the party early with a long-overdue DVD upgrade. Earlier releases presented the film in an open-matte 1.33:1 aspect ratio and skimped on the bonus features, so it's good to see such problems corrected in one fell swoop. Though Cujo isn't the most critically acclaimed King adaptation to date, fans of the film have a new reason to be rabid. Let's take a closer look, shall we?
Quality Control Department
Video & Audio Quality
Presented in its original 1.85:1 aspect ratio, Cujo looks better than ever---an easy enough accomplishment, since past DVD releases presented in the film in 1.33:1 open matte. Colors are generally muted but natural, while a good portion of the film is coated with a thin layer of haze. These certainly aren't complaints, as they're undoubtedly due to the source material and generally aren't distracting. A mild amount of dirt and debris can be spotted during certain sequences, but digital eyesores like pixellation and edge enhancement are virtually non-existent. All things considered, fans shouldn't find much to complain about here.
The audio is presented in Dolby Digital 2.0 Surround and the original Mono mix, neither of which lend themselves to a high amount of detail or dynamic level. Even so, dialogue is clean and clear---and though it rarely fights for attention with the music and sound effects, most of what's here is decidedly thin on the whole. Optional English and Spanish subtitles are provided during the main feature only.
Menu Design, Presentation & Packaging

Seen above, the animated menu designs are basic and easy to navigate. The 95-minute main feature has been divided into 17 chapters, while no obvious layer change was detected during playback. This one-disc release is housed in a standard black keepcase; also included is a white tinted slipcover and a chapter insert.

Bonus Features

Only two film-related extras are included, but both are worth digging through. First up is a feature-length Audio Commentary with director Lewis Teague, who does a fine job of detailing the production from start to finish. Teague obviously has fond memories of Cujo, making frequent mention of the cast and crew's dedicated efforts. Occasional lapses into silence remind us that a second participant might've helped, but this is a generally entertaining and thoughtful session that fans should enjoy.

On a related note is "Dog Days: The Making of Cujo" (3 parts, 42:45 total), a relatively concise second account of the film's production. We hear from several members of the cast and crew, including Teague, cast members Dee Wallace & Danny Pintauro, cinematographer Jan de Bont, producers Daniel Blatt & Robert Singer, editor Neil Travis, composer Charles Bernstein and several others. This is an enthusiastic and entertaining documentary from start to finish---and though a few trivial tidbits are repeated during the commentary, it's tough to complain overall. "Dog Days" is presented in anamorphic widescreen, but no optional subtitles are included.

Final Thoughts

Though it did for Saint Bernards what Jaws did for beach recreation, Lewis Teague's adaptation of Cujo remains a tightly-wound film with terrific leading performances. The film's clever division of family drama and nail-biting suspense works well for the dramatic second half, creating real characters dropped in the middle of real danger. Certain elements of the film haven't aged as gracefully (and there's always the argument that the first half could've been trimmed slightly), but so much works well that it's tough to complain overall. Lionsgate's 25th Anniversary DVD package corrects the faults of previous releases, presenting the film in its original aspect ratio and tossing in a few interesting extras to boot. Casual fans of Cujo will be happy with a rental, but disciples of the crazed canine should find this package worth hunting down. Recommended.
---
Randy Miller III is an affable office monkey based in Harrisburg, PA. He also does freelance graphic design projects and works in a local gallery. When he's not doing that, he enjoys slacking off, second-guessing himself and writing things in third person.
---