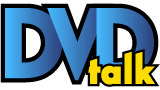 Strange Case of Howard Phillips Lovecraft, The
List Price: $29.95 [Buy now and save at Amazon]
---
The Movie:
Though he was not famous during his lifetime, you'd be hard pressed
to find an avid horror reader who doesn't know the name of H. P. Lovecraft. 
Indeed his name is synonymous with tales of dread and horror and his work
has spawned movies (one of the best being an amateur production of The
Call of Cthulhu [review]),
TV episodes, radio shows, a roll playing game, and countless imitators. 
In 1998 filmmakers Patrick Mario Bernard and Pierre Trividic decided to
make a documentary of the man's life and it was broadcast, ironically since
Lovecraft was American and wrote in English, on French TV.  Now The
Case of Howard Phillips Lovecraft, a unique look at the writer's life,
is available on DVD.

The filmmakers had a problem when they started this project:  a
lack of visual material.  There are only a handful of pictures of
Lovecraft still in existence, and no movies or audio records at all. 
It's rather ironic that a documentary about a man who spent his life writing
about unspeakable horrors and indescribable monsters would have to overcome
the same hurdles that the author did.  Bernard and Trividic came up
with a unique solution to their problem that worked quite well:  They
used clips from old movies and newly filmed and artificially aged footage
as well as a life sized silhouette of the author to suggest Lovecraft's
life and times.

The way the story of Lovecraft's life was told was also different. 
The narration that accompanied the images was in the style of Lovecraft's
writing, and quoted heavily from his stories and letters.  Because
of this stylistic choice, the film unfolds his life as if it were a novel. 
This was an intriguing method of telling about the author and most of the
newly written narration sounded like Lovecraft could have written it.

This is a very nice overview of the author's life, covering all of the
major events that shaped his career.  His birth in Providence, Rhode
Island,l the death of his parents, moving to New York City and his marriage
to Sonia Greene are all covered as well as his nervous breakdown while
in his teens.  The filmmakers didn't avoid Lovecraft's flaws either. 
They openly mention his racism and make no excuses for it.

The only problem I have with the film is that it doesn't give enough
information.  When Lovecraft and his wife were living in New York
the hat shop she was working in closed.  After looking for a while
she was able to find work in another city, but Howard did not go with her. 
Though he hated New York and didn't have regular employment he never went
to live with his wife.  Why was that?  That rather odd behavior
is never explained.  The main reason is probably because no one knows. 
As mentioned, Lovecraft was not famous during his lifetime and there aren't
a lot of records about him.

This film, with its 'fake' old films and interesting visuals is very
reminiscent of Guy Maddin's work.  It is very unique and succeeds
in capturing the paranoia and angst that tortured Lovecraft for most of
his life.

The DVD:

---
Audio:

The stereo soundtrack, in both English and French, fits the movie well. 
Since there's only narration and therefore no lips to sync with, the English
dub is just fine and shouldn't be a problem for anyone.  There aren't
a lot of sound effects and the music is rather minimal but that meshes
with the atmosphere that the film is trying to create.

Video:

The black and white full frame video looks fine.  There are many
scenes that are taken from old movies or faded photographs and so there
are many instanced of dirt, scratches and other film defects.  The
footage that was filmed for this documentary was distressed to make it
fit in with the other footage.  Like the audio, this purposefully
old looking footage helps to create a mood and atmosphere, and the trick
works well.

Extras:

The only extra is a "Complementary Track".  Note that this isn't
a commentary track, but a 20-minute interview with one of the creators.
Unfortunately he is never named, so I'm not sure who he is.  In any
case he talks about making the film, coming up with the idea of the silhouette,
and some of the problems they encountered when trying to tell Lovecraft's
story.  It was an interesting interview, but the subject got a little
philosophical at the end and that part was pretty silly.  ("Americans
are still able to make monsters because they don't question the existence
of the concrete world."  Gimme a break.)  This interview was
in French with English subtitles.

Final Thoughts:

This documentary on the famous writer's life is unique in the way that
it presented it subject, both visually and aurally.  It succeeds on
both fronts, creating a movie that brings the paranoia and fear that Lovecraft
felt to the viewers.  It also works as a documentary, accurately telling
not only the details of Lovecraft's life, but also putting his writing
into a historical perspective and examining some of the themes that runs
through it.  I only wish that the film was longer than its 45-minute
running time.  This gets a very strong recommendation.

 
---
C O N T E N T

---
V I D E O

---
A U D I O

---
E X T R A S

---
R E P L A Y

---
A D V I C E
Recommended
---
E - M A I L
this review to a friend
Sponsored Links
Sponsored Links