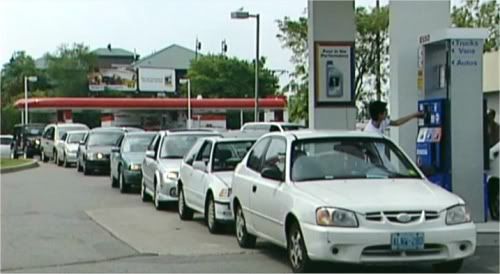 Arriving on the scene before gas even hit $2 a gallon, Gregory Greene's The End of Suburbia (2004) provided an early warning of things to come...even though many had seen it coming for decades. Subtitled "Oil Depletion and the Collapse of the American Dream", Greene's film surprisingly skimps on the doom and gloom. It does, however, warn us of our impending lifestyle change, suggesting a return to more local living instead of lengthy commutes and big box stores. In short: America's rapid use of dwindling oil supplies means that the bubble has to pop sometime.
The film itself matches its title perfectly, for good and bad reasons. First, the good news: The End of Suburbia doesn't lie about its content, though it presents concrete ideas and prompts change rather than spouting hellfire and damnation. Unfortunately, the lengthy subtitle hints at the film's lack of focus, drifting from suburban history to finger-pointing, the occupation of Iraq and much more. The film could've easily stuck to its roots and wrapped things up in under an hour---and though it's not particularly lengthy at 78 minutes, there's certainly room for editing here.
To the film's credit, The End of Suburbia starts off surprisingly well, providing a concise account of how the suburbs came to be during the mid-20th century. From the growth of industry to a promise of "country living", from the post-WWII housing built for returning soldiers to growing consumerism, it's easy to see how we got here and why it won't work for much longer. Clips from vintage promotional films keep The End of Suburbia rooted firmly in this period of cultural change, peppered with comments from authors, urban developers and oil analysts.
This strong start gradually dwindles as blame is passed around freely, though the documentary finds its footing by the third act. Certain alternate resources are considered, some are dismissed, but The End of Suburbia ultimately remains optimistic that more local living, fuel conservation and ingenuity may eventually balance things out. Even so, it warns us that major changes are on the horizon---and make no mistake about it, suburban life as we know it won't last forever.
Presented on DVD by Microcinema, this slim package includes two viewing options for the main feature, one of which excises a bit of coarse language. Either way, the DVD itself proves to be a bit lacking---and though the film carries most of the weight, the extras are relatively light and the video presentation simply doesn't deliver. Let's take a closer look, shall we?
Quality Control Department
Video & Audio Quality
Presented in what appears to be its original aspect ratio of 1.78:1, The End of Suburbia has not been enhanced for 16x9 displays. That's just the tip of the iceberg, however: since most of the vintage clips are already rough around the edges, the cropping and zooming makes them look even worse. Image detail is lacking and almost watery during certain sequences, while dirt and debris are on display most of the time. The newer interviews look relatively good, but this isn't a visually impressive film (or DVD transfer) by any stretch.
The Dolby Digital 2.0 Surround mix fares better, boasting clean, clear dialogue and surprisingly robust music cues. Older clips can't help but feel thin in comparison, though it's not nearly as distracting as the video quality. Unfortunately, no subtitles or Closed Captions have been included during the main feature or bonus material.
Menu Design, Presentation & Packaging

Seen above, the plain-wrap menu designs are basic and easy to navigate. The 78-minute main feature has been divided into 14 chapters, while no obvious layer change was detected during playback. This one-disc release is housed in a standard black keepcase and includes a resource guide from the Post Carbon Institute.

Bonus Features

The main attraction is an Audio Commentary with director Gregory Greene and producer Barry Silverthorn, who admit to this being their second commentary attempt since the film's completion. This particular track was recorded roughly eight months after post-production, giving both participants time to reflect on the film's impact and their experiences making it. It's a solid commentary, but still feels a bit dated overall; perhaps an even more recent follow-up interview would've put things in perspective more smoothly.

Also included are two short Bonus Films: "In the Suburbs" (19:28), a promo for Redbook magazine circa 1957; and "Destination: Earth" (13:34), a curious 1956 animated short. A few segments from "In the Suburbs" were featured during the film, but the Mars-centric "Destination: Earth" seems to be new. The latter takes quite a while to get moving (and fares quite poorly in the video department), but both pieces offer a wryly amusing portrait of the packaging and sale of the 1950s-era American Dream. These fit in well with the main feature, though more comments from the crew would've been preferable.

Final Thoughts

Urgent but ultimately unfocused, Gregory Greene's The End of Suburbia is still recommended viewing for suburbanites, city dwellers and everyone in-between. Though the film feels a bit dated already, it provides a competent portrait of the fading American dream, complete with an interesting history of how things ended up this way. Blame for our dwindling resources is passed around, though Greene's film offers hope for alternate resources and creative conservation...providing that we're willing to accept change, of course. Unfortunately, Microcinema's DVD presentation doesn't quite measure up---and though the bonus features offer mild support, the poor visual presentation doesn't help matters any. All things considered, The End of Suburbia is better suited for a weekend viewing than a worthy blind buy. Rent It instead.

DVD Talk Review Link: A Crude Awakening: The Oil Crash
---
Randy Miller III is an affable office monkey based in Harrisburg, PA. He also does freelance graphic design projects and works in a local gallery. When he's not doing that, he enjoys slacking off, second-guessing himself and writing things in third person.
---