Tom and Jerry: A Nutcracker Tale
List Price: $19.98 [Buy now and save at Amazon]
---
I can't say I've always been fond of updating classic animated characters, particularly when the new vehicles subvert or outright change the dynamics of the original artists' intentions. And quite a few recent efforts to translate these characters into original full-length features have come off wanting at best (Tweety's High-Flying Adventure comes to mind). But I was most pleased with Warner Bros.' latest Tom and Jerry full-length feature, Tom and Jerry: A Nutcracker Tale. Combining the beautiful music of Tchaikovsky, some nice background artwork, an occasional glimpse of the old T & J sadism, and a rather startling (for one of today's children's films) acceptance of operatic motifs of grand adventure and death, Tom and Jerry: A Nutcracker Tale goes beyond the usual limited goals of these straight-to-DVD features.
Jerry the Mouse loves opera, and he wishes for nothing more than to live his life inside the confines of an operatic production. One evening, after the end of a performance of The Nutcracker Suite, he magically gets his wish, with the set coming to life. The toys become animated, the various scenic drops become alive as three dimensional environments, and the little ballerina in the music box steps off her pin and dances with Jerry.
However, the King of the Cats, along with his minions (including Tom the Cat) crash the opera house, and come under the enchanted spell, as well. Jerry is blasted off through several drops (via cannon by Tom), landing in a snowy wonderland, while Tom and his men capture the ballerina, hoping to take over the fantasy land forever. As Jerry, Tuffy the French mouse, and his new friends Nellie the Horse and Paulie the Elf (he's an ornament, not suitable for play) seek out "The Toy Maker" (Santa) to help them get back to the ballerina, they learn that they must defeat the cats before sun-up, or face a fantasy world ruled by the cruel cats.
The visual design of Tom and Jerry: A Nutcracker Tale is quite rich and detailed, with an approximation of the older 40s Tom and Jerry's (as well as some borrowing of the older Warner Bros. style) that immediately shows some care was put into this offering (evidently, Tom and Jerry: A Nutcracker Tale was the final animated feature that had story and production input from the late Joseph Barbera). While I wasn't always happy with the facial modeling of the two protagonists (Jerry in particular looked odd and misshapen in some of his close-ups), the deep bold blues, reds, grays and whites of the evocative backgrounds give Tom and Jerry: A Nutcracker Tale a weighty, expensive feel, and the many lyrical sequences (such as the midnight balloon ride) strike an unexpectedly contemplative note among the slapstick and whimsy.
The use of Tchaikovsky's music throughout the feature is also something to celebrate, particularly if you're fed up like I am with this seemingly constant barrage of Disney-imitative original pop songs that litter new animation features. Along with the classically-inspired animation, the pervasive immersion of classical music in Tom and Jerry: A Nutcracker Tale further suggests a connection with the great old cartoon shorts (particularly from Warner Bros.) which frequently used classical music cues to great effect.
And with this steady adherence to the classics comes Tom and Jerry: A Nutcracker Tale's embrace of an almost operatic (or perhaps more accurately, comic operetta) storyline. Jerry's adventure to return to the ballerina and vanquish Tom and the King of Cats is epic in nature, including a battle with a dragon (he hypnotizes him with music), and a poetic, near-drowning down among the weeds in the icy waters of a frozen-over lake (this scene has very much the same feel as the classic 1957 Bugs Bunny short, What's Opera, Doc?). As well, there's a death of a character at the end of the film, who is then magically resurrected, that suggests those in charge of Tom and Jerry: A Nutcracker Tale were reaching for a little bit more than just a rote, straight-to-DVD animated feature.
Amid all of this classically-inspired sturm und drang, the makers of Tom and Jerry: A Nutcracker Tale didn't forget to throw in moments of inspired sadistic comedy - a hallmark of the earlier T & J shorts - to keep you laughing. There's a particularly strange (and funny), Prussian cat officer (complete with accent, monocle and dueling scar) who threatens to use pliers on Nellie to make her give up Jerry's position, as well as classic pain jokes aimed squarely at Tom (Tuffy's launch of a viciously swirling hammer that takes out all of Tom's teeth is a highlight). While Tom and Jerry spend much of the film apart, fans of the old T & J shorts will no doubt be glad to hear that the violence so necessary to make the old shorts work, is still in supply here in Tom and Jerry: A Nutcracker Tale.
The DVD:
The Video:
The full screen, 1.33:1 video image for Tom and Jerry: A Nutcracker Tale is sharp, detailed and boldly colored, with true values and no compression issues.
The Audio:
Thankfully, considering the use of Tchaikovsky's beautiful music, there's a strong Dolby Digital 5.1 Surround audio mix that's rich and expressive. There's also a Surround Stereo mix available in French, as well as English subtitles, too.
The Extras:
There's a Tom and Jerry's Holiday Story Factory DVD-ROM feature advertised on the back of the DVD case that offers the user the chance to make their own holiday card or storybook, but no matter how many times I tried to access this feature, I kept getting redirected to a website where I couldn't find those options. The Journey to the Toymaker game, however, was right on the disc, and was simple fun for the very young viewer.
Final Thoughts:
A surprisingly rich-looking, classically-influenced original DVD feature, Tom and Jerry: A Nutcracker Tale earns marks for embracing an operatic storyline while keeping the essential punish-Tom-with-pain gags that made Tom and Jerry such a successful franchise for decades. Obviously, a lot of thought went into Tom and Jerry: A Nutcracker Tale, and it pays off with a most unusual - and welcome - tone. I highly recommend Tom and Jerry: A Nutcracker Tale.
---
Paul Mavis is an internationally published film and television historian, a member of the Online Film Critics Society, and the author of The Espionage Filmography .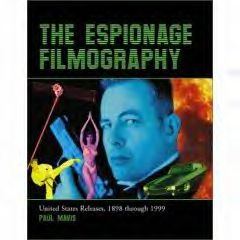 ---
C O N T E N T

---
V I D E O

---
A U D I O

---
E X T R A S

---
R E P L A Y

---
A D V I C E
Highly Recommended
---
E - M A I L
this review to a friend
Sponsored Links
Sponsored Links