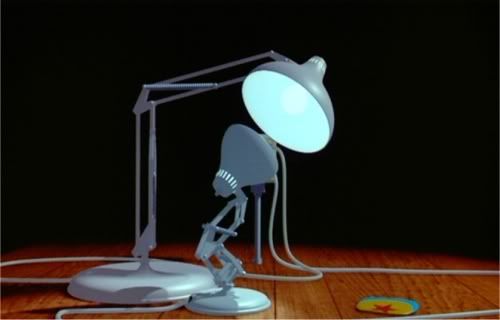 Pixar Animation has officially been in business for over 20 years now---and like a fine wine, it's only gotten better with age. The earliest signs of life were sparked in 1979, when current Disney/Pixar president Ed Catmull and other core members were still employed by Lucasfilm. The officially-named Pixar was purchased in 1986 by Apple co-founder Steve Jobs, though struggling sales of the company's flagship imaging computer almost ended things early. The hiring of young animator John Lasseter brought an artistic voice to Pixar's technical environment, who worked with his colleagues to develop demos for the yearly SIGGRAPH computer graphics conference. The warm receptions of the crowd planted more seeds in the minds of Lasseter and company, eventually shifting the group's focus from hardware sales to experimental CG shorts and commercials.
As Pixar's name and reputation grew in the commercial industry during the early 1990s despite growing financial concerns, the thought of producing a feature-length CG film eventually became a reality. Partnering with Disney in a multi-million dollar, three-film contract, Pixar eventually released Toy Story in 1995 and never looked back. The company has gone on to reach amazing levels of critical and commercial success, churning out a near-endless string of terrific films for animation fans of all ages. Pixar still holds short films in high regard, as they continue to craft bite-sized stories for theatrical and DVD release. Often times, younger hopefuls are even given a chance to show their stuff.
The aptly-named Pixar Short Films Collection, Volume 1 pays tribute to the genre that got the ball rolling. From early technical experiments to DVD-exclusive "additional stories", this one-disc release includes the company's notable shorts from 1984 onward. Though most of these have already been included in various Pixar DVDs over the years, a few exclusive shorts and bonus features are on board to sweeten the pot. At the very least, it's a great way to see the back-to-back evolution of CGI animation's 500-pound gorilla. Included in this collection are the following short films:
The Adventures of Andre & Wally B (1984) is the first and only pre-Pixar short film of the bunch. Completed when Lasseter and several other core members were working for Lucasfilm as part of the company's Computer Graphics Project, Andre & Wally B represented a major breakthrough in computer animation. This is more of a technical experiment than a story-driven adventure, exhibiting early stabs at motion blur and complex background rendering. All things considered, it's a good start.
Luxo Jr. (1986, at top) was Pixar's first official short---and nominated for an Oscar, no less. It's home to the first major appearance of the Luxo lamp featured prominently in Pixar's logo (and a baby lamp, too!), placed in front of a nondescript background. What really sells this classic short is the emotion of our characters, who manage to say plenty without using any words. During the accompanying audio commentary, Lasseter and company recall the amazing audience reaction during Luxo Jr.'s first convention screening.
Red's Dream (1987) is an interesting little piece, showing us the dreams of a unicycle sandwiched between moody noir cityscapes. The clumsy clown we see during the dream sequences is technically one of Pixar's first human characters---and appropriately enough, the clown's name ("Lumpy") fits his appearance well. This short has a surprisingly downbeat ending, though it suits the overall tone of the story perfectly. Unlike most of Pixar's pre-1990 output (aside from Andre and Wally B.), Red's Dream is a lesser-seen short and should be new to most viewers.
Tin Toy (1988, above left) broke down several walls for the fledgling company: not only did it offer glimpses of the future classic Toy Story, but it was the first CG short to win an Oscar. This clever film shows playtime from a toy's perspective---and though some of the visuals look a bit underwhelming by today's standards, they completely pushed the limits circa 1988. Most fans didn't see Tin Toy until it arrived as a bonus feature on early DVD releases of Toy Story, but it's certainly a valuable inclusion.
Knick Knack (1989) was the company's first attempt at creating a genuine 3-D short, as well as a tip of the hat to Chuck Jones. Starring a handful of tacky tourist souvenirs, Knick Knack follows the adventures of a snowman looking for love---while trapped inside a snow-filled globe, unfortunately. NOTE: As expected, this is the edited version that features a noticeably less buxom blonde. The snowman's dream girl was flattened out when Knick Knack was shown theatrically before Finding Nemo in 2003.
Geri's Game (1997) ended a substantial gap in the studio's short film production, during which time Pixar's focus was temporarily shifted towards commercials, visual effects sequences and the feature-length Toy Story. This character-driven piece is easily the most down-to-earth of the bunch, following an old man's lengthy game of chess in the park...against himself. Geri's Game won an Oscar for its terrific story and beautiful visuals, cementing the studio's return to form in the short film genre.
For the Birds (2001, above right) is a personal favorite and features a flock of fine, feathered friends perched atop a telephone wire. Annoyed by the sudden appearance of a large, clumsy bird who weighs down the wire, they soon learn that getting rid of him makes things even worse. This deceptively simple, Oscar-winning short was first shown theatrically before Monsters, Inc. and began as one of director Ralph Eggleston's student films.
Mike's New Car (2002, above left) marks the first short created inside the universe of an existing Pixar film (Monsters, Inc., in this case). This gives us the slight feeling that it's more of a deleted scene or an afterthought, but this Oscar-nominated short features terrific animation and voice work by John Goodman and Billy Crystal. As such, it was first created exclusively for the Monsters, Inc. DVD release, though it fits in here just fine.
Boundin' (2004, above right) is a thoughtful, song-driven piece about a lamb stripped of his white, woolen coat. Unlike most Pixar pieces, this wordy short is almost completely narrated from start to finish (with lyrics and vocals by director Bud Luckey) and plays out much like a children's storybook. First appearing theatrically before The Incredibles, this Oscar-nominated short is heartwarming without feeling too preachy or cloying.
Jack-Jack Attack (2005), like Mike's New Car, was created specifically for DVD release (The Incredibles, in this case). This feels more like a deleted scene than any other, if only because it fills in a slight gap during the actual movie. Still, Jack-Jack Attack a strong effort and an amusing little adventure, boasting impressible visuals and plenty of laughs.
One Man Band (2006) was first released theatrically before Cars and features a simple, human-driven story in the vein of Geri's Game. This Oscar-nominated short stars two feuding musicians vying for the donation of a small villager; featuring terrific music and a few clever twists, One Man Band is one of the most understated but technically accomplished of the bunch.
Mater and the Ghost Light (2006) is the longest of the Pixar shorts at just over 7 minutes. It's the third one created specifically for DVD release and features stunning visuals and solid voice work by the cast of Cars. While the film it's based upon isn't the strongest film in Pixar's catalog, Mater and the Ghost Light is still a spooky little tale that fits in quite nicely.
Lifted (2007) ends the collection on a strong note: this Oscar-nominated short was directed by longtime Pixar sound designer Gary Rydstrom, featuring a crash course in "driver's ed" from an alien's perspective. It's a cute and clever short with terrific visuals and compositions, tons of physical comedy and a nod to Wile E. Coyote himself. Originally shown in theaters before Ratatouille, Lifted earns high marks for its simple yet engaging story.
NOTE: Pixar's most recently-completed short film, Your Friend the Rat, is not included as part of this collection, but it's scheduled to be part of the forthcoming release of Ratatouille on DVD.

Video & Audio Quality

Presented in what appears to be their original aspect ratios (from 1.33:1 to 2.35:1 and almost everything in-between), these shorts look perfect from start to finish. The color palettes are bold and accurate, image detail is superb and no major digital problems pop up along the way. It's truly a first-rate presentation---and aside from the upcoming Blu-ray release, this is about as good as it gets. Five stars all the way.

The audio is presented in Dolby Digital 5.1 (and also available in French and Spanish dubs), pairing the occasional bit of dialogue with plenty of subtle atmospheric touches. A great deal of the action is firmly anchored up front, though plenty of surround activity and directional effects are displayed during films like Mater and the Ghost Light and Jack-Jack Attack. The subwoofer is put to good use during films like Lifted; not exactly a surprise, since it's directed by a sound designer. Optional English captions (as well as French and Spanish subtitles) are available during the shorts and bonus features, while the latter also include Japanese subs.

Menu Design, Presentation & Packaging

Seen below, the animated menu designs are basic and easy to navigate. Each short is presented without chapter stops (save for Mater and the Ghostlight, which has three), while no obvious layer change was detected during playback. The official packaging was not included with this screener copy---but if a final version is provided in the near future, this section will be updated accordingly.
Bonus Features

The main attraction here is a generous handful of Audio Commentaries, one for each original short (except Jack-Jack Attack). Director John Lasseter, Eben Ostby and William Reeves handle tracks for Andre and Wally B., Luxo Jr., Red's Dream, Tin Toy and Knick Knack; director Jan Pinkava speaks about Geri's Game; director Ralph Eggleston offers comments during For the Birds; the young sons of directors Pete Docter and Roger Gould have fun talking over Mike's New Car; director Bud Luckey offers his thoughts about Boundin'; directors Andrew Jimenez and Michael Andrews sit down with composer Michael Giacchino during One Man Band; directors John Lasseter and Dan Scanlon talk about Mater and the Ghost Light; and director Gary Rydstrom shares his thoughts on Lifted (whew!).

These are entertaining and informative commentary tracks, each highlighting plenty of personal memories and production details about the respective shorts. The earlier tracks with Lasseter, Ostby and Reeves are firmly rooted in the company's history---and though several pieces of information are repeated later, these are easy highlights and really stand out. All are worth watching, though lighter tracks like the one during Mike's New Car are more for amusement than education.

Also here is "The Pixar Shorts: A Short History" (23:32), a fascinating documentary about the company's evolution from hallway project to animation powerhouse. Featuring comments from Lasseter and several core members of the Pixar crew, "A Short History" is packed with vintage photos and footage from the mid-1980s and beyond. Those interested in peeking behind the curtain will find this invaluable---and it's certainly entertaining enough to watch more than once.

We also get a trio of Sesame Street Shorts created for the long-running TV series in 1991, including "Surprise" (0:22), "Light and Heavy" (0:59), Up and Down" (0:34) and "Front and Back" (0:42). These miniature vocabulary lessons feature the lamps from Luxo Jr. and are essentially done in the same style. They're worth a look for audiences of all ages, though as more of a curiosity than anything else.

All bonus features are presented in 1.33:1 and anamorphic widescreen format, paired with optional subtitles or captions when applicable. Sharp-eyed viewers will also find a trio of Easter Eggs on three different submenus, which include two 1986-era CG demos and a pencil test for Luxo Jr.

Though it's not exactly bursting at the seams with new material, the Pixar Short Films Collection, Volume 1 is an entertaining and visually rich effort that animation fans will enjoy. From the early days of Andre and Wally B. to modern fare like Boundin' and Lifted, Pixar's commitment to quality is evident every step of the way. This one-disc package from Disney is small but mighty, offering a flawless technical presentation and an entertaining assortment of bonus features. Anyone with a complete Pixar DVD collection should be familiar with most of the included content, but there's only one way to describe the Pixar Short Films Collection: impossible to resist. Highly Recommended for animation fans of all ages.
DVD Talk Article Link: Greetings From Pixar!
---
Randy Miller III is an affable office monkey based in Harrisburg, PA. He also does freelance graphic design projects and works in a local gallery. When he's not doing that, he enjoys slacking off, second-guessing himself and writing things in third person.
---