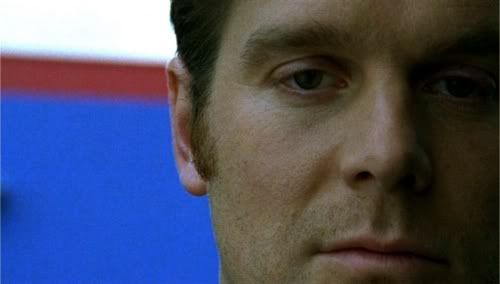 Ten years ago, a film like Jeff Renfroe's Civic Duty (2007) wouldn't have felt so close to reality. Our story takes place firmly in the present: terror alert levels rise and fall like stock prices, security is tightened and life doesn't feel as personal anymore. Terry Allen (Peter Krause, Six Feet Under) has lost his job as an accountant, limiting the chances of securing a home for himself and his wife (Kari Matchett, 24). Back within the confines of his second-story apartment in a nameless city, Terry begins looking for another CPA job, scouring the local paper and mailing out resumes.
His attention is quickly diverted when a "Middle Eastern guy" moves into their apartment complex. Terry's voyeuristic window observations seem almost justified at first: he notes his new neighbor's lack of possessions, frequent visitors bearing packages and garbage dumping at 3:00 in the morning. As Terry slowly loses himself in the onslaught of 24-hour news reports and frequent bouts with paranoia, his mild prejudice gives way to wild mood swings, phone calls to the FBI and completely erratic behavior. Unable to cope with the prospect of a "potential terrorist" in his neighborhood, Terry simply goes off the deep end---but not before his wife, who doesn't share his concerns, calls him on it.
Certain elements of Civic Duty work wonderfully. The film's effective atmosphere lets us get inside the head of Terry Allen---and it's to the credit of Peter Krause that our journey is so provocative. In some cases, we're reminded of his outbursts as Six Feet Under's Nate Fisher: widened eyes, a loose vocabulary and a voice that goes up half an octave when provoked. Still, it's Krause's conviction and ferocity that ground Civic Duty so well, even when the film ventures into heavy-handed territory. Egyptian box-office star Khaled Abol Naga, making his domestic debut here, is equally effective as the mysterious neighbor downstairs, Gabe Hassan. Their interactions with one another are a highlight during the film's angry third act, though portions of the dialogue feel a bit thin and overwrought. All things considered, the strong atmosphere and dramatic tension keep Civic Duty going strong most of the way.
It's certainly not for all audiences and political parties, yet Civic Duty is a solid sleeper that should appeal to fans of suspense in a realistic setting. Though the film's surprisingly short run at the box office has limited its momentum, there's certainly enough to like about Civic Duty to grant it a weekend look. Fox's DVD package skimps on the bonus features, but at least the film looks and sounds terrific. Let's take a closer look, shall we?
Quality Control Department
Video & Audio Quality
Presented in what appears to be its original 1.78:1 aspect ratio, the 16x9 enhanced Civic Duty looks impressive from start to finish. The film's quasi-documentary look features heavy grain and a stylized color palette, while the transfer itself appears clean and blemish-free. Digital eyesores like edge enhancement and pixellation don't seem to be issue at all, rounding out the visual presentation quite nicely.
The audio, available in Dolby Digital 5.1 and 2.0 Stereo mixes, is equally satisfying. This dialogue-driven film anchors a great deal of the action up front, though plenty of attention is paid to subtle atmospheric touches and strong music cues. As the paranoia of our protagonist increases, your ears will notice a difference. The packaging erroneously states that English and Spanish subtitles are included; luckily, Closed Captions are supported during the main feature.
Menu Design, Presentation & Packaging

Seen above, the animated (and ugly as sin) menu designs are basic and easy to navigate. The 94-minute main feature has been divided into a brisk 12 chapters, while no obvious layer change was detected during playback. This one-disc release is housed in a standard black keepcase and includes a chapter insert.

Bonus Features

Unfortunately, the only extra included here is the film's Theatrical Trailer, presented in anamorphic widescreen. An audio commentary or interview with the cast and crew would've been interesting, but no such luck.

Final Thoughts

Heavy-handed but riveting, Jeff Renfroe's Civic Duty goes for the throat and rarely lets up. Peter Krause and domestic newcomer Khaled Abol Naga offer strong lead performances, playing well off each other with only a few snags along the way. The overly slick cinematography can be a bit much at times, yet it's almost necessary to force us inside the mind of our paranoid protagonist. Fox's DVD package grants the film a strong technical presentation, though the lack of bonus features hurts this one in the long run. It's certainly not for all audiences, but fans of voyeuristically-driven suspense films like Rear Window and Arlington Road should give Civic Duty a fair shake. Rent It.
---
Randy Miller III is an affable office monkey based in Harrisburg, PA. He also does freelance graphic design projects and works in a local gallery. When he's not doing that, he enjoys slacking off, second-guessing himself and writing things in third person.
---