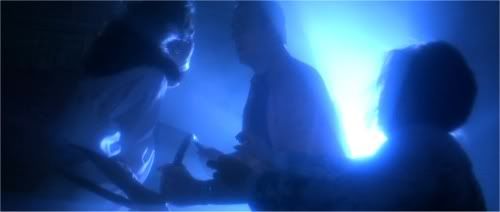 It's not often that horror mixes in so smoothly with family entertainment, but Tobe Hooper's (or Stephen Spielberg's, depending who you ask) Poltergeist (1982) isn't exactly your average 1980s classic. Debuting just one week before Spielberg's massively successful E.T. hit theaters, Poltergeist is decidedly the darker of the two blockbusters. It's a purely potent "ghost story" in every sense of the word, allowing us to become familiar with our cast before all the chaos comes crashing down.
Our story revolves around the Freeling family, living comfortably in the peaceful California suburban development of Cuesta Verde. As most suburban dwellers of today can testify, there's at least one downside to all this: all the houses pretty much look the same. It doesn't take long for the Freelings' house to stick out, though: it seems to be the only one bubbling with paranormal activity. Objects move by themselves, voices can be heard in TV static and ghostly light can be seen if you look hard enough. Carol Anne Freeling (played by the late Heather O' Rourke) is the youngest of the brood and seems the most affected by the strange occurrences. One night, she simply disappears while the family investigates the strange weather outside.
More than anything else, Poltergeist is about how a family sticks together during times of crisis. The parents are naturally given the most focus: father Steve (Craig T. Nelson) and mother Diane (Jo Beth Williams) enlist the help of paranormal investigators and the like, but their commitment to stay in the haunted house keeps them front and center. Zelda Rubinstein portrays the small-statured, clairvoyant Tangina Barrons, bringing a notable amount of tension and authority to her supporting role, but it's Nelson and Williams that hold the first and second acts of Poltergeist together. The first hour or so doesn't always run at full steam, but the gradually mounting tension eventually pays off with interest.
In other words, the film's second half carries most of the weight with ease. Poltergeist still delivers plenty of scares after 25 years, packing a great deal of suspense and spookiness into the home stretch. The film's combination of practical and visual effects works well here, from the "melting face" sequence to a giant skull that undoubtedly made countless youngsters (and adults) afraid of their closet doors. The film's legendary curse has helped it stay spooky for the past 25 years...but what matters most is that Poltergiest remains effective without drowning us in non-stop blood and gore. It hasn't aged gracefully in certain respects and the annoying "Pizza Hut edit" remains as distracting as ever, but it's hard to complain when Poltergeist does so much right.
As the darker half of Spielberg's one-two punch in the summer of 1982, this frightening fable of the Freeling family should remain an effective, entertaining ghost story for decades to come. Though Warner Bros.' new 25th Anniversary Edition DVD brings a solid technical presentation to the table, the bonus features leave much to be desired. It's not quite what fans may have been hoping for, but there's still enough here to warrant a closer look.
Quality Control Department
Video & Audio Quality
Presented in its original 2.35:1 aspect ratio and enhanced for 16x9 displays, Poltergeist looks excellent on DVD. Though a few darker scenes are a bit murky, the film's natural color palette is generally bold and crisp. Image detail is solid overall, with only a handful of sequences displaying mild amounts of softness. Digital eyesores like edge enhancement and pixellation don't seem to be an issue here, rounding out the visual presentation nicely.
The film's Dolby Digital 5.1 and 2.0 audio mixes are generally impressive; the latter is also available in French, Spanish and Portuguese dubs. Most sequences are anchored firmly up front, though the surround mix offers pleasing amounts of rear channel activity and directional effects. Overall, fans won't find much to complain about here. Optional English captions---as well as French, Spanish, Portuguese and Chinese subtitles---are available during the main feature only.
Menu Design, Presentation & Packaging

Seen above, the atmospheric menu designs are basic and easy to navigate. The 114-minute main feature has been divided into 24 chapters, while no obvious layer change was detected during playback. This one-disc release is housed in a standard black keepcase; an attractive prismatic slipcover is included in lieu of an insert.

Bonus Features

Easily the most disappointing aspect of this 25th Anniversary Edition, the only extra included here is a lightweight featurette entitled "They Are Here: The Real World of Poltergeists Revealed" (2 parts, 31 minutes total). Basically, this amounts to a series of talking head interviews with ghost book authors, magicians and other enthusiastic folks. Peppered with clips from the film, this is generally of little interest and a poor substitute for a behind-the-scenes documentary or audio commentary. With so much fog surrounding the production of Poltergeist (and the "director's dispute", of course), Warner Bros. really dropped the ball here.

Final Thoughts

Boasting strong performances and plenty of suspense, Poltergeist still packs quite a punch 25 years later. Though the first act has an unsteady pace and certain visuals haven't aged well, the film's dynamic second half picks up the slack and keeps the momentum going strong. Warner Bros.' 25th Anniversary Edition is a generally disappointing affair, offering a solid technical presentation but no real extras of interest. Owners of previous editions should shop around if they're ready for a double dip, while those who have yet to experience Poltergeist on DVD should consider this the version to get...but just barely. Mildly Recommended.
---
Randy Miller III is an affable office monkey based in Harrisburg, PA. He also does freelance graphic design projects and works in a local gallery. When he's not doing that, he enjoys slacking off, second-guessing himself and writing things in third person.
---