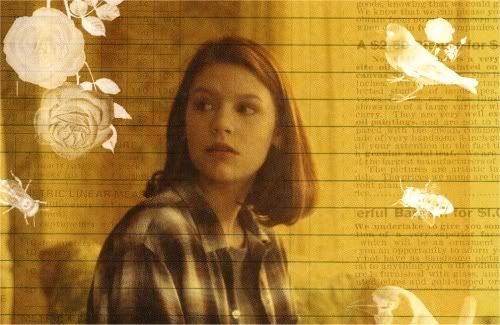 As one of the 1990s' best-loved cult classics, Winnie Holzman's My So-Called Life (1994-95) left quite a legacy during just one season. Hailed as one of the first TV dramas to feature an authentic portrait of teen and family life, this anti-90210 showed us less-than-pristine high school hallways, generous doses of social awkwardness and the occasional round of domestic dysfunction. The multi-layered characters were an easy highlight, creating more realistic protagonists that most dramas can muster in half a dozen seasons. Sharp editing, passionate performances and spirited storylines also helped to make this first and only season of My So-Called Life a critical darling, though dwindling ratings managed to cut its life short.
With breakout performances by up-and-comers Claire Danes and Jared Leto, My So-Called Life is anything but an early career curiosity. Series creator Winnie Holzman worked previously as a writer on shows like The Wonder Years, Once and Again and Thirtysomething, assembling a team of earlier collaborators---including producers Edward Zwick, Marshall Hershkowicz and composer W.G. "Snuffy" Walden----for the experimental My So-Called Life. The acquisition of the young Danes (as protagonist Angela Chase) and older Leto (as Jordan Catalano, the object of her affection) was certainly fortunate, though hindsight shows no weak links in the ensemble cast. Performances by Bess Armstrong and Tom Irwin (as Angela's parents, Patty and Graham), A.J. Langer (Rayanne Graff, Angela's rebellious best friend) Wilson Cruz (Ricky Vasquez, an openly gay 15 year-old) and Devon Gummersall (Brian Krakow, the intelligent but socially awkward guy) stand out easily enough, while their sharply-written quirks manage to sidestep typical TV stereotypes. Trivia for the day: though My So-Called Life was originally centered strictly around Angela in school, scheduling conflicts and Danes' young age forced the creators to focus more on her family and friends.
Perhaps the two unsung heroes of My So-Called Life are the series' music and editing. The former is largely the creation of composer W.G. "Snuffy" Walden, who crafted a number of organic, poignant music cues that stand out without calling too much attention to themselves. From the percussion-driven moments of heightened drama to quieter, more introspective pieces during many of Angela's first-person narratives, the music sets the show's tone incredibly well on the whole. The editing also deserves special mention, as scene cuts often appear seamless but abstract in nature. The characters' frequent daydreams and voice-over scene transitions drift freely in most cases, creating a dreamlike pace and a smooth story flow. This effective method is seen as early as the pilot (filmed nearly a year and a half before broadcast), but it really shines during episodes like "Life of Brian" and "So-Called Angels".
Ultimately, though, My So-Called Life remains strong due to the then-controversial subject matter and story elements. Told from a multitude of perspectives, My So-Called Life presents a unique slice of life that would influence future classics like Freaks and Geeks and even Six Feet Under. From the trials and tribulations of an openly gay character to the Chases' struggling marriage, Holzman's creation doesn't always paint a pretty picture---but it does so with precise strokes and plenty of color. Though it took a few episodes to really hit its stride, My So-Called Life stays strong as the 19-episode run bears on. Characters grow and develop, relationships begin and fall apart and nearly all are for the better. The series finale, "In Dreams Begin Responsibilities", leaves plenty to the imagination; luckily, it doesn't feel quite as unfinished as other canceled classics.
ABC's cancellation of the show in 1995 eventually led MTV to air it in syndication, where My So-Called Life enjoyed something of a second life. BMG originally issued a five-disc set on DVD in 2002 (following a one-volume release the year before), but the bulky collection quickly became out-of-print. Fetching high prices on eBay and elsewhere (often well over the $125 mark), the barebones collection has since been trumped by Shout Factory's brand new six-disc package. Featuring a slightly improved technical presentation, plenty of new bonus features and spiffy packaging, this long-awaited release should thrill fans of all ages. Let's take a closer look, shall we?

(19 episodes on 5 single-sided discs)
Disc One
"Pilot" *
"Dancing in the Dark"
"Guns and Gossip"
____

Disc Two
"Father Figure"
"The Zit"
"The Substitute"
"Why Jordan Can't Read"

Disc Three
"Strangers in the House"
"Halloween"
"Other People's Mothers" *
"Life of Brian" *

Disc Four
"Self-Esteem" *
"Pressure"
"On the Wagon"
"So-Called Angels" *

Disc Five
"Resolutions"
"Betrayal"
"Weekend" *
"In Dreams Begin Responsibilities"

Disc Six
Additional Bonus Features
(see below for list)
____
____
* - Includes Optional Audio Commentary

Video & Audio Quality

Presented in their original 1.33:1 aspect ratio, these 19 episodes look fairly decent in most respects. The color palette is generally dull (except in later episodes), image detail is slightly soft and black levels look fine. Some of these issues may be due to the original source material, though Shout Factory has a spotty record when it comes to the visual presentations of cult TV shows. Based on the quality of this collection in other departments, though, we've got to give them the benefit of the doubt. This is a carefully detailed package overall, so slightly lacking visuals shouldn't be a deal-breaker.

The audio presentation also shows a modest improvement from the out-of-print BMG collection. This time around, the Dolby Digital 5.1 mix doesn't sound so artificial and overbearing, creating a natural atmosphere with mild rear channel activity (typically reserved for crowd noise and music cues). A Dolby Digital 2.0 mix is also included for those who want a more straightforward presentation. Optional subtitles are not provided, though Closed Caption support has been enabled for the episodes only.

Menu Design, Presentation & Packaging

Seen above, the animated menu designs are basic and easy to navigate. Each 49-minute episode has been divided into 6 chapters (with no index menus), while no obvious layer changes were detected during playback. The packaging for this six-disc release deserves special mention: the DVDs are housed in an overlapping digipak tray, which fits snugly in a sturdy outer box. An attractive 36-page book is also tucked inside, which includes episode descriptions, music listings, photos, and essays by creator Winnie Holzman, Joss Whedon, Janeane Garofalo and author Michele Byers. For a look at the packaging, click here.
Bonus Features

Trumping the BMG collection easily, Shout Factory's package includes plenty of extras that fans will enjoy. Six episodes feature Audio Commentaries with several members of the cast and crew, typically herded together in groups of two or three. Participants include series creator Winnie Holzman, directors Scott Winant, Claudia Weill and Todd Holland, writers Jason Katims and Adam Dooley, executive producer Marshall Hershkowicz and actors Claire Danes, Bess Armstrong, Devon Gummersall, Wilson Cruz and Lisa Whilhoit. Die-hard fans should find these tracks interesting, though the actor-dominated sessions can get a bit giggly.

The rest of the bonus features are lumped together on Disc 6, leading off with "My So-Called Life Story" (23:50, below left), a fairly spirited retrospective look at the series' production. Most of the cast is not seen here (save for Danes), with additional comments by Holzman and several producers. This is fairly standard stuff overall, but fans should find it satisfying.

Up next are two Interviews; one features Claire Danes and Winnie Holzman (21:29), and the other features Marshall Hershkowicz and Holzman (14:19). Both are unofficially moderated by the series creator, while these conversational sessions offer details that "My So-Called Life Story" didn't have time for. Featuring a handful of production photographs and the like, fans should certainly browse through both of these.

Also here is a trio of featurettes about "The Characters", including "Angela" (15:56), "The Chase Family" (16:01) and "The Friends" (28:51). Featuring newly-recorded interviews with several members of the supporting cast (though Jared Leto is notably absent), these short retrospective pieces allow the actors to explain their characters' depth and personalities. Fans of "Where are they now?" with really enjoy seeing how these folks have changed and matured over the years.

We also get a stand-alone retrospective Interview with Claire Danes (8:01), who explains a bit more about her experiences on and off the set of My So-Called Life. This borders on overkill after a few of the previous extras (especially her character featurette and the Holzman chat), but fans should still give it a look.
"The Music" (15:41) is an interesting chat with composer W.G. "Snuffy" Walden, who---like several of the producers and writers---worked with Holzman and company on Thirtysomething. Walden is refreshingly hmnble and honest during this conversation, noting his lack of scoring experience but willingness to experiment.
Those who couldn't get enough of the cast and crew earlier should enjoy Highlights from the 1995 Museum of Television & Radio Panel (31:23, above right). Recorded in March of that year---before the show was officially canceled in May---this extended Q&A features plenty of participation from Holzman, Danes and several members of the supporting cast and production team. Each group of questions is presented as text on-screen, followed by roundtable answers from several of the contributors. As one of the only bonus features in the bunch that's strictly "in the past", this is a valuable inclusion that fans should check out.
Closing things out is a Photo Gallery with several promotional and candid shots of the cast in action. All bonus features are presented in 1.33:1 format; unfortunately, none include optional subtitles or Closed Caption support. Overall, this is an ambitious and thoughtful collection of extras that fans will enjoy digging through.

Short-lived but memorable, My So-Called Life has aged quite well and remains as compelling and honest as ever. The breakout performances by Claire Danes and Jared Leto will draw in new fans, but there's strong showings all around...paired smartly with solid writing and great music, of course. Fans who couldn't afford BMG's long out-of-print boxed set will find Shout Factory's six-disc collection worth every penny: boasting a mildly-improved technical presentation, strong bonus features and great packaging, there's plenty to dig through. From top to bottom, it's one of the year's best TV-on-DVD releases and comes Highly Recommended. Enjoy it!
---
Randy Miller III is an affable office monkey based in Harrisburg, PA. He also does freelance graphic design projects and works in a local gallery. When he's not doing that, he enjoys slacking off, second-guessing himself and writing things in third person.
---