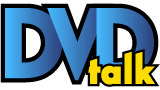 List Price: $24.95 [Buy now and save at Amazon]
---
Medieval films set during the Crusades, when truthfully captured outside of such pieces as those in the Robin Hood universe, hold the capacity to captivate moviegoers with a plethora of stimulating and enlightening flavors. Krzyzacy, a Polish epic adventure from director Aleksander Ford, makes certain to latch onto historical essence for a sturdy, expansive film set during that time period. Though the language can be a bit monotonous and the considerable length grows wearisome, this knightly story still formulates enough historical context and enveloping aesthetics to hold fair interest.





The Film:
















First and foremost, let's get the definition of Krzyzacy out of the way so that we actually know what we're talking about here. Krzyzacy is a Polish word that roughly means Knights of the Teutonic Order, a cluster of crusader knights in medieval history closely resembling the more well-known Masonic Templar order. The word comes from the novel the film is based on, "Krzyzacy", written in the 1900s. If you have a base knowledge on the Crusades to any capacity, then the fact that these knights have a construed view on the will of God is a redundant point.



The story at hand is a classic medieval tale, starting with a young man named Zbyszko yearning for the affection of a handmaiden, Danusia, to a powerful Dutchess. He's fresh from battle after fighting with the Teutonic Order in Europe, along with his uncle and fellow traveling companion. Most of the film is hinged on his affection for the Dutchess' handmaiden, culminating eventually to a promise of marriage. However, the conflict between him and the Teutonic Knights is far from over as he seeks approval from Danusia down a ramshackle path filled with contingencies.



Throughout the film, many layers of political waywardness and holier-than-thou clamoring float into the picture as Zbyszko fights for Danusia's honor. Krzyzacy is, of course, based on a factual narrative that makes certain to keep authenticity with the Teutonic beliefs and motives. However, the story latches a little too strongly on said verbose to allow breathing room for an epic story with dramatic integrity. Textually and thematically, the performances and dialogue stay firmly grasped around a flow reminiscent of historical textbook speed. Though the material is rather interesting and the interchanges with the Teutonic Knights' clouded views on God intrigues me, I couldn't help but feel heavily drained from the weighted delivery.
















Where Krzyzacy gets a lot right, especially as a '60s film from Poland of all places, is in a uniquely mild yet colorfully tangible aesthetic design in both set and costume presentation. Consistently, the colors and cinematography (though the DVD's image was bland and blurry as can be) really popped with controlled tangibility. A lot of the photography achieves a great presence, especially in nature, that makes certain to paint a clear and enveloping picture we can believe in on screen. Sure, the outfits don't look quite as weathered as clothing probably would in the time, but they still buzz with a greatly believable flare.



Then, when I wasn't expecting it, Krzyzacy delivered some really great fight choreography as well. Once the knights crossed swords, each and every stroke appeared smoothly delivered. Battle isn't the most prominent feature of this film, but when it does show its face on screen, it's realized in quality fashion with impressive effortlessness. The actors find a good halfway point between believability and interest, especially in the final battle sequence. The sound design falls a few steps behind the execution of the action, but it's somewhat pardonable when so much medieval hustle and bustle is going on at once on screen.



Even with solid production and cinematography, the film still cannot dodge its overbearing thickness in storytelling. Though the steadfast mentalities of the opposing, villainous Teutonic Knights perk historical interest, the core love story and extensive political motivations burden us with a desire for both more and less to equal measures. Krzyzacy ends up a bit too stiff and textual for full concentration, though it impresses with ancient breadth and fervent gravitas.





The DVD







src="http://www.dvdtalk.com/reviews/images/reviews/196/1193869466_4.jpg" width="300" height="225">








The Video:



Outside of Krzyzacy's 1.78:1 image being anamorphic, there's not a lot of positive that can be said about the presentation. Basically, the film feels oddly framed, blurry, and like it's been latched onto the back of a sportscar as it rushed down a gravel driveway. There's dust and scratches everywhere on the almost VHS-level transfer. Most of the time, flesh tones and wilderness coloring felt quite subdued. If it weren't for the composition of the shots captured, Krzyzacy's visual presentation would have looked quite unappealing. However, there are a few scenes where colors, especially reds and yellows, popped from costumes and backdrops. In all, this is a piece of work that desperately needs a new restoration.



The Audio:



A step above its visual treatment, Krzyzacy comes in a Polish 2.0 Stereo treatment that, strangely, was actually pretty good. Verbal clarity wasn't the strongest and a bit of tin can syndrome sneaked into the mix, but it still held a fine level of strength. Sound effects, however, leaped from the speakers fairly well. The clanking of swords and gallop of horses sound audibly sharp.



The Subtitles:


English-speaking individuals, beware. The subtitles, though they are grammatically solid throughout the presentation, are horribly synced with the audio track. Around halfway through Krzyzacy, you're waiting nearly two or three seconds after lines are delivered for their textual meaning. This, of course, completely detracts from the experience when you're trying to make heads or tails about the events happening. It's a shame, because the subs are pretty good aside from the consistent feeling of trying to catch up with the film.



The Extras:



Since the entire disc is presented in Polish writing, it's difficult to figure out what exactly is available on the disc. However, I'm able to pick out the fact that the disc is pretty darn bare-boned. Here's what I was able to decipher:



We have a Chapter Selection, English Subtitles, and what I believe to be an Audio Commentary option when I toggled through the audio options manually. However, the commentary does NOT have English subtitles.
Outside of that, there's another menu listing some Previews, I believe, for other Polish items, as well as a Cast and Crew descriptive portion with photos and another narrated textual portion talking about the author of the novel, Henryk Sienkiewicz.



Needless to say, the supplemental material is also not terribly English friendly.



-----



Final Thoughts:



Only history nuts and Polish speaking individuals should approach this version of Krzyzacy. The film itself is well worth seeing for several reasons; however, this disc is not conducive to English-speaking DVD watchers. If you combine the video quality, the lack of English friendly supplements (or supplements of any kind at all), or the swanky subtitles, then you've got a package that'll save you some hair pulling if you Skip It.



---
Thomas Spurlin, Staff Reviewer -- DVDTalk Reviews | Personal Blog/Site
---
Sponsored Links
Sponsored Links