American Movie Musicals: Vol. 2 (Hair, A Chorus Line, De-Lovely)
MGM // PG // October 9, 2007
List Price: $29.98 [Buy now and save at Amazon]
---
M-G-M and 20th Century-Fox have gathered together three disparate, cast-off musicals and titled the collection, American Movie Musicals: Vol. 2. With this sort of collection, the most important information I can give you concerns double-dipping. If you already own DVD copies of Hair, A Chorus Line and/or De-Lovely, there's absolutely no need to purchase American Movie Musicals: Vol. 2. There are no additional extras included for the individual titles, and the same transfers are utilized.
HAIR
Based on the ground-breaking 1968 Broadway sensation that defined the term, "rock musical," Hair's bare-bones plot concerns a young, naive Oklahoma farm boy, Claude Bukowski, who comes to New York after being drafted (or does he join up? The movie isn't too clear, there), ready and willing to fight in Vietnam. Happening upon a group of hippies in Central Park, including happy-go-lucky leader Berger (Treat Williams), blonde, laid-back Woof (Don Dacus), pregnant flower child Jeannie Ryan (Annie Golden), and angry, righteous Lafayette, also known as "Hud," (Dorsey Wright), Claude helps wrangle the horse "the Tribe" has rented, and becomes friends with the group - as well as falling instantly in love with sexy debutante Sheila Franklin (Beverly D'Angelo), who rides by on her horse, and smiles at Claude (Sheila, that is; not the horse).
Claude, figuring this is his last moment of freedom before going off to war, decides (rather incongruously, considering his initial stand-offish conservatism) to join "the Tribe" in a night of wild-drug taking, as well as a trip to crash Sheila's "coming-out" party. Arrested there, Berger uses Claude's cash for bail, to raise the dough to get them all out (this "free spirit" gets the money from his mother). After a peace rally where Claude flips out on LSD, imagining what it would be like to get married to Sheila (in a word: trippy), he's off to Nevada. But a letter to Sheila convinces "the Tribe" (along with Hud's neglected girlfriend and child, to go visit Claude - with devastating consequences for Berger.
With disco still strong and punk rock emerging, 1979's movie version of Hair was met with a decided yawn from moviegoers. Long tired of the mass-marketed, mass-produced, mass-overexposed remnants of the so-called hippie era, viewers couldn't have cared less about a film musical that hollowly celebrated all the clichés of the counter-culture. Trying to find a rationale for director Milos Forman's Hair is like trying to find a John Birch Society chapter in Berkeley, California. If it's just supposed to be about the music, you can hear better versions of some of Gerome Ragi and James Rado's songs on the oldies stations. If it's supposed to be about the dancing, despite Twyla Tharp's celebrated rep, the mud-frumping wig-womps the cast and dancers execute, in Forman's deliberately loose, informal, "open" framing, fail miserably, resembling nothing more than your average "interpretive dance" routine from any anonymous dance troupe.
And if it's supposed to be about the "message," what's the message? Changed significantly from the play (which wasn't all that profound to begin with), Hair apparently wants us to believe that something meaningful is being thrown out there when the gentle hippies of "the Tribe" introduce Claude to hard drugs and take on the "squares" on horseback (who by the way, were minding their business) and at Sheila's private party. Seen today, I wonder how many people think it's "shocking" and "cool" and "yeah, give it to The Man!" when these rather benign louts begin their shenanigans. But what's really troubling about Hair is that they're such pathetic hippies. Hair's idea of political rabble-rousing is having Woof sing dirty words to the upper-crust horse riders, and Berger jump on a fancy-dressed table, singing about...whatever. Hud, a Black Panther in the play, is now...what? Here, he's just a bad parent, abandoning his child and girlfriend (the only moment in the film where some needed balance is given to the free spirits - before it's immediately washed away). Woof, a bisexual in the play (a big deal back in 1968), only mildly states he wouldn't kick Mick Jagger out of his bed. This is it? These are the world-shakers whom Forman seems to think changed an entire country?
In the play, Claude is actually the leader of the hippie group, who eventually goes to Vietnam to fight and die. And Sheila is the most politically active of the group. But in Forman's Hair, Claude is now a clod, an Okie who kicks the ground when he talks, and who with Sheila (now transformed into a beautiful deb), provide lame "straight" counterpoints to the equally lame "wild childs" of "the Tribe." Descending rapidly into "the hairs versus the squares," Hair tries to push its obvious non-message on an audience that had already grown bored with that equation years before.
The DVD:
The Video:
Two video images of Hair are available on this flipper disc: a flat, non-anamorphic, 1.85:1 letterboxed version (which looks good, despite some grain, with Miroslav Ondricek's subtle coloring correctly reproduced), and a full-screen, panned-and-scanned 1.33:1 version that promptly murders Ondricek's and Forman's intentions.
The Audio:
There's a Dolby Digital 5.1 Surround mix that's quite directional during the musical numbers, as well as a French mono mix. English and French subtitles are available, as well as close-captions.
The Extras:
Other than a trailer and theatrical poster gallery, there are no extras for Hair.
Final Thoughts:
Cliched, muted, and directionless, director Milos Forman's Hair can't benefit from the play's 1968 taboo-breaking novelty of nudity and profanity on the Broadway stage, so all we're left with is a tired "hairs versus the squares" morality tale, thinly plotted and indifferently enacted, that was boring way back in '79. You can safely zone out and miss Hair.
---
A CHORUS LINE
The movie non-event of 1985, A Chorus Line, based on the 1975 Tony and Pulitzer Prize-winning musical by James Kirkwood, Jr., Nicholas Dante, Edward Kleban and Marvin Hamlisch, looks at a single, intense Broadway audition for a chorus line of dancers. Run by Larry (Terrence Mann), and overseen by the director, Zach (Michael Douglas), the huge cattle call is gradually whittled down to seventeen "gypsies," those freelance dancers who rarely if ever progress past the chorus. But this isn't just any audition; Zach, known for being an incredibly tough task-master, has instructed the gypsies that this upcoming production calls for dancers that can act, as well as sing. But the "acting" is to be natural; in other words, he wants the dancers to be themselves, totally honest, and without pretense. And they have to open up to him so he can decide who will be right for the chorus line. He only needs four boys and four girls.
But Zach's usual strict regimen is thrown off kilter with the arrival of Cassie (Alyson Reed), a brilliant dancer who left Zach to go to Los Angeles to pursue a solo career. Unfortunately, that didn't pan out and she's back in New York, willing to take menial chorus work just so she can dance. And, perhaps, to be close to Zach again. Who will make the cut to take their place on the chorus line?
There was a tremendous amount of publicity surrounding the pre-production and shooting of A Chorus Line, particularly once Sir Richard Attenborough signed on as director. Following his monster critical and commercial hit Gandhi, expectation were high from critics who put aside concerns that Attenborough might not be the best match-up with the material. The only star of the piece, Michael Douglas, had finally broken through with the big hit Romancing the Stone, two years before. But a curious thing happened when the film premiered: nobody cared. A paltry gross of only 15 million (crap like The Care Bears Movie, Porky's Revenge, and Volunteers trounced it at the year-end box office), for a 25 million dollar production, indicated that all those millions of people who were enthralled by the numerous Broadway and touring productions of A Chorus Line, had absolutely no intention of spoiling those nice memories by seeing the film adaptation.
I suppose the producers thought with the recent successes of dance films like Flashdance and Footloose, A Chorus Line, with its built-in recognition factor from millions of theatergoers, was a natural, particularly with an Oscar-winning director and the hottest male star in Hollywood at the time. But watching A Chorus Line today, it's easy to see why all those people stayed away: it's a filmed play, and a badly filmed play, at that. A Chorus Line is certainly the most theatrical of experiences; if you've ever seen it, you know that the play's structure, as well as its music and book, can't be separated from seeing the play in the theatre. The tension of the elimination hangs over the various characters' revelations about their lives, creating a claustrophobic emotional experience that demands live actors standing in front of you, on stage.
The movie version of A Chorus Line, however, can't hope to recreate that electrifying feeling of a true stage production, no matter how many times Attenborough changes up the camera setting, or hikes up on his overhead crane. Regardless of the gloss, it's a two-dimensional experience for a play that needs the echo of a live theatre, where the audience can see the actors sweat and tear up. But even if the film couldn't hope to recreate the stage experience, why did they significantly alter the play? While the play A Chorus Line is about the gypsy dancers, the movie A Chorus Line is resolutely about Zach; specifically, his relationship with Cassie the dancer. This subplot, an important but equally balanced element of the play, is put squarely in the middle of Attenborough's (and screenwriter Arnold Schulman's) literal, unimaginative retooling. Flashbacks to Zach and Cassie's relationship "open up" the material (even though they're largely inexplicable) while A Chorus Line slowly turns into the "Zach and Cassie" show. What happened to the gypsies? Isn't this supposed to be about their hopes, their dreams, and the crushing reality of where they stand in relation to the one thing they love more than anything: dancing? Attenborough goes through the motions of introducing us to these characters, but the indifferent acting (and less than impressive singing and dancing) never brings out a single gypsy who grabs hold of our attention.
And what's with the shuffling and elimination of songs? Most egregious is taking the standout, What I Did for Love, and giving it to Cassie as some kind of coda for her relationship with Zach (and it's sung poorly, to boot). And where's Sing! and The Music and the Mirror? It's not enough that the material is decidedly unsuited to the medium (something that the play's director, legend Michael Bennett, realized when he opted out of the movie version), but then to fundamentally change the material that's a proven hit, is disastrous. Attenborough, never the most dynamic director in the world (check out the somnambulant Gandhi and Chaplin) seems to have exactly three sets up: high crane shot, tracking full shot, and medium shot. Perhaps to give the feeling of being in the audience, Attenborough largely shoots from in front of the proscenium, further creating a feeling that we're watching a filmed, embalmed play. Douglas, all wrong for his role (he's resolutely "movie," not "theatre") further throws the film away from the already marginal actors taking on the gypsy roles, virtually eliminating the audiences' only chance of connecting with the film. It's no wonder that the few people who did check out A Chorus Line, were duly unimpressed.
The DVD:
The Video:
The anamorphically enhanced, 2.35:1 widescreen video image for A Chorus Line looks crystal clear (although some shots show grain -- no doubt from the original materials), although a tad darker than I remember it in the movie theater. Colors are generally true.
The Audio:
There's a Dolby Digital 5.1 Surround audio mix that's quite bombastic, but which unfortunately brings out the unmistakably "canned" recorded sound of Hamlisch's score. Subtitles in English, French, and Spanish are included, as well as close-captions.
The Extras:
The extra, Marvin Hamlisch: From Broadway to Hollywood, running only 15 minutes or so, is actually far more entertaining than the main feature it accompanies. Hamlisch, not surprisingly, concentrates on the origins and production of the Broadway incarnation of A Chorus Line, leaving scant mention of the film. He comes off as a gracious, modest interview, with plenty of interesting sidebars on the personalities involved with the show.
Final Thoughts:
They changed the musical that nobody wanted to see filmed in the first place. A Chorus Line elicited a big, "So what?" when it premiered in 1985, quickly disappearing, while failing to join the ranks of important (or even memorable) screen adaptations of hit Broadway musicals. Seen today, it's not hard to see why: a miscast director and star; an unimaginative approach to the filming, and middling performances of the songs and dances. A Chorus Line doesn't high-kick; it just kind of lays there.
---
DE-LOVELY
After getting a coat of whitewash in the 1946 biopic of his life, Night and Day, hopes were high that one of America's preeminent composers, Cole Porter, would get his due in the splashy, expensive old-school biopic from 2004, De-Lovely, starring Kevin Kline and Ashley Judd, and directing by heavyweight Hollywood producer, Irwin Winkler (Rocky, Raging Bull). But unfortunately, a misplaced couple of actors, a lightweight director and a miscast adoration of the idea of Cole Porter - instead of the reality of him - makes the terrible Night and Day look fairly good.
Structured by a ridiculous framework of an aged Porter (Kevin Kline) being subjected to a staged version of his life by angel Gabe (Jonathan Pryce), Porter's career and love life are examined, starting with his indolent years of luxury in Paris when he meets wealthy divorcee Linda Lee Thomas (Ashley Judd). Instantly smitten with her style and grace (we're never quite sure what she was smitten with in Porter), they engage in a curious love affair, where sex is pretty much left by the wayside as Linda accepts the fact that Cole will always pursue men for sex and for him, meaningful love.
According to the film, Thomas was instrumental in introducing Porter to Irving Berlin, who gave Cole his first big break in show business (something Porter pursued for sport, since he was rich already with family money). And according to the film, most of Cole's songs were directed at Linda, who proved a sympathetic, amusing, stylish muse inbetween his increasing dalliances with various men throughout Europe and America. A hit on Broadway, Porter goes to Hollywood, where opportunities for a more frequent (but still closeted) gay lifestyle present themselves to Cole. Straining their relationship, Linda leaves Cole (perhaps she hoped she could love him enough for him to "change"), only to return when Porter suffers horrific injuries to his legs during a riding accident, injuries that would plague Porter for the rest of his life.
De-Lovely's patently false romanticism for Porter's life does as great a disservice to his memory as the Cary Grant version did, portraying him as a straight man. Sure, the Cole Porter in De-Lovely suffers, but he does it so prettily, with absolute no weight to the proceedings, that we never believe we're watching the true-life story of a real person. This is movie suffering, with an emphasis on gloss and arch, pseudo-bitchy dialogue that may fit well with how we imagine Porter's life, but which needs to be balanced by screenwriting and acting that doesn't shoot for the balcony. The very structure of the movie, with that cornball "angel orchestrating your life" framework that was cliched fifty years ago, speaks volumes as to the intent of the producers. They don't want to really explore Porter's life in De-Lovely; they want to embellish it, and romanticize it (with all the correct period clothes money can buy), and finally embalm it by creating a false, gilt-edged facade that never rings true. We're constantly implored to adore these glittering, talented, tragic people, but we're never given a good reason why -- if indeed adoration instead of understanding, should be the goal of any biopic.
Furthering this phony tone is the inclusion of Kline as Porter. Kline, a terrific stage actor, is always in danger of either disappearing or camping it up mightily on film, and here, he's at his worst, posturing with arch head tilts and sticky, smug grins that I assume are meant to convey sophistication and a tragic abundance of witty talent. Judd, a very competent film actress, is even worse, delivering her lines in a bird-chirpy manner and sunny, blank smile that suggests not wealthy poise and refinement, but a small child wishing to be congratulated on delivering a line in a clear, strong voice. Listening to Judd deliver whoppers like, "Nothing is cruel that fulfills your promise," or "You have a dazzling gift and a life to go with it," with a straight face, is to appreciate not the elegance of Porter's life, but true camp. Winkler, never a particularly strong director, is powerless to infuse any life into De-Lovely, opting instead to make sure the costumes are properly pressed and all the flowers are fresh. De-Lovely's big gimmick (that failed to translate into asses in the seats) was to sprinkle big-name vocalists throughout the film, singing Porter's standards. Artists like Elvis Costello, Robbie Williams, Alanis Morissette and Sheryl Crow camp it up big time, but their presence takes De-Lovely even further away from its purported purpose: examining Cole Porter's life.
The DVD:
The Video:
The anamorphically enhanced, 2.35:1 widescreen video image for De-Lovely is pristine, with gorgeous color and no compression issues.
The Audio:
There's a strong Dolby Digital English 5.1 Surround audio mix, along with Spanish and French Dolby Surround mixes. English, French and Spanish subtitles are included, as well as close-captions.
The Extras:
Two full feature-length commentaries are included; one with Winkler and Kline, and the other with Winkler and screenwriter Jay Cocks. Two rather bland featurettes are included: Making of De-Lovely and Music of De-Lovely. Two Anatomy of a Scene are included, for the Be a Clown and Love for Sale sequences. Deleted scenes (that don't add a great deal to the film) are included, as are a theatrical trailer and a soundtrack TV spot.
Final Thoughts:
Kline frequently declines at a 30 degree angle, cocking his eyebrows and setting his jaw at a jaunt, miming sophisticated wonder at the terrible banality of the world, when he should have pointed his chin at the phony adoration that Winkler and Cocks summon up for Cole Porter's emotional and artistic suffering. Never believable for one moment, De-Lovely descends into camp anytime Judd perfectly enunciates her terrible lines. And seriously, the angel that shows a dying Cole Porter highlights from his life? De-Lovely is ultimately De-Pressing.
---
Final Thoughts on the Box Set:
Considering none of the musicals included in the American Movie Musicals: Vol. 2 are particularly successful examples of the genre, as well as the fact that none of the films sport new, additional extras, there's little reason to purchase it. You may want a rental if you're curious about one of the titles, though. Otherwise, you may safely skip American Movie Musicals: Vol. 2.
---
Paul Mavis is an internationally published film and television historian, a member of the Online Film Critics Society, and the author of The Espionage Filmography.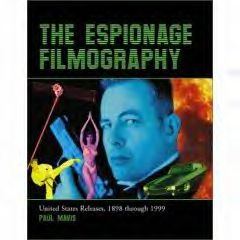 Sponsored Links
Sponsored Links