Happy Days - The Third Season
List Price: $38.99 [Buy now and save at Amazon]
---
Paramount has released Happy Days: The Third Season, a fantastic season of the long-running comedy series. Certainly one of the best-remembered and beloved sitcoms of the 1970s, Happy Days' third season, reformatted to a three-camera shoot and now focused squarely on the exploits of the series' break-out star, Henry Winkler, features a remarkable number of all-time classic episodes that play just as well today as they did over thirty years ago.
Happy Days, created by producer Garry Marshall, started off as a failed ABC sitcom pilot, which was then reworked to run on ABC's anthology series, Love, American Style. Director George Lucas, who was casting around for someone to play the lead in his upcoming teen opus, American Graffiti, looked at the pilot and signed Howard to the smash hit movie, which, along with Happy Days, started a mini-nostalgia boom in the mid-70s for anything 1950s (later, there were some grumblings from ABC and the series' producers that maybe Lucas borrowed a little bit more than just Howard when he watched the unsold pilot). Once American Graffiti became one of the top grossing pictures in Universal's history, Garry Marshall immediately re-shot the original pilot and successfully sold Happy Days as a mid-season replacement for the 1973-1974 television season, where it proved to be a phenomenal hit for the always ratings-starved ABC, winding up 16th for the year in the Nielsen ratings.
The series' second season (still filmed as a one-camera sitcom) took a ratings hit when aggressive counter-programming from CBS's bit hit, Good Times, knocked Happy Days out of the Top Thirty. The family and teen audience, initially attracted to the exploits of 1950s middle-American good kid Richie Cunningham (Ron Howard) and his jerky, pseudo-worldly best friend Potsie Weber (Anson Williams), made their choice and went with the more modern, urban-oriented humor of Jimmie Walker's J.J. Evans. If Happy Days' ratings trend continued into the next season, it's doubtful the show would have had a fourth go-around But when NBC "wunderkind" Fred Silverman ("The Man with the Golden Gut," as he was known then) jumped ship and joined up with ABC in 1975, he and the producers of Happy Days recognized that the secret to Happy Days' rejuvenation lied with the series' outsider character, Arthur "Fonzie" Fonzarelli.
Initially conceived as a minor supporting character, the punk hood Fonzie gave the network qualms when his fan mail began to grow in number (if you can believe it in today's TV world, his character was frowned upon by the still-conservative network). Essayed by talented actor Henry Winkler, Fonzie was given increased camera time until by the end of the second season, he was clearly a character in search of a series of his own. Silverman and the producers recognized that putting Fonzie front and center would give Happy Days the boost it needed to overtake Good Times over on CBS, so an absolutely brilliant decision was made during pre-production of the third season to bring Fonzie directly into the Cunningham family.
Fonzie, who in the first two seasons was resolutely a loner (remember that heartbreaking Guess Who's Coming to Christmas? episode from the second season, where Richie spies Fonzie having a lonely, pathetic little Christmas dinner inside his garage?). That made it difficult to fit the series' most popular star into each weekly episode; after all, how many different ways can you work out the mechanics of Fonzie somehow managing to interact with Richie and his family? Moving Fonzie into the Cunningham home killed two birds with one stone. Now, Fonzie was literally upstairs (in the garage attic), able to walk into the Cunningham's comfortably middle-class living room at the drop of a hat. As well, the network could now breathe a sigh of relief that their hoodlum character could now benefit from the "civilizing" effects of the Cunningham family's influence. Now, Arthur (as he was called by Mrs. C) could eat with the Cunninghams (he loved his veggies, kids), watch TV with them, and even have his thermos filled with coffee before receiving a maternal goodbye kiss on the cheek from Mrs. C (Marion Ross).
Gone now was the shadowy, vaguely menacing, unsmiling hood Fonzie. In his place, a newly welcomed member of the Cunningham family emerged, growing into a domesticated pussycat version of his old self. In this third season, Fonzie increasingly plays big brother and confidante to Richie. As well, Fonzie adopts several new guises under the calming influence of the Cunninghams, including acting as surrogate father for his cousin/nephew (the series waffled on this) Spike. Fonzie, increasingly used as a figure for promoting social good (a conscious decision by the network, Winkler and the producers), even goes as far as donning a police uniform this season (Fonzie the Flatfoot) in an effort to stop a gang fight involving his old pals, The Falcons. Why in the world would Fonzie wish such a thing (or dare to dress that way) unless he had been fundamentally changed by the Cunningham's soothing middle-class aura of respectability?
Fonzie still talks a tough game (there's a surprising number of times that Fonzie discusses his mystique, and how he constantly threatens others with violence), but now that threat of danger is used mostly for comic effect. The absolutely hilarious episode, The Motorcycle, has Fonzie literally tied up by Howard (Tom Bosley) and Richie in their living room, so he won't kill Ralph Malph (Donny Most), who accidentally totaled Fonzie's beloved bike. The new Fonzie, of course, doesn't get to punch out anybody, so his frenzied efforts to escape the ropes is the highlight of the scene. Fonzie may talk tough, but the punches are pulled, and played for laughs. As for his legendary feats of "cool," which can encompass anything from starting the jukebox at Arnold's with a rap of his hand, to ordering any woman to pick him up at 8, they become increasingly outlandish this season, with an almost supernatural bent that ups the humor level significantly (in Three on a Porch, Fonzie, annoyed by the sounds of nature out in the woods, yells, "Cool it!" with the offending creature noises immediately silenced. His topper line? "Let's see Tarzan do that!"). He's even able, in this season, to put Evil Knievel in his place, jumping over 14 garbage cans with his bike, a "cool" feat immediately ameliorated by having the Fonz crash into Arnold's fried chicken stand.
All this attention paid to the Fonzie character necessarily leaves the rest of the cast scrambling for the crumbs (Anson Williams was hit the hardest; his second lead status reduced in this third season to minor supporting goof). Howard's Richie character, once the lead of the series, now largely revolves around Fonzie (unlike the previous two seasons), playing his square, clean-cut, mid-Western values off the Fonz's occasional slips back to his hoodlum ways. Howard, a sincere, gifted comedian, plays perfectly off the highly strung Winkler. Winkler, absolutely flying in this season, is lean, mean, and constantly trying not to crack up at his own lines, as well as at the effect his character has on the screaming live audience. He's really a wonder to watch here. Supremely confident in his craft, he's got the Fonzie character nailed, and you can tell he's just as astounded as everybody else in the cast that this role was rapidly becoming a national, cultural phenomenon. And that's not overstating the popularity of the Fonzie character; if you weren't born back then, just ask somebody who grew during the 1970s about the reach of this character into the pop culture fabric. Along perhaps with J.R. from Dallas, the Fonz was the last truly massive pop culture icon created by the "Big Three" networks, before cable started the slow Balkanization of TV viewing, forever destroying the commonality hundreds of millions of Americans shared when they had only three choices of programming at any given hour during primetime. Everybody may "know" about Homer Simpson or Tony Soprano today, but only a couple of million viewers actually tune in to watch them each week; their recognition factor is based more on marketing than actual viewership. During Happy Days's peak, 31 percent of all homes with a TV regularly tuned in to see Richie and the Fonz - numbers that dwarf similar ratings shares today, due to cable, the internet, TiVo, and DVR.
The switch to a three camera shoot this season also added a spontaneity and electric charge to the acting that wasn't lost on the viewers (producer Garry Marshall did the same thing for The Odd Couple). Actors now played off each other's deliveries and the live studio audience's reactions, rather than to the camera, creating a more theatrical experience (the first two seasons play much more like mini feature films) that bumped the ratings up to 11th for the season, beating out fading Good Times, which unwisely didn't move out of the way of Happy Days growing juggernaut ratings.
More importantly, the writing for Happy Days: The Third Season is razor sharp. Anyone who loves this sitcom and remembers it fondly will be surprised at how many classic episodes came from the third season. The season opener, Fonzie Moves In, perfectly captures the new acting rhythms that will dominate the coming seasons, with Tom Bosley proving to be an excellent, slow-burn foil for Fonzie's mercurial temperament. The Motorcycle has one of the all-time funniest Fonzie moments, when, off camera, Fonzie screams in outraged anguish when he discovers his beloved motorcycle in pieces all over the Cunningham's lawn. Fearless Fonzarelli (Parts 1 & 2) have Winkler jumping on the Evil Knievel craze, while topping the first episode with his petulant recovery on the Cunningham couch in the second part ("See this face! Uncool! Not cool!"). Richie Fights Back is perfectly pitched to Howard's and Winkler's growing chemistry (I love it when Richie tries to intimidate two hoods - and only succeeds in scaring Ralph and Potsie to death). A Date with Fonzie introduces us to two future television superstars, Laverne and Shirley (Penny Marshall, Cindy Williams), in an expertly crafted episode that builds to a big payoff (Williams accidentally punching out Howard is priceless). Three On a Porch has the Ralph, Potsie and Richie trying to pass themselves off as foreign businessmen (Most's "Mock, mock, mock, mock!" is a highpoint for the actor). Tell it to the Marines is another good vehicle for Most, who gets big laughs when he breaks up, looking at a goldfish in his cup of punch. Dance Contest sees the Fonz in a tux, dancing the tango with Mrs. C. (further evidence of the Fonz being "sophisticated" by the Cunninghams). Fonzie the Superstar has Fonzie doing his best Elvis imitation - after a horrible bout of stage fright - in Richie's band ("I'm gonna sing somebody's favorite. I hope it's somebody's favorite. It's not mine."). Beauty Contest has Potsie, Richie and Ralph faking a beauty contest to meet girls - which Fonzie saves by offering himself as the prize ("That's right. You have the Fonz for thirty days and thirty nights. Do with me what you will."). And Sight for Sore Eyes shows yet another march towards the Fonzie character being used as social educator, when he agrees to wear some very uncool glasses when he discovers he can't see straight.
Here are the 23, half-hour episodes of the four-disc box set, Happy Days: The Third Season, as described on the back of the slipcase cover. PLEASE NOTE: on the back of the Happy Days: The Third Season case, there is a small disclaimer stating, "Music has been changed for this home entertainment version." This is interesting for what isn't stated here: that content has been edited. Normally, with recent Paramount DVD releases of vintage TV series, both disclaimers have been present, indicating syndicated versions were used for the transfers. The episodes presented here in the Happy Days: The Third Season all time out at a little over 25 minutes, which is about right for full network versions from that time period. I didn't notice any egregious editing cuts, but it's obvious that the original music cues, which originally featured artists like Elvis and The Everly Brothers, have been replaced with sound-alike cover versions.

DISC ONE:


Fonzie Moves In
The Cunninghams decide to rent the room above the garage for extra cash, but they're surprised by Richie's idea of the perfect tenant - The Fonz.

The Motorcycle
Richie and Potsie try to hide the truth about a hit-and-run after Ralph accidentally demolishes Fonzie's one and only love - his motorcycle.

Fearless Fonzarelli (Part One)
Concerned about losing his cool status, Fonzie decides to set a stunt record by jumping his motorcycle over 14 garbage cans for the TV show, "You Wanted to See It."

Fearless Fonzarelli (Part Two)
After jumping 14 garbage cans on his motorcycle, an injured Fonzie drives everyone crazy with his demands while he recuperates on the Cunningham's living room sofa.

The Other Richie Cunningham
When Mr. Cunningham asks Richie to go on a blind date with the daughter of a plumbing manufacturer, Richie asks an overly amorous Potsie to take his place.

Richie Fights Back
When Richie is bullied and embarrassed by two tough guys at the Drive-In, he turns to Arnold for judo lessons, but only Fonzie can provide a better method of self-defense.

DISC TWO:


Jailhouse Rock
When Richie and the boys stage a sit-in at Arnold's to protest the town's 10 p.m. curfew, they wind up in the slammer charged with breaking and entering.

Howard's 45th Fiasco
Howard has a midlife crisis at 45 and decides to run away to Tahiti to become an artist, but Richie stages a "This is Your Life" birthday party to help his dad appreciate his life.

Fonzie the Flatfoot
When Fonzie's former gang, the Falcons, plan to "rumble" with a rival gang at Arnold's Drive-In, the Fonz is asked to wear a police uniform in order to stop the fight.

A Date with Fonzie
When Richie falls into a dating slump after breaking up with his girlfriend, Fonzie sets him up on a double-date with two experienced girls - Laverne and Shirley.

Three on a Porch
When Richie and the boys rent a cottage at Lake Whitehead for spring break, they pretend to be Tunisian businessmen in order to impress some older girls.

Fonzie's New Friend
Problems arise when Fonzie and Richie invite their new black friend to a neighborhood luau.
DISC THREE:

They Call it Potsie Love
Joanie falls head-over-hells for Potsie when he sings a love ballad at band rehearsal.
Tell it to the Marines
Ralph decides to join the Marines after he's dumped by a girl who thinks his goofy clowning and pranks are unfunny.
Dance Contest
Howard is suspicious that Marion is having an affair when she secretly takes tango lessons from the Fonz in order to enter a TV dance contest.
Fonzie the Salesman
Fonzie quits Herb's Garage after a new owner makes unwelcome changes, but a new job as a door-to-door encyclopedia salesman may not be the best career choice.
Football Frolics
Richie, Potsie and Ralph start a babysitting business to raise money for football tickets, but they're in over their heads when dealing with a house full of 15 unruly kids.
Fonzie the Superstar
The Fonz agrees to sing with Richie's band at the Senior Dance, but he suddenly suffers a bad case of stage fright on the night of the big event.
DISC FOUR:

Two Angry Men
Howard and the Fonz decide to do battle in court after the Cunningham's garage roof collapses under the weight of a heavy snowstorm and Fonzie's pigeon coop.
Beauty Contest
Richie and the boys stage a beauty contest in order to meet pretty girls, but they need a pre-picked winner who will refuse the prize of an all-expense-paid trip to Hollywood.
Bringing Up Spike
When Fonzie's 12-year-old cousin Spike gets involved in a burglary of Arnold's Drive-In, Howard gives the Fonz some fatherly advice on how to straighten the boy out.
Sight for Sore Eyes
When the Fonz refuses to be "uncool" by wearing glasses for his astigmatism, he blindly drives his motorcycle into Lake Michigan.
Arnold's Wedding
When Arnold decides to marry, he chooses the Fonz to be his best man, but "The Fonzie Curse" could bring a disastrous end to the wedding.
The DVD:
The Video:
The full frame, 1.33:1 transfers for Happy Days: The Third Season are pretty good, with bright, saturated colors and a generally sharp picture. Grain is a problem, though, in some episodes, but overall, these look far better than I remember them on TV.
The Audio:
The Dolby Digital English 2.0 mono soundtrack accurately reflects the original television presentation. English subtitles and close-captions are available.
The Extras:
The only "extra" included - and that's how it's advertised here - is a clip show, The Second Anniversary Show, that ran in the regular line-up during the third season. So, is it really an "extra" or just a clip show they ran instead of a re-run? It's a clip show. And the video quality is horrendous; it looks like a third or forth generation VHS dub.
Final Thoughts:
Happy Days, one of the most beloved sitcoms of the 1970s brilliantly changes format, going to a spontaneous, audience-charged three camera shoot, while moving their break-out character, Fonzie, right smack dab in the middle of the Cunningham house - the loner has now become a full-fledged member of the family, and of the square, safe middle class. Big laughs this season (and even bigger ratings), along with the almost perfect meshing of Henry Winkler's hyper-cool Fonzie character, and Ron Howard's clean-cut, relentlessly good-guy Richie Cunningham. A remarkable number of memorable episodes this season, as well. I highly recommend Happy Days: The Third Season.
---
Paul Mavis is an internationally published film and television historian, a member of the Online Film Critics Society, and the author of The Espionage Filmography.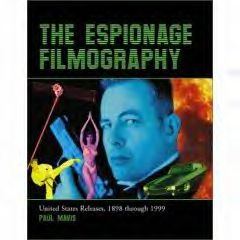 ---
C O N T E N T

---
V I D E O

---
A U D I O

---
E X T R A S

---
R E P L A Y

---
A D V I C E
Highly Recommended
---
E - M A I L
this review to a friend
Sponsored Links
Sponsored Links