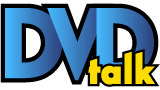 Battlestar Galactica - Razor
List Price: $26.98 [Buy now and save at Amazon]
---
The Movie:

When Battlestar Galactica's (BSG) third season came to a close I was largely frustrated as a fan. Catching wind of the show's forthcoming season being the final one I didn't want to wait until 2008 for the last outing of BSG. Why are we tortured so? Cliffhanger endings that spin the series on its head have become a trademark and with a long time before we would see any resolution there seemed to be no hope in sight. Not even a DVD release of the third season to tide us over! Among the community, rumors began to surface of something in between this year and the next, and soon enough it was revealed to be a special made for TV feature focusing on the Pegasus.


Dubbed Battlestar Galactica: Razor, this one-shot movie told the story of the Pegasus' crew and what transpired during the initial Cylon attack on Caprica. The episode aired on Sci Fi November 24, 2007 and it wouldn't be long until an unrated DVD made its way onto store shelves.


Unrated or not, Razor was a fantastic film and it quashed fears about a decline in writing quality and a lack of direction. It was a fine tuned machine that danced on a razor's edge with a high sense of drama and intelligent plot twists. Picking up this release is a no-brainer for fans and not only are you getting a better version of the movie here, but those annoying Quiznos advertisement spots have been taken out as well! (Cain was a lesbian! Mmmmm...toasty!)


Razor takes place mostly through flashbacks. The main part of the story takes place back when Apollo first took control of the Pegasus under the watchful eye of his father Admiral Adama. This was right around the episode "The Captain's Hand". A section of the plot includes Apollo's quest to find an Executive Officer (XO) that would be accepted by the Pegasus crew. After pouring through the files kept on all of the officers under Cain's command he decides on giving Major Kendra Shaw (Stephanie Chaves-Jacobsen) a shot. Shaw seems to have the trust of the crew of the Pegasus and she comes highly regarded in Cain's records.


From here most of Razor comes through from Shaw's perspective and we discover why Shaw became Cain's favorite officer in such a short period of time. She was a new recruit who arrived just prior to the Cylon attack and was little more than a small piece of meat for Cain's grinder. During the crucial moments following the Pegasus' flight from annihilation, Shaw proved her worth with accurate FTL jumps, military decisions, and a penchant for not questioning orders. While watching these segments the true grit of Cain's dark legacy has light shed upon them.


I say "dark legacy" because Cain wasn't exactly the kind of person you wanted to mess around with. When the Pegasus first arrived on BSG, the Colonial Fleet was abuzz with rumors about Cain shooting her XO for disobeying orders and commandeering civilian supplies and essential personnel to ensure her ship's survival. Cain was a cold, calculative commanding officer who thought nothing of civilian life as long as it meant getting the chance to strike at the heart of the Cylons. During Shaw's flashbacks we also learn that Cain was in love with Gina, who was the Number Six model assigned to Pegasus.


In many ways Cain is only a portion of this story and like I mentioned already, Shaw is the main attraction. We see events through her eyes and discover how she grew as a person under Cain. Idolizing her commanding officer, Shaw never once faltered to do what she was ordered to do no matter how monstrous. Shutting aside her human emotions, Shaw would become a razor fashioned in Cain's image. She turned from being a naïve ensign into a military genius through the course of Pegasus' journey and it's safe to say that the crew both respected and feared her. I suppose now it's easy to see why Apollo picked Shaw to be his XO.


With all of the players in place and much of the back story filled, Razor's script jumps back to a point in time where Apollo's Pegasus discovers a blast from the past completely by mistake. They encounter Cylons like they have never seen before. These models seem less sophisticated to the current generation but Adama understands all too well how dangerous these Toasters are. When he was younger, William "Husker" Adama had some close run-ins with these particular Cylons during the first war. Through a flashback we see a mission gone wrong as Adama crashes into a Cylon outpost on some remote planet. Once there he discovers that the humanity's robotic children were creating something insidious called the Hybrid. This all ties back into present day on Pegasus because the Cylons they bumped into are actually the Hybrid's guardians.


In an effort to keep some surprises in between I'm going to refrain from talking about what transpires from this point on with regards to all three plotlines. I do want to say that they all tied together perfectly and the Pegasus storyline was every bit as compelling as I hoped it would have been. I was thoroughly satisfied from start to finish and my interest in the show was revitalized just as the episode intended it to be. I suppose in the end my only complaint is that I don't want to wait for the fourth season to air!


As I have already mentioned this release contains the uncut edition of Razor which features another 16 minutes of content compared to the edited one that aired on Sci Fi. Most of the additional stuff is relatively light and includes some extra violence and more profane language. Fortunately some heavier hitting content such as an extended scene between Starbuck and Shaw, a flashback to a younger Cain, additional bits with young Adama, and some prophetic speech from the Hybrid also made the cut. These extensions helped to flesh out Razor and they actually added a lot in the end. After watching the uncut version I would never go back to watching the edited one (which is also programmed onto the disc).


In the end if you were ever a fan of Battlestar Galactica you owe it to yourself to watch Razor. After a few lackluster third season outings watching this reaffirmed my trust in Moore and company. They pulled off a masterpiece with apparent ease and this release arguably takes the show to a new level.

The DVD:
---
Video:

If I was forced to say only one good thing about Battlestar Galactica: Razor, it would be that it is the very definition of how good this series can look. If you have seen the previous DVD releases then you already know what I'm talking about.


Razor is presented in 1.78:1 anamorphic widescreen and hits all of the right notes. The picture is crystal clear when it needs to be and appropriately grainy when it wants to show its grit. Granted, in my opinion some of the grainy sequences utilize the technique a little too much but I suppose that's a matter of personal preference. Fortunately for all intents and purposes the video quality here is better than what we could compare it to with season two and the digital production absolutely shines. This isn't a perfect looking DVD but it's pretty frakking close.


I also want to point out that not only are the technical details impressive but the design of Razor is a cut above. Seeing the Scorpion Fleet Shipyard, getting in close with the older modeled Toasters, and watching Vipers spring into action was every bit as visceral as it was meant to be. I have always appreciated the way BSG portrays its action and Razor takes it to the next level in most instances.

Audio:

Another feather in this DVD's cap is the English Dolby Digital 5.1 surround track that is included as the only language option. Quite honestly, I don't think we really needed more than what we got. The audio presented here is crystal clear with all of the sharp details being picked up by every channel. Dialogue is a tad on the soft side like it always has been with Battlestar Galactica but man, the action is intense. When a gun fires, a Viper engages in combat, or even when an alarm sounds you'll hear it from every angle. The sense of immersion is fantastic and if you crank your system up you'll be sucked right in.

Extras:

When I heard that Razor was airing with a release right behind I must admit that I had fears about it being barebones. Thankfully those concerns were unwarranted because this disc is packed with extra features. On the lighter side of things there is a trailer for the fourth season, a two minute "sneak peek" at the fourth season, and a ten minute montage of most cast members discussing their favorite episodes. Granted the "Favorite Episode" feature was kind of fluffy but it gave some insight into the minds of the producers and actors as far as what they considered to be the best. (For the record the majority feels that it's "33")


A mini-documentary of sorts called "The Look of Battlestar Galactica" is available from the extras menu and runs at just under eight minutes. Like you'd expect this feature is all about the visual nature of BSG and it goes into some great detail as far as what decisions were made for what reasons. There were also some nice behind the scenes shots tossed in with clips from Razor and from the show itself. Three minutes worth of deleted scenes also make the cut here. The first has Apollo enjoying some coffee prior to the Cylon attack, the second has an extended bit from a conversation between Starbuck and Shaw, and the third was a scene with Starbuck and Apollo watching video from an action they took earlier in the series. The "Minisodes" with Husker Adama that were put up on the web are available here though for the most part they were added to the uncut edition of the film.


Creator Ronald Moore and Writer Michael Taylor sit down for this DVD to provide a full audio commentary for Razor. If you have been following the show then you may already be aware that their DVD commentaries tend to be rehashes of the podcasts. It's worth noting that this is completely fresh for this release. Moore and Taylor go into a great level of detail regarding the Razor project from how the feature came to life and the creative process involved. The two have a great working relationship and it shows as they banter about the series in general and the decisions that they have made. I found it particularly interesting how the tone of the film was altered by events towards the end that were originally supposed to be part of the introduction. It's funny how things change once they make it to the editing room floor.

Final Thoughts:

Battlestar Galactica: Razor is a fantastic addition to the BSG franchise. The story turned out to be everything I wanted it to be as a viewer of the show and watching the spin put on the Pegasus' tale certainly contrasted Galactica's more than the series itself let on. Seeing the events on Pegasus through the eyes of Kendra Shaw displayed what Cain and her crew had to deal with and by the end you begin to understand her personality and why she did those monstrous deeds.


Razor made me want to go back and watch the original episodes to see if there was anything I missed from the Pegasus and left me yearning for the fourth season more than I already was. Sure this entire project came about thanks to a marketing ploy to tie the feature in with DVD sales but you know what? Moore, Taylor, and the rest pulled a rabbit out of their hats. If you're a fan of Battlestar Galactica then this DVD should already be in your collection.
---
Check out more of my reviews here. Head on over to my anime blog as well for random musings and reviews of anime, manga, and stuff from Japan!
---
C O N T E N T

---
V I D E O

---
A U D I O

---
E X T R A S

---
R E P L A Y

---
A D V I C E
Highly Recommended
---
E - M A I L
this review to a friend
Sponsored Links
Sponsored Links