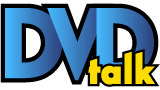 Battlestar Galactica - Season One (HD DVD)
Universal // Unrated // December 4, 2007 // Region 0
List Price: $99.98 [Buy now and save at Amazon]
---
Flabbergasting. It sounds like one of the faux curse words invented by Glen A. Larson for the 1978-79 sci-fi series Battlestar Galactica but it aptly describes the jaw-dropping reaction by critics and audiences alike to the show's 2003 "reimagining," first as a three-hour miniseries and subsequently as an hourly drama currently in its fourth and probably last season. Superior in every way to the mediocre (at best) show that inspired it, the new Battlestar Galactica is an incredible achievement, a model of its kind. Creator-developers Ronald D. Moore and David Eick, along with their team of staff writers cleverly rework the derivative, mostly cardboard characters from the original show while impressively fleshing them out into involving, three-dimensional ones in the process. The obvious story possibilities botched or unexplored in the original series are handled here with ambition and believable complexity. The acting, particularly by the older cast members, is excellent, and the production values are frequently staggering.



Universal's HD DVD has taken a bum rap for its transfers and positively raked over the coals for its packaging, but this reviewer begs to differ. More on this below.



Then




...and Now




I was 13 years old - just about its prime target demographically - when the original Battlestar Galactica first aired. My knee-knocking excitement in the months preceding its debut was quickly dashed, followed by bored apathy*; I think I gave up on the show soon after "The Lost Warrior," an October episode that was basically a crummy reworking of Shane. Last year I slogged through the rest of the series and realized my disappointment thirty years before was pretty justified. In its defense the show gradually did get a little better shortly before it was cancelled, but none of the original episodes could be considered strong; the best were barely okay, most are mediocre to quite bad. The series, of course, was an attempt to cash in on the wildly successful Star Wars and the brief craze for planet-hopping swashbuckling. Some of the characters and effects were blatant rip-offs (Starbuck = Han Solo, cyclone base ships = Star Wars's Death Star, etc.) and despite an alleged $1 million/episode budget the show still looked cheap. Special effects shots were endlessly recycled, a fact even children soon picked up on, and visually the show looked like every other Universal-produced, assembly-line '70s series. Its biggest problem though was the writing: the scripts generally were so terrible that one couldn't help but feel sorry for its cast, who really worked overtime trying to breathe some life into their cliched characters.


With nary a misstep, the new show greatly enriches old characters and/or radically alters them in interesting ways. They've also dropped the self-contained series format of the original series in favor of the current trend toward multi-episode/season- and series-long story arcs that facilitate more complex, subtler storytelling.


No longer an alien race with a robot army, the Cylons in the new show are the creation of man who, after a long war and a forty-year absence, launch a simultaneous attack on the Twelve Colonies, dropping thousands of nuclear warheads on an unsuspecting human race. The Cyclons also infiltrate the military's computer network and its firewalls, so that during the assault battlestars' and fighters' onboard systems go dead in the water (as it were) moments before each attack, and the fleet is destroyed like so many fish in a barrel. In a canny bit of scripting, only the Battlestar Galactica, on the day of its decommissioning, is immune. Its cautious Admiral Adama (Edward James Olmos) refused to hook his ship into the fleet's mainframe, while less sophisticated old fighters, brought aboard for a museum exhibit, are brought back into emergency service. (These scenes also ingeniously reference the original show, doubtlessly to the delight of fans.)


Nevertheless, the human race is practically wiped out. Only about 45,000 survive: the Galactica and various passenger and supply ships are able to flee the Cylon tyranny (as the old show would have put it) by teleporting to safety in FTL (faster-than-light) jumps, though tragically this means leaving slower ships behind.


The original characters are back in new incarnations. Captain Lee "Apollo" Adama (Jamie Bamber), the admiral's surviving son, is no longer the steadfastly loyal offspring; his relationship with his father is a contentious one, explored in both the miniseries and in episodes to follow. Cocky pilot Lt. Kara "Starbuck" Thrace (Katee Sackhoff) is now a tough-talking dame with the same fondess for smokes and gambling as Dirk Benedict in the original series but with an upped, reckless disregard for protocol. The decision to change Starbuck's sex from the original show facilitates an interesting story arc concerning her complicity in the death of Apollo's brother, a story arc expanded upon later in the season and which really justifies the character. Executive Officer Colonel Saul Tigh (Michael Hogan, very good) is now a bitter, much-disliked alcoholic constantly at odds with Starbuck. In an early episode, Tigh pinpoints their difference: his shortcomings are personal, hers are professional.


Dr. Gaius Baltar (James Callis), a Dr. Smith-type unscrupulous villain in the original series, here is given the most radical makeover. Seduced by a voluptuous blonde humanoid Cylon, Number Six (Tricia Helfer), he provides her with key access to government mainframes that enable the Cylon attack. His brain embedded with a kind of constantly downloaded link to Number Six even after her body is destroyed in a Cylon attack, she appears from time to time as a holographic-type image only he can see, resulting in something akin to a darkly funny I Dream of Jeannie or Bewitched. He dare not reveal Number Six's presence (and in so doing expose his own treasonous acts) yet unlike John Colicos's original Baltar, he wants to escape the Cylons as much as everyone else.


More successful is an entirely new creation: Laura Roslin (Mary McDonnell), a cancer-diagnosed Secretary of Education at the time of the Cylon assault, she assumes the presidency (in a sequence eerily echoing Lyndon Johnson's mid-air oath-taking following John F. Kennedy's assassination) after the 42 men and women ahead of her in line of succession all die on the first and last day of the war. At first few recognize her authority, but she heroically steps up to the plate, bringing both a newfound toughness but also a humanistic leadership that complements Adama's career military man while maintaining continuity to a government in tatters.


McDonnell is extremely good; the actress exudes fragility yet Roslin's courage and intelligence in the face of both personal tragedy (inoperable cancer) and galaxy-wide genocide is almost awe-inspiring. The character's scenes with Admiral Adama are frequently riveting, and explore presidential powers and the balance of government frankly with more depth and understanding than some legitimate news-gathering organizations.


Edward James Olmos has been a respected actor in films and on television for decades, but Admiral Adama may be the role for which he'll be most remembered. Television's had its share of memorable starship commanders, but Olmos's is perhaps the first truly authentic leader. The writing coupled with his performance lend the character the weighty burden of being responsible for 45,000 people. Olmos has an air of quiet authority that's mesmerizing to watch. He's one of those actors like Steve McQueen, who acts primarily with his eyes and at first seems not to be acting at all - until you realize that you can read a thousand emotions in his seemingly inexpressive features.


Where the original series was frequently sloppy even when it came to important production and script details, the new Battlestar Galactica impresses with the thoughfulness given to the tiniest background ones. Particularly successful is the verisimilitude of the Galactica as a space-fighter carrier manned by military personnel. Such organization goes back to movies like Forbidden Planet and shows like the original Star Trek, but here the chain of command, Admiral Adama and Colonel Tigh's leadership and delegation, the military briefings, etc., all have a genuinely authentic air.


According to the IMDb, the miniseries cost just $10 million to produce. I find that hard to believe; I wouldn't have been surprised by a figure ten times that. Certainly the show's incredible CGI effects would not have been possible (or prohibitively expensive) even ten years prior to its production, but even in terms of the first unit and its expansive sets, large number of extras, location work, etc., this is one handsomely-produced show. The original series looked like a cheap show masquerading as a big budget movie; the new series looks like an expensive movie too epic for all but the biggest widescreen, high-def TVs.


Though Battlestar Galactica has its share of Star Wars-style effects, most of the CGI work here is admirably restrained, even subtle, almost unheard of in an age when most CGI effects are extravagantly overdone. The outer space footage is realistic but also visually atmospheric; rare for such things the effects shots are dramatically justified and don't play like showy, money-shot digressions. Adding to the atmosphere is the similarly restrained sound effects; somebody on the show realized that explosions and the like might actually be more dramatic if, for example, they rumbled ominously in the distance rather than blow out your speakers. All-in-all, the CGI and sound effects team have together created a moody outer space environment like no other.


Video & Audio


Let's start with the packaging. Other reviews have been unduly harsh about the thin plastic box, the six-disc cardboard fold-out with the HD DVDs locked onto rubber "hubs," etc. I'm not particularly fond of the fragility of the packaging, but I think most of the negative comments have been overstated. My set was shipped under less than ideal circumstances yet arrived with everything intact, nothing scratched or scuffed. Importantly, it's relatively easy to access these discs and maneuver through the menu screens once the discs are in the player. That's simply not the case with Paramount's Star Trek HD DVD, by way of comparison. Those discs are contained in a genuinely flimsy plastic "book" that requires extreme care to avoid scratching the discs, which aren't easy to get to, nor is it easy to put everything back once you're done looking at an episode. The Star Trek menus are gimmicky but the fun quickly evaporates once you try to access special features, audio options and the like. By contrast, Battlestar Galactica's menu's are less decorative but self-explanatory.


Reviews have been similarly harsh about the transfers. While Universal has certainly screwed up Big Time in the past (e.g., Spartacus), except for some very minor, imperceptible-to-all-but-the-hardcore-technophile artifacting, these shows look just splendid. Shot primarily in high-def, with a Panavision-modified Sony HDW-F900 and deliberately given a grainy film-look in postproduction, the 1.78:1 transfers in 1080p (HD-30s, encoded VC-1) are impressive throughout. (Note: The miniseries was shot in standard 35mm, but visually the difference between it and the series is negligible.)


Audio includes mixes in English Dolby TrueHD and Dolby Digital Plus 5.1 that really add to the ambient sound aboard the Galactica and come alive with directionality during the outer space scenes. The high quality of the audio really complements the subtlety of the sound effects crew's aural design and editing, while the explosive moments really rumble to great dramatic effect. English, Spanish, and French subtitles are included.


Extra Features


The miniseries and first season are spread over six discs, each containing about 130 minutes of show plus bonus features. Supplements include, in various combinations, impressively candid audio commentaries by executive producers David Eick and Ronald D. Moore and director Michael Rymer on the miniseries and all but two of the ten regular season shows, and more than an hour's worth of deleted scenes on all but one episode.


Like the deleted scenes, the eight mini-featurettes, essentially one long behind-the-scenes show broken up per union restrictions, is presented in 480i/p standard definition. Running a bit over an hour in all, it's full of spoilers and should be viewed only after you've watched the entire season.


Exclusive to the HD-DVD release are "U Control" features similar to those on Paramount's Star Trek - Season One release, including Encyclopedia Galactica, which digs into the show's technological bible of spacecraft, colonies, and the like and geared mainly for hardcore otaku. A picture-in-picture option is of limited interest to this old fogy: for one thing, most of the material is repeated from the featurettes, but beyond that why would I want to watch this material simultaneous with the episode? I'm supposed to be having fun here - why multi-task?


Beyond the usual web-enabled features downloadable via Universal's website, and a useful bookmarking option, the only other extra is a storyboard comparison with sketches and art. It's brief and to the point.


Parting Thoughts


Battlestar Galactica - Season One is a bona fide revelation. Who'd have thought such unpromising material could be reshaped into something this intelligent and engrossing? The HD DVD is just fine, folks - a handsome presentation on somewhat flimsy but adequate packaging. It's one of the best recent shows out there, and on HD DVD comes Highly Recommended.




* I remember the show was so hyped that its cast appeared on Dinah Shore's daytime talk show, while effects supervisor John Dykstra guested on The Mike Douglas Show. I can't imagine the audiences for those shows enthusiastically tuning in.


Film historian Stuart Galbraith IV's latest books, Japanese Cinema and The Toho Studios Story, are now available for pre-order.
---
C O N T E N T

---
V I D E O

---
A U D I O

---
E X T R A S

---
R E P L A Y

---
A D V I C E
Highly Recommended
---
E - M A I L
this review to a friend
Sponsored Links
Sponsored Links