THE MOVIE:

Frank Machin is a bruiser who works in a British factory. Desperate for a chance at a better life, he muscles his way into a tryout for the local rugby team, introducing himself by way of a punch to the jaw on one of their star players. His aggressiveness propels his meteoric rise through the club, garnering fans and respect, but also placing a few more chips on his shoulder than when he walked into the place. Directed by Lindsay Anderson (If...., O Lucky Man) and adapted by David Storey from his own novel, This Sporting Life is a rough-hewn example of the British kitchen sink school. It exemplifies everything that made the movement so interesting. Set against a dreary black-and-white, working-class backdrop, it showcases the struggles of a young man with more emotion than he knows what to do with, trying to earn his way in a world that seemingly has no place for him.
As played by Richard Harris, Frank is a force of nature, a lumbering animal trying to live among humans. Late in the picture, he is referred to as "a great ape," something that he takes great offense to. This is in large part due to the fact that the insult comes from Margaret Hammond (Rachel Roberts), the sad widow whom Frank has been renting his room from. He has tried to make a family with her and her two children, and in his way, has shown her the more tender side of himself. Thus, it hurts all the more that she would lay him so low.
Not that he doesn't deserve it. Frank has seen their relationship as something he can charge through the way he does on the rugby field. The affair between himself and Mrs. Hammond is the heart of This Sporting Life, and it beats with brutal force. Frank wants to show that he can be a man, that he can provide for the family and be caring, but he's got no real capacity to express it. The best he knows how to do is preen and show off, ostentatious gestures of affection that don't really satisfy the soul. Deep down, what Frank wants is to be needed, and he thinks Mrs. Hammond could use someone like him in her life. Since her husband has died, she has been shut up in her house, denying herself any happiness. For as difficult a time as Frank has showing love, she doesn't go very far to let him. She even denies his advances for most of the picture, only finally letting him in when he's already gone off the rails. It's a match made in Hell.
Most of the early movie is told as a fever dream Frank has after being heavily medicated on Christmas Eve. A brutal blow to the face on the rugby field has shattered his choppers, and he's had to have six of his front teeth removed. Carted to the dentist and then to a raging Christmas party, Frank comes in and out of consciousness, with each successive drift showing more of the story of how he came to join the team and how he's let it go to his head. He tosses cash around as an excuse to stretch his ever-expanding ego, buying the right to be more boastful and confrontational. To his credit, though, he stays true to Mrs. Hammond. Though she accuses him of stepping out with other girls, we don't really see it.
Those teeth getting knocked out act as a catalyst for toppling the delicate balance Frank has achieved. He seemingly throws all caution to the wind, and those who have tolerated him in the past cease to find his bullish manner charming. In its way, This Sporting Life is a cautionary tale to all the young athletes who these days get fame way too quickly, don't know how to deal with the sudden success, and end up getting into trouble. Frank has to lose everything to be reminded of why he was chasing the dream in the first place. Anderson and cinematographer Denys Coop create a lovely shot of the muscle man standing on a grassy hill looking down at the factory that claimed Mr. Hammond and could end up claiming him, too, if he's not careful. It's a bittersweet moment given the tragedy that follows.
The best kitchen sink dramas are unflinching in their depiction of the hopelessness that British youth suffered in the decades following World War II. Many felt that the past was being lorded over them, with the older generation refusing to let go of the wartime experience the way Mrs. Hammond in This Sporting Life can't let her husband truly be dead. She keeps his boots by the door, all polished and ready for him to wear, as if he is upstairs sleeping and just needs to come down and claim them. As long as they are there, she has no hope of moving forward, barred from her future by everything they represent. Yet, as Frank knows, the mythic figure they are meant to evoke is not as pristine as she'd make him out to be. The truth of his death is much darker than the legend of his life portrays it as.
There is no catharsis for Frank, no escape. Getting his head kicked in on a muddy playing field is no better life for a man than working a machine. (Machin? Is Frank little more than a machine himself?) It's all emptiness, only as good as the last scoring goal. Anderson and Coop shoot his pain in a stark neorealist manner, creating a kind of existential expressionism with the stone streets, dreary houses, and smoky skies of the factory town. No glamorous lighting, though maybe a well-placed shadow to emphasize the darkness. For This Sporting Life to work, we have to see that the town itself, the very place these people live, is as unforgiving and unpolished as their emotions, possibly even the cause of them. The rugby games also have to be as dirty and real. The camera gets down on the field with the players, catching every blow, all of the blood and mud. Lindsay Anderson makes it so you can see the bruises forming on the bodies and feel the crush of every powerhouse hit. Frank is locked in an eternal scrimmage, and there is no way out.
This makes the title This Sporting Life into the film's greatest irony. Though evoking a feeling of play, its true meaning is that all of existence is a game, one that is ongoing, and that seemingly can't be won. Frank often describes himself as feeling "champion," but that is only when he is out in front of the struggle. A man can keep fighting, but with no prize at the end, what for? You get knocked down, and then you get back up, until the day you decide to stay in the dirt. Judging by the closing shots, one does not imagine Frank Machin happy.
THE DVD
Video:
This Sporting Life - Criterion Collection is a fantastically rendered DVD. The 1.66:1 anamorphic transfer is as good as it gets, with sharp imagery and virtually no spots on the picture at all. The studio has struck a wonderful balance of the light and dark values on the black-and-white picture, making it look young, fresh, and new.
Sound:
The original English audio has been remixed to preserve its intended mono soundtrack, achieving excellent clarity that is always easy to hear and maintaining a proper volume balance. Roberto Gerhard's musical score sounds particularly striking.
There are subtitles for the deaf and the hearing impaired.
Extras:
This Sporting Life - Criterion Collection is a two-disc affair. The first disc has the movie, the theatrical trailer, and a new commentary featuring Lindsay Anderson expert and author Paul Ryan alongside the film's writer, David Storey. The two aren't actually sitting in a room together, but Ryan, who edited Anderson's collected writings, also edits this, creating a structure around Storey's reminiscences about This Sporting Life, whose own rugby experience illuminates the reality of the script.
Disc 2 is all supplemental features highlighting the career of Lindsay Anderson, who began making films as a documentarian in 1948. This disc collects some of his earliest films, extra bits about the man himself, and also Anderson's final movie from 1993.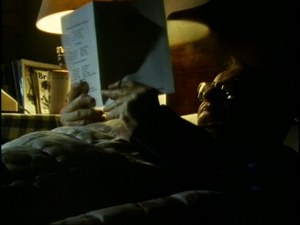 The full details:
* Lindsay Anderson: Lucky Man? (2004 - 29 minutes) : A Scottish television special released in conjunction with the publication of Anderson's diaries, it explores the peculiarities of the director's career, using excerpts from those diaries, film clips, and interviews. New chats with Helen Mirren, Malcolm McDowell, Martin Scorsese, Brian Cox, and others sit alongside archival interviews with Richard Harris, Stephen Frears, and Anderson himself. Of particular amusement is the story of how Lindsay Anderson came to direct a documentary about Wham.
* Interview with Lois Sutcliffe Smith (18:24) : Smith was Lindsay Anderson's first producer, and this new piece details how she lured him to direct Meet the Pioneers and what followed after.
* Meet the Pioneers (1948 - 33:05) : Lindsay Anderson's first film, essentially an industrial piece about a factory. It already shows his eye for using real locations and his humanistic streak, giving as much time to the workers as the process.
* Wakefield Express (1952 - 32:18) : Another of Anderson's documentaries, this time training the camera on the town where This Sporting Life would later be set, using the production of its daily paper as the center of activity.
* Is That All There Is? (1993 - 52:15) : The director's final film, a playful and unconventional self-portrait. He's cantankerous and provocative up until the very end.
As always, Criterion also includes an illustrated booklet featuring photos, a cast list, and the chapter index for the movie. It also has a new critical essay by Neil Sinyard and an article about the movie Lindsay Anderson wrote in 1963, which sprang out of an interview session he did with John Russell Taylor.
FINAL THOUGHTS:
This Sporting Life - Criterion Collection is Highly Recommended. What an excellent set, and how fitting that Lindsay Anderson's first feature film, the story of a man and his struggle with impossible dreams, should be included alongside a second disc career-retrospective that includes the tenacious artist's final, autobiographical effort! This Sporting Life is a dazzling, smartly structured story of a footballer--played with primal fury by Richard Harris--trying to escape the drudgery of factory life but ultimately discovering that fame and prestige on a rugby field aren't really the salvation he seeks. Featuring a truly difficult and emotionally devastating romance at its center gives This Sporting Life a sharp-edged honesty that strikes with incredible force. The second disc in this Criterion set balances this cynicism with a portrait of Lindsay Anderson's own drive for something more. It's all quite excellent.
Jamie S. Rich is a novelist and comic book writer. He is best known for his collaborations with Joelle Jones, including the hardboiled crime comic book You Have Killed Me, the challenging romance 12 Reasons Why I Love Her, and the 2007 prose novel Have You Seen the Horizon Lately?, for which Jones did the cover. All three were published by Oni Press. His most recent projects include the futuristic romance A Boy and a Girl with Natalie Nourigat; Archer Coe and the Thousand Natural Shocks, a loopy crime tale drawn by Dan Christensen; and the horror miniseries Madame Frankenstein, a collaboration with Megan Levens. Follow Rich's blog at Confessions123.com.