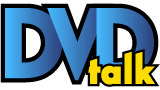 List Price: $26.98 [Buy now and save at Amazon]
---
In 10 Words or Less

Decidedly non-MTV-style sketch comedy from MTV


Reviewer's Bias*

Loves: Sketch Comedy

Likes: Aziz Ansari, Patton Oswalt, Kristen Schaal, H. Jon Benjamin

Dislikes: MTV

Hates: That this show is on MTV



The Show

Last month I got my hands on the first season of "The Whitest Kids U Know," a sketch comedy show that aired on the TV wasteland known as FUSE. After watching the shows I missed because I didn't watch that channel, I found I actually liked the series. Now, I've received the first season of "Human Giant," and it's like deja vu all over again. This time it's a different network I don't watch: MTV, one of my former favorites, back when the channel was actually about music and not pandering to teens and college students. I'm willing to give any sketch show a chance though, as I believe in the possibilities of the format, but my hopes were not high.


Maybe I should have remembered that MTV also brought us "The State," which is one of my favorite sketch shows ever. If I did, I might have discovered that Human Giant is actually a pretty damn good troupe much earlier. A small group, made up of Aziz Ansari, Rob Huebel and Paul Scheer (three guys any fan of comedy will recognize from their appearances on other shows and in film), they have a definite concept of what the show is supposed to be, and as a result, everything is nice and tight, from the writing to the performances to the production, with the majority of the sketches delivering a dark sense of surreal humor in relatively small bites that actually have an ending, unlike many sketch shows out there.


The series boasts an incredible pedigree, even once you get past the lead trio, who have been involved in plenty of successful shows and movies, including "The Upright Citizens Brigade." The directors include Jay Chandrasekhar (Super Troopers, "Arrested Development") and Rusty Cundieff (Fear of a Black Hat, "Chappelle's Show"), while the writing staff boasts veteran comics like Brian Posehn and Jay Johnston (both of "Mr. Show"), Ian Roberts (Upright Citizens Brigade) and Patton Oswalt. The cast is equally as impressive, featuring plenty of big talents, including Linda Cardellini ("Freaks & Geeks"), Rob Riggle, H. Jon Benjamin ("Home Movies"), Nick Swardson, Mary Lynn Rajskub ("Mr. Show"), Matt Walsh (Upright Citizens Brigade) and Jonah Hill (Superbad.)


Considering that pedigree (notice no "SNL" vets), it should be no surprise that the show focuses on original material, instead of developing recurring characters that are simply inserted into new situations. Yes, there are a good deal of pop-culture references, but no straightforward parodies, and yes, there are characters who return, but it's a continued part of a storyline, not just an opportunity for a catchphrase to be said. So when you have the three Shutterbugs sketches, about a pair of agents for child-stars, the joke is about the situation of having cut-throat agents for children, not about these two guys. The same goes for "Illusionators," a parody of Criss Angel's "Mindfreak." It's absolutely a gag about the format of the show and his screen persona, but it's the lengths to which the two Criss Angel stand-ins go to for a trick that makes it funny, not that they look or talk like the magician.


In the eight episodes of Season One, there are some moments of genius, including a dark take on what you'd do with a time machine (with an even darker original concept in the extras), a job interview that is the spiritualdescendant of the Ministry of Silly Walks, and a sketch about a moving company that has a very unique gimmick. The thing with the moving company sketch is that despite the brilliance of the concept, it had no inherent ending, so instead, Human Giant took the bit in a completely different direction and ended it brilliantly. It's the kind of ingenuity that you see over and over in this set, whether it's a sketch about a party line for emergency victims, a break-up that ends in a rather surreal way, or having intergalactic overlords work at a fast-food joint. Even the more traditional bits, like the quick-hit product recall announcements or the public-access parody "Swindle Tips" have that hint of originality that make them special.


If any sketch defines what Human Giant is all about though, it's got to be "Bruce Willis Look-a-like." Benjamin stars as the titular imitator, who is hired to surprise birthday boy Paul Scheer, a huge Willis fan. When Scheer thinks that the obviously-not-Willis Willis is the real deal, it puts him at the mercy of this unsavory character. The sketch is both ridiculous and oddly grounded at the same time, resulting in a complete scene that's satisfying storywise and hilarious as well. It's the utter opposite of the show's astronaut sketches, which push too far to be out there. Perhaps it's just the lead astronaut character's extreme unlikable nature that's the problem, because otherwise, the three stars manage to make their characters overwhelmingly likable and enjoyable, like their sketches.


The DVDs

The first season of "Human Giant" is presented in a two-disc set, that's packaged in a standard-width, dual-hubbed keepcase, with the episodes on one DVD, and the extras on the other. The discs feature static full-frame main menus, with options to watch all the episodes, select individual shows (and their accompanying scenes) or check out extras. There are no audio options or subtitles, though the disc does have closed captioning.


The Quality

The full-frame transfers on these episodes look terrific, with excellent clarity, spot-on color and and an overall error-free presentation, with no dirt, damage or digital artifacts. Aside from the odd fact that the show is presented in letterboxed widescreen instead of anamorphic, the only troubles you'll find are in some darker interior scenes, which suffer some excessive grain, and in the special effects shots, which aren't the most impressive and are rather obvious. There's also some awful-looking stock footage used, but that's all part of the joke.


The episodes' audio is presented in Dolby Digital 2.0 tracks, which are crisp and strong, presenting the dialogue and music without distortion. You're not going to notice anything too impressive about the sound, as it's basic cable comedy, without anything dynamic in the mix.


The Extras

The bonus material starts on Disc One, where you'll find the audio commentaries. This set is just barely even with the "Freaks & Geeks" collection in commentaries per episode, with 12.5 commentaries for just eight episodes, as the on-screen trio, director Jason Woliner and executive producer Tom Gianas are joined by different groups of guests on each track. The mix of participants are rather unusual, with friends like "SNL"'s Bill Hader and "30 Rock" star Jack McBrayer popping up, and cameos from Oswalt and Rajskub. The tracks can be a bit chaotic, with as many as eight people chatting, and no real focus, as the content mixes some behind-the-scene info, thoughts about what they are watching and various random notes, along with lots of ribbing between the commentators. The only negative is the half-hearted attempts to do character commentary. You get the feeling it was just a gag about in-character commentaries, but it still was hard to listen to.


The rest of the extras are found on Disc Two, starting with 75 minutes of highlights from Human Giant's 24-hour takeover of MTV. If the commentaries are chaotic, this is like TV in a blender, as the group hosts an all-star roster of celebrity guests, including a great appearance by Will Arnett and Jim Kracinski, a couple of bands, and your usual oddness, from MTV's Times Square studios. It's an interesting watch to see when comics are free from expectations (after all, 24 hours is a lot of time to fill) and well worth it if only to see the creepy hallway meeting between Scheer and an MTV standards-and-practices officer.


Up next is 53 minutes of deleted or alternate scenes, which are actually worth a look, unlike many such extras. The best parts of this section are easily the outtakes, including improvs from Swardson, Benjamin, Scheer and the incredible child star Bobb'e J. Thompson. These can be viewed individually or as a group. There's also two complete sketches that were never aired, from the Shutterbugs series, though some of the material made it into the show.


In a nice touch, two early performances by Human Giant, from the UCB Theater, are presented, showing proto-versions of two of their popular sketch concepts. They aren't nearly as polished as the material in the MTV shows, but it's interesting to see how the group evolved these characters. After traveling to the past, there's also three sketches from the future, namely Season Two of the show. If these are any indication, especially the lengthy bit about the death of a gay porn star, there will be no let-down from Season One.


The disc wraps up with a trailer for Season One, and a set of crew dedications, intended to honor the staffers who died during the production of the first season. It's a bit repetitive, but it's done well enough to be worth a look.


The Bottom Line

Once again, I've been surprised by a sketch comedy show that makes its home on a network that doesn't seem to fit it. "Human Giant" manages to be dark without resorting to gross-out comedy (at least not too often), while balancing the traditional sketch ingredients well, instead of relying on a few comedy crutches. The DVD looks and sounds as good as it probably could, and the extras are pretty substantial, without dipping too much into promo material and fluff. Though the critics comparing the group to heavyweights like Monty Python and SCTV are probably jumping the gun a bit, there's a lot to like about Human Giant, and they have to be considered one of the leaders on the latest wave of comedy groups out there.
---
Francis Rizzo III is a native Long Islander, where he works in academia. In his spare time, he enjoys watching hockey, writing and spending time with his wife, daughter and puppy.Follow him on Twitter
---
*The Reviewer's Bias section is an attempt to help readers use the review to its best effect. By knowing where the reviewer's biases lie on the film's subject matter, one can read the review with the right mindset.
---
C O N T E N T

---
V I D E O

---
A U D I O

---
E X T R A S

---
R E P L A Y

---
A D V I C E
Highly Recommended
---
E - M A I L
this review to a friend
Sponsored Links
Sponsored Links