Tom and Jerry Tales: Volume Four
List Price: $14.98 [Buy now and save at Amazon]
---
Warner Bros. has released Tom and Jerry Tales: Volume Four, a compilation of four more episodes (for a total of 12 shorts) from The CW's Kids' WB block's Tom and Jerry Tales series. Episodes 14 through 17 are here (which originally aired from September through October 2007), which consist of three shorts gathered together in 30 minute blocks. Zent out of Shape, I Dream of Meanie, Which Witch, More Powers to You, Catch Me Though You Can't, Power Tom, Don't Bring Your Pet to School Day, Cat Show Catastrophe, The Cat Whisperer, Adventures in Penguin Sitting, Cat of Prey, and Jungle Love are included in this mild time-filler.
I previously reviewed Volume Two of the Tom and Jerry Tales series (please click here to read that review), and although these modernized takes on the classic "cruelty-and-pain-equals-genuine-hilarity" antics of the famous Warner Bros. battling duo in no way match the surrealistically violent originals, they're affectionate enough, I suppose. The animation, while limited, is at least nicely rounded and evocative (for today's TV standards), and there seems to be an effort to shoot for more parodistic, spoofy humor. Unfortunately, the hard-core belly laughs elicited by the originals still aren't here, with that pesky "we're really just friends underneath" holistic world view summoned up during the last modernization of these characters, still permeating the shorts - and weakening them.
Watching another batch of these shorts (the first go-around didn't convince me to tune into the series), it's difficult to actively dislike these cartoons. They're well meaning enough, and little kids certainly will enjoy them (my two younger kids had fun). The production design is affectionate, and the scripts, while thin, contain a few fun gags (Spike as Godzilla in the first episode was funny, and there's an amusing flashback in Don't Bring Your Pet to School Day where Tom remembers a horrifying day at the pound). You may smile or grin at a few moments in each of these colorful shorts.
What didn't come across was the return to the anarchic spirit of those original Tom and Jerrys. I noticed quite a few old gags from the originals reworked here (the use of a refrigerator/freezer to ice over the house, in Adventures in Penguin Sitting, the borrowing of little bits and pieces from other Warner franchises like old Bugs Bunny and Speedy Gonzales) but fatally, there's no build to the escalating violence that the old Tom and Jerrys were expert at achieving. If you remember the old shorts, the level of violence between Tom and Jerry would mount and mount, until even they both became scared at what they were actually doing to each other - resulting, of course, in audience hilarity. That's missing here.
The "we're really just actually friends" feeling keeps creeping back into the shorts (which, admittedly, would occasionally surface in the old toons, as well), negating any progress made in the mayhem department. Perhaps forgetting the main point of the dramatics in most Tom and Jerry cartoons - Tom wants to eat Jerry - that rather disgusting reality is largely absent from these new shorts. Do you remember how Tom would get this totally insane look on his face, when he had Jerry on two slices of bread or when Jerry was sizzling around on a hot skillet? That was the essence of the two characters' interaction - that, and Jerry's subsequent efforts to maim and or kill Tom in retaliation (preferably in as spectacularly gory a fashion as possible). That visceral "kill or be killed" feeling is absent from these new cartoons. So, we're left with pretty good looking cartoons that ape the old shorts, but which come up shy at actually recreating the feeling of those classic toons.
Here are the 3 episodes (totaling 12 shorts) of Tom and Jerry Tales: Volume Four:
Zent Out of Shape
Banzai master Tom seeks peace and serenity. And so does Jerry, but with the aid of loud music - which just happens to wake up Godzilla Spike.
I Dream of Meanie
A genie in the lamp proves too tempting for Tom, Jerry and Spike, in ancient Arabia.
Which Witch
Needing a mouse to complete her potion, a wicked witch summons Tom to find one - and draws the battling duo into a feud between two neighboring sorceresses.
More Powers to You
The Amazing Acquaintances call on their assistant, Tom, to help them find a power ring - which Jerry now possesses.
Catch Me Though You Can't
The Ultra-Zapper gives whom is caught in its beam super-speed. And that would be Jerry here - much to Tom's fury.
Power Tom
Tom dreams of becoming a superhero, but only when he dresses in drag does his dream come true...as Power Gal.
Don't Bring Your Pet to School Day
Tom's little girl owner brings Tom to school for Pet Day, which provides Jerry with the perfect opportunity to torment him.
Cat Show Catastrophe
The Society of Feline Fanciers is putting on a show - but not as big a show as Tom, after Jerry and Nibbles get through with him.
The Cat Whisperer
Jerry has to bring Tom back to his old ways when Casper Lombardo works his evil magic on Tom.
Adventures in Penguin Sitting
Jerry's penguin friend likes things cold - particularly the house when it's covered in ice from a malfunctioning freezer.
Cat of Prey
Jerry has a double act with a bald eagle at an ocean theme park - until Tom tries to muscle in on it.
Jungle Love
Tom is in deep trouble in the deep jungle when Jerry and his baby rhino friend cause havoc with the panicky cat.
The DVD:
The Video:
The full frame, 1.33:1 video image for Tom and Jerry Tales: Volume Four is flawless, with bright, bold colors and absolutely no transfer issues.
The Audio:
You can chose either English or French Dolby Digital Surround Stereo - which is cool, because these shorts rely on music more than sound effects or dialogue, and they're pretty good scores.
The Extras:
There are no extras for Tom and Jerry Tales: Volume Four.
Final Thoughts:
More modernized adventures from the neutered Tom and Jerry (um, do they neuter rats?). I wasn't any more enthused about this go-around of Tom and Jerry Tales: Volume Four than I was for the second volume, but...it's not...offensive in its blandness. A rental should more than suffice if your kids are already into this.
---
Paul Mavis is an internationally published film and television historian, a member of the Online Film Critics Society, and the author of The Espionage Filmography.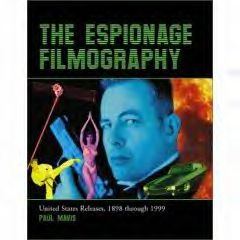 Sponsored Links
Sponsored Links