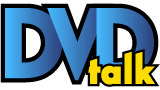 There Will Be Blood: 2-Disc Collector's Edition
List Price: $34.99 [Buy now and save at Amazon]
---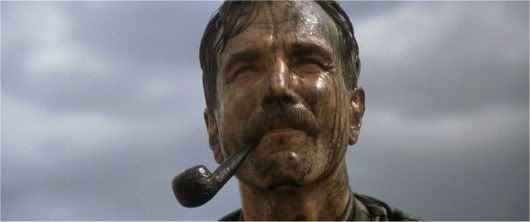 "He that hath wife and children hath given hostages to fortune; for they are
impediments to great enterprises, either of virtue or mischief."

_________________- Francis Bacon, "Of Marriage and Single Life"


There Will Be Blood, the latest film from Paul Thomas Anderson (Boogie Nights, Magnolia), travels down a dark and morally questionable road...but at least it's the scenic route. Five minutes pass before a word is spoken by Daniel Plainview (Daniel Day-Lewis), the relentless focal point of our story, but we feel as if we know him already. This stubborn and determined man has found traces of oil while mining for silver---and though he's suffered a terrible leg injury in the process, Plainview seeks confirmation of his discovery before medical attention. The year is 1898, and it's all downhill from here. Thirsty for more oil in the midst of a rapidly developing industry, this wouldn't be the last time our subject puts fortune before family and personal well-being.


The family in question is a small one indeed, consisting of Plainview and his young son, H.W. (Dillon Freasier). In many respects, he sees the boy as a partner and successor to the throne, teaching him tricks of the trade as time passes. As their success increases, Plainview and son eventually receive word of a potentially oil-rich property in Little Boston, California, on the ranch of the Sunday family. The money-hungry informant is none other than young Paul Sunday (Paul Dano)---and under the premise that they're simply quail hunting, the Plainviews infiltrate the Sunday ranch to dig around a bit. Paul's brother Eli (also Paul Dano) sees through the Plainview's plot, shrewdly attempting to raise the price after Daniel proposes a sale to his father. Eli has his own plans for the money: to procure funding for his own little project, the Church of the Third Revelation.


One truth becomes painfully clear as the story unfolds: There Will Be Blood is a tale of obsession and gradual self-destruction. Daniel Plainview declares himself a family man with H.W. by his side, yet his ulterior motives may soon prove otherwise. His measured, self-assured speeches convey a sense of respect and admiration for colleagues and competitors, but such an initial observation couldn't be further from the truth. Daniel Plainview is a selfish man to the bone, but we can't help but watch his exploits with a certain sense of empathy. We've all got a bit of Plainview inside us...it just depends on how deep we're willing to dig.


With strong performances from top to bottom, There Will Be Blood roars to life with intensity and a strong atmosphere. Daniel Day-Lewis deservedly won the Oscar for Best Actor for his turn as Daniel Planview, bringing a ruthless energy and vigor that anchors the film perfectly. Paul Dano is also excellent in his dual role as the Sunday brothers: Eli is a purely theatrical zealot, every bit as passionate about his "business" as Plainview himself. The Oscar-winning cinematography by Robert Elswit (Magnolia, Good Night and Good Luck) is equally impressive, creating a dusty, dreary backdrop that suits the film well. Jonny Greenwood (he of Radiohead fame, who also scored Bodysong) provided the film's excellent soundtrack---and the end result isn't just haunting, it's the ghosts of Christmas past, present and future rolled into one. It's not very often that so many factors blend so well together, creating a film that's more than just the sum of its parts, but There Will Be Blood truly fires on all cylinders.


Presented on DVD by Paramount Home Entertainment, There Will Be Blood arrives in two separate releases: a barebones one-disc release and a two-disc Collector's Edition. Even the latter doesn't exactly cover all the bases, though fans can look forward to a solid technical presentation and a handful of basic bonus features. It's not quite the home-run treatment that past Oscar winners have received---but the film's the real selling point, and there's no doubt that There Will Be Blood is one of 2007's very best. Let's take a closer look, shall we?


Video & Audio Quality

Presented in its original 2.35:1 aspect ratio and enhanced for 16x9 displays, There Will Be Blood looks very good from start to finish. The film's dusty color palette is rendered faithfully, image detail is solid and no major digital problems are on display. Several of the nighttime and darkened sequences appear slightly washed out and murky, but this may be a source material issue and nothing more. The forthcoming Blu-Ray release will certainly be interesting to see; in the meantime, standard definition owners shouldn't feel disappointed in this least.


Likewise, the film's audio presentation is generally impressive. There Will Be Blood is prone to long stretches of near-silence---and though it's often peppered with explosive outbursts, this is largely a low-key affair. Jonny Greenwood's score comes through loud and clear when needed, while the dialogue is crisp and easy to understand. Presented in Dolby Digital 5.1 Surround (also available in Spanish and French dubs), the soundstage is typically anchored up front but opens up occasionally for ambience. Optional English, French and Spanish subtitles are presented during the main feature and several of the extras.











Menu Design, Presentation & Packaging



The Academy Award for most boring menu design goes to...someone else, but There Will Be Blood is pretty darn close. These silent, non-animated menus feature surprisingly basic navigation---and though this works to the film's advantage in a sense, it feels relatively cheap and rushed on the whole. The 158-minute main feature is divided into a scant 8 chapters, while no prominent layer change was detected along the way.



As for the packaging, this two-disc released is housed in a handsome paperboard case featuring excellent design and an excerpt from Upton Sinclair's "Oil!" in lieu of an insert. Unfortunately, the discs are tucked in paper "slots" instead of traditional plastic trays---and while the packaging is surprisingly compact because of this, the discs are much more prone to damage. The second disc on my screener copy arrived with several light scuffs and scratches, but playback was not affected.






Bonus Features



Appearing exclusively on Disc 2, a handful of lightweight but appropriate extras offers a mild amount of support for the main feature. Leading things off is "15 Minutes" (15:38, below left), a wordless compilation of vintage photos, video clips and behind-the-scenes footage detailing the research that went into making There Will Be Blood. The level of accuracy on display, from the costume design to the oil machinery, is highly evident from start to finish---and even without participation from the cast and crew, this is certainly worth a look.



Also included are a pair of Deleted Scenes: "Fishing" (6:15) and "Haircut / Interrupted Hymn" (3:16). These contain mostly minor character moments but are interesting nonetheless---and though they look as clean and polished as the final cut, it's good that they've been kept separate. Our next bonus feature, "Dailies Gone Wild" (2:49), is somewhat related to the excised cuts: it's an alternate take of the restaurant scene with Plainview and his son. This is of minor interest but still worth checking out.



Winding down our traditional extras is the film's Teaser (1:26) and Theatrical Trailer (2:14). The latter is especially well-done, conveying the film's bleak tone without spoiling too many surprises. All of the above material is presented in anamorphic widescreen, but only some include optional English, French and Spanish subtitles.








Also included on Disc 2 is "The Story of Petroleum" (25:32, above right), a related 1920s-era silent film developed by the U.S. Bureau of Mines and the Sinclair Oil Company. Detailing the operations of the rapidly-growing American oil industry, this brief but fascinating film reminds us how much things have changed since then---and in some cases, how they've remained exactly the same. Like the main feature itself, "The Story of Petroleum" features a score by Jonny Greenwood that sets the mood perfectly. It's presented in the original 1.33:1 aspect ratio and looks appropriately rough around the edges, peppered with dirt and the occasional missing frame.


Of course, math majors in the audience will notice the above material totals less than an hour in length---and for a two-disc Collector's Edition, that's certainly on the thin side. Director Paul Thomas Anderson has gone on record stating that he no longer records audio commentaries---especially disappointing, after the terrific tracks included with Boogie Nights and the like. With no direct participation from the cast and crew, these extras can't help but feel a bit detached---and though our main feature seems all the more ominous because of it, the hefty price tag will undoubtedly keep some fans away.








There's no doubt that There Will Be Blood was one of 2007's finest offerings in a year of solid contenders. Director Paul Thomas Anderson has crafted perhaps his most self-assured film to date, revealing the madness, determination and moral ambiguity of a turn-of-the-century oilman named Daniel Plainview. Strong performances by Daniel Day-Lewis, Paul Dano and company anchor the film from start to finish, complemented perfectly by an authentic atmosphere and a terrific score by Jonny Greenwood. Paramount's two-disc Collector's Edition may rub some folks the wrong way at times: the technical presentation is certainly up to snuff, but the thin assortment of bonus features and sparse presentation doesn't support the main feature as much as needed. Nonetheless, this is still one of the year's most potent releases: gnashing and clawing from start to finish, There Will Be Blood is an exhausting epic that deserves the time and attention of serious film lovers. Highly Recommended.




---
Randy Miller III is an affable office monkey based in Harrisburg, PA. He also does freelance graphic design projects and works in a local gallery. When he's not doing that, he enjoys slacking off, second-guessing himself and writing things in third person.

---
---
C O N T E N T

---
V I D E O

---
A U D I O

---
E X T R A S

---
R E P L A Y

---
A D V I C E
Highly Recommended
---
E - M A I L
this review to a friend
Sponsored Links
Sponsored Links