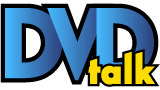 MTI // R // April 8, 2008
List Price: $24.95 [Buy now and save at Amazon]
---
The Movie:


One of the wonderful things about advances in home video technology is that everyone can get in on the art of filmmaking; it's no longer exclusively in the hands of studios. Magus is a movie made independently in L.A., and I would like to give director John Lechago and his cadre credit for getting this done.



In Magus, we learn that there have always been magic users living among us, and their code has kept them anonymous for centuries. One magician, Fernos (Ron Fitzgerald), has made himself the titular Magus by deciding his lust for power is more important than the code. The Magus is the one who risks the safety of all the other magic users by going on a power trip, and Fernos is soon killing any magicians who stand in his way.



Fernos' story is told parallel to that of Felix (Bill Steele), and old, benevolent magician whose only skill had been healing. However, his wife's death has left him magically impotent, so he trains with the help of his niece, Claudia (Lizzy Strain), who also happens to be a potential future wizard. Felix has premonitions about Fernos, and trains partly in anticipation of the inevitable showdown between them.



This plot, sparse as it is, is little more than an excuse to create special effects. Lechago created all of them himself, and his efforts are admirable. There are plenty of flashy energy beams flying from one magician to another during fights and glowing auras surrounding people. There are also a lot of great gore effects, like someone's face melting off. These really show the time and care put into Magus, and illustrate why it's a movie about wizards and not a romantic comedy. The effects are actually better than those in most SciFi Channel original movies.



The problems of an independent production abound, though. The writing is sub-par to standard, and the lines are delivered in a distractingly horrible manner. Fitzgerald is neither scary nor intimidating as Fernos, and that probably stems at least partially from the fact that his voice is higher pitched than mine. Sen, Fernos' female sidekick, is played by the Amazonian Eva Derrek. She participates in quite a few martial arts fights, but they are never convincing. Strain is cute as a button for most of the film as the teenaged Claudia, but her performance is only slightly better than anyone else's.



Let's face it, we're all too spoiled by the quality of big budget movies to appreciate stuff like Magus. I spent most of it squirming in my chair. The horrible acting and laughable plot saw to that, but I can still value the effort of people who make cheap movies because they love to.



The DVD



The Image:


I had to zoom in on the 1.85:1 image because it wasn't enhanced for widescreen TV's. The image quality was not very sharp, but it probably looks about as good as it ever will since Magus looks like it was recorded on MiniDV. The blacks were surprisingly deep, and I appreciated a lot of the shadowy cinematography by DP Dan Donley, but the movie overall just made me feel like I was watching home video.



The Sound:


Magus has a 5.1-surround track and a stereo track, both in English. The audio is fine for what it is, with unique effects for all the different magic spells being used. The musical score is average, sounding at times like techno and at others like hard rock, essentially matching the quality of the rest of the production.



The Extras:


There were a few trailers for some other movies you've never heard of on Magus, as well as its own trailer.



There was also a commentary track with Lechago and Fitzgerald. These two seem like nice guys, and they are relatively interesting to listen to as they discuss the personalities of the people involved with Magus and explain some of the creative process of the film. But unless you really enjoy the filom, this commentary isn't going to make the viewing any easier.



Final Thoughts:


Unless you're a fan of movies that look like they were made by weekend warriors, I can't recommend Magus, and I'm saying, "Skip It." Its only appeal is its hey-I-could-make-this feel.
Sponsored Links
Sponsored Links