I'm not sure the A Touch of Frost detectives series out of Britain is as well known as some of the other imports we get here in the States, such as the Midsomer Murders series or certainly the Marple and Poirot incarnations - which is odd because apparently, the Frost series (according to the packaging) is the number one detective show in England. I had heard of the series, mainly because I'm a huge fan of Sir David Jason (the perfect embodiment of H. E. Bate's Pop Larkin in the marvelous The Darling Buds of May), but I hadn't seen any of the previous installments. So I'm all new to A Touch of Frost Season 13, a grossly inaccurate title, by the way, seeing as this DVD only contains one 95-minute telemovie from 2006, Endangered Species - hardly a "season."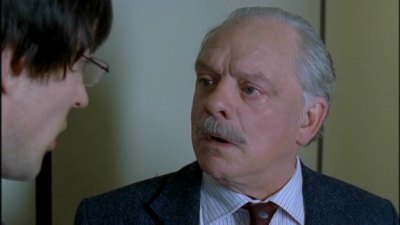 Curious to see if DVDTalk had reviewed any of the other Frost titles, I looked back through the archives and saw that former critic (and one of my personal favorites) Holly E. Ordway had looked at a few seasons back in '04 and '05. She seemed to enjoy the episodes, in a qualified manner, but admitted to not getting hooked on the main character. Obviously I'm not going to be able to judge any potential nuances that may have been carried over from previous seasons; I have to look at the film in front of me cold. With that in mind, Endangered Species starts off sensationally, with Jason funny and quirky as the brusque, grumbling detective who finds himself involved in two complex, challenging homicides. But very quickly, the whimsy and almost strangely macabre vibe that the show expertly builds up, is dissipated with one clunky "message" after another, concerning exotic animal rights and teachers who sleep with their students. Deftness of touch turns into lumbering speechifying, and the whole thing goes, "Pffftttt!"
Detective Inspector William "Jack" Frost (David Jason), of the Denton Police Department (in the upper Thames Valley in the north of England) is upset when a case he worked on is dismissed from the courts, and petty criminal Kevin Flannagan (Gary Sefton) goes free. But things brighten up for Frost considerably when he gets a frenzied call from Flannagan who claims someone's ready to torture and murder him out a farm where he works. Not quite believing Flannagan, Frost ventures out to the farm with his current sidekick (and temporary roommate) DC Robert Presley (Blake Ritson). What they find is a very large, ticked-off crocodile, cages and cages of exotic animals, not in the best of care, and several human body parts in the pond - all of which Frost hopes belong to Flannagan.
After blowing a date with the much younger Julie Brown (Claire Cox), and sparring with his roommate Presley, who for some reason (the film doesn't bother to explain) is staying at Frost's home and who demands to be able to bring a woman home for the evening, Frost is called on for another strange homicide: a naked stranger is found in the bed of a family just returning from a caravan holiday. Is the stranger the woman's lover (her jealous husband seems to think so), or does the son have something to do with the dead man's appearance in the master bedroom? Is the murder related to Flannagan's disappearance? And indeed, if the remains in the pond aren't Flannagan, what does that have to do with the black market of smuggled exotic pets, centered in the sleepy town of Denton, of all places?
SPOILERS ALERT!
So much of the beginning of Endangered Species was so right that I thought it might be one of the better British mysteries I've seen this year - and I've seen quite a few. First and foremost, a very large amount of the appeal of the movie depends on Jason's portrayal of DI Frost, and he's effortlessly amusing. I don't think I've seen a funnier detective...who isn't trying to be funny in the slightest. Employing the blackest of black English humor (Frost quietly celebrating the fact that Flannagan might have been eaten by a crocodile), while also throwing in a few Carry On facial expressions (watch Frost check out the sweating ladies at an aerobics class attended by his girlfriend Julie), Jason's Frost, at least in the first half of the film, is captivating, even though he's not really doing anything to make him so. It's Jason's personality alone that carries the character, and he's wonderful.
As for the film's vibe, it's deliciously off in some strange, inexplicable manner. I can't quite put my finger on it, but the director, Roy Battersby and screenwriter Tony Charles, manage to pull off these little scenes of perfectly executed suspense, with humor, all the while managing an undertone of unease that was noticeable right from the start of the film. Take for example, the deceptively simple but faultlessly executed scene where Frost comes to the farm, searching for Flannagan after his desperate cell phone call for help. With Frost poking around the farm, yelling out Flannagan's name as he warns him not to muck him about, the scene builds up humor and suspense in equal doses, until it takes a turn you don't see coming. Hearing noises in the bathroom, Frost assumes Flannagan's taking a bath, so the door is opened...where we find a huge crocodile hissing, and coming right for the detectives. It's perfectly staged for both scares and laughs, which the filmmakers repeat when Frost goes into the cellar. Looking into blank cages, a cobra pops up and strikes, with the scared Frost dropping his match. Blackout. End of scene. Perfect.
Other scenes play out equally well (the editing was just right during Frost's ultimately failed seduction of Julie at his house), but almost imperceptibly, the tone of the film becomes more and more pedestrian, as the facts of the case take over from the nice sense of confusion the viewer felt at the beginning. The subplot involving the strange corpse in the family's bed takes a most familiar turn (a teacher blackmailing another teacher to have sex, while the beautiful teacher has sex with a student), while the exotic animal smuggling becomes an excuse for strident message-making. For that matter, so does the teacher/student sex angle. Whereas Frost at the beginning seems extremely laid back about his cases, being more concerned about his love life and keeping Presley from bringing girls back to his home, by the end of Endangered Species, Frost is crying about the plight of these abused animals. He then takes the time to lecture, in a most stolid fashion, the gorgeous young teacher on why she wasn't supposed to have sex with her high school student. As if the viewer needed that fact spelled out.
While I have nothing against the messages that the screenwriter so obviously, passionately believes in, I prefer to have my lessons taught to me in school, not in my TV mysteries. If the implementation of these messages had at least been artful, I wouldn't have minded, either. But with a straight face (or mugging shamelessly, such as when he's in the van with the dead tiger), Jason is forced to deliver the most obvious pronunciations on these topics, bringing the humor and suspense of the piece to a grinding halt. Every time he has one of these moments, the director might as well have put up a flashing sign that said, "Author's message! Author's message!" What started out light and kooky and suspenseful and deliciously, ever-so-slightly off-kilter, ends up decidedly grounded and grumpy and obvious. What a shame.
The DVD:
The Video:
The anamorphically enhanced, 1.78:1 widescreen video transfer for A Touch of Frost Season 13 looks quite good, even though there is the faintest hint of blurring at times, which may stem from PAL transfer issues. The picture is otherwise sharp and clear, with an acceptable, if unexceptional, color balance.
The Audio:
The English 2.0 stereo audio mix is entirely adequate for this type of presentation, which relies mostly on dialogue with very little if any multi-speaker-friendly effects. All dialogue is clearly heard. English subtitles are available.
The Extras:
There are no extras for A Touch of Frost Season 13.
Final Thoughts:
The character of Detective Inspector Jack Frost is irresistible, particularly as essayed by the brilliantly funny (without trying) David Jason. And for the first half hour, Endangered Species is alternately suspenseful and amusing, working perfectly as a quirky, engaging little mystery. However, a shift in tone to impart messages rather than entertainment quickly sours the whole deal. A rental is recommended for long-time fans, I would imagine. If you love British mysteries -- which I certainly do -- and you're new to Frost, this might be an okay introduction to the character, spurring you on to catch the older ones. But only as a rental.
---
Paul Mavis is an internationally published film and television historian, a member of the Online Film Critics Society, and the author of The Espionage Filmography.