List Price: $12.98 [Buy now and save at Amazon]
---
Don't get rid of your Anchor Bay edition of this film just yet. Warner Bros. has released a plain-wrap edition of Macon County Line, the 1974 drive-in smash starring Max Baer, Jr. (Jethro from The Beverly Hillbillies), who also co-wrote and produced this monster independent hit. Owners of the 2000 Anchor Bay release will be disappointed to hear that not only is the transfer the same here for this Warner release, but the feature-length audio commentary by director Richard Compton has been dropped, as well as the excellent documentary on the film, Macon County Line: 25 Years Down the Road. Warners didn't even include the original trailer. Double-dipping, then, is unnecessary.
Macon County Line will forever be associated in my mind with those summer days in the early 1970s when I was a kid, when seemingly one drive-in cult movie after another crossed over into the mainstream popular culture. For the most part, even more "adult" early 70s drive-in fare was still pretty tame by today's standards, but even the suggestion that a film was overly violent or sexy (an impression hammered home with incessant, hyperbolic TV and especially radio ads) created a strong whispering campaign - particularly among young boys and teens - that had to be obeyed. Films like Billy Jack, Jackson County Jail, The Texas Chainsaw Massacre, and Walking Tall were must-see flicks (if you could convince your older brothers to take you on the sly) because they sounded like they were going to be "the real deal." It's almost impossible to convey to today's younger media watchers - who can catch stronger stuff on the average prime-time network drama, let alone hard-core porn on the internet - how wonderfully taboo the average drive-in feature was, with its promise of a flash of nudity or a low-tech gun shot splatter.
And of course, if those ads screamed that the gore-and-sex-soaked sleeper down at your local backwoods drive-in was based on a true story, then admission was mandatory (Walking Tall, The Texas Chainsaw Massacre, The Legend of Boggy Creek and The Town That Dreaded Sundown owned that marketing gimmick). Prior to all the true-crime TV magazine shows and documentaries that fill the cable airways now, the notion that you might see a lurid story based on true events would soon have you lying right to all your friends' faces, telling them how you heard the real story was even worse than what happens on the screen (which was a double lie because you hadn't even gone to the film yet). Macon County Line is billed as a true story, with this label put up on the film's first title card - no doubt to lend an air of authenticity to the proceedings (as well as piggy-backing, perhaps, that other drive-in classic, Walking Tall, that had proved to be such a huge hit the year before). Fans of Macon County Line now know the story is fictional, but with its careful attention to character development and a surprisingly surefooted, almost allegorical approach to the material, it doesn't matter that the story is made up. If anything, that only helps with Macon County Line's weird documentary/dream-like atmosphere.
The story is simple - as all good allegorical nightmares are. It's 1954, and brothers Chris (Alan Vint) and Wayne Dixon (Jesse Vint), originally from Chicago, are on a two-week bender of prostitutes and low-crime hijinks throughout the South before their upcoming stint in the Air Force. Wayne re-upped to go in with his brother when Chris, in trouble with the law, was given the option of military service or prison. Rolling through Louisiana, the brothers pick up hitchhiker Jenny Scott (Cheryl Waters), a pretty blond with a backstory she's not all that willing to divulge.
Meanwhile, in a small backwater town, local sheriff Reed Morgan (Max Baer, Jr.) is preparing to bring back his son Luke (Lief Garrett) from military school; hunting season starts the next day and Reed decides to buy Luke a new 12 gauge shotgun. As Chris, Jenny, and Wayne roll through the back roads of Louisiana, their fuel pump starts to act up, and they stall out in Reed's town. Unable to buy a new pump, they scratch together enough money to get it patched up by garage owner Hamp (Geoffrey Lewis). Waiting at the garage, they're casually threatened by Reed, who reminds them that they could be thrown in jail for vagrancy - if they decided to stay in town. Getting the message, the brothers and Jenny head out as soon as the car is fixed. But a simple twist of fate - the fuel pump gives out - puts the three into a deadly situation with Reed, with a shattering conclusion for all.
SPOILERS ALERT!
If you've never seen Macon County Line, or even if you have and you don't remember the ending, I urge you not to read any further, and just watch the film. There's an effective twist ending to the film that I will be discussing, so be forewarned.
Made on a ridiculously small budget (even by 1974 exploitation standards), Macon County Line turned out to be the single most profitable film of 1974 (in film cost to film gross ratio), making upwards of 30 million dollars at the box-office on less than a $200,000 investment. Shepherded by actor Max Baer, Jr. (who found himself typecast as supernaturally stupid Jethro Bodine from The Beverly Hillbillies), Macon County Line is a cut above most of the exploitation films that crawled into local drive-ins at the time, not so much for the "documentary" feel that so many critics at the time noted (even if at the same time they dismissed the picture), but because of its almost dream-like, relentless descent into nightmare that director Richard Compton so ably achieves.
Certainly, the notion that this was a "true" story may have further influenced the critics who noted the film's gritty, low-budget feel, the non-star leads, and the realistic rural location work and sets. Cartoonish at first (the film's opening sequence, where both brothers share a whore off-camera, is low-brow, barnyard Southern humor at its raunchiest), the film switches tone almost immediately and becomes increasingly somber and contemplative as the brothers get closer to meeting their inevitable fate. The screenplay by Baer and Compton is careful to make sure we understand the brothers aren't exactly innocents before their fateful meeting with Reed. They steal the whore's purse as they escape from her pursuing husband, and skip out on a check at a local eatery (Compton stages a gag that's far superior to the same one in American Graffiti where the boys rip off the entire front end of a cop car). These are troublemaking rowdies, out for a good time. Only after meeting Jenny do they "settle down" (the sequence where we think they're going to rob Hamp with a rifle is expertly staged), a change in characterization that correctly sets up the ultimate outrage of their fate at the hands of Reed: they may be punks, but they don't deserve what happened to them.
Max Baer as Reed further levels off audience expectations of a simplistic, rowdy good time at the drive-in with his complex portrayal of Deputy Morgan. Some critics at the time simply dismissed the character as a buffoonish bigot, but he's far from that. Wearing a Confederate flag patch on his sleeve (which all the police wear, and which wouldn't have been inaccurate for 1954 Louisiana law enforcement officers' uniforms at the time), Baer's Reed shows no outward signs of being an overtly racist or bullying police officer (as so many other reviews have described the character). His discussion of race with his son, Luke, who has befriended some black youths who play ball near the military school (they're at the school when Reed picks up Luke), is always noted by critics who point to Reed's wish (not demand) that Luke not play with them in the future, as a sign of his bigotry. And it is. But it's important to note that Reed's reasons are measured and thoughtful - within the prejudiced framework of 1954 Louisiana, of course - and not openly cruel. His concern, which he says his wife shares, is for his son, saying that it seems "easier" for white and blacks to stay separated (an incorrect belief that some African-American parents during that time may very well have held, as well). He doesn't tell his son that blacks aren't as good as whites, nor does he yell any insults or threats at the young boys who call out to Luke when Reed picks him up from school - which would not have been an uncommon occurrence in 1954 Louisiana.
Indeed, Reed's far more threatening to the young white kids at the garage. His subtle yet clear warning to Chris, Wayne and Jenny is get out of town while the getting is good. He is bullying them, but again, it's not overt or broad - and therefore far more effective and sinister - and it would seem to be a normal function of a small-town sheriff at the time: watch out for strangers, determine if they're a potential threat, and let them know they're just passing through - or else. It may not be fair, but that was law-and-order down South during that time. In a nicely stage sequence, director Compton shows how Reed is totally misguided as to which strangers in his town he should be concerned with. As hard-core criminals Lon (Timothy Scott) and Elisha (James Gammon), who are getting gas at the station at the same time Deputy Reed is getting ready to harass Chris and Wayne, Compton shows Reed, behind dark sunglasses, peering out at the brothers - while completely missing Lon and Elisha freaking out because they think Reed is staring at them. Indeed, one could make a case that in their screenplay, Baer and Compton wish to show Reed as well-meaning but decidedly misguided in almost all his actions.
Director Compton, working from a strong, bright, sunshiny palette at the beginning of the film, makes Macon County Line progressively darker both visually and thematically, until the final scenes take place exclusively in varying degrees of shadow or pitch blackness, mirroring the terror of the brothers' final stand against Reed. Compton, going against the usual drive-in exploitation standards of showing a lot of skin and action right up front (remarkably, most of the acute violence in Macon County Line occurs off-camera, until the final blast), is equally interested in showing all of the characters actual falls from grace, including even those characters we might suspect are minor. Certainly Luke's strange slow-motion dream as he sleeps in the car (he dreams of hunting with his father, who looks disapprovingly at him when he fails to bag a bird) seems weirdly out of place until we start to understand what Compton is doing with it. Coming onto the body of his brutally butchered mother (whom Elisha had sexually assaulted and then - perhaps with Lon helping - murdered), Luke, goaded on by his unthinking father who keeps calling for Luke to follow him like it's a hunting party, stumbles around the river area in a dream-like daze. Thinking that the brothers and Jen are responsible for her death (their car had conked out in front of Reed's house, but they had camped out in a nearby barn), Reed pursues them and wounds Jenny. But it's Luke, in a terrific, unexpected twist ending, who finishes off Wayne and Jenny, and almost kills Chris (Compton quite skillfully tricks us into thinking Reed is the one doing the stalking). Reed, ineffectual in his misguided perceptions all the way down the line, lays dead in the reeds, with his son finally measuring up to his father's ideals: he bags his first kills. It's a wowzer of an ending, not just because it's a finely crafted suspense sequence (somewhat reminiscent of the houseboat scenes in the first Cape Fear), but because it's so well integrated into the thematic elements of the story. Macon County Line is a drive-in actioner with brains.
The DVD:
The Video:
The matted widescreen, anamorphically enhanced 1.85:1 transfer for Macon County Line looks about the same as the previous 2000 Anchor Bay disc. It's important to remember that this was a very low-budget film, and it never looked all that great to begin with, with considerable grain and muddy color present on the original source material. I doubt anybody went back to those originals for this Warner release, so you're going to see noticeable grain and break-up during the really dark scenes, particularly on a big monitor. Still, let's be clear: if you originally saw this in a drive-in, it still looks way better on disc - imperfections and all.
The Audio:
The Dolby Digital English mono track accurately reflects the original mix, but it's too bad we couldn't have at least had a stereo remix. English and French subtitles are available, as well as close-captioning.
The Extras:
Unfortunately, the director's commentary and documentary that accompanied the 2000 Anchor Bay release are missing here. There are no extras.
Final Thoughts:
You don't need to double-dip if you have the 2000 Anchor Bay edition of Macon County Line. It has the director's commentary and a brief but excellent documentary on the film - both of which have been dropped from this very plain wrap Warners edition. As for the film, as much as I enjoyed revisiting the film on disc, I'm not sure Macon County Line works as well on your home theater system - regardless of how big your screen is. This movie needs to be seen in its natural environment: the drive-in. You have to be sitting with somebody in your car (just like Chris and Wayne), with the windows down and the strange sounds of the woods nearby, and as the night sky gets deeper and the darkness envelops the car, that's when the events on the screen seem quite creepily real, and threatening. How the West Was Won belongs on a Cinerama screen and nowhere else. And films like Macon County Line belong on a deserted drive-in screen, out in the middle of nowhere - and nowhere else. The movie itself gets a highly recommended, but the disc is a rental at best - try and find an out-of-print Anchor Bay copy on Ebay.
---
Paul Mavis is an internationally published film and television historian, a member of the Online Film Critics Society, and the author of The Espionage Filmography.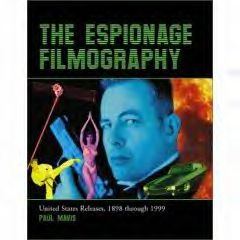 Sponsored Links
Sponsored Links