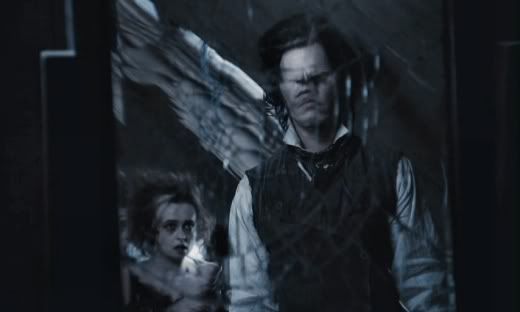 Nominated for three Academy Awards and winner of none, Tim Burton's enthralling Sweeney Todd: The Demon Barber of Fleet Street (2007) is every bit as good as you've heard...and then some, perhaps. Based directly on Steven Sondheim and Hugh Wheeler's 1979 stage production (and of course, the films and other adaptations that came before it), this tale of a ruthless barber's revenge deftly mixes music, mayhem and meat pies with energy to spare. Those unfamiliar with the fictional character may find such a combination tough to warm up to---but for everyone else, it's another welcome trip to the barber's chair.
Though I wasn't old enough to witness Sondheim and company's adaptation during its original run, those with an appreciation for musical theater should find Sweeney Todd's legacy nearly impossible to avoid. The character's origins in mid-19th century English print have firmly established Todd in popular culture through the years, with several stage adaptations and a 1936 British film (starring the aptly-named Tod Slaughter) to its name. Enter Tim Burton, who witnessed Sondheim's stage production years before pursuing the director's chair...and loved it enough to see it twice more, according to his testimony on this release's special features. Burton's adaptation would stay in the back of his mind for over two decades---but with the blessing of Sondheim and the collaboration of several Burton regulars, the director's take on Sweeney Todd eventually saw the light of day.
Our story, of course, hasn't changed much from the original source material; it's shortened quite a bit for obvious reasons, but the spirit remains intact. On center stage is Benjamin Barker (Johnny Depp), a barber wrongfully imprisoned by a corrupt judge who steals his wife and daughter away. After escaping imprisonment years later and changing his name to Sweeney Todd, he returns to London with a thirst for revenge. His abilities have not left him, so Todd decides to put his razors to work. Re-opening his barber shop, located above a meat pie shop run by the practical Mrs. Lovett (Helena Bonham Carter), Todd is fiercely determined to lure the dastardly Judge Turpin (Alan Rickman) into his chair. Biding his time until revenge is within reach, the barber enters a business partnership with Mrs. Lovett downstairs; after all, he's got a penchant for killing customers and she needs meat for her pies. It's a match made somewhere...but not in Heaven, not by a long shot.
Sweeney Todd's execution is about as flawless as audiences could have (and should have) expected. Sondheim's toe-tapping songs are laced with black humor and frame nearly every scene perfectly, creating an oddly compelling counterpoint to the shocking amount of blood loss depicted onscreen. The pacing is tight from start to finish, revealing plenty of character moments without feeling too bloated and busy. From an initial confrontation with a rival barber (played masterfully by Sacha Baron Cohen) to the adoption of a young boy (Ed Sanders), such colorful characters offer a perfect contrast to the dark, moody streets of London. It's too bad that several of them are dispatched and served piping hot, but them's the breaks.
The last film this enveloping and pitch-perfect was last year's Zodiac---and since 2007 was such a great year for movies, trivial rankings on any "best-of" lists are practically beside the point. Simply put, Sweeney Todd is a rare gem that gets just about everything right from start to finish: from the beautifully moody atmosphere to the stirring soundtrack and near-flawless performances (both musically and otherwise), this is about as entertaining as horror films get. The balance of the theatrical and macabre is maintained with ease---and though such over-the-stop stylized violence may scare away some viewers, the visuals never feel gratuitous or glorified. Sweeney Todd is a visceral revenge tale where no one gets away clean, no bad deed goes unpunished and the most intimate moments are expressed through song. Hard to believe such a combination works so well, isn't it?
Released on DVD in separate one-disc and two-disc editions, Sweeney Todd plays quite well on the small screen. While the limits of standard-definition video can be spotted along the way, a robust audio mix and plenty of interesting bonus features make this double-disc Special Edition worth hunting down. Let's take a closer look, shall we?

Video & Audio Quality
Presented in its original 1.85:1 aspect ratio and enhanced for 16x9 displays, Sweeney Todd looks very good with a few reservations. The film's pale, muted color palette has been preserved nicely, particularly the steely blues and earthy browns found in most of the director's earlier work. Black levels are generally solid, though the inky landscapes may frustrate viewers accustomed to seeing lots of background details. A few notable digital imperfections can be spotted along the way, including mild doses of edge enhancement and modest amounts of ringing. These flaws don't prove to be particularly troublesome, though it's odd to see such issues in a recent major-studio release.
The audio, however, doesn't disappoint in the least. Presented in Dolby Digital 5.1 (with optional French and Spanish 5.1 dubs), Sweeney Todd roars to life with crystal-clear dialogue, rousing musical cues and plenty of surround activity. Such an enveloping atmosphere demands a strong aural presentation---and barring the more robust audio punch of a high-definition release, Sweeney Todd can't sound much better than this. Optional English, Spanish and French subtitles are available during the main feature and most of the bonus material.
Menu Design, Presentation & Packaging

Seen above, the moody, animated menu designs are basic and easy to navigate. The 116-minute main feature has been divided into 24 chapters, while no obvious layer change was detected during playback. This two-disc release is housed in a double-sided black keepcase; no inserts are included, though a handsome metallic slipcover frames the package nicely.

Bonus Features

Available as a one-disc release or a two-disc Special Edition, the latter includes a generous dose of supplements that occasionally tend to repeat themselves. Disc 1 includes one substantial featurette, "Burton + Carter + Depp = Todd" (26:05, below left), a general making-of piece featuring principal members of the cast and crew. A brief history of the demon barber is provided, as well as the actors' preparation for their singing roles and glimpses of the set design and general production. It's a well put-together piece overall, enough to make the one-disc release a satisfying purchase for more casual fans of the film.

Disc 2 adds a few more pieces to the puzzle, leading off with footage from the Sweeney Todd Press Conference (19:41) recorded in November 2007. This Q&A with Tim Burton, Johnny Depp, Helena Bonham Carter, producer Richard Zanuck and actor Timothy Spall (Beadle) features text-based questions and feels a bit disjointed for obvious reasons, but there are plenty of interesting comments and stories along the way. The discussion takes several minutes to build momentum, though most fans should certainly find it worth a watch.

Our next supplement is "Sweeney Is Alive: The Real History of the Demon Barber" (20:07, below right), a brief overview of the character's origins in English fiction. First appearing in the "penny dreadful" A String of Pearls circa 1846, the devilish character grew in popularity during the next few decades, leading to several stage productions and early films along the way. A few authors and historians are on hand to debate whether a literal "Sweeney Todd" actually existed (either in name or in spirit), but this featurette mostly plays it straight from start to finish. More than anything else, the most interesting moments stem from the old drawings and publication reprints on display.
Up next is a handful of shorter featurettes, leading off with "Musical Mayhem: Sondheim's Sweeney Todd" (12:03). This obviously focuses on the composer and playwright, touching on Sondheim's first stage viewing of Todd in 1973, his lyrical approach to the story and various other adaptations through the years. "Sweeney's London" (16:14) sheds some light on the atmosphere of the era and provides a glimpse of several modern locations featured in the film. "Designs for a Demon Barber" gives us a brief tour of the wardrobe department, while "A Bloody Business" (8:51) reveals secrets of the film's more gruesome practical effects. "Grand Guignol: A Theatrical Tradition" (19:14) is a bit more detailed, offering a history of the famous French horror theater where stage productions like Sweeney Todd were unleashed onto locals of all income levels. All of these are somewhat tied up in a general Making-Of Documentary (24:02); while this rehashes quite a bit and feels heavily promotional at times, it provides further glimpses of set designs, visual effects and the like.
Winding things down are a few odds and ends, beginning with "Moviefone Unscripted" (11:36), a casual chat with Burton and Depp presumably recorded after the film's production. Like the previous Press Conference on this disc, this is primarily a text-based Q&A, with both participants fielding the questions as they're presented. It's not limited to Sweeney Todd exclusively, so fans of Burton and Depp's earlier collaborations should certainly give it a look. "The Razor's Refrain" (8:39) is a curious mixture of production photos and songs from the film, but there's a separate Photo Gallery if you're looking for more. Last but not least is the original Theatrical Trailer (2:31), which is always a welcome inclusion.
All bonus features are presented in anamorphic widescreen (save for the "Unscripted" segment, which is letterboxed), and all but the trailer include optional English, French and Spanish subtitles. Several of these extras exhibit interlacing issues at times, but they generally look and sound quite satisfactory. Aside from several moments of notable overlap along the way, most fans should enjoy these supplements from top to bottom.

Sweeney Todd's grand entrance on DVD may have come and gone weeks ago, but those still on the fence will find this two-disc Special Edition worth the price of admission. The film, while admittedly not for all tastes, blends elements of the classic musical and visceral horror with energy to spare, creating a highly entertaining film that holds up well to repeated viewings. The transfer may leave a bit to be desired, but the strength of the audio presentation, bonus features and attention to detail earns this DVD passing marks across the board. Blu-Ray fans may wish to wait for the inevitable high-definition package, but everyone else should consider this release Highly Recommended.
---
Randy Miller III is an affable office monkey based in Harrisburg, PA. He also does freelance graphic design projects and works in a local gallery. When he's not doing that, he enjoys slacking off, second-guessing himself and writing things in third person.
---