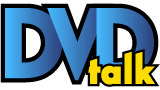 Tom and Jerry Tales: Volume Four
List Price: $14.98 [Buy now and save at Amazon]
---
The Movie:


Years ago (too many years ago, really), I can remember enjoying old Tom and Jerry cartoon shorts that aired during the afternoons on one of the local independent television stations. Many are familiar with these cartoons, I suspect, as Tom and Jerry are fairly iconic cartoon characters. I approached this fourth volume of Tom and Jerry Tales with some interest - having never seen an episode of the contemporary program - curious to see how these characters are treated in this updated, modern version.


While these cartoons lack that certain postmodern wink and a nod to the adults, I'm happy to report that Tom and Jerry seem to be in competent hands. I found these cartoons mildly amusing (though they get very repetitive when viewed one after another) and would imagine that they would appeal to a very young audience - which, of course, is ultimately the target of this show.


There are basically four episodes of Tom and Jerry Tales on this disc. Each episode has 3 shorts. 4 x 3 = 12, which is how Warner Brothers gets their figure for the tagline on the cover art of the DVD - "12 Cartoons from the Kid-Pleasing TV Series."


The contents for volume four are:


Episode 1: Zent Out of Shape, I Dream of Meanie, and Which Witch. The titles in this episode are fairly indicative of the shorts' plots - with the last two having Tom and Jerry encounter a genie and a witch. The first short seemed the cleverest in having Tom and Jerry disrupt each other's serenity in a zen garden setting. This was also the first short I viewed, however, so the formula seemed pretty fresh as I watched it.


Episode 2: More Powers to You, Catch Me Though You Can't, and Power Team. The shorts in this episode involve giving Tom and Jerry super powered abilities. The first short was rather fun for me as a comic book fan - Tom is in charge of protecting the power rings for a superhero team called the Amazing Acquaintances. This short has some fun riffs on Marvel Comics characters like the Fantastic Four and the X-Men, and a Doctor Doom-style villain called Doom Dog.


Episode 3: Don't Bring Your Pet to School Day, Cat Show Catastrophe, and The Cat Whisperer. This episode seemed the least imaginative of the set - with fairly standard scenarios like Jerry being brought to a little girl's school for a day and Jerry participating in a cat show.


Episode 4: Adventures in Penguin Sitting, Cat of Prey, and Jungle Love. These episodes import other animals into the Tom and Jerry mix. Adventures in Penguin Sitting has this set's best visual gag - with Jerry in his home relaxing to an IPod-style video player propped up against a wall as if it were a large-screen television.


Collectively, I thought these cartoons were mildly amusing and could see little kids getting into them. The novelty wears thin for adults after a couple shorts, but the series seems inoffensive and entertaining in small doses. With only four episodes on this single disc release, I'd prefer that Warner Brothers package the show as a season set since that seems to have become the norm for most television shows. Regardless, I'd give this set an enthusiastic "Rent It" recommendation.


The DVD

Video:



Tom and Jerry Tales is made available through a standard full frame image that Warner Brothers states is "a format preserving the aspect ratio of [the show]'s original television exhibition." Modern animation on DVD often looks good - and these shorts are no exceptions with solid colors and crisp transfers.


Sound:



These cartoons are presented with two spoken language options: English and French. Both are Dolby Digital 2.0. The bouncy score is probably the most notable aspect of the soundtrack, and it sounds like it's competently delivered here.



Subtitles are available in English (for the Hearing-Impaired).



Extras:



A Trailers link on the main menu leads to advertisements for the deluxe editions of Dr. Seuss's Horton Hears a Who and Peanuts Valentine's and Easter Specials. And that's it for extras.



Final Thoughts:




I might consider recommending a season set of Tom and Jerry Tales - should Warner Brothers ever release one. These cartoons are pleasing enough kiddie fare, but with no significant extras, I'd have to go with a Rent It recommendation unless you have very young Tom and Jerry fans in your household.



---------
Sponsored Links
Sponsored Links