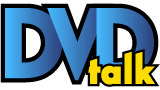 Serial Mom: Collector's Edition
List Price: $19.98 [Buy now and save at Amazon]
---
The Movie:
In many respects, Beverly Sutphin, the heroine of Serial Mom, is the mythical suburban homemaker who populated American consciousness back in the 1950s. She loves her family and dotes on their every need. She is active in the PTA. She makes a hearty breakfast.
There's one hitch, though. Beverly Sutphin has one heck of a temper. Make an unkind remark about one of her kids and you're liable to find yourself run over repeatedly or impaled on a newly purchased fireplace poker.
It helps to know that Serial Mom is the brainchild of John Waters, cinema's onetime reigning impresario of bad taste. Released theatrically back in 1994, the movie marked the biggest-budgeted outing for Waters, whose underground efforts had included Female Trouble and the notorious Pink Flamingos. The flick doesn't rank as one of the director's most memorable -- it's too tame to be shocking and too one-note to be a laugh-riot -- but it's entertaining enough, and it boasts a sporting performance by Kathleen Turner in the titular role.
Serial Mom's high-concept premise is that a housewife cut from the Donna Reed cloth of domestic bliss would be a psychopathic killer. Waters, who also penned the screenplay, wastes no time diving right into things. After sending her dentist husband (Sam Waterston) and two children off for the day, Beverly goes to a parent-teacher conference at her kids' school. Her ire is raised when a teacher, Mr. Stubbins (John Badila), complains that her son, Chip (Matthew Lillard), has a "sick obsession" with gory horror movies.
"Mr. Stubbins, we are a loving and supportive family!" protests Mrs. Sutphin.
"Well, you're doing something wrong," snipes the teacher.
The protective mama is not convinced. Later, she lets the man know her displeasure by flattening him with the family station wagon.
And so it goes. Beverly's list of grievances quickly spirals out of control. Daughter Misty (Ricki Lake) is stood up by a boy who is eventually reprimanded by the aforementioned poker. A friend of Chip's is targeted for extinction because he neglects to wear a seatbelt. A busybody neighbor incurs Beverly's wrath because she doesn't recycle. Our homicidal homemaker torments another neighbor, the long-suffering Dottie Hinkle (Waters regular Mink Stole), because the woman once sailed into a parking space that Beverly had been waiting to get.
Waters has called Serial Mom a sequel to his 1972 opus, Female Trouble, noting that both pictures riff on the American penchant for elevating mass murderers to celebrity status. Maybe so, but Divine's over-the-top performance in that earlier film tests our comfort level in a way that the generally affable Serial Mom does not. Beverly Sutphin becomes an overnight sensation after she is apprehended by police, but the development plays like a screwball comedy. Her kids hawk "Serial Mom" souvenirs outside the courtroom of her murder trial, while Suzanne Somers signs on to play Beverly in the inevitable movie version.
The killer-mom joke is amusing, but it proves somewhat thin to sustain a feature-length film. Luckily, Waters tosses in a generous helping of his skewed takes on American middle-class behavior. Beverly's straight-arrow husband indignantly touts the death penalty whenever he reads or hears about a criminal action. Overweight Misty swoons that a boy has promised to take her to a dance at the University of Maryland if she loses 10 pounds. Barry Manilow's "Daybreak" becomes a running joke.
There are creepier images, too. One woman relaxes by popping in a videotape of the musical Annie while happily urging her dog to lick her toes and "make them all wet." That canine lover also happens to be at the center of a surprisingly well-executed set piece. Beverly dispatches of the woman by beating her with a leg of lamb while a TV set blares Aileen Quinn belting out "Tomorrow."
Serial Mom's biggest attribute is Kathleen Turner. More than game for this silliness, she shows off an admirable elastic expressiveness that ranges from the most buoyant of smiles to a glassy-eyed stupor. Her considerable star power (whatever happened to her, by the way?) infuses Serial Mom with quirky charm.
The DVD
The Video:
Serial Mom: Collector's Edition finally corrects the pan-and-scan version of the movie's previous DVD incarnation. Presented here in anamorphic widescreen 1.85:1, the picture quality is spot-on, with fine details, bright colors and realistic skin tones.
The Audio:
The rear speakers don't get much of a workout in this Dolby Digital 5.1 mix, but the sound is sharp and clean, and there is no distortion or drop-out. Optional subtitles are in Spanish, French and English for the hearing-impaired.
Extras:
Thankfully, the disc includes a commentary with John Waters, which is a carryover from Serial Mom's previous release on DVD. As any self-disrespecting John Waters fan would expect, the commentary is a hoot. The famously chatty filmmaker waxes on everything from serial killers to trade secrets about how to get dogs to lick bare toes (butter does the trick, for those keeping score at home).
A second commentary track features Waters and Kathleen Turner (whose husky voice somewhere along the way transmogrified from sexy to that of female impersonator). The track is disappointing. Waters covers much the same ground as he did on the earlier commentary. Turner doesn't have much to offer -- although she does note that fans still implore her to say "pussy willow" in character as Beverly Sutphin.
Serial Mom: Surreal Moments (29:04) is a solid, informative retrospective featuring interviews with Waters, Lake, Lillard, Stole, Waterston and several crew members. Turner is conspicuously absent. Among the nifty anecdotes is a recollection about how then-Supreme Court Justice Sandra Day O'Connor visited the movie set as the guest of Kathleen Turner. The jurist was reportedly star-struck about meeting Patty Hearst, who has a bit part in the picture.
The King of Gore: Herschell Gordon Lewis and David Friedman (11:35) feels only slightly justified as an extra, but that doesn't preclude it from being a small delight. Lewis' notorious gore fest, Blood Feast, has a peripheral role in Serial Mom, but Lewis, Friedman (his producer) and Waters are on-hand here to discuss that 1963 schlock masterpiece.
Rounding out the bonus features are a vintage promotional piece called The Making of Serial Mom (6:11) and a theatrical trailer.
Final Thoughts:
Serial Mom isn't one of the most memorable flicks in the John Waters canon, but this occasionally wicked black comedy is still worth a look. The "collector's edition" also scores points for a smattering of decent extras. It's not indispensable, but it's not half-bad, either.
---
C O N T E N T

---
V I D E O

---
A U D I O

---
E X T R A S

---
R E P L A Y

---
A D V I C E
Recommended
---
E - M A I L
this review to a friend
Sponsored Links
Sponsored Links