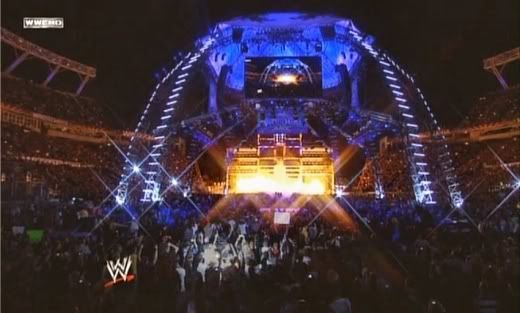 My first real exposure to WWE, aside from the occasional match while channel-surfing, came in 1993 for reasons unknown. Like my belated addiction to The X-Files, which would begin a few years later, perhaps I just saw the right episode at the right time. Years before WWE resorted to monthly pay-per-views, brand extensions and a virtual glut of weekly programming, I eagerly watched Monday Night Raw (one hour only, remember that?) for my weekly fix of scripted brawling and colorful characters. The occasional pay-per-view was ordered at our household after a few months of regular viewing---and before we knew it, Wrestlemania X was around the corner. It turned out to be quite a show, and things haven't changed much since then: WWE knows how to pull out all the stops every March or April when Wrestlemania returns, and they rarely disappoint. This is literally wrestling's World Series or Superbowl---and much like those revered events, some Wrestlemanias stand out more than others.
Not being overly familiar with WWE during the early years of its flagship pay-per-view, I have no vivid memories of Hulk Hogan, Andre the Giant and the like. Still, the Wrestlemanias post-1993 yielded plenty of memorable moments; as the "attitude era" rolled in (featuring the likes of "Stone Cold" Steve Austin, The Rock, D-Generation X, The Hardy Boyz and company), matches got more dangerous, more sophisticated and arguably more spectacular. Likewise, the late 1990s and early 2000s showed a surge in WWE's popularity: ratings and profits increased, their roster was arguably the strongest it had ever been...and most importantly, it wasn't embarrassing to admit being a fan of. Even so, my regular WWE viewing eventually dwindled sometime around 2003, as other hobbies (including DVD reviewing) gobbled up more and more of my free time. Roughly four years later, I picked up the habit again...on a part-time basis, at least.
For this reason, last year's Wrestlemania XXIII was the first I'd seen since 2003...and it was a pretty good show, but nothing mind-blowing. Having not kept up with weekly WWE programming, a few faces were new to me and some old friends were no longer in action. After all, a lot can change in four years...or five, for that matter. The months leading up to April's Wrestlemania XXIV continued to mark plenty of changes in the company: a legend's career was slowly coming to an end, injuries healed and plenty of new feuds were developed. Finally, the night had arrived---and the outdoor venue (in this case, the Citrus Bowl in Orlando, Florida) certainly provided a unique atmosphere, but the weather wasn't always cooperative. Still, one aspect of Wrestlemania XXIV was 100% consistent from start to finish: the passion of WWE's employees, from the dedicated athletes to the tireless production crew. With barely a snag along the way, this four-hour spectacle rarely disappoints. Here's a look at the evening's events:
Complete Match Listing
(11 matches on 3 single-sided DVDs)

NOTE: Individual matches are rated on a 1-5 star scale

Disc One John Legend Sings "America the Beautiful"
Finlay vs. John "Bradshaw" Layfield (Belfast Brawl) ***
Kim Kardashian Introduces the "Money in the Bank" Ladder Match
Chris Jericho vs. Shelton Benjamin vs. John Morrison vs. Carlito vs.
C.M. Punk vs. MVP vs. Mr. Kennedy ("Money in the Bank" Ladder Match) ****1/2
Highlights of the 2008 Hall of Fame Ceremony
Howard Finkel Introduces the 2008 Hall of Fame Inductees
Todd Grisham Intervizzles Snoop Dogg
Batista vs. Umaga (Battle for Brand Supremacy) **
Floyd "Money" Mayweather & His Entourage
Chavo Guerrero vs. Kane (ECW Championship Match) *
"Wish You Were Here" - Carlito and the Seagull
Raven Symone Welcomes Make-A-Wish
Mike Adamle Interviews Ric Flair
Ric Flair vs. Shawn Michaels (Career Threatening Match) *****
Todd Grisham Interviews Edge
Maria & Ashley vs. Beth Phoenix & Melina (Playboy Bunnymania Lumberjack Match) **
Randy Orton vs. John Cena vs. Triple H (WWE Championship Match) ****

Disc Two The Big Show vs. Floyd "Money" Mayweather ("The Biggest" vs. "The Best") ****
"Wish You Were Here" - Batista the Ladies Man
Kim Kardashian Announces Wrestlemania XXIV Attendance
Edge vs. The Undertaker (World Heavyweight Championship Match) *****
Wrestlemania XXIV Highlights

2008 Hall of Fame Induction Ceremony, Part I (see "Bonus Features")

Disc Three 2008 Hall of Fame Induction Ceremony, Part II (see "Bonus Features")
ECW 24-Man Battle Royal (see "Bonus Features")
From top to bottom, Wrestemania XXIV is a solid card strengthened by spectacular moments and a great crowd. Flair vs. Michaels is the undisputed gem here, as this "Career Threatening Match" shows us that Flair's still one of the best workers around...not to take anything away from Michaels, of course. The Big Show's brawl with boxing phenom Floyd Mayweather is another easy highlight, filled with plenty of tension and surprises. The Cena-HHH-Orton triple threat match is slightly hindered by its shorter length (14 minutes) and rather unexpected ending, but it's still a worthy addition to the lineup. "Money in the Bank" contests also rarely disappoint, and the chaotic, spot-filled ladder match included here is greatly entertaining as well. Finally, Edge and The Undertaker's championship match unfolds nicely, packed with plenty of great counters and clever twists. I'll admit that I'm hardly the biggest UT fan and Edge's character has never quite won me over, but this match displays excellent performances from both athletes. If nothing else, it's the perfect exclamation point to this spectacular four-hour event.
There's always room for improvement, though, isn't there?
The first (and most obvious) disappointment arrives with the vapid, Snoop Dogg-hosted "Bunnymania" match, further marred by lighting problems that render part of the match in near-total darkness. Batista vs. Umaga is predictably a bit dull, if only because there's very little story involved. The third is a blink-and-you'll-miss-it ECW Championship match between Chavo Guerrero and Kane, which just may be the quickest squash in recent memory. It's cheap moments like this that remind us of Vince McMahon's preference for hulking behemoths over more agile, technically-sound wrestlers. The brief 24-man Battle Royal on Disc 3 only further solidifies this fact, as the final three competitors are all 300 lbs. or more. In any case, aside from these forgettable clunkers---and the obligatory filler moments during the four-hour event, of course---Wrestemania XXIV is a fantastic event that fans will certainly enjoy. This is easily one of the most satisfying PPVs in recent memory, thus making the subsequent DVD release a hotly anticipated item.
Luckily, WWE has always maintained a lightning-quick turnaround time for such releases, and Wrestlemania XXIV doesn't break the trend. There's certainly enough content on this three-disc package to satisfy die-hard WWE fans, though one particular aspect of the technical presentation leaves a bit to be desired. It's far from a total loss by any means, but those expecting visual perfection will be roundly disaappinted. Let's take a closer look, shall we?
Quality Control Department
Video & Audio Quality
It's been months since WWE converted to HD equipment, but Wrestlemania XXIV is their first true widescreen release (and also available in Blu-Ray, but that's for another review). Presented in its original 1.78:1 aspect ratio and enhanced for 16x9 displays, you'd expect a top-notch visual effort...but this ain't a perfect picture, not by a long shot. Compression artifacts and murky levels of image detail are highly noticeable during pyrotechnic sequences and wide crowd shots...which occur quite often, unfortunately. It's a shame, too: the on-screen graphics are colorful and razor-sharp, while other sequences also look quite crisp and detailed. Blame it on poor DVD authoring, blame it on the overcast weather...but these artifacts are definitely a problem, and I'd bet good money that the Blu-Ray suffers a similar fate.
The audio is presented in Dolby Digital 5.1, which may also be a first for WWE---and luckily, it's a bit more consistent than the visuals. The action is slightly less front-heavy than past releases, creating a more genuine "you are there" experience: for example, more distinct crowd reactions can be heard from the rear speakers. Overall, this is a satisfying presentation that won't disappoint in the least. Optional Spanish play-by-play commentary is offered during the main feature, though a standard English 2.0 mix is nowhere to be found. Optional subtitles and Closed Caption support are not offered anywhere on this release, unfortunately.
Menu Design, Presentation & Packaging

Seen above, the plain-wrap menu designs are basic and easy to navigate. The four-hour main feature has been divided into 22 chapters---one per match and "filler" event---while no obvious layer changes were detected during playback. This three-disc release is housed in a glossy foldout digipak case (which is prone to dings and smudges, so be careful)---and though no slipcover is included, a handy chapter index is tucked inside.

Bonus Features

The list may be brief, but what's here should take plenty of time to dig through. The first and most notable extra, divided onto Discs 2 & 3, is the 2008 Hall of Fame Induction Ceremony (4:09:58, below left). Recorded the night before Wrestlemania XXIV, this special four-hour event will be a treat for anyone familiar with wrestling history. Inductees this year include Jerry and Jack Brisco, Gordon Solie, Mae Young, Eddie Graham, Rocky Johnson, High Chief Peter Maivia and Ric Flair. All are prefaced by short video packages highlighting their respective careers, as well as heartfelt introductions by friends, relatives and colleagues. Flair's segment alone runs for roughly 90 minutes, packed with plenty of great stories and emotional reactions from the crowd. The entire ceremony is obviously light on action, yet any self-respecting WWE fan shouldn't have trouble sitting through this in one evening. One note, however: Flair's and The Rock's speeches appear to be slightly trimmed for reasons unknown. Aside from this curious issue, the only other nitpick is a rather awkward division between Parts I and II.

The only other extra on Disc 3 is a 24-Man Battle Royal (10:17, below right) recorded as a preview for Wrestlemania XXIV, in which the winner would receive a title shot against ECW champion Chavo Guerrero. Obviously, anyone who ordered the pay-per-view (or glanced at the match list above) knows who emerges victorious---and it's hardly a five-star match, but most fans should still want to have a look. If nothing else, this battle royal will make you realize how much talent is being underutilized right now.

All bonus materials, like the main feature, are presented in anamorphic widescreen and include no optional subtitles or Closed Captions. Ric Flair's emotional retirement ceremony from the following night's Raw would've been another valuable inclusion, but this will be included on Flair's upcoming Definitive Collection three-disc release. Overall, it's tough to complain about what's been included here.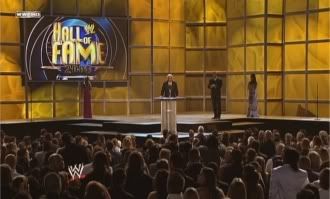 Final Thoughts
With roughly eight hours of content---half devoted the the main event, half to the 2008 Hall of Fame Ceremony---there's certainly a lot to like about Wrestlemania XXIV. Flair vs. Michaels, the "Money in the Bank" ladder match, Mayweather's brawl with Big Show and the Edge vs. Undertaker championship bout are easy standouts, while the less impressive moments are kept to a bare minimum. This three-disc set is a terrific value for the money, as the retrospective speeches and history lessons prove to be just as satisfying as the in-ring action. Where Wrestlemania XXIV misses the mark, however, is in the lackluster video presentation: WWE's jump to HD equipment couldn't be less evident (aside from the aspect ratio, of course), as this release is rife with compression artifacts and generally flat levels of detail. Luckily, the strength of the content and the solid audio presentation help to even things out. A more polished treatment could've earned Wrestlemania XXIV DVD Talk's highest rating, but WWE fans are still encouraged to hunt down this three-disc package. Firmly Recommended.
---
Randy Miller III is an affable office monkey based in Harrisburg, PA. He also does freelance graphic design projects and works in a local gallery. When he's not doing that, he enjoys slacking off, second-guessing himself and writing things in third person.
---