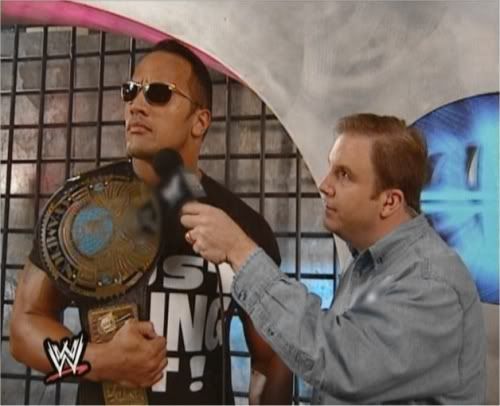 If you watched wrestling at any time during the late 1990s and early 2000s (and with the intense rivalry between WWE and the now-defunct WCW, it was hard not to), chances are you're familiar with The Rock. Born Duane Johnson---the son and grandson of wrestling legends Rocky Johnson and "High Chief" Peter Maivia---this future WWE superstar was surrounded by the business from an early age [below left, pictured with "Classy" Freddie Blassie]. A natural athlete, Johnson excelled in football but eventually followed in the family footsteps several years after graduating college, becoming the first third-generation wrestler in WWE history. His undisputed talent in the ring was matched---or surpassed, even---by his ability to entertain fans on the microphone, aided by his sense of humor, good looks and magnetic personality.
Unfortunately, things didn't start so smoothly: backlash from tough crowds during the first few years of his career [when wrestling as "Rocky Maivia", below right] made him one of the most hated men in the business. Even so, there's no such thing as bad publicity: the jeers of the crowd eventually melted away as Johnson quickly adapted a more confident swagger. Dubbed "The Rock", his formidable stage presence and cutting wit made him one of the top superstars of WWE's "Attitude Era", perhaps only bested in sheer popularity by "Stone Cold" Steve Austin. Either way, there's no arguing that The Rock was a true phenomenon, eventually leaving the industry in 2003 to pursue a blossoming movie career. He's made a few WWE appearances since then...but no matter if his wrestling career is truly over or not, it was certainly fun while it lasted.
The Most Electrifying Man in Sports Entertainment details The Rock's career with three DVDs full of memorable matches and entertaining promos. Hot on the heels of past releases like The People's Champ and Just Bring It!, some may rightfully doubt that a new collection is warranted; after all, he hasn't done much in the wrestling world during the last five years. Even so, what's here is a great primer for those new to The Rock, as well as a fairly satisfying retrospective for die-hard fans. There's bound to be some overlap with past releases and this three-disc set isn't without its share of faults, but there's still plenty to like about The Most Electrifying Man in Sports Entertainment. From top to bottom, here's what fans can look forward to:
Complete Match Listing
(19 matches on 3 single-sided DVDs)

Disc One HHH vs. Rocky Maivia (Intercontinental Championship Match) [RAW, 2/13/97]
Owen Hart vs. The Rock (Intercontinental Championship Match) [RAW, 4/6/98]
HHH vs. The Rock (King of the Ring Quarterfinal Match ) [RAW, 6/22/98]
Mankind vs. The Rock (WWE Championship Match) [Survivor Series, 11/15/98]
Mankind vs. The Rock ("Last Man Standing" WWE Championship Match) [St. Valentine's Day Massacre, 2/14/99]
Mankind vs. The Rock (Ladder Match for the WWE Championship) [RAW, 2/15/99]
"Stone Cold" Steve Austin vs. The Rock (WWE Championship Match) [WrestleMania XV, 3/28/99]

Disc Two The Rock vs. HHH (Steel Cage Match) [RAW, 7/5/99]
The Rock & Mankind vs. The Undertaker & Big Show (WWE Tag Team Championship Match) [RAW, (8/30/99]
The Rock vs. Kane (No Holds Barred Match) [SmackDown! 12/30/99]
HHH vs. The Rock (WWE Championship Match) [Backlash, 4/30/00]
The Rock vs. Shane McMahon (Steel Cage Match for the WWE Championship) [RAW, 5/1/00]
Kurt Angle vs. The Rock (WWE Championship Match) [No Way Out, 2/5/01]
Booker T vs. The Rock (WCW Championship Match) [SummerSlam, 8/19/01]
Chris Jericho vs. The Rock (WWE Undisputed Championship Match) [Royal Rumble, 1/20/02]


Disc Three The Rock vs. "Hollywood" Hulk Hogan [WrestleMania X8, 3/17/02]
Kurt Angle vs. The Undertaker vs. The Rock (WWE Undisputed Championship Match) [Vengeance, 7/21/02]
The Rock vs. Eddie Guerrero [RAW, 7/22/02]
"Stone Cold" Steve Austin vs. The Rock [WrestleMania XIX, 3/30/03]

Also included: Bonus Promos and One-liners (see "Bonus Features" below)

Also included between each of these 19 matches are brief biography segments (roughly 3-5 minutes apiece), which typically explain the feud or major event that's about to take place. These segments include "Samoan Royalty", "Rock the Ruler", "The Nation vs. DX", "Rock's Big Chance", "Rivalry with Mankind", "So it Continues...", "Two of the Most Charismatic Superstars Ever", "People's Champion", "The Rock & Sock Connection", "The Verbal SmackDown!", "McMahon - Helmsley Regime vs. The Rock", "The Following Night...", "The Great One vs. The Olympic Medalist", "The New Title", "The Undisputed Champion", "Icon vs. Icon", "Triple Threat", "Just Bring It", "Third Time's A Charm?" and "Transcending Sports Entertainment" (whew!). These nuggets of wrestling history are presented in typical WWE fashion and serve their purpose on a basic level...but they're hardly an excuse for a truly in-depth piece. No interviews with WWE superstars (past or present, including The Great One himself) are offered here, which creates something of a hollow experience overall. Those simply interested in the matches won't mind much, but this three-disc set can't help but fall short of recent multi-disc "tribute" packages.
Luckily, the matches speak for themselves. Even the least impressive of these 19 fan favorites is moderately entertaining, while the top selections represent some of WWE's most memorable moments of the last decade. Who could forget The Rock's brutal bouts with Mankind, his epic confrontation with "Hollywood" Hulk Hogan at Wrestlemania X8 or his love-hate relationship with the incomparable "Stone Cold" Steve Austin? Through it all, perhaps the greatest aspect of The Rock's matches was a strong level of crowd involvement: love him or hate him, his unwavering cockiness was enough to consistently draw a passionate response from the audience. From his quick rise to stardom to a surprising "Corporate" heel turn (and through interesting detours, like the short-lived but memorable "Rock 'n Sock Connection"), The Rock's career was punctuated with highlights in roughly half a decade's time. As this collection proves, even his transition to Hollywood seemed like a good fit---and though his resume isn't quite filled with critically-acclaimed masterpieces, The Rock's natural charisma shines through in nearly every performance.
On the technical side of things, this three-disc set is on par with recent WWE releases: production values are solid, matches are presented in their entirety and that damn WWF "scratch" logo is still blurred from existence. Oddly enough, even audience signs bearing the company's previous initials (and audible mentions of the name) have been digitally edited, yet the classic golden "WWF" logo appears intact on numerous occasions. This makes for a rather confusing experience at first, but WWE fans should be accustomed to such a visually compromised presentation by now. Let's take a closer look, shall we?
Quality Control Department
Video & Audio Quality
Presented in its original 1.33:1 aspect ratio, The Most Electrifying Man in Sports Entertainment is easily on track with the most recent crop of WWE DVD releases: colors are generally bold and bright, while black levels and image detail are typically solid. Mild pixellation and compression artifacts can be seen during many pyrotechnic sequences, but these are generally kept to a minimum. Overall, fans should know what to expect here.
The audio is presented in a fairly standard Dolby Surround mix; likewise, it's roughly on par with recent WWE releases. Crowd noise and play-by-play commentary come through loud and clear, creating a satisfying soundstage overall. Optional subtitles, Spanish commentary or Closed Captions are not offered, unfortunately.
Menu Design, Presentation & Packaging

Seen above, the plain-wrap menu designs are basic and easy to navigate. The five-hour main feature has been divided into 22 chapters (one per match and "biography" segment), while no obvious layer changes were detected during playback. This three-disc release is housed in a fold-out digipak case and includes a handy chapter insert. Unlike the packaging of Wrestlemania XXIV, the matte finish of this case gives it a much classier appearance...and keeps smudges away, of course.

Bonus Features

These extras may not sound like much, what's here is certainly entertaining. Herded together on Disc 3 are several Promos taken from The Rock's dominant streak during 1999-2003 (16 clips, roughly 2-5 minutes apiece). Not being overly familiar with previous DVDs starring The Rock, it's uncertain exactly how many of these are repeats...so let's just run down the list, shall we? Included here are "Billy's Prayer to God", "The Big Slow", "My Name is Kane", "Doughnuts", "Hermie", "Armageddon Opponents", "Thomas Jefferson, Sucka", "The People's Strudel", "Great Balls of Fire", "Copacabana", "Camera Man", "The Charleston", "NWO", "Busta Rhymes", "The Superhero" and "Miami Dolphins" (whew!). There's certainly some memorable moments here, plenty of which should be familiar to fans by the titles alone. It's a shame that Mick Foley's entire "This Is Your Life" segment didn't make the cut, but at least it's mentioned during the main feature.

The only other extra on Disc 3 is entitled "The One-Liners" (8 minutes), which serves as a highlight reel of The Rock's most scathing acts of verbal abuse. Some of the gags from the above promos are repeated, but this rapid-fire "trailer" packs plenty of laughs into its brief lifespan. These extras, like the main feature, are presented in 1.33:1 format and include no optional subtitles or Closed Caption support.

Final Thoughts

Did wrestling fans really need another DVD starring The Rock? Probably not, but The Most Electrifying Man in Sports Entertainment is packed with 19 of The Great One's most memorable matches...so it could be worse, right? Despite a lackluster series of "biography" segments (which include no participation from WWE superstars, including The Rock himself), the in-ring action is entertaining from start to finish---and though he hasn't made an impact in WWE for several years now, this career retrospective is still worth the price of admission. This three-disc set sports a satisfying technical presentation, while the bonus promos add an extra layer of comedy to the proceedings. All things considered, The Most Electrifying Man in Sports Entertainment isn't the most well-rounded WWE release in recent memory, though fans should still enjoy revisiting The Rock's short-lived but brilliant wrestling career. Recommended.
---
Randy Miller III is an affable office monkey based in Harrisburg, PA. He also does freelance graphic design projects and works in a local gallery. When he's not doing that, he enjoys slacking off, second-guessing himself and writing things in third person.
---