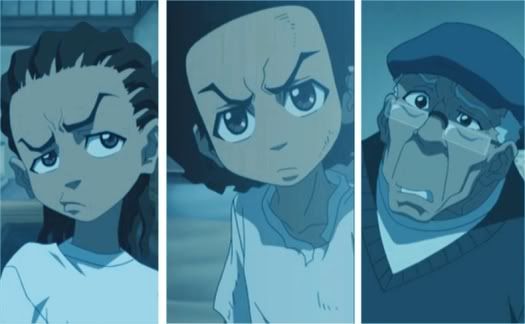 They say there's no such thing as bad publicity...and they're probably right, because Aaron McGruder's The Boondocks isn't the first franchise to enjoy success with the help of good old-fashioned controversy. Originally created as a comic strip for The Diamondback (the University of Maryland's independent student newspaper) in 1997, The Boondocks soon made its way to the pages of The Source, finally receiving a distribution deal with Universal Press Syndicate in 1999. Its history in the funny pages has been successful but rocky; not surprisingly, many newspapers dropped the strip due to complaints from angry readers. Nonetheless, The Boondocks remained a popular enough entry to be developed into an animated series, with the television and film rights quickly snapped up by Sony. Unfortunately, the strip's life was cut short in 2006 after a hiatus of undetermined length, presumably to focus more attention on the series itself. It was fun while it lasted, right?
Premiering as part of the Cartoon Network's Adult Swim animation block in November 2005, the first season is where most fans of The Boondocks jumped on board...because as the title of its first strip collection in 2000 implies, "I Know You Don't Read the Newspaper". This animated series, of course, granted McGruder's ideas and characters more breathing room; after all, the three-panel format isn't that large of a canvas to begin with. A third season and feature-length film (theatrical or straight-to-DVD) have been hinted at; for now, we've got 15 more episodes to dig through. It's been nearly two years since The Boondocks: The Complete First Season was unleashed on DVD---and as the overall quality here suggests, McGruder and company haven't been sitting still.
The Boondocks: The Complete Second Season is an aptly-named three-disc collection, especially since two of the included 15 episodes have been permanently banned from American television. The series is no stranger to controversy, of course: even first season episodes like "Return of the King"---in which Martin Luther King survives his 1968 shooting, attempts to live in today's world and is ultimately rejected by the general public---drew plenty of outrage from closed-minded individuals. Both of these banned episodes, "The Hunger Strike" and "The Uncle Ruckus Reality Show", revolve around McGruder and company's frustration with Black Entertainment Television and the programs it chooses to promote. The network obviously wasn't happy with what they saw, so the episodes were never (and will never be) seen on American television. Thanks to the magic of DVD, both "The Hunger Strike" and "The Uncle Ruckus Reality Show" are presented in their entirety...and with audio commentaries and video introductions, no less.
Of course, there's more to this collection than just two episodes. Here's what's included, from top to bottom:
Complete Episode Listing
(15 full-length episodes on 3 single-sided discs)
Disc One: Episodes #1-5
"...Or Die Trying" - Granddad sneaks the kids into the latest blaxploitation flick. Uncle Ruckus is not amused.
"Tom, Sarah and Usher" - Sarah's groupie-like behavior at a restaurant creates trouble on her and Tom's anniversary.
"Thank You for Not Snitching" - A rash of home invasions lead to police involvement, but Granddad refuses to cooperate.
"Stinkmeaner Strikes Back" - Stinkmeaner's ghost possesses Tom, who attempts to exact revenge on the Freemans. *
"The Story of Thugnificent" - After a rapper moves in across the street, the Freemans struggle with his rowdy behavior.
Disc Two: Episodes #6-10

"The Hunger Strike" - Revolting against BET, Huey goes on a hunger strike with the "help" of Rollo Goodlove. *
"Attack of the Killer Kung-Fu Wolf Bitch" - Granddad's latest girlfriend, who he met online, turns out to be a...
"Shinin'" - Riley attempts to join Thugnificent's crew, "Lethal Interjection". A sparkling chain hangs in the balance.
"Ballin'!" - After showboating his way into a youth basketball league, Riley's true colors are unveiled.
"Invasion of the Katrinians" - The Freemans reluctantly take in relatives, in the wake of Hurricane Katrina.
Disc Three: Episodes #11-15

"The Uncle Ruckus Reality Show" - Everyone's favorite hater gets his own show on BET. This is the pilot episode. *
"Home Alone" - Granddad takes a vacation, leaving Huey and Riley partially in charge of the house.
"The S-Word" - Two of the three Freemans pursue legal action after Riley's teacher uses an offensive phrase.
"The Story of Catcher Freeman" - The life and times of Granddad's "heroic" great-great-great-grandfather.
"The Story of Gangstalicious, Part 2" - Granddad worries about Gangstalicious' influence on young Riley. *
Also included on Disc 3: Additional Bonus Features (see below)
* - Includes Optional Audio Commentary with producers Aaron McGruder, Rodney Barnes and Carl Jones
Much like the first season, this 15-episode run is largely satisfying. Easy standouts this time around include "...Or Die Trying", "Stinkmeaner Strikes Back" (which continues an epic conflict from Season 1, pushing things into The Exorcist territory), "Attack of the Killer Kung-Fu Wolf Bitch", "Shinin'", "The Uncle Ruckus Reality Show" and "The Story of Gangstalicious, Part 2". Most of these reach the heights of the first season's better efforts, but none quite reach the scale and poignancy of "Return of the King". "Hunger Strike", perhaps the only Huey-centric episode of the season, attempts to invoke a similar reaction, but ultimately feels weighed down by the BET executive caricatures (which may very well be warranted, but they could've avoided the dated Austin Powers analogies). "Invasion of the Katrinians" certainly has its moments, but fans of Curb Your Enthusiasm will find it strangely familiar. "The Story of Catcher Freeman" goes the Rashomon route and aims for a decidedly different atmosphere, but it feels a bit uneven for this same reason.
In any case, the weaker episodes still chug along nicely. The Boondocks has always been a highly watchable series, thanks in part to entertaining characters, a dynamic visual style and strong voice acting. Carl Jones (who also serves as one of the show's producers) does a fantastic job voicing the flamboyant "Thugnificent", a successful rapper whose mansion should make all you suckas hate. Another solid addition is Katt Williams as the equally over-the-top "A Pimp Named Slickback", who manages to offer his thoughts on life, love and the ladies during two episodes. Cee-Lo Green (of Gnarls Barkley fame) is another standout as "Rollo Goodlove", a theatrical preacher/entertainer who certainly talks a big game. Of course, the full-time voice actors carry their own weight as well, from Gary Anthony Williams (as the burly, bigoted Uncle Ruckus) to Regina King (who continues to pull double duty as both Freeman boys). The strength of the voice actors, among other things, ensures that Season 2 is as entertaining as The Boondocks has ever been---and even though some of the Season 1 highs aren't quite reached, these 15 episodes are slightly more consistent from start to finish.
Sony's three-disc package is nearly identical to the previous release, from the technical presentation to the style of bonus features. There's still some tightening that needs to be done around the edges, but those who enjoyed Season 1's package shouldn't find a great deal to complain about. Let's take a closer look, shall we?
Quality Control Department
Video & Audio Quality
Presented in its original 1.78:1 aspect ratio and enhanced for 16x9 displays, The Boondocks boasts a strong color palette and detailed backgrounds. Like the Season 1 collection, many episodes suffer from interlacing issues and mild compression artifacts (especially the second half of "Home Alone"), though it's less prominent during most others. Other than this eyesore---which deducts a full point from an otherwise terrific transfer---The Boondocks looks excellent and should please fans.
Likewise, the 2.0 Dolby Digital Stereo mix is clean and clear, boasting a strong atmosphere that suits the dialogue-driven show well. The music plays an important part in many episodes, so it's good to know it comes through strongly in most cases. With that said, it's odd that such a visually appealing show doesn't have a more dynamic sound mix...but maybe they'll aim higher in future seasons. No optional subtitles are included for the episodes, though Closed Captioning is provided.
Menu Design, Presentation & Packaging

Suited to the series' colorful atmosphere, the menu designs (seen above) offer a clean layout and easy navigation. Each 22-minute episode has been divided into roughly four chapters, while no obvious layer changes were detected during playback. The packaging continues the Season 1 style, as this three-disc set is housed in a trio of clear slim cases with character-themed artwork (featuring Huey, Riley and Granddad) and basic episode summaries. The slim cases are tucked inside a slipcover and bundled with a few promotional inserts.

Bonus Features

Owners of Season 1 should know what to expect here, as we're treated to a handful of featurettes and chats with the creative team. Leading things off are four Audio Commentaries with series creator Aaron McGruder (joined by producers Rodney Barnes and Carl Jones) during "Stinkmeaner Strikes Back", "The Hunger Strike", "The Uncle Ruckus Reality Show" and "The Story of Gangstalicious, Part 2". Obviously, fans will be eager to hear their thoughts on the two banned episodes, which also feature optional Video Introductions with McGruder and company. They're quick to defend these episodes and seem appreciate of their inclusion on this three-disc set---but other than expressing frustration with legal matters and such, these are fairly standard tracks. All three participants seem to be in good spirits during these sessions, frequently joking around when not divulging trivia and technical tidbits.

The other main inclusion is a handful of production featurettes, leading off with "Behind The Boondocks" (17:06, below left). This behind-the-scenes piece is fairly reminiscent of the Season 1 featurette---but instead of a more development-based perspective, this reveals a bit more about the voice acting, production and mythology of the series. McGruder and several key members of the cast and crew are interview during this segment, which fans should enjoy checking out. "Trouble in Woodcrest?" (4:31) is a decidedly more tongue-in-cheek affair, focusing on the bitter "rivalry" of voice actors Cedric Yarbrough and Gary Anthony Williams. This segues nicely into "What Niggas?" (1:16), a brief compilation of key voice actors uttering the infamous "N-word" in the studio. The focus on voice actors continues with a selection of Cast Interviews, featuring John Witherspoon (4:08, below right), Cedric Yarbrough (4:11), Regina King (3:27), Gary Anthony Williams (5:00), Gabby Soleil (3:56) and Jill Talley (2:17).
Closing things out are Minisodes of Spider-Man (2003 Series) and Married...With Children, as well as a few Previews for upcoming Sony DVD releases (which don't run before the main menus, thankfully). All bonus features are presented in non-anamorphic widescreen and do not include subtitles or Closed Caption Support. Here's hoping Sony changes this policy in the near future.
Final Thoughts
It's been roughly two years since the last Boondocks collection, but Season 2 proves to be worth the wait. The bulk of these 15 episodes (which includes two never-before-seen on American television) are brisk and entertaining from start to finish, and even a few less successful episodes don't slow things down too much. Sony's DVD package follows roughly the same pattern as the previous three-disc release, pairing a decent technical presentation with a handful of light but entertaining bonus features. This is a solid effort from top to bottom, if not still a bit on the expensive side---but if you enjoyed Season 1 in any way, shape or form, The Boondocks: The Complete Second Season should be right up your alley. Firmly Recommended.
---
Randy Miller III is an affable office monkey based in Harrisburg, PA. He also does freelance graphic design projects and works in a local gallery. When he's not doing that, he enjoys slacking off, second-guessing himself and writing things in third person.
---