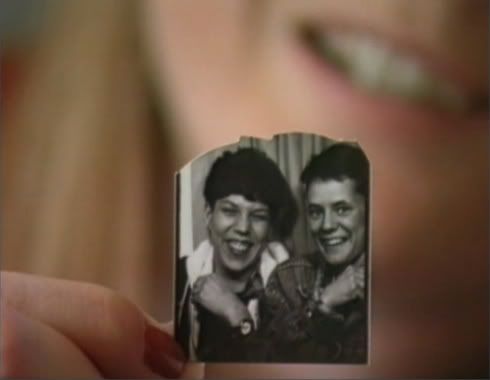 "Do I look good for you tonight?
Will you accuse me as I hide behind these layers of disguise?"
___________ - Manic Street Preachers, "Born A Girl"
As a tribute to a young life tragically cut short, Susan Muska and Gréta Olafsdóttir's The Brandon Teena Story (1998) is both fitting and passionate. As the pair's first feature-length documentary, this 88-minute film focuses on the life of Brandon Teena (born Teena Renae Brandon), a girl who gradually became more comfortable as a young man...and was killed for it in 1993, unfortunately. Brandon made a number of bad choices that didn't exactly help her situation along the way, including theft, compulsive lying and forgery---but no matter what she did wrong, it wasn't worth murder, not by a long shot.
During an interview with the filmmakers on this new Collector's Edition DVD, Muska and Olafsdóttir comment on their non-intrusive production when the New York-based pair relocated to Brandon's hometown(s) in Nebraska for four years. They make particular mention about their reluctance to correct interviewees in regard to Teena's gender: some referred to "her" as "Teena", while some called "him" "Brandon". I tend to fall into the latter category, especially since Teena never fully underwent a sex-change operation---and since her parents thought of her as a daughter but loved her either way, that's good enough for me. It's certainly a touchy subject in all but the most liberal of environments---and unfortunately for Brandon, rural Nebraska didn't fit the bill.
Though a complete read-through of Brandon's story would take away from this documentary, it's certainly appropriate to provide a brief summary. The Brandon Teena Story focuses almost solely on her life as a young man, as she traveled through Nebraska and searched for a place to fit in. She dated several young women casually, who described her as "the perfect gentleman", "generous" and "a great kisser", though Brandon never told them the truth about her true gender. Friends of friends turned out to be part of "the wrong crowd", and whispers of Brandon's somewhat feminine appearance gave way to gossip and rumors, though most didn't give it a second thought. Two closed-minded young men, Tom Nissen and John Lotter, let their insecurities get the best of them---and by New Year's Eve of 1993, Brandon was kidnapped, raped, and subsequently murdered along with two friends.
It's a truly sad tale---and for the most part, it's told with conviction (or bluntness, at the very least) by friends, relatives and members of local law enforcement. For obvious reasons, the victims are generally presented through pictures and letters only---aside from a chilling interview between Brandon and Sheriff Charles Laux, shortly after her rape---so those expecting a rich portrait of Brandon's life will be sorely disappointed. Considering what the filmmakers had to work with, however (especially as the legal proceedings unfolded during the mid-1990s), they do a satisfactory job of piecing everything together.
Unfortunately, several stretches of this 88-minute documentary feel artificially padded, with generic musical cues and endless montages of rural landscapes. They're not as bothersome the first time around, but do little to advance the story; in all honesty, these could've been trimmed greatly without hindering the final cut. Additionally, most of the interviewees aren't particularly eloquent in their storytelling...and that's putting it mildly, in some cases. To its credit, The Brandon Teena Story is involving despite these shortcomings, but it's obviously the work of filmmakers who were still learning their craft. NOTE: These events were later adapted in the 1999 film Boys Don't Cry, but those new to the story are encouraged to get the facts first.
Docurama's original 2001 release of The Brandon Teena Story was a barebones affair, which has now been upgraded to a Collector's Edition for this film's 10th anniversary. The limited technical presentation still doesn't look all that great, though a few new extras have been included to round out the package nicely. Let's take a closer look, shall we?
Quality Control Department
Video & Audio Quality
Presented in its original 1.33:1 aspect ratio, The Brandon Teena Story looks about as rough as you'd expect for a low-budget documentary...but it's hardly distracting. The color palette is generally dull and muted, black levels aren't very consistent and the on-screen text is sharp and clear. News segments and older photos have been window-boxed to various degrees, while some sections of on-location footage look purposefully worn and hazy. Additionally, hints of digital combing and edge enhancement can be spotted at times. This certainly isn't a visual experience overall, though most of it isn't caused by the DVD transfer.
The Dolby Digital 2.0 Stereo mix is equally underwhelming, but it still gets the job done. Most of the dialogue recorded on location is crisp and clear, though certain portions of background music and other noise tend to fight for attention. Muffled audio recordings have been given the benefit of forced captions, but complete English subtitles and Closed Caption support are not included.
Menu Design, Presentation & Packaging

Seen above, the plain-wrap menu designs are basic and easy to navigate. The 88-minute main feature has been divided into a dozen chapters, while no obvious layer change was detected during playback. Oddly enough, the main feature has not been properly flagged for timer support, so it might prove difficult to view in more than one sitting. This one-disc package is housed in a standard black keepcase and includes a hefty promotional booklet for other Docurama titles.

Bonus Features

Unlike the relatively barebones original release from 2001, this Collector's Edition includes a few extra supplements. The first is a series of Outtakes (21:24) featuring Tom Nissen, Brandon's cousin Maury, former girlfriend Lana Tisdel and John Lotter. These deleted and extended sequences are certainly worth watching, especially the bookend interviews with both prisoners. In fact, one wonders why the filmmakers padded The Brandon Teena Story with rural landscapes when there were more stories to tell.

Also included is a new Interview with the filmmakers (14:21), who shed light on the film's production and its impact over the years. We're also given a few updates on the legal situation and some of the family members---and though these stories are genuinely interesting, a feature-length commentary may have been more fitting. Last but not least are text-based Filmmaker Bios, which were present on the previous release. In typical Docurama fashion, a company mission statement and promotional trailers are also included. Like the main feature, none of these extras include subtitles or Closed Caption support and all are presented in 1.33:1 format.

Final Thoughts

It's certainly got its heart in the right place, but The Brandon Teena Story feels more than a bit padded during its 88-minute lifespan. Fortunately, a good portion of the talking head-style interviews are passionate and informative, providing a good sense of Brandon's short life even without visual documentation. Docurama's DVD presentation offers an improvement over the original release, adding a few valuable extras that complement the main feature nicely. Casual documentary fans will be satisfied with a once-over, but those with a particular interest in the subject should find this a worthwhile purchase. Mildly Recommended.
---
Randy Miller III is an affable office monkey based in Harrisburg, PA. He also does freelance graphic design projects and works in a local gallery. When he's not doing that, he enjoys slacking off, second-guessing himself and writing things in third person.
---