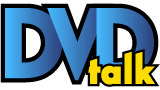 Fox // PG // August 5, 2008
List Price: $39.98 [Buy now and save at Amazon]
---
Review:



The follow-up by directors Mark Levin and Jennifer Flackett to their utterly charming New York tale, "Little Manhattan", "Nim's Island" is a mildly enjoyable tale starring Abigail Breslin as Nim, the daughter of an explorer mother who, according to the narration early on, was possibly swallowed by a whale. Now, Nim (Abigail Breslin) and her marine biologist father, Jack (Gerard Butler) live by themselves on an island in the middle of nowhere - he studies microscopic creatures, while she reads (especially her favorite, Alex Rover novels) and hangs out with her animal pals. They get frequent resupply visits and their house is nicer than one of the Dharma stations in "Lost".



However, while everything initially seems like an island paradise, Nim's ideal world gets turned upside down when her father vanishes at sea. Elsewhere, the writer of Nim's favorite novels, Alexandra Rover (Jodie Foster), is researching her latest novel and finds out about Nim's father. Writing him via email, she instead gets a reply from Nim, who's alone and needs help. Alexandra's problem to overcome is her agoraphobia, and just leaving the house is going to require more than a little help from a certain someone.



Meanwhile, Nim's island is set upon by a ship full of tourists, who Nim drives off by faking the volcano - only to accidentially set off an immense erruption of ash...that seems to be entirely forgotten about a few moments later. Alexandra arrives at the island and - only a few minutes later - cue the abrupt happy ending. This is the film's most bizarre aspect, as there are quite a few conflicts that are either forgotten about or are suddenly solved with little effort and forgotten about.



This is a charming little movie in most regards and I really liked Breslin's performance, but I waited 90 minutes for something to happen and, by the time the credits rolled, it dawned upon me that nothing much ever did. Flackett and Levin's "Little Manhattan" was one of the most wonderful family films I've seen in quite some time and while this has the same "feel" as "Manhattan" at moments, there's one glaring difference: Flackett wrote "Little Manhattan", but neither of the co-directors were involved in this script.



While Breslin's performance is quite sweet and likable, I certainly didn't expect my least favorite performance to be Foster's. While it's nice to see the famed actress in a family movie, it's a really hammy performance. I guess it's supposed to be a funny performance, but if that's the case, then Jodie Foster is apparently not capable of bringing the funny. Butler is somewhat better in a dual-role, although the main father character is gone for much of the flick.



The film's fantasy elements are constructed fairly well on a low-budget, as the picture offers a lovely setting and effects that - in most cases - are done well enough to be passable. The fantasy tale even offers an enjoyable story, but there's just not enough story there - the story as seen in the movie feels like only parts of the rough outline were used.



"Nim's Island" isn't "Little Manhattan", but the film still certainly has moments and some good performances - again, the main problem is that there's simply not enough to it.




The DVD



VIDEO: "Nim's Island" is presented in 2.35:1 (AVC/1080p) widescreen by 20th Century Fox on Blu-Ray. While the Blu-Ray presentation certainly wasn't underwhelming, I suppose that, considering the material, I was expecting a somewhat more impressive transfer. Sharpness and detail are generally above-average, but while many scenes do look crisp and detailed, some wide shots and other moments can appear mildly softer.



On a positive note, no edge enhancement was noticed, and the print appeared to be in pristine shape. However, some slight noise was spotted on a few occasions, but this didn't prove to be too major a distraction. Colors generally appeared warm and bright, with pleasing saturation and no smearing or other issues. Subtitles in English & Spanish are offered.



SOUND: "Nim's" is presented in DTS-HD MA 5.1 (Dolby Digital 5.1 presentations in French and Spanish are also along for the ride), and the results are enjoyable, if not particularly awe-inspiring in any way. Considering the amount of outdoor sequences, it's a little surprising that the surrounds are not put to greater use during the picture. The rear speakers are put to use for storm sounds and some minor ambience here-and-there, but the majority of the audio is spread reasonably well across the front soundstage. Audio quality remained just fine throughout the show, with crisp dialogue and effects. Some occasional instances of low-bass are present, but this presentation generally stuck to a somewhat tame, "family-friendly" sound mix.



EXTRAS: Two commentaries are included: one with Jodie Foster and Abigail Breslin and the other with co-directors Mark Levin and Jennifer Flackett. The commentary with Foster and Breslin is just alright, as there are patches of silence throughout the track, and when the two do talk, it's generally small talk about how they think a scene turned out. We do get a few stories from the set and some insights into the production, but I just didn't find this commentary quite as compelling as I suppose I expected it to be. The directors' track is a little more lively and moderately more informative, as the two chat about trying to complete the film on a minor budget, working with the actors, effects and quite a few more other aspects.



Aside from the commentary, the rest of the supplemental features are an assortment of more minor material, starting with the 6-minute, "Working on Water", a look at the production's wet work. "Abigail's Journey" is a 6-minute fluff piece about how wonderful Breslin was to work with. "Nim's Friends" is another brief piece, this time taking a look at the creatures - both real and fake - that serve as Nim's pals in the movie. Three deleted scenes are offered, the most interesting of which is one that shows deleted footage of imaginary characters (such as Huck Finn) who served as Nim's friends before the decision was apparently made to have the creatures be her friends. One of the other scenes also includes a deleted character (we find that Alexandra had an assistant who helped her every week.)



Trailers - including one for "Ice Age: Dawn of the Dinosaurs" (which now has a release date of July 4th, 2009) - play upon inserting the Blu-Ray disc. Blu-Ray fans get a series of additional bonus features DVD fans will be missing out on, starting with a series of rather entertaining (as these sorts of things go) set-top games, including: "Write Your Own Alex Rover Adventure", "Coconut Soccer" and "Seaside Shuffle".



While the trio of games are fun for kids, "Nim's Spyglass Mode" is a picture-in-picture mode that's fun for the whole family, offering quite a few behind-the-scenes clips throughout the course of the film. To top it all off, we also get an enjoyable trivia/fact track ("Explorer Mode").



Final Thoughts: "Nim's Island" is sweet, well-intentioned and has its moments. However, there's just not enough movie there - at 90 minutes, not much happens and what events do occur aren't given much weight. The Blu-Ray edition offers satisfactory audio/video quality, as well as a boatload of extras. "Nim's Island" doesn't have enough going for it to recommend a purchase, but it is a fine family night rental.

Sponsored Links
Sponsored Links