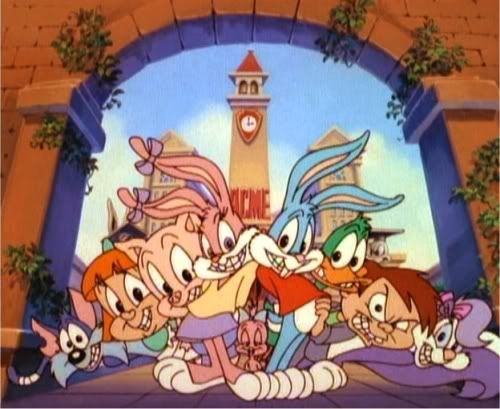 1990 was a pretty good time to be an 11 year-old. The Teenage Mutant Ninja Turtles juggernaut was rolling on, video games were still a quarter and kids could wear hideously-colored shirts to school and get away with it. It was also the year that Steven Spielberg's Tiny Toon Adventures premiered, and darned if it wasn't one of the best things since...well, the original Looney Tunes. Just a few years earlier, Warner Bros.' decision to revitalize their stagnant animation department set the stage for such a project, not to mention sister series Animaniacs and the excellent Batman: The Animated Series a few years later. Still, Tiny Toons was the series that really got the ball rolling, and it's no surprise that this series caught on fast and stuck around for a few years.
For the new folks, Tiny Toon Adventures is best described as a careful reworking of the original Looney Tunes formula, albeit with updated descendants of the original crew. The world they inhabit is Acme Acres, a colorful landscape with modern structures, wooded areas and plenty of inhabitants. A few of these folks are Buster and Babs Bunny (see also: Bugs), Plucky Duck (Daffy), Hamton (Porky Pig), Elmyra (Elmer Fudd), Montana Max (Yosemite Sam) and Dizzy Devil (Taz), though many more pop up along the way. Most share almost identical characteristics with their older counterparts, leading to many familiar relationships and good-versus-evil dynamics.
It's a pleasing enough formula that works well, but Tiny Toon Adventures is anything but a cheap knock-off of the original. Lesser creative teams would have simply "extremed up" the characters and treated the series as a merchandising vehicle, but it's obvious that most everyone involved with Tiny Toons was a huge fan of classic animation. Early budget concerns almost limited the series' potential, but its scope was eventually increased at the insistence of executive producer Steven Spielberg, who pushed for a full orchestral backing and often provided direct feedback for the creative team. The music in particular holds many episodes together like glue---and though the series took some time to find its footing, most fans recognized how special Tiny Toons was right from the start.
Though some may balk at the idea of "divided" season collections, Tiny Toon Adventures' first season ran for a whopping 65 episodes, while both follow-up seasons only featured 33 episodes combined. This four-disc set contains the first 35 episodes from the debut season (1990-91), from "The Looney Beginning" to "A Ditch in Time"; interestingly enough, Volume 2 should lead off with Episode #36, "Animaniacs!". Presented on three single-sided discs and one double-sided (eh?), this collection includes the following adventures:

(35 full-length episodes on 4 dual-layered discs)
Disc One
"The Looney Beginning"
"A Quack in the Quarks"
"The Wheel o' Comedy"
"Test Stressed"
"The Buster Bunny Bunch"
"Her Wacky Highness"
"Hollywood Plucky"
"Journey to the Center of Acme Acres"



Disc Two
"It's Buster Bunny Time"
"Stuff That Goes Bump in the Night"
"Looking Out for the Little Guy"
"Starting from Scratch"
"Citizen Max"
"Hare-Raising Night"
"Furrball Follies"
"The Acme Acres Zone"



Disc Three
"Life in the Nineties"
"Rock 'n Roar"
"Prom-ise Her Anything"
"Hare Today, Gone Tomorrow"
"Cinemaniacs"
"You Asked For It, Part 1"
"Gang Busters"
"Wake-Up Call of the Wild"



Disc Four, Side A
"Buster and the Wolverine"
"You Asked For It, Part 2"
"Europe in 30 Minutes"
"Wacko World of Sports"
"Rainy Daze"
"Fields of Honey"
"Sawdust and Toonsil"
"Spring in Acme Acres"


Disc Four, Side B*
"Psychic Funomenon Day"
"The Wide World of Elmyra"
"A Ditch in Time"
* - Also includes Bonus Feature (see below)
Most of these episodes survive the nostalgia test, thanks to solid writing, colorful characters, tremendous voice talent and the aforementioned orchestral backing. Standout adventures include "The Wheel o' Comedy" (which begins the shorter three-cartoon format), "Test Stressed" (truly, the Clockwork Orange of profane rooster cartoons), "Looking Out for the Little Guy", "Citizen Max", "Life in the Nineties" , "Wake-Up Call of the Wild", "Wacko World of Sports", "Rainy Daze", "Fields of Honey" and "The Wide World of Elmyra", though even the lesser episodes are still entertaining. These 22-minute cartoons often vary in format and presentation: some are full-length episodes, while others are divided into two or three sections (often linked loosely by theme). The latter generally produces the best results, if only because it feels closer in tone to the source material. Several dated pop culture references and themes drag a few episodes down ("Gang Busters", for example) and the series comes off as a bit preachy at times, but plenty of classic moments and great gags keep things afloat. Overall, it's a strong start to a series that would only get better.
Brought to DVD by Warner Bros. Home Entertainment, Tiny Toon Adventures: Season 1, Volume 1 is a relatively plain-wrap presentation of the show that fans know and love. The technical presentation, like several others from Warner's modern televised résumé, isn't particularly great and the bonus features are slim, but the low retail price more than makes up for it. Overall, fans should be pleased with this four-disc collection---and if we're lucky, we'll get the other 60-odd episodes on DVD soon enough.

Video & Audio Quality
Presented in their original 1.33:1 aspect ratios, these 35 episodes look a bit rough but are still quite watchable. Much like the studio's DVD collections of Batman: TAS and Animaniacs, it doesn't look as if much effort was put into cleaning these cartoons up. Notable amounts of dirt and debris can be easily spotted, especially in the earlier episodes. Colors are bright but hardly vivid. Mild interlacing and pixellation issues are also present, but these are kept to a minimum. These episodes appear to be taken from video sources and are only a step up from broadcast versions, so don't expect the same level of quality as seen in most of the Looney Tunes collections.
On the other hand, the audio presentation is quite satisfying overall. All episodes are presented in Dolby Digital 5.1 Surround, while the original 2.0 Stereo mixes have also been included (as well as French and Portuguese dubs). The 5.1 mixes are generally tasteful, limiting much of the surround activity to musical cues and atmospheric effects. Some folks will undoubtedly prefer the original tracks, which also sound clean and clear. Optional English SDH and Portuguese subtitles have been made available, but only during the episodes.
Menu Design, Presentation & Packaging

Seen above, the static menus are colorful and easy to navigate. Each episode has been divided into several segments, though no chapter selection screens are provided. As for the packaging, this four-disc set is housed in a clear hinged slipcase with episode listings printed on the inside. The total package is roughly the width of a one-disc release, which should please those with limited shelf space. A foil-enhanced matching slipcover ties everything together neatly, though the cover artwork is a bit on the bland side.

Bonus Features

Only one extra has been included here, and it's all the way on Disc 4, Side B. Entitled "From Looney Tunes to Tiny Toons: A Wacky Evolution" (22:35), this retrospective featurette pays equal tribute to the series and everything that inspired it. Featuring comments from producers, writers (including Paul Dini) and relatives of original Looney Tunes contributors, "A Wacky Evolution" is entertaining and worth a look. This production seems to have been done on the cheap (hence the nearly illegible text captions), though an assortment of vintage clips and artwork makes up for it. It's presented in anamorphic widescreen but hasn't been flagged properly for progressive playback---and if there's room for another nitpick, subtitles haven't been provided.

NOTE: It's nice to see at least some effort in this department, but here's hoping that future Tiny Toons volumes raise the bar higher. Interviews with the voice talent, art galleries and even a few audio commentaries would be more than welcome.
As one of the 1990s' most memorable animated efforts, Tiny Toon Adventures should hold up fairly well to nostalgic fans' expectations. The potent blend of colorful characters, wacky humor and slapstick brings to mind vintage Looney Tunes---and like its predecessor, Tiny Toons has also been blessed with a fantastic orchestral soundtrack and talented voice actors. Only a handful of dated pop-culture references will keep this series from feeling truly timeless, but the slow spots are generally few and far-between. Warner's DVD package is decent but hardly spectacular, pairing an average technical presentation with only one notable extra. In any case, Tiny Toon Adventures: Season 1, Volume 1 is still a solid package for the asking price: at roughly a buck an episode, animated fans on a budget will find this collection hard to resist. Firmly Recommended.
---
Randy Miller III is an affable office monkey based in Harrisburg, PA. He also does freelance graphic design projects and works in a local gallery. When he's not doing that, he enjoys slacking off, second-guessing himself and writing things in third person.
---