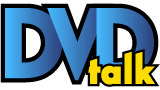 List Price: $29.98 [Buy now and save at Amazon]
---
Note:
This review contains harsh language. Reader discretion advised.

Many years ago, a producer named Henry G. Saperstein announced plans to co-produce with the Japanese a movie called Godzilla vs. the Devil. That picture was never made, but the idea of Godzilla kicking Satan's ass was oddly appealing, though maybe insurmountably difficult to actually pull off as a movie. Depending on one's taste, End of Days (1999) has much the same dopey allure: movie icon Arnold Schwarzenegger, locked and loaded, armed to the teeth in a fight to the finish with the trash-talking Devil himself.


It's like one of the goofy pitches made in Robert Altman's The Player: The Omen meets The Terminator, Arnold in a high-concept action-horror movie, his first film in two years as it turned out, and not long before he became governor of Ca-lee-pho-nee-a. Not surprisingly, the movie got mixed to very negative reviews - but this reviewer found it highly entertaining in spite (or perhaps precisely because) of its wild jumble of movie genres. It's rife with plot holes and (given Schwarzenegger's established screen persona) absurd scenes, yet it's also extremely well produced, imaginative, and at times pretty clever.


Universal's Blu-ray shows the film off to best advantage. Director-cinematographer Peter Hyams' visual style, with his fondness for very dark, noirish-type photography, isn't really suited to VHS (or, for that matter, on drive-in screens, the few that still exist) but is a feast for the eyes on Blu-ray. The disc looks and sounds quite spectacular. The only notable extra is his commentary track, which gets off to a slow start but gets progressively interesting.



In 1979 a baby, Christine, is born in New York City, innocently unaware that it's the predestined bride of Satan. Meanwhile, at the Vatican, the Pope rejects proposals by various cardinals to have the infant killed, instead sending a priest on a mission to protect her. Twenty years later, in December 1999, Satan emerges from the sewers below Manhattan, taking over the body of a darkly handsome Wall Street banker (Gabriel Byrne), who's soon up to all manner of mischief.


Meanwhile, despondent ex-cop Jericho Cane (Schwarzenegger, of course - who else would have a movie-movie name like that?), suicidal since the murder of his wife and daughter some years before, is assigned by his private security firm to protect the banker, actually now Satan (though billed in the credits as "The Man"), who almost immediately comes under sniper fire from the Vatican-dispatched priest. Cane and his wise-cracking partner, Chicago (Kevin Pollack), do some snooping around and find lots of weird goings-on.


The collared shooter lives in a hovel similar to mad priest Patrick Troughton's Bible-papered digs in The Omen. Cane and Chicago later stumble upon a church where the priest there (Rod Steiger, two decades after The Amityville Horror) has a mysterious high-tech lair like something out of 24, with crosses. And later still they find the adult Christine (Robin Tunney), now living in a large house run by her Satan-worshiping protectors, including Miriam Margolyes, very sinister, and cult fave Udo Kier.


On its own terms, End of Days must be considered a success. I guess if you're expecting Milton's Paradise Lost you may be disappointed, but that's like walking into a Bowery Boys movie and expecting George Bernard Shaw. It's an Arnold Schwarzenegger roller coaster ride of a movie, and on those terms the film is an unqualified success. Impressively staged action scenes abound: the chase for the sniper-priest on the rooftops of Manhattan (actually, most of the footage is downtown L.A., near many of the same streets used in Blade Runner) delivers the goods, for instance. Later, the film is a lot like Terminator 2, with Arnold trying to protect a young woman from the clutches of an essentially indestructible monster.


Gone are the days when a priest could splash a little holy water or quote a few lines of scripture to make the Devil dissolve into a pile of liquid latex or disappear in a puff of smoke: in End of Days, Arnold resorts to handguns and M203 grenades. It's all very strange - Cane's first reaction upon meeting Satan: "Who the fuck are you?"


Cane, throwing Satan out a window, ten stories up: "Fuck...you!"


Cane, really pissed off at Satan, "You think you're bad? Yew'er fuckin' choir boy compared to me! A choir boy!"


All this makes End of Days quite entertaining in a bad Charles Bronson movie sort of way, but it's also legitimately entertaining as an honest-and-truly well-made action-thriller, and Andrew W. Marlowe (Air Force One, actually a far more criminally stupid film), presumably no relation to Christopher Marlowe of Doctor Faustus fame, comes up with enough inventive material to offset some really dumb, obvious stuff. (And actors like Steiger are veterans at selling such shaky material; he's quite good.) It's an impressively massive production, and the integration of downtown L.A. with the relatively minimal amount of real Manhattan locations is pretty imperceptible. Across the board the production is handsome and imaginative, from the title design to John Debney's evocative, Jerry Goldsmithian score.


And Arnold himself isn't half-bad. Though an extremely limited actor, he seems to both understand his limitations but also stretches to the extent that he can, and here gives maybe his best performance to date.


Video & Audio


Filmed in Super 35 for 2.35:1 projection, Universal's 1080p Blu-ray of End of Days looks just great. First and foremost, it looks like film; DNR and other major artifacting problems aren't an issue here. Hyams uses the full breadth of the 'scope framing and subtly lights his sets in deep, dark shades of red and black with noirish splashes of light, all of which really shine in this Blu-ray presentation.


The audio, English DTS-HD Master Audio 5.1 is a real knock-out that consistently impresses with its strong bass and directionality; Spanish and French DTS 5.1 tracks are also included, as are subtitles in all three of those languages.


Extra Features


The only real extra is the director-cinematographer's audio commentary. Hyams hardly says anything at all during the first reel - I'll bet I'm not the only one who checked to see if it was turned on when, three minutes into the film, Hyams hadn't said a single word - but gradually he seems to muster up some enthusiasm. He makes some interesting comments about his own visual style as a cinematographer (he hates those 360 tracking shots around people in dialogue scenes) while defending his MTV-style cutting of action scenes, which I still dislike. He has kind things to say about Schwarzenegger and is generous with crediting the work of others. He also confirms something I suspected when I saw the film: scenes with the Pope at the Vatican were actually shot just outside the ladies room at the long-defunct Los Angeles Movie Theater in downtown L.A.!


Parting Thoughts


I enjoyed End of Days a heck of a lot more than I thought I would. It's both entertaining in its frequent goofiness but also impressive in terms of its production polish, the way it delivers the goods action-horror-thriller-wise, and at times something almost like a good movie peers through the cracks. Recommended.

 
Film historian Stuart Galbraith IV's latest book, The Toho Studios Story, is on sale now.
---
C O N T E N T

---
V I D E O

---
A U D I O

---
E X T R A S

---
R E P L A Y

---
A D V I C E
Recommended
---
E - M A I L
this review to a friend
Sponsored Links
Sponsored Links