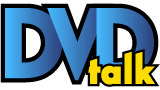 List Price: $35.99 [Buy now and save at Amazon]
---
Note: some non-format specific content is repeated from my SD review of this title.


The Movie:
The original Speed Racer was one of the first animes to make a huge impact on American audiences, way back in the psychedelic heyday of the late 1960s, so it's somewhat fitting that the Wachowski Brothers' big screen "live action" (a relative term, as discussed below) adaptation should play like the biggest acid trip ever filmed (not that there's anything wrong with that). There are going to be no ambivalent reactions to the Wachowskis' Speed Racer, that much I can pretty much assure you. There will be some audience members and critics who rightfully bash the film's length (overlong by at least a half hour), its lack of emotional heft (something rather difficult for a living cartoon to achieve in this ostensibly bright and happy world, outside of the noir environments of Batman or even the Wachowskis' own Matrix franchise), or even its hyperbolic visual style which assaults the senses with so much information your optic nerve is on overload for well over two hours. There will be others, like me, who say in an imperious and overly loud voice, "Stop yer belly achin'," open your eyes and immerse yourself in what is easily the most audacious piece of eye candy to jump off the screen in recent memory, maybe forever.


There's simultaneously not much and too much to the Wachowskis' plot adaptation of Speed Racer. We get the basic characters from the original cartoon: Speed (Emile Hirsch), the kid born to a racing family who inherits his dead brother Rex's mantle as the greatest racer ever; his dad Pops (John Goodman), racecar builder and brusque mentor; his ever-understanding Mom (Susan Sarandon); little brother, the mischevious Spritle (Paulie Litt) with sidekick pet chimp Chim-Chim; girlfriend Trixie (Christina Ricci) and the mysterious Racer X (Matthew Fox) with whom Speed partners to defeat an evil industrialist (Roger Allam) with designs on the racing industry. The plot is simply a secondary hanger on which one stunning visual "costume" after another is hung--outlandish races through otherworldly environments, riotous interiors and costumes splashed with incredible colors, martial arts sequences that explode out of nowhere, and various other incredible mises-en-scenes which catapult over the screen like a drug-addled kaleidoscopic ferris wheel.


As I mentioned above, the term "live action" can only be loosely applied to this enterprise. This is nothing less than a living cartoon, with effects culled right from the original kiddie show--cars careen in ways that completely defy the laws of physics, and characters similarly have little if any demonstrably "real" interior lives, other than at times laughable attempts to give the actors something to emote about. This film is a triumph of style over no substance, and the Wachowskis' visual genius is on display throughout virtually every frame of this film. Pay attention to how seamlessly they knit together the past and present of the Racer family in the initial race; while you may momentarily be confused by the morphing between Speed and deceased brother Rex, it's visual shorthand of the highest order and achieves everything it needs to with a minimum of fuss and bother. But even throwaway scenes like race announcers talking about the competition or evil henchman plotting the downfall of Speed are handled with an ingenuity that is mind boggling at times--characters fly by like they're on some sort of conveyor belt, somewhat akin to the shots you'll see in animes to this day.


Performances are generally excellent, in a perfectly cartoonish sort of way. Hirsch is stoic, if occasionally morose, as Speed, and Goodman and Sarandon both make appealing parent figures. My favorites in the film were the fetching Ricci, all but erasing any vestiges of Wednesday Addams from my mind with her alluring, yet sweet, portrayal of Trixie, and Allam, doing a sort of Tim Curry impersonation as the world's most evil tycoon, spitting out ridiculous lines as if his life depended on them. But this is simply not an actor's movie--it's a feast of visual overkill slathered onto and around performances that are all, in their own way, place holders for the optical extravaganza.


It's obvious to me that even the Wachowskis can't quite take their putative storyline too seriously, surrounding it with so many winks as they do. If you're willing to throw caution to the wind and not expect any profound insights of any sort, Speed Racer is simply one of the most delightful films to race down the pike over the past couple of years. It would have been better had some of the bloated midsection been trimmed, but even that segment has enough visual information in it to keep repeated viewers busy for some time to come.







The Blu-Ray Disc

Video:
If you've been waiting for a reference quality Blu-Ray to show off your equipment to friends with, wait no more. I cannot imagine there possibly being a more brilliant, sharp and colorful image than this incredible 1080p VC-1 2.40:1 transfer. There are so many moments of awe inspiring beauty (and just plain old fashioned fun) that your eyes may bug out of your head, suitably cartoon-like considering the source material. The depth of field is augmented by the 360 degree environments in which the CGI is placed, all of it perfectly in focus (as is discussed in one of the new Blu-Ray extras, below), lending this release a simply unparalleled level of sharpness and detail.





Sound:
The DD 5.1 mix is the aural equivalent to the visuals, with amazing separation and fidelity. As I mentioned above, characters glide in and out of frame throughout the film, and their voices move right along with them, in just one example of a very precise sound design. There are also French and Spanish 5.1 mixes as in the SD release, with the Blu-Ray also offering a Portuguese 5.1 mix. As with the SD release, there are English, French and Spanish subtitles, with the Blu-Ray addition of Portuguese subtitles.






Extras:

Two pretty by the numbers featurettes are ported over from the SD release, "Speed Racer: Supercharged" and "Spritle in the Big Leagues," both of which are nonetheless of passing interest as they at least give a little insight into the technical achievement of the film. Blu-Ray Exclusive Extras include a really great 27 minute or so featurette called "Car Fu Cinema," which goes into quite a bit of technical detail about how the film was made, including the immersive panoramic photography that makes up the bulk of the backgrounds. There is also a second disc in this release with a kind of lame game, "Speed Racer Crucible Challenge," which, as you might expect, has you use your remote directional arrows to guide your car through various obstacles. While it's more responsive that most SD DVD games, it's still pretty clunky and even my kids gave up on it after a few minutes. There's also a third disc that allows you to access a downloadable digital copy. Unlike the SD version, there's no surcharge for the copy.



Final Thoughts:
The more cautious among you may want to rent Speed Racer to see if it suits your fancy. The adventurous among you, especially those who simply experience film synaesthetically without dwelling on plot and character shortcomings, are going to want to have this in their collection, if only for the chance to revisit it again and again for its incredible visual design. This is easily the most mind-blowing Blu-Ray I've experienced, at least from a visual and aural standpoint. Content wise it's a bit lackluster, but if you're in that adventurous group mentioned above, this has to be a DVD Talk Collector Series title.
____________________________________________
"G-d made stars galore" & "Hey, what kind of a crappy fortune is this?" ZMK, modern prophet
---
C O N T E N T

---
V I D E O

---
A U D I O

---
E X T R A S

---
R E P L A Y

---
A D V I C E
DVD Talk Collector Series
---
E - M A I L
this review to a friend
Sponsored Links
Sponsored Links