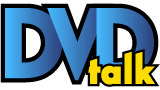 Fox // R // September 9, 2008
List Price: $39.99 [Buy now and save at Amazon]
---
The Movie:
In the interest of full disclosure, I hadn't seen the Night/Day Watch films by Timur Bekmambetov (Wanted) until a few weeks ago, when I saw Day Watch first. I've got to say I wasn't all that impressed by it. But there was enough going on visually for me to want to see what spawned the sequel, which is why I'm here doing Night Watch for you fine folks.
Bekmambetov and Laeta Kalogridis adapted the Sergei Lukyanenko novel, which tells the story of a battle between the forces light and dark which has been going on for hundreds of years. Those forces, called "others," take their respective sides in the battle, and Anton (Konstantin Khabensky) is one whose powers have recently been awakened, so he chooses the Light Others, and works closely with a group called the Night Watch which helps keep the Dark Others in check. He works to protect Yegor (Dmitri Martynov), who is being targeted by the Dark Others as one whose fate can change the balance of power once and for all, and who the Dark Others are trying to reach out to.
At least, that's as much as my brain allowed me to learn. I was not a huge fan of Night Watch, as I thought it was a bloated, confusing mess, bathed in a sea of dazzling visuals by Bekmambetov. And compared to that film, at least this one is a little more psychological in nature. You get to witness Anton trying to deal with his burden of being a member of this group, discovering the powers of some of his colleagues, and the feelings in dealing with Yegor are all fascinating things to watch, especially as you see the feelings Anton seems to start possessing for Yegor, because he might represent the child from Anton's former lover. Watching the Others' roles in everyday Russian life is pretty cool too, and the awareness of those characters, and of Bekmambetov is showing it is fun, right down to the Buffy the Vampire Slayer scene that you see. Combine that with Bekmambetov bringing awesome fascinating visual effects with him in this movie, with freeze frames, computer effects and other elements designed to hypnotize.
But while seeing Night Watch was a welcome respite from its bloated younger brother, there were still some aspects of it that I wasn't that big of a fan of. I don't have any idea if there was a sequel in mind when the first film was being shot, but if there was even a small intent to do so, the wild ending with the bats and the building and everyone fighting one another was a little bit silly and unnecessary, especially if there was any remote idea of continuing the story. With that said, I liked when Anton was getting into his battle with Zavulon, General of the Darkness. It was hinted at through the film, and while the battle itself is kind of dumb, the path to get to it was kind of cool in retrospect.
Ultimately, now that I've seen Night Watch, I can see a little bit of what the fuss what all about. And cool action stuff aside, I wasn't really all that impressed. While Bekmambetov was heaping effects on each other, the story seems to be a little muddled in the end result. On the plus side, this is the best pair of Russian supernatural action films that I can recall seeing in a long time.
The Blu-ray:
Video:
A word about this disc, as I hear that there were supposed to be some cool subtitles running in place of the normal ones? You get standard subtitles here, and the feature is the international cut of the film, which is ten minutes shorter than the Russian version, and includes an opening that is spoken in English and designed to serve as your backstory. With all that said, the 1.85:1 anamorphic widescreen is presented with an MPEG-4 encode and looks good, and I thought better than Day Watch did. The Moscow nights are quite detailed, tight shots (especially one shot of Anton drinking some blood) include a better level of detail than I expected, and the image backgrounds present a nice multidimensional feel. However blacks appear to be on the crushed side, and image softness is prevalent through parts of the film. Some of this can be excused away to the production values, but overall this wasn't all that fine-looking a disc.
Sound:
The DTS-HD Master Audio 5.1 lossless soundtrack comes at you from the jump, starting with the title menus which blast some sort of Russian hard rock music in your head. But that's the overall feel of the film, loud and aggressive, while missing out on some of the more subtle points. Dialogue is pretty weak in the center channel, directional effects are pretty devoid, as well as panning. There's hardly the feel of immersion on either film, which is a disappointment, but at least Fox should be given credit for adding a lossless soundtrack to all of their next-gen titles, which is nice. Ultimately Night watch is your loud uncle who comes to Christmas dinner and offends the neighbors before passing out on the couch.
Extras:
There are two commentaries; a text one with the musings of Lukyanenko on the characters and the story itself, which is OK, and an audio commentary with Bekmambetov, which covers more of the production aspects of the film. I enjoyed the audio one more in this regard, but as far as the story goes, the Lukyanenko one is more worth the time. Bekmambetov goes through extended periods of silence, only to point out a sign or a song from time to time. He gets better as you go along, but not by much. The making of piece (39:03) covers interviews with the cast and crew, and includes some clips from Day Watch as a small bonus. The story is discussed some more, and some post-production issues (read: visual effect obstacles) are talked about, and Khabensky discusses the character a bit as well. It doesn't really cover anything too deep, but it's OK. "Characters, Story and Subtitles" (5:06) essentially covers the film in a much shorter timeframe for little brains like myself, but after that, seven deleted scenes follow (28:42), some of which flush out the final battle a little more, but others help to show Anton's transformation a little more deeply as well. A look at the trilogy with Bekmambetov is next (3:27), where he talks about the first two films, and how he'll be approaching the American leg of the franchise. Two stills galleries are next, along with trailers for several Fox Blu-ray releases, including both Night and Day Watch. The disc also has the D-Box Motion Control technology to boot.
Closing Thoughts
There's no doubt that Night Watch is a visual smorgasbord of effects shots and stunning photography; but if the visual style is running, the story can't seem to break out of the fast walk. If you want to see what the guy from Wanted did before this, you'll find out here. Technically, the disc looks and sounds ok, and the bonus materials are adequate, so it's worth a heavy watching before decided whether or not to buy.
Sponsored Links
Sponsored Links