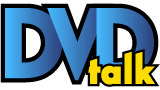 Alvin and the Chipmunks: Alvin's Thanksgiving Celebration
List Price: $14.98 [Buy now and save at Amazon]
---

Ross Bagdasarian's The Chipmunks has been a pop culture staple for over 50 years, thanks to a string of musical hits, animated shows, merchandise and a recent live-action movie. This trio of high-pitched critters---along with their "dad" and manager, David Seville---was voiced by Bagdasarian until his death in 1972, when his son (Ross Jr.) and daughter-in-law (Janice Karman) took over vocal duties. Whether you're a fan of the 1950s and 60s-era songs, the short-lived Alvin Show, the long-running 1980s animated series and/or the recent movie, it's tough to find someone unfamiliar with Alvin, Simon and Theodore. Paramount has unleashed a series of holiday-themed collections on DVD to keep the momentum going; today's review looks at Alvin's Thanksgiving Celebration, which includes four animated episodes from Alvin and the Chipmunks circa 1988-1994.


Leading things off is "A Chipmunk Celebration" (at top), a 1994 special that's only loosely connected with the holiday. Dave and the boys are hurriedly mailing out invites to the relatives in-between rehearsals for the big Thanksgiving play, but the director decides to shake things up by assigned them roles they're not familiar with. The generally reserved Simon is given the lead role, rambunctious Alvin is assigned to costume detail, while the young Theodore is in charge of the lighting. They try to weasel their way out of it by staging a daring rescue at the local zoo (eh?!), but a helpful police officer gets them to the stage on time. Afterwards, they enjoy dinner with the human and chipmunk sides of the family---and call me crazy, but the latter are drawn like rejects from a Dr. Seuss cartoon.


Luckily, three additional episodes from the 1988-89 era are on board here...and for the most part, they're more entertaining than the main feature. "Food For Thought" (below left) is an educational trip back to the Pilgrim days, as Theodore needs help studying for a big history test before the boys head over to an amusement park. Alvin and Simon use creative stories to keep Theodore sharp, but all he needs is a little food-based osmosis during breakfast. "Cookie Chomper III" (below right) tells the sad story of a lil' kitten that the boys keep hidden from the allergic Dave...but tragedy strikes after the cat escapes, so the Chipmunks have to learn how to deal with the loss of a loved one. In "Dave's Getting Married", the boys try to block Dave from getting his swerve on, but they end up liking his new beau after getting to know her. Unfortunately, her three young sons aren't as likable, especially during a rather stressful camping trip.


All told, it's not a bad four-pack, though there isn't a strong dose of "Thanksgiving" running through this collection. The main feature itself only touches upon turkey and stuffing during a few scenes, while "Food For Thought" casually mentions the Pilgrims and their inaugural feast during the boys' studying session. The rest aren't even loosely related to holidays in general...so if you take the title with a grain of salt, most Chipmunk fans should be entertained during the bulk of this 89-minute collection. As I'm not overly familiar with the other Chipmunk holiday releases, it's unknown whether they follow the same format or not...but at less than $15 a pop, they're cheap enough to pick up as impulse buys.


Presented on DVD by Paramount, this oddball collection doesn't arrive with much flair: the technical presentation is rough around the edges, while a lack of bonus features doesn't help matters either. Still, the rock-bottom retail price of Alvin's Thanksgiving Celebration helps to ease the pain, whether you're looking for a quick nostalgia fix or adding another title to your Chipmunk collection. Let's take a closer look, shall we?

Quality Control Department
Video & Audio Quality

Presented in their original 1.33:1 aspect ratios, these four episodes look about as average as you'd expect. The newest of the bunch, "A Chipmunk Celebration", fares pretty well, featuring a bold, crisp color palette and relatively solid black levels. The other three aren't quite as consistent: most sequences are generally soft and color saturation is a bit lacking, while mild edge enhancement and video noise are also noticeable at times. Digital combing is also a problem along the way, but that's almost expected for low-profile animated releases. This is a fairly lacking video presentation overall, but fans shouldn't consider it a deal-breaker.


The Dolby Digital 2.0 Stereo mixes fare slightly better, featuring decent channel separation and clear dialogue. The catchy music doesn't fight for attention, though it can't help but feel a bit flat at times; with this is mind, this audio is about as good as the source material will allow. No optional subtitles are included during these four episodes, though Closed Captions are supported.











Menu Design, Presentation & Packaging



Not much flair here either, as the plain-wrap menu design features episode selection and a handy "Play All" option. Each 22-minute episode has been divided into 4 chapters, while no obvious layer change was detected during playback. This one-disc release is housed in a standard black keepcase and includes a one-sided promotional insert.






Bonus Features



No extras have been included with this release, and it's likely that the other Chipmunk collections share the same format. It's not surprising that this is a barebones disc, but at least the price is right.





Final Thoughts





Alvin's Thanksgiving Celebration isn't a bad little collection of 1980s-era Chipmunk episodes...but the actual amount of "Thanksgiving" on display is pretty lacking. This one-disc package doesn't really go the extra mile in any department: the technical presentation isn't very impressive, while a lack of bonus features may limit your overall enjoyment of this title. Even so, those looking for a quick nostalgia fix should appreciate the low retail price---and let's be honest, Paramount is probably just testing the waters for more complete Chipmunk collections down the road. If you're a casual fan of the high-pitched critters, a rental should be satisfying enough...but if you can see yourself returning to this disc a few times, it's not like Alvin's Thanksgiving Celebration will break the bank. Mildly Recommended.




---
Randy Miller III is an affable office monkey based in Harrisburg, PA. He also does freelance graphic design projects and works in a local gallery. When he's not doing that, he enjoys slacking off, second-guessing himself and writing things in third person.

---
---
C O N T E N T

---
V I D E O

---
A U D I O

---
E X T R A S

---
R E P L A Y

---
A D V I C E
Recommended
---
E - M A I L
this review to a friend
Sponsored Links
Sponsored Links