Last Man on Earth (in COLOR), The
List Price: $14.95 [Buy now and save at Amazon]
---
Author's Note: The screen caps used here read: MGM's 2004 transfer on top, Legend's colorized and "restored" black and white, left to right.
Legend Films has released The Last Man On Earth (in COLOR), the 1964 end-of-the-word/vampire chiller starring Vincent Price, in a newly colorized transfer, along with a "restored" transfer in the film's original black and white (both of which, inexplicably, are labeled "Full Screen" on the box - a death sentence marketing mistake for this disc). While Legend charmed me with its recent colorized The Munsters' episode, Family Portrait, I truly see no reason for The Last Man On Earth, with one of its strongest elements being its stunning chiaroscuro widescreen cinematography, to be colorized. And comparing the "restored" black and white transfer of this disc, with the previous excellent MGM 2004 transfer (on a Midnite Movies double feature with Panic in the Year Zero!), I see no marked improvement in the black and white version included here, either - if anything, it looks less crisp than the earlier MGM release.
The year is 1968, and the "last" man on Earth is slipping over the edge into madness. A worldwide viral plague swept over the world three years before, killing, among the untold millions, chemist Dr. Robert Morgan's (Vincent Price) wife, Virginia (Emma Danieli) and young daughter, Kathy (Christi Courtland). Morgan, at first skeptical of the purported side effects of the virus - that the dead come back to life as zombie vampires - discovers first-hand this horrifying reality when his own dead wife (whom he buried rather than doing as the government proscribed: throwing plague-victim bodies into the town's burning garbage pit) comes back to feed on him. Despite the efforts of his lab partner and good friend, Dr. Ben Cortman (Giacomo Rossi-Stuart), Morgan is unable to come up with a vaccine, and the world plunges into darkness - with Morgan, immune to the "vampire virus" because of a vampire bat bite some years earlier in South America, seemingly the last man on Earth. Three years later, Morgan now merely "exists," toiling in an emotional abyss as he half-heartedly hunts down the vampires to kill them before they kill him back at his garlic and mirror-festooned house. But Morgan soon learns he is not alone when he discovers Ruth Collins (Franca Bettoia), who may offer either complete salvation for the avenging Morgan - or utter destruction.
SPOILERS ALERT!
An atmospherically accomplished, if not particularly well-thought out thriller, The Last Man On Earth, with its genuinely creepy mise-en-scene and its admirably restrained performance by Vincent Price, certainly trumps author Richard Matheson's I Am Legend's most recent cinematic adaptation starring the inexplicable Will Smith (a big-budgeted special effects popcorn movie which was...utterly dreary and needlessly self-important). As a small boy, I was lucky enough/terrified to see the second film version, 1971's The Omega Man with Charlton Heston, in the theaters (front row center), a seminal movie-going experience for me that admittedly still holds sway today - based more on nostalgia, certainly, than on the actual merits of that entertaining film. The Vincent Price version was on TV occasionally when I was kid, but with its severely cropped, dark, grainy pan-and-scan prints, it didn't make much of an impression on me until I saw it correctly for the first time on MGM's anamorphically-enhanced 2004 release.
There are problems with The Last Man On Earth, not only in its actual production, but at its thematic core. Designed as an existential horror nightmare (after all, his survival plan will eventually, inevitably fail, when he finally runs out of garlic, mirrors, and petrol for his generators), The Last Man On Earth gets a little fuzzy whenever we try and focus on what exactly drives Morgan on, and where his moral place is among the mutant zombies that roam the desolate streets of this anonymous American city (the location work which, as any viewer can tell, was decidedly not shot here, but in Italy). Morgan, a scientist, makes a point of being methodical and unperturbed concerning his efforts to find a cure for the virus - a curiously calm demeanor that doesn't sit well with either his partner, Ben, or his wife, Virg. Once his family dies (there's an effective, chilling shot of his daughter suddenly going blind), we flashback to the story's present time, and witness Morgan's rather desultory search-and-destroy mission on the zombies. If during the first few months and years Morgan was gung-ho about killing the vampires, taking revenge on the fiends who took his family, he certainly isn't that way now (the weary, almost noir-like narration by Price, who's excellent here, helps in these early scenes). Killing has become a routine, with his loneliness crippling all efforts other than the most basic means of survival (in the two remakes, both doctors are actively working on vaccines for the zombies - something Morgan doesn't do until the very end, when he rather incongruously whips one up on the spur of the moment for Ruth).
Once this routine is broken, we expect some understanding as to why Morgan does what he does. In The Omega Man, Charlton Heston championed the idea of the superiority of culture and science over "The Family's" embrace of early-Seventies, return-to-nature, New Age, hippie b.s., while I Am Legend's Will Smith ultimately engaged in politically trendy (and spurious) notions of moral equivalency with the mutants, who were painted as more ethically "honest," more worthy of sympathy, than Smith's doctor. But in The Last Man On Earth, we never really understand where Morgan stands as to his relationship with this new world order, because the film's most interesting plot twist - the arrival of Ruth and her revelation that there are many more people about, infected with the virus yet holding on from becoming total vampires due to a temporary vaccine - is literally dragged in during the film's last ten minutes or so.
Ruth, terrified of Morgan because of his reputation of stalking around during the day, killing anything in sight, lets Morgan know that he is viewed, ironically, as a monster by her people, by her "new society" that has decreed Morgan is a threat, and must therefore die. Morgan scoffs at this "new" society's fascist death decree ("Sounds charming," he sneers), but then he goes back to believing he can cure all of Ruth's friends - a belief Ruth evidently doesn't hold, when she tells him to lamb out of his house when her group comes bearing machine guns, ready to mow down Morgan. A quick chase to the church finds Morgan, mortally wounded, calling the infected humans, "freaks," and "mutants," before declaring he's the "last man," and wonderingly stating, "They were afraid of me." All of which adds up to a big, "Huh?" Why is Morgan contemptuous of the infected humans? Why wouldn't he understand they were afraid of him, after Ruth just told him precisely that? Why does he scoff at this new society? Does he think he represents a better one? Or is he an egomaniac, disappointed he's not really the "last man," as he defiantly states, even though the evidence is obviously to the contrary? You may wonder at those questions, and more, but you won't get an answer from The Last Man On Earth, because it doesn't know itself.
In addition to a central thematic problem, some clunky script construction and an at-times wobbly production mar The Last Man On Earth's potential to really take off, as well. During the opening scenes, Morgan states that his "reason" is his only advantage over the zombies, but that doesn't play out, because not only do the vampires seem to reason well enough (his friend, Ben, seems to understand perfectly what he's doing outside Morgan's house, as well as how to get in there), they're apparently no match physically for Morgan, either. When Morgan is caught outside after dark, and then later overwhelmed by vampires at his home, he merely...pushes them away. They're apparently not very strong, and slow-moving, to boot. He doesn't need reason to best them; he obviously could walk outside with a mashie-niblick and lay waste to the handful of zombies who bug him every night outside his home (better yet: get a bulldozer and a machine gun and problem solved in a day). So his self-imposed exile to his house every night seems faintly ridiculous, given the pathetic combined might of his ineffectual tormentors.
Script and production continuity errors also pop up quite frequently. We never learn how the other survivors managed to get that vaccine that temporarily holds off the vampire virus. Wasn't Morgan one of the few people around who could actually come up with something like that? And whoever did come up with the vaccine, wouldn't they, too, know of Morgan's efforts, and realize, considering his day-time sojourns, that he's not a threat to the "new society?" Why not just stop by for a chat and let it slip, "Oh by the way, we have a vaccine for the virus." I'm pretty sure if the person they sent wasn't green and didn't stumble over to the house in a slow, shuffling gate, Morgan might figure out they're human before driving a stake through their heart. Besides seeing moving cars in the supposedly deserted backgrounds, and watching Price race away in the night, only to have a daytime shot suddenly inserted, before the night-time pursuit continues, the biggest continuity whopper comes near the end of the film when Morgan tells Ruth that if he could only find Ben, his friend, he'd kill him in a second...which is strange, because all throughout the picture, Morgan walks right by Ben every night at his house, hearing him call Morgan by name to come out and play.
Where The Last Man On Earth does work well, exceedingly well, in fact, are in its bookend scenes of pursuit and attack, and its generated atmosphere of dread and devastation. Shot in startling widescreen black and white by ace Italian exploitation cinematographer Franco Delli Colli, The Last Man On Earth's opening scenes of a deserted Italian city at sunrise, its streets gradually revealed to be littered with dead bodies, resembles Italian neo-realism as filtered through the sci-fi genre. Surely George Romero watched this film, prior to lensing Night of the Living Dead - any Romero experts out there know if he's ever fessed up to this? Price's home, marred by erratic planking for security, and criss-crossing extension cords, provides dreamy chiaroscuro lighting schemes that give way to creepy, blown-out daytime shots that seem ghoulishly funereal as opposed to sunny (the night-time scenes, with plenty of high key lighting, are equally effective). Whenever The Last Man On Earth keeps quiet about its hero's inscrutable motives, and lets Price prowl around the stark, black and white Italian urban landscapes, it succeeds quite well enough.
The DVD:

The Video:
Colorizing The Last Man On Earth doesn't help the film, it hurts it. I've mellowed over the years in my early, earnest objection to the colorizing process. As long as the original is still available, I don't see how it's any more harmful to a film than offering a widescreen-shot film in both a wide aspect ratio and a "full-screen" transfer on a DVD. Obviously, you don't want to watch widescreen films cropped, anymore than you want to watch black and white films in an digitally colorized process. But it's not the end of the world (No pun intended I hope. -Ed.) - as long as the original form of the film is still available. To each his own. If someone wants to watch The Last Man On Earth in color, let 'em. But in comparing the two transfers, it's obvious that colorizing The Last Man On Earth actually negates much of the beauty of Delli Colli's carefully lit widescreen compositions. The colorizing process here is muted to a few greens and pale reds, which doesn't make the film any more ghoulish in tone - just more ghoulish looking. The Last Man On Earth looks too...cheery in color. It wipes out the overwhelming darkness of the film's original look, eliminating a lot of the claustrophobic atmosphere we're supposed to soak up in those creamy black and white frames. Aesthetically, it just doesn't make sense to colorize The Last Man On Earth: night turning into day turning into night, black into white into black again and again and again, is the whole point of the film's experience.
That being said, the "restored" black and white transfer included here is certainly preferable to the colorized version, but it fails to match up with the previous MGM transfer used in the 2004 and 2007 releases of the title. Legend's transfer looks noticeably softer, with less fine detail available, as well as what looks like a smidge of telecine blow-up. It's not a bad transfer, by any means, but it is inferior to the MGM transfers, both of which are still available to purchase at a cheaper price (with the 2004 disc giving you Panic in the Year Zero! as a bonus). All of which begs the question: why bother with this Legend disc?
The Audio:
The English audio track for The Last Man On Earth (in COLOR) is big, fat mono, which has some barely audible hiss, and a consistently leveled, crisp sound. Close-captions are available.
The Extras:
Probably the only worthwhile attraction on this disc is the inclusion of an episode of Vincent Price's It Happened in Hollywood, a (syndicated?) TV series from 1960 which Price hosted, and for which I couldn't find any information. Price, speaking from what he says is his home (it looks like a set), shows candid, off-screen home movies and film clips related to Hollywood history. This episode looks at Hollywood westerns, with candid shots of Western stars like William S. Hart, Hoot Gibson, Col. Tim McCoy, Johnny Mack Brown, Buck Jones, Tom Mix, Will Rogers, Charles Starrett, Monty Montana, Gene Autry, Smiley Burnett, William Boyd, Chill Wills, and even Jack Lemmon. It runs a speedy 24:25, and it's quite entertaining (although what the hell it has to do with The Last Man on Earth is anybody's guess). There are also colorized trailers for other Legend releases: Plan 9 From Outer Space, The House on Haunted Hill, Night of the Living Dead, Carnival of Souls, and Reefer Madness.
Final Thoughts:
I don't have a big beef with colorizing as long as the original black and white versions don't go away. We've had colorizing for decades now, and the famous black and white films that were colorized didn't disappear. You can still watch them in their original state. So colorizing, while usually an unnecessary novelty, isn't the harbinger of the death of cinema (as I once believed). But it doesn't make any sense to colorize The Last Man On Earth when doing so ruins the most successful element of the film: its beautifully modulated black and white widescreen cinematography. As for this disc's come-on about having the original black and white version "restored," it doesn't look as good as MGM's transfer used for their 2004 and 2007 releases of The Last Man On Earth. Which begs the question: why bother with this Legend release? Exactly. Skip The Last Man On Earth (in COLOR).
---
Paul Mavis is an internationally published film and television historian, a member of the Online Film Critics Society, and the author of The Espionage Filmography.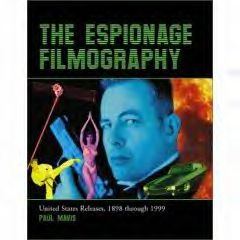 Sponsored Links
Sponsored Links