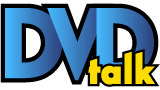 Polar Express Presented in 3-D, The
List Price: $34.99 [Buy now and save at Amazon]
---
Well, it's that time of the year again! The tiny four foot shelves of Christmas decorations are expanding and taking over entire sections of retail stores, kids are undoubtedly pointing at every commercial on TV saying 'I want that', there's a fear growing in the pit of your stomach because you're going to see your in-laws again, and holiday films are being re-released to help you appreciate at least something about this stressful time of year. The Polar Express, a beloved children's storybook classic, now has a third re-iteration in a high def format (I'm counting the HD-DVD release). However, it's not merely a repackaged disc. We have an anaglyph 3D version of the film, as well as the 2D version, and a better audio track has been brought into the mix as well.



If you've never read The Polar Express as a kid, you should check it out now. Not just because it's a classic, but because it's a quick and easy read that's accompanied by some fantastic artwork, and you'll want to see what the source material was like before it was stretched out to work as a feature length film.



For the sake of not appearing to be some sort of holiday Grinch (I love this time of year), your parents have to keep the dream of Santa Claus alive as long as you're willing to believe. Unfortunately, most people lose their faith in the jolly, present delivering chimney diver through an accidental discovery, be it overhearing a conversation, or whatever. That's exactly what happened to a character that's only known to us as Hero Boy, who is at the age where things are starting to come into the focus of reality, and his curiosity is depressingly satisfied when he overhears his parents talking about Christmas one night.



On cue, the little ember of faith slowly dying inside breathes new life as Hero Boy is greeted by The Polar Express, a train that whisks children away to the North Pole to keep their holiday dreams alive. Along the way, Hero Boy meets children from other walks of life, and encounters a wise, but nasty hobo that lives on, and claims ownership of The Polar Express. At the end of the night, Hero Boy is going to find some much needed answers about Christmas, and he's either going to spend the rest of his life believing in the holiday more than most people do as they age, or he's going to return home very disenchanted. I'm sure the outcome isn't something that you would need a genius to predict for you, as a holiday classic such as this wouldn't really warm the heart as it should if it ended with a crushed dream.



There have been a lot of criticisms about this film since its release, but I found it to be a very enjoyable holiday film that frankly, I've started a holiday tradition around. This film utilized the motion capture method in order to bring the highly detailed animation to life. This does make most of the movements in the film look very realistic, however, there's still something that makes most of the characters in this film feel incredibly fake. The expressions in the face aren't as easy to mimic as the movements when you're using motion capture, so vital eyelid and mouth movement often make the characters appear soulless because the animators couldn't perfect them.



Besides the facial expression issues there are, there's a piece of the story that seems to be completely unwarranted, and that's basically any of the scenes the nasty hobo appears in. He pops up once or twice at a vital moment to make sure everything turns out alright, but he's an oddity amongst a beautifully fun story, and he was clearly there as a way to fill up some screen time. What's especially bothersome about this character though, is that he can probably spook or even scare some of the younger children that would have no problem enjoying the rest of the film. To further make one scratch their head about this character, his 'deal' pretty much goes unexplained.



Other than that, The Polar Express has something for pretty much anyone. There's delightful Christmas magic and fun around every corner. This film is loaded with adventure, singing, dancing, and its overall tone undeniably makes it fit right in with other holiday classics on the shelf. If you're a nit-picker, and are highly cynical of almost everything you see, you may not find the same holiday magic I've experienced with this film. For those of you that are looking to add to, or replace holiday classics that have grown tiresome on you, you'll find this to be a tale worthy enough to take that spot, and it's something the entire family can enjoy!






Video





The 2D version of the film looks absolutely flawless. I can't find any macroblocking, dirt, noise, edge enhancement, or anything else that would make a videophile cringe. Saying the colors are robust is a bit of an understatement, as they're intentionally saturated so they pop off the screen. Black levels are solid and there's a nice and dynamic contrast that's always on display.



The only thing about the 2D version I want to warn people about if they haven't had a chance to see this film yet, is that some people might complain about the film looking a little soft at times. There can be sort of a soft glow, or halo over different parts of the image, too. This was done intentionally however, in order to make the lighting effects seem a little more realistic. I also would assume it was done to further blend the line between reality and storybook, because after all, this was based off of a children's holiday book. The end result is a picture that isn't overly sharp as a many computer animated features are, but a softer look that still has defined edges in order to provide a greater sense of depth.



If you've had a chance to see Journey to the Center of the Earth on Blu-ray, the first thing you probably noticed while opening up the case, was that the anaglyph glasses that were provided for the 3D version were magenta and green. The Polar Express is kickin' it old school though, as it decided to stick with the red and blue color scheme. I was worried about the old color scheme being used, because I found the magenta/green setup to give a more accurate display of colors, but the red/blue scheme actually works. This is a holiday movie after all, and there are plenty of red and blues throughout the picture.



The 3D effect works very well, and I guess that's the important thing, right? I remember watching certain features on television back in the day with the good ole' red and blue glasses on, and the effect was horrible. The pristine quality of the Blu-ray really makes this work though, and as long as you don't mind seeing the film in a two tone color scheme, you're in for a treat. The 3D effects don't pop out unnaturally, which is something that happened a lot in Journey to the Center of the Earth. Instead, we get a much more natural sense of depth. Some of you I know aren't as tolerant to the 3D glasses as others though, so if you get headaches from wearing these glasses easily, you're more than likely to get those headaches while watching this.



If you watch the 3D version, make sure you also turn your contrast or backlight up... a lot. Watching the film through some colored lenses is going to make the image appear darker, so this is a must.



Both versions of the film are 1080p VC-1 encodes, at an aspect ratio of 2.40:1. Something I would like to note is that the 2D version doesn't appear to really be any different than the HD-DVD or Blu-ray versions we've seen before. Video purists are going to whine and complain about bitrates, but this film looks pretty darn good on Blu-ray regardless. Also, judging the 3D version from a detail standpoint is pointless, as the anaglyph glasses will make the finer details go away.






Audio





The original tracks that were provided on the old HD-DVD and Blu-ray releases were pretty darn good, but for those of you who were patient enough to wait, or even for those of you who don't mind double dipping for a good enough reason, we've finally been given a Dolby TrueHD 5.1 track!



Although the tracks available on both prior high definition releases were decent, the Dolby TrueHD track stands out in a couple of areas. The scenes that are meant to swell until they explode with an orgy of sound (the train/roller-coaster scene, skiing on top of the train, etc) benefit from a better surround effect. Another thing that helps bring the loud scenes to life is the dynamic range on the track. I found myself on the prior releases, constantly having to adjust the volume on my receiver. The loud scenes were incredibly loud, and the dialogue was quieter than it should have been for a good mix. There's now quiet dialogue that can be heard clearly, and the big scenes are still just as boisterous as they were before.



All in all, it's not really a huge improvement over the prior releases, but I think audiophiles will find this to be superior in the ways I've mentioned, and they'll breathe a sigh of relief knowing they finally have a lossless track.



Also available: Dolby Digital English 5.1, French 5.1 (Both Parisian and Dubbed in Quebec), Spanish 5.1, Dutch 5.1. Subtitles are available in English, French, Spanish, and Dutch.






Extras





Smokey and Steamer Song Not Seen in Theaters - This isn't a final representation of what this would have looked like in the film itself, but the song isn't bad. I can see why they didn't include it though. The songs that made the final cut had enough care put into them to become classic Christmas tunes themselves. To put another song in the film would have been a little over the top. We have a decent film at one hundred minutes, and when you're stemming a film of such length from a kids book, you don't want to drag it out any longer than it has to be.



You Look Familiar: The Many Polar Faces of Tom Hanks - Tom Hanks wore one suit for the motion capture process for the entire film, but that one suit brought many of the characters in this film to life. Tom had to act out parts on his own, and later act against his prior performance as another character. It's a very interesting watch if you're unfamiliar with this technology, and it serves well enough to give almost anyone a better appreciation for Tom Hanks.



A Genuine Ticket to Ride - This is listed as one feature on the back of the Blu-ray case, but it's actually five short featurettes that make up this extra. I appreciate that Warner decided to list it as one feature, instead of trying to beef up the extras list in order to make it look bigger and better than the extras really are.



These features basically cover everything in the film. It covers every aspect of behind the scenes work, which is really the basic framework for the entire film, music, hair and wardrobe, as well as the effort to create a North Pole that people would believe in.



True Inspirations: Profiling Author Chris Van Allsburg - The title pretty much sums up what you could expect from this feature. What it doesn't tell you however is what kind of a person we find Chris to be. Chris seems to be someone that's full of warmth and imagination. I don't follow children's books at all really, even though my wife is an elementary school teacher, but I was very surprised to hear that Chris was the mastermind behind Jumanji as well! This kind of feature isn't something you see on a lot of films that are based off of something, so I thought this was a refreshing extra that gave the credit where it was due.



Believe: Josh Groban Performance and Behind the Scenes - This feature is pretty cut and dry. The tune at the end of the film is none other than this one, and this feature is basically just a live performance of that song, topped off with some behind the scenes footage from it as well.



Flurry of Effects: 5 Motion-Capture Sessions - This goes a little more in depth into showing us how the whole motion capture aspect of filmmaking works. What's great about this feature is that it puts the behind the scenes acting into actual context from the film, so you're not just looking at people walking around in suits that are loaded with ping pong balls around it while someone explains the process to you vaguely before moving on.



Snow Angels: Moviemakers' Christmas Memories - This is a very short featurette, but it highlights some Christmas memories that the cast and crew have.



Also included is the theatrical trailer.



What's notably disappointing is the distinct failure that's been made time and time again to bring a commentary onto one of these releases. Ever since its first standard definition release, there's been nothing more than a series of short featurettes to highlight what went on behind the scenes. The featurettes do tell us pretty much everything we need to know about the technical aspects, yes, but I would love to hear why certain things were added to the film, and I would especially love to hear Tom Hanks talk specifically about the many hats he had to wear for the film.






Overall





Simply put, The Polar Express may have a few quirks due to some lifeless looking facial animation, but it has every right to claim its title as a newly beloved holiday classic. It doesn't matter if you're young or old, this film is going to warm your heart and it's going to make you want to believe the some magic you felt when you were a kid. When I watch a lot of the newer holiday films that Hollywood cranks out today, there's nothing that really stands out to me as being a classic. Filmmakers try hard to recreate the North Pole for a very broad audience, but I never buy it. I never actually believe I'm seeing the North Pole. Instead, I feel like I'm looking at a very elaborate stage set, and that's not how pull in your audience. Do it right, or don't do it at all. The Polar Express nails it.



Although I would highly recommend this film to anyone, I'm going to have to only recommend this title for all of you. There are some of you that probably don't care about the new Dolby TrueHD 5.1 track, and there are others that could care less about the 3D gimmick, and I'm sure there will be plenty of naysayers of the video quality, but this reviewer uses his eyes, and personally I think it looks great. In the end, I'm not sure if there's enough here to pull in people who already own this on Blu-ray. If you absolutely must own a lossless track, then pick up this release. If you don't own this in a high definition format as of yet, now is a great time to add it to your collection. Unfortunately, the extras aren't exactly great, and the lack of a commentary is truly disappointing.

-About the Author- Michael Zupan is primarily a film guy, but has a variety of places where you can enjoy his work otherwise. Check Bytesizeimpressions.com for video game op-ed pieces and podcasts, and be sure to check out the sister site, Byte-Size Cinema, linked up top. This writer also contributes significantly to in-print magazines such as Minecraft Explorer and Fortnite Explorer!
---
C O N T E N T

---
V I D E O

---
A U D I O

---
E X T R A S

---
R E P L A Y

---
A D V I C E
Recommended
---
E - M A I L
this review to a friend
Sponsored Links
Sponsored Links