Gregory Peck Film Collection (Arabesque, Mirage, Captain Newman, M.D., Cape Fear, To Kill a Mockingbird, World in His Arms), The
List Price: $59.98 [Buy now and save at Amazon]
---
The Gregory Peck Film Collection features six of Peck's films - four of which are brand-new to DVD - that he made for Universal Studios in the 1950s and 1960s. Titles include: 1952's swashbuckler, The World in His Arms; 1962's harrowing psycho-sexual thriller, Cape Fear, co-starring the brilliant Robert Mitchum; Peck's Oscar-winning turn in the beloved classic, To Kill a Mockingbird, from 1962 (in a two-disc collector's edition); 1964's medical comedy/drama, Captain Newman, M.D., co-starring Tony Curtis; Mirage, the Hitchcockian thriller from 1965 co-starring Walter Matthau; and finally, the wonderfully entertaining Bondian spy-spoof, Arabesque, from 1966, directed by Stanley Donen and co-starring Sophia Loren. Extras, unfortunately, are limited to previously released Cape Fear and To Kill a Mockingbird, but the transfers, overall, are quite good, giving Peck fans a chance to stock up on some much-requested titles. Let's look at the individual films.
THE WORLD IN HIS ARMS
Beginning with a title card commemorating America's purchase of Alaska on March 30, 1867, the story actually takes place in 1850, when such a transaction was the dream of adventurers like Captain Jonathan Clark (Gregory Peck). Described variously as a "rogue," a "pirate," and wonderingly as, "the Boston Man," Clark returns to San Francisco from Alaska with the Russian Czarist navy in hot pursuit, accusing Clark of stealing their seal skins from the Alaskan islands. Clark, along with crew members Deacon Greathouse (John McIntire), Clark's first mate, and Ogeechuk (Bill Radovich), the master pilot of Clark's schooner, The Pilgrim, lands in Frisco and promptly beats the daylights out of the press gang that shanghaied his crew. Sentenced to hang by the Russians, the devil-may-care Clark couldn't care less, and proceeds to take over the Barbary Coast, throwing lavish parties with his thousands of seal skin dollars.

Meanwhile, Russian Countess Marina Selanova (Ann Blyth) needs to escape to Sitka, to avoid an arranged marriage with the evil Czarist enforcer, Prince Semyon (Carl Esmond). Her servants have hired shady Portugee (Anthony Quinn) to ferry her there, but he reneges on the deal, so she turns to Clark, going so far as to pass herself off as a handmaiden to the Countess - and a sexy little minx of a handmaiden, at that - in order to convince the hard-nosed Clark to help out. Of course, though, they both develop feelings for each other, and their relationship is complicated by her uncle, General Ivan Vorashilov (Sig Ruman), the governor general of Alaska, who's in deep trouble with the Czar for the dwindling seal skin counts. Can Clark realize his goal of buying Alaska for himself, while winning the Countess away from Prince Semyon - all the while avoiding the hangman's noose?

SPOILERS ALERT!
It's not surprising that Peck, having just scored a bull's-eye with Raoul Walsh the year before with the classic sea-faring tale, Captain Horatio Hornblower, would want to repeat that successful marriage of director and vehicle by taking the swashbuckler The World in His Arms at first chance. But whereas Hornblower was an expensive Warner Bros. A-lister with location shooting in England and France to lend verisimilitude to the picture, The World in His Arms is nothing more than a gussied-up Universal B-programmer, confined to chintzy studio-bound sets and poor rear-projection seafaring action scenes. And while Peck's ultra-cultured voice and regal bearing fitted the Hornblower character perfectly, that same kind of breeding is woefully misapplied here on supposedly wicked Captain Clark. Constantly throughout the film, characters step forward, right up into the camera, and declare that Clark is a "pirate," and a "rogue," warning other characters not to cross "the Boston Man," or to underestimate his powers of seduction, because they have to convince us that Peck embodies those characteristics. If you go back and look at Errol Flynn swashbucklers, nobody does this...because Flynn exuded these qualities on his own - something that eludes the more proper, starched Peck. He's just not convincing throwing those punches at Quinn (something you'll see later in those laughable fights with Robert Mitchum in Cape Fear), particularly when he obviously has difficulty even throwing himself up a small set of stairs in one action sequence. We never really believe he's a devil with the ladies, either, because...it just doesn't seem that that quality is in Peck, no matter how hard he tries to bluster and seduce.

So, if you can't get carried away with The World in His Arms' unconvincing action and romance, you're stuck listening to the script, which, despite its surface complications of plot, is as old as the hills. What is new here, though, is the obvious (and amusing) Commie baiting that's underlying all the references to imperialist Russia. Clearly, the intention of the film is to brand the Russian government, then our greatest enemy in the Cold War of 1952, as evil, with constant references to the cruelties of Czarist Russians that wouldn't have slipped by unnoticed by the average American movie audience. Peck frequently describes the barbaric nature of the Russians' treatment of the native Aleuts, who work like slaves to satisfy the Russian Czar/state, a sentimentality that tickles Prince Semyon, who describes Americans as, "dirty mongrels with the manners of a pig". Blyth, anxious to become an American when she marries Peck, talks of learning how not "to be afraid all the time" as a Russian, and how she doesn't want the fear of old cities in Europe to infect all-American cities like San Francisco (if you could only know how things have changed...). Of course, there's hope for her conversion, as Peck labels the Russians in his favorite restaurant, "good Yankees" now after their demonstrated preference for the American way of life. Thankfully, Anthony Quinn is around occasionally to ham things up; he's the only jolt of energy here in this largely lifeless, instantly forgettable affair.
---
CAPE FEAR
Southern attorney Sam Bowden (Gregory Peck) seems to have it all. He has a thriving practice, he's in good standing with his community, and he has a charming family, including his lovely wife Peggy (Polly Bergen) and his cute young daughter, Nancy (Lori Martin). There's even a romping family dog, Marilyn, to round out the picture. But a shadow soon falls on that idealized image, and its name is Max Cady (Robert Mitchum), an unrepentant, psychotic degenerate who's just been released from an eight-spot in a federal pen. Bowden had been a witness to a rape Cady committed (Bowden had even fought with Cady prior to the police coming), and now Cady, after eight years of fantasizing about how he was going to exact his revenge, has tracked Bowden down to his Southern home, where he openly tells Bowden he has payback coming. Serious payback. Although Cady proves to be devilishly ingenious at just skirting the edges of the law in tormenting Bowden, he makes it clear, through insinuation and physical proximity, that he intends on raping both Peggy and young Nancy.
Bowden at first tries to use his connections with the local police chief, Mark Dutton (Martin Balsam), to "dissuade" Cady from hanging around town. But when Cady proves too cagey for that ploy, and when the police's hands are tied by increasing pressure from Cady's liberal lawyer, Dave Grafton (Jack Kruschen) to lay off his client, Bowden has to revert to Cady's level to protect his family from the obvious threat. A trap is soon set for Cady, leading to a dark night filled with terror for the Bowden family, isolated out on the Cape Fear River.

SPOILERS ALERT!
Crude and powerful, with a fecund nourish dread not only in the night scenes but also the sickeningly harsh daylight exteriors, the original version of Cape Fear came under renewed scrutiny when director Martin Scorsese ill-advisedly remade the film back in 1991. Critics who hadn't seen the original in some time (or not at all) went back to the 1962 version and found what they thought was a suspense thriller masquerading as an assault on the hypocrisies of straight, conformist, law-abiding, middle-class, mid-century America - a view no doubted shaped by their reading of Scorsese's adaptation, which, ridiculously, almost made a hero out of the sadistic Max Cady by thoroughly denigrating the character of originally straight-arrow Sam Bowden (Scorsese was quoted as saying the only character he really liked in the first film was the brutal Cady). Critics who genuflect anytime they see anything that smacks of America-bashing - particularly in a film from that more conservative time period - championed the 1962 Cape Fear as a sly social commentary that got its juice from pushing around the American family, and for showing up upright citizen Sam Bowden as a hypocrite.
Certainly the film's plot centers around the evolving actions of Peck's Bowden gradually running out of "legal" options in dealing with the obvious threat that Cady presents to Bowden's family, but to say the film skewers lawyer Bowden for this "skirting" of the law is to miss the point of the movie entirely. Cape Fear is less about Bowden abandoning law and order, and more about how law and order abandoned Sam Bowden. The film's real condemnation lies in the subtext of Sam having to go outside the law to protect his family, a context that eliminates the stain of "hypocrisy" from his actions, because "lawlessness" can't exist in a "law-less" state. While some critics like to point out the rapid decline of Sam's principles as pertaining to "following the rules," they forget to point out what steered him in that direction: the equally rapid revelations that the law was totally powerless to stop the obvious threat that was Cady. Everyone knows what Cady is capable of, and everyone knows he means to do what he says (just like the little story that police chief Balsam recounts about the woman begging for help from the police because she knew her husband would kill her - and did). But they're utterly powerless in the face of Cady's use of the system (he implies he used his time wisely in prison, boning up on how the law can help a criminal), aided by the use of a "bleeding heart" lawyer, Kruschen. The failure in Cape Fear isn't Bowden's so-called "fall from grace," but a legal system that sees a real, true threat - Max Cady - and is helpless to do anything about it.
While some see irony in Cady's sneering condemnation of the "tight, little corporation" of the "professional courtesy" the police officers show Bowden, trying to legally persuade Bowden to leave their city, that irony is only potent - and damning - if the person on the receiving end of it, is innocent - which everyone, including Cady himself, acknowledges isn't true (hence, the funny scene where Cady's lawyer shamefully realizes he's let it slip that he knows Cady poisoned their dog - so much for "justice"). When Bowden realizes that the law has effectively thrown up its hands in despair of helping him - ironically because a liberal lawyer has effectively used pressure of his own to finesse "the system" in squelching legal harassment of Cady - only then does Bowden decide to take private investigator Charles Sievers' (Telly Savalas) advice: you have to fight an animal, like an animal. Bowden hasn't "abandoned" the law; the law has abandoned Bowden. The sham in Cape Fear isn't Sam's middle-class values, called into question when he must defend his family; the sham is the legal system that can do nothing about a Max Cady. Just like the critics who were outraged over the wrong target in Dirty Harry, vilifying Harry's vigilantism, critics who see (and enjoy) some perceived anti-establishment message calling into question straight-arrow Bowden's actions, miss the real target of Cape Fear: a legal system increasingly deflected away from protecting innocent citizens. Indeed, the film's denouement is often read as a reinstatement of Bowden's sense of duty to the law (by not killing Cady, and telling him what prison will be like for him), but if anything, it's a reinforcement of his "lawless" rage and hatred for Cady. It's an incredibly cruel act by Bowden (and an immensely satisfying one for the audience), as he details in righteous, sadistic glee how horrible a life sentence in a cage will be for the animal Cady. That ending has nothing to do with law and order.
So much for blather. More importantly, how is Cape Fear as a superior spookums? "Excellent" is the answer, even today after forty-six years. Of course, a lot of the credit for Cape Fear's truly frightening aura goes to Robert Mitchum's seminal portrayal of the sadistic psycho-sexual degenerate, Max Cady. With that deceptively "cool" hipster jive, and that rolling, menacing walk, his hooded eyes barely visible under that snap-brim panama, Mitchum set the bar impossibly high for anyone else to come along and equal that level of realism of tactile rage and perversion he brought to the Cady role. Quite a few have compared director J. Lee Thompson's work here to Hitchcock, and it's easy to see the connections, particularly with Thompson utilizing some of Hitch's regular crew (composer Bernard Herrmann's score is...sublime in its sickening menace). But there's a crudity of intent and execution here - "crude" in an aesthetic rendering, not crudity of technique - that Hitch wouldn't have been caught dead exuding from his carefully controlled films. There was never a murderer of such raw, animal intensity as Max Cady in a Hitchcock film, and the suggestions of the lewd, cruel politics of sexual assault (Mitchum's taunting/teasing seduction/rape of Polly Bergen is one of the most hypnotic, unpleasant of such scenes dealing with that complex subject) - all within a movie that never uses the word, "rape" - weren't found in even Hitch's most darkly twisted sexual thriller, Frenzy.
---
TO KILL A MOCKINGBIRD
Frameworked as a remembrance by an adult Scout Finch (voice of Kim Stanley), Scout tells the story of her girlhood, growing up in the small town of Maycomb, Alabama, during the Depression. Scout (Mary Badham) and her brother Jem (Phillip Alford) live with their father, attorney Atticus Finch (Gregory Peck), a decent, kind-hearted widower struggling to raise two rambunctious children. Difficulties arise for Atticus and his children when Judge Taylor (Paul Fix) appoints Atticus to defend Tom Robinson (Brock Peters), a black man who's been falsely accused of rape by Mayella Violet Ewell (Collin Wilcox) and her father, vicious racist Robert E. Lee Ewell (James Anderson). As Scout and Jem, and newfound, visiting friend "Dill" Harris (John Megna), discover the much larger, uglier world of Maycomb that becomes visible when tensions flare because of Atticus' defense of Tom Robinson, they also realize the inflated bogeymen they've created in their private childhood world, such as neighboring shut-in, Boo Radley (Robert Duvall), may indeed turn out to be their friends and saviors.
SPOILERS ALERT!
Finding fault with a film like To Kill a Mockingbird is akin, for a reviewer, to kicking the crutches out from under an old lady, while stomping a small kitten to death. It just isn't done. Fans of this film have zero tolerance for anyone criticizing a movie they take to heart, not at all like any other film title, but rather like a cherished loved one, as if To Kill a Mockingbird was some beloved relative of theirs in need of veneration. To Kill a Mockingbird has taken on the aura of "unassailable classic," and therefore, by the very weight of agreement on the side of its undeniable perfection, anyone disagreeing with that one-world view must have a screw loose somewhere. Worse still, the film's reputation, along with people's memories of watching it, as well as the tradition many people have of "handing down" the film to their children and grandchildren, has largely taken the place of the film's own inherent aesthetic experience. What To Kill a Mockingbird "stands for" is just as important, if not more, than what it actually accomplishes as a separate work of art, to these viewers. It's about big themes like "love" and "memory" and "being noble" and "being kind" and "not being prejudiced" so it has to be the equal, as a film, to those aspirations. One doesn't "watch" To Kill a Mockingbird anymore; one "re-experiences" it through a filter of universal praise and adulation that all but demands you love it or else.
Well...I don't. I like some of it, particularly its warm depictions of parental love, and its sense of isolation and terror when detailing the private lives of children that most adults are oblivious to. Those moments of To Kill a Mockingbird have a quiet power that I wish the film had exploited more fully. The tranquil scenes of Peck and Badham, sitting with each other on her bed, or on the porch, are lovely in their still, soft beauty. And the scenes were the children are threatened, out in the woods, or when they're running about their small neighborhood setting, finding an entire world in just a few small lots, with all the mysteries they can (and can't) comprehend fitting neatly into a small cigar box, are wonderfully observant and evocative of our own childhoods (or perhaps more tellingly, what we've allowed ourselves to remember of our own childhoods). But the success of those scenes are precisely why so many people hold To Kill a Mockingbird in such high esteem, while forgetting that the other central theme - racism - isn't particularly well handled.
Indeed, the race angle of To Kill a Mockingbird seems almost like an afterthought, or worse, a dramatic construction used to "impress" viewers with its sincerity, rather than illuminate or castigate a vile societal truth. Any attempt at complexity of examination is waylaid in favor of obvious stereotypes (Ewell is a sneering, inhuman monster; Tom never says a word in anger or contempt or rage at his situation, instead crying quietly on the stand). Racial injustice is viewed through Atticus' and Scout's and Jem's viewpoint - not from the victims'. And "good" white people are rewarded with respect from the black community - the smug moment (for Atticus) when the galleries of black citizens rise in deference to him - even when their efforts are for naught (I know it's been mentioned before, but why didn't anybody notice that Atticus has to be the worst trial lawyer in the cinema world, when Ewell flat-out contradicts his own daughter's testimony...and Atticus says nothing about it???). Worst of all, the film's use of race to prove how well-intentioned it is comes at what should be the film's most powerful moment: the death of Tom. But tellingly, director Robert Mulligan doesn't dramatize this horrible act; he dramatizes Atticus's reaction to the death. Since we don't see Tom killed (and we didn't really get to know him as a three-dimensional character in the first part of the film), we identify the tragedy of the act more with Atticus than with Tom. We feel bad for Atticus, when we should be enraged at what happened to Tom. But the film blithely moves on, with Kim Stanley's dreamy narration pulling us back to the reveries of Scout and Jem, the script moving the film firmly back to dreamland with the coda of the redemption (and neutering) of their childhood monster, Boo Radley, who turns out to be an avenging angel, saving the children from the big, bad racist Ewell. Why worry about racism, when we don't really see the concrete effects of it, when its proponents can be so easily vanquished, and when we can instead feel good about ourselves when we recognize that Boo really isn't all that bad, after all. That's To Kill a Mockingbird's biggest problem: it encourages us to feel safe and superior to the problems it smugly hints at, but largely avoids.
---
CAPTAIN NEWMAN, M.D.
At the stateside Colfax Army Air Force Base in 1944, Captain Josiah J. Newman, M.D. (Gregory Peck) has his hands full. As head of the hospital's psyche ward, Newman is running out of space, time and help. He only has six weeks to either cure, ship back, or ship out his ever-increasing number of patients suffering the devastating psychological effects of "combat fatigue." He doesn't have enough beds, nor enough nurses or orderlies. So when he hears that a spare Army corpsman has arrived on the base, he first woos, and then outright orders Corporal Jackson Leibowitz (Tony Curtis) to report for duty on Ward 7. As well, he shows romantic interest in Lieutenant Francie Corum (Angie Dickinson) more for the opportunity to have her join his team (theorizing that the men's morale will be boosted when the get a load of her dynamite pins), rather than for personal fulfillment. Three particularly challenging cases occupy most of his time. Colonel Norval Algate Bliss (Eddie Albert), a highly decorated combat leader, has gone mad, calling himself "Mr. Future" threatening bodily harm to anyone who touches him. Captain Paul Cabot Winston (Robert Duvall), a soldier coming from an old monied family of respectability, is nearly catatonic after having spent 18 months down in a French cellar, hiding from the Germans, and Corporal Jim Tompkins (Bobby Darin) hides a devastating secret that only Captain Newman's "flak juice" treatment, can reveal.

SPOILERS ALERT!

The Snake Pit meets Operation Petticoat! Utterly superficial. Hoping to broaden his range with a comedy (he hadn't had an outright one since the unsuccessful romantic comedy, Designing Women in 1957), while soaking up some of that gravy that close friend Cary Grant (and fellow Universal associate) got from his recent service comedy, Operation Petticoat, Peck lifted Grant's co-star, Curtis, and pressed him into service with this lachrymose/mugging effort. Playing uncannily like the TV version of M*A*S*H, Captain Newman, M.D. can't make up its mind what it wants to be, bouncing from broad, ineffectual comedy scenes, to faux-heavy, ineffectual dramatic scenes, without a central rhyme or reason. The film opens with an inexplicable comedy scene involving sheep (who come back again in the film, and again, with no explanation other than to be "cute"), and then moves into somber dramatics as we visit Dr. Newman's patients. Ticking off their ailments like special-guest stars on Fantasy Island's Mental Ward, these vignettes eschew subtlety in almost every case to grandstand for "effect," and while we're trying to figure out where all the puzzle pieces fit, Curtis comes on and mugs for the camera.
What, exactly, is Curtis doing in this film? By this point in his career, he had done far too many disposable, fluffy comedies like (half of) Captain Newman, M.D., while co-starring far too many times (Spartacus, Taras Bulba) when he should have been exclusively a solo star. It's clear by the rather glum look on his face that he's not happy with the few slight scenes he's given; with an excellent farceur like Curtis, he needs someone or something to bounce off of, to get that manic energy going. But here, he hustled on and off most unceremoniously, giving absolutely no continuity to his character, and reducing his role, quite sadly, to that of a smart-assed clown. But at least he has some energy. No one ever claimed that Peck was a natural comedic talent, Peck included. But his efforts here really are embarrassing. Put in a two-shot with Curtis, it's conceivable that Curtis' frequent look of amazement is generated by Peck's utter flailing about to squeeze out the merest titter or polite, embarrassed chuckle from the audience. Evidently, Curtis latter claimed that Peck, happy with the financial success of Captain Newman, M.D., called Curtis to plan further comedic duo outings, an offer Curtis declined, citing privately the derision Peck's performance here garnered from the insiders and actors in Hollywood. It would take his spy spoof turn in Arabesque before he loosened up enough to get genuine laughs.
As for the others, particularly the three main co-stars who struggle with various psychological ailments, they suffer again at the hands of the film's construction. Their thesping is fine (Albert is sensational, Darin showy, and Duvall surprisingly underutilized), but the way their scenes are presented - as dramatic "things" to be looked at and applauded for their skill, rather than as integrated elements of a complete film - we wind up standing way, way back emotionally, watching "performances" rather than experiencing three-dimensional characters. And just when the film might actually be trying to make a point with the death of Darin's character, the script utterly undercuts it by having Peck say his death had meaning after all, before everyone joins Curtis masquerading as Santa Claus at the big Christmas celebration. End of movie (just check out Duvall's face when the camera swings over to him - he refuses to even look up). Captain Newman, M.D. fails to convince us of its sincerity, while making us grimace with its ameliorating comedy scenes.
---
MIRAGE
In the darkened corridors of a New York City skyscraper, David Stillwell (Gregory Peck) emerges from the shadows. Meeting his boss, Sylvester Josephson (Kevin McCarthy), he makes his way down the stairwell, hoping to get outside on the street until power is restored to the building. On his way down, he meets Shela (Diane Baker), who, although she can't see him in the shadows, believes she knows him. Out on the street, she realizes it is indeed David, her former lover, but David's insistence on not knowing her causes her to run down several flights of sub-basement floors. Unable to find her, he emerges on the street, has a drink, and returns to his building, where the lights have come back on. But in the interval, the sub-basements are gone, everyone seems to be welcoming him back after an extended vacation, and suddenly, he can't remember anything from before two years ago.
A series of flashbacks begin to plague David, along with the feeling that something is missing from his life: specifically; why didn't he wonder why he had no friends, no lovers, no life, for two full years? And more importantly, what happened two years ago before he "regained" his memory? After David hires first-time gumshoe Ted Caselle (Walter Matthau), bodies start to pile up, and Shela soon reveals herself to be something more than just an innocent bystander. Will David discover the secret of his apparent amnesia, before he's killed by his unknown assailants?
SPOILERS ALERT!
Mesmerizing for the first half hour, Mirage steadily loses steam as its intriguing story becomes more and more interested in becoming more and more literal and concrete in its explanations. A perfect example of classic Hollywood flirting with nouvelle vague elements in its storytelling techniques, only to ultimately fail once the demand for a coherent plot is made evident, Mirage opens like the best film Hitchcock never made. The hypnotic opening skyscraper sequence, shot mostly in deep, dark shadows, with Peck heard off camera more than he's seen, is a perfectly realized sequence, and a testament to director Edward Dmytryk's camera design, editor Ted Kent's precision editing, and Joseph MacDonald's eery, scintillating cinematography. However, once it becomes clear that Mirage fully intends to actually tell a story, and worse, fully explain away David's amnesia, it becomes a rather standard, and even sometimes silly, big-screen thriller.
Scripted by Charade's Peter Stone, Mirage does have quite a few amusing lines one would expect from Stone (assassin Jack Weston says fixed TV wrestling is where it's at now, since "all the westerns have gone psycho"), while some of his set pieces are remarkably effective in their off-camera action (the fight between Weston and Peck, entirely off-camera, is mimicked on television by a big wrestling match, with Peck's knockout blow effectively conveyed by one of Quincy Jones' sinewy, scary music cues). But eventually, Mirage starts to wear thin with one chase after another of Peck making his way through the fantastic NYC streetscapes (the film does look marvelous in creamy black & white), while he and we get closer to the rather pedestrian, underdeveloped truth of his amnesia. Peck is quite good here in a role suited to his strengths. While it might not seem like a compliment, his inherent stiffness works perfectly for Stillwell's "otherness," his isolation from even the most fundamental truths about his himself. He's an ideal palate for the audience to project their own vicarious paranoia in how they'd deal with such a situation, and in many scenes (particularly the very moment when Dmytryk allows Peck to show his amnesia first take hold), Peck is right on the money. Unfortunately for Peck, most people who even remember Mirage, tend to remember his co-star, Walter Matthau (another good-luck holdover from Charade) who effortlessly steals away every single scene he's in. Playing against the uber-handsome Peck, Matthau's intriguing homeliness and almost jocular, goofy hipness, are a marked indication of where Hollywood cinema was going to go in the next few years - places where Peck would be left behind.
---
ARABESQUE
"Whose side are you on?"
"What difference does it make?"
Oxford don Professor David Pollock (Gregory Peck) is a wanted man. Asked by flunky Major Sylvester Pennington Sloane (John Merivale) to aid mysterious, wealthy Arab Beshraavi (Alan Badel) in deciphering an ancient Hittite cipher, Pollock initially refuses - until he's entreated by President Hassan Jena (Carl Duering), a man that Pollock greatly respects, to go ahead and make contact with Beshraavi. Evidently, Jena, who's arrived in England secretly prior to signing a vital oil treaty between his Arab country and England and America, wants any information on Beshraavi he can get. Beshraavi, a shipping magnate, will lose his fortune if the treaty is signed, because one of the stipulations of the agreement is that American and English tankers be used to ferry the oil. With the cruel, bizarre Beshraavi anxious to decipher the Hittite code, and with his lover, Yasmin Azir (Sophia Loren) anxious to get David in and out of danger whichever way the wind wanders, David finds his safe academic world turned upside down, and his life in constant peril.
SPOILERS ALERT!
Like a funhouse without one square angle in it, Arabesque (which means an impossibly intricate, ornate pattern) manages the always tough job of being a successful spoof that also functions as a competent spy thriller. As funny as it is mystifying, either one of those two elements on their own wouldn't give too many similar films from that era and genre a run for their money, but combined, they're quite pleasing here, with the additional surprise of how much fun Gregory Peck is - shockingly so. It was never a secret in Hollywood that Peck wanted to be a loosey goosey farceur, but something in his DNA made that difficult if not impossible to come across as...uninhibited in film comedies. But he came about as close as he could here in director Stanley Donen's Arabesque. Coming right out of the gate with an amusing bit in the shower with a gloriously naked Loren (again, another nod to Donen's previous, superior Charade), Peck is positively impish, trading quick, sexual quips with Loren while playing "hide the soap" (literally) with Loren. Later, in his big comedy scene, he's drugged in a van (as the convoluted story kicks into gear, and Kieron Moore's revolutionary Kasim joins in the hunt for the cipher), and starts giggling when he's slapped in the face. Giggling! The first time I saw Arabesque, I was positively flabbergasted at the sight of Gregory Peck giggling, and looking like he really meant it. He's obviously having a grand time in this sequence (a sequence that Donen, unfortunately, lets go on far too long when Peck plays bullfighter out on a busy street) and in others, and canoodling with the lush Loren obviously agrees with him, too.
For her part, what else is there to say about Loren that hasn't already been said, written, dreamed about, or wished? Always delightful in comedies, Loren's snappish line readings, and her utterly disquieting, erotic looks, are a one-two hammer blow here in Arabesque, proving to be one her best vehicles from the 1960s. She's all over the place here, acting as if she has top-billing, and her sense of entitlement and command is very fetching. She looks comfortable with Peck, and amused with her this-side-of-perverse scenes with foot-fetish-loving Badel (who's suspiciously made-up to look like Peter Sellers), giving the film a charge whenever she's hustling the sometimes lingering Peck along. As for Donen, I know most critics revere his earlier period of classic Hollywood musicals, but for me, the stylish, witty entertainments he made in England and Europe in the 1960s - Charade, Arabesque, Two for the Road, Bedazzled, and Staircase - mark his greatest period of creativity, and Arabesque is a perfect example. Never letting one frame of the film be conventionally set-up, the funhouse-mirror look of Arabesque is breathtaking in its inventiveness, providing not only a visual equivalent of the story's impenetrable plot, but also a visual bridge over the script's hollow points. It's true that the end comes up a bit dry, with the pyrotechnics on the bridge with Peck, Loren, and the helicopter, but up until that point, Donen stages one stylish encounter after another that consistently puts the audience on edge, while laughing at the same time (the Zoological Gardens murder is astonishing, with reflections of Peck and Loren superimposed over the vast water tanks as strange fish seem to float around them). It may not add up to much in the end, and repeat viewings probably won't help, but for what it is, Arabesque is expertly, dazzingly-crafted entertainment. And that's more than enough.
The DVDs:
The Video:
For the most part, the transfers for The Gregory Peck Film Collection are quite acceptable. Owners of the previous releases of To Kill a Mockingbird and Cape Fear will find the same excellent transfers utilized in this set (both sport beautifully gray-scaled transfers with deep blacks that hold, and very few anomalies), while the newcomers, with some exceptions, look good. The full-frame transfer for The World in His Arms looks quite bright and saturated, with only minor occurrences of screen anomalies (small scratches and/or dirt), barely noticeable, although registration, one or two times, did look off. Captain Newman, M.D. at times looked almost jaundiced in some scenes, while grain was heightened in some exterior scenes. Edge enhancement is a factor, but overall, the colors are strong, and the image is sharpish. Mirage has some major problems, unfortunately, during the critical opening scenes, where some enhanced grain really distracts from the image. I've seen Mirage countless times on television, and the level of grain here is way outside anything I experienced before with the film. Overall, the image clears up considerably, but edge enhancement may have been over-applied in scenes that heightened that effect. Arabesque looks terrific here, with deep, solid colors, and no compression issues that I noticed. Donen, by this point, was known for his good-looking films, and Arabesque doesn't disappoint in this snazzy 2.35:1 anamorphic print. All the widescreen efforts are presented in anamorphically enhanced, 1.85:1 transfers, while Arabesque comes in an anamorphic 2.35:1 - and looks damned good.
The Audio:
Except for To Kill a Mockingbird, all the films are presented in uninspiring English 2.0 split mono audio tracks, which are serviceable, but hardly exciting (a particular crime with Mirage's and Arabesque's dynamic musical scores. A French 2.0 mono language track is available on The World in His Arms, To Kill a Mockingbird, and Arabesque. A Spanish mono is available on To Kill a Mockingbird, Captain Newman, M.D., Mirage, and Arabesque. To Kill a Mockingbird features an English Dolby Digital 5.1 and a DTS 5.1 tracks. Subtitles in English, French and Spanish are available for all features.
The Extras:
Here is where some fans might balk at The Gregory Peck Film Collection. Only previous releases To Kill a Mockingbird and Cape Fear feature extras, and their hold-overs from those previous editions. There are no new extras. And the four new releases have nothing - not even original trailers (except, oddly, for The World in His Arms). Cape Fear has the 27-minute The Making of Cape Fear, which features interviews with Gregory Peck and J. Lee Thompson, which is fascinating viewing for fans of the film, along with some production photographs and an original trailer. To Kill a Mockingbird, on a two-disc set, includes on disc one, a full commentary track featuring director Mulligan and producer Alan J. Pakula; Gregory Peck's Academy Award-winning speech; Peck's acceptance speech when he won the Lifetime Achievement Award from the American Film Institute; an excerpt of the tribute produced after Peck's death for the Academy Awards; Scout Remembers, a short featurette with Mary Badham remembering the production of the film; and production text notes. On disc two, there's A Conversation with Gregory Peck, a nicely produced documentary by his daughter, Cecila, and Fearful Symmetry, a short documentary on the making of the film. Great bonuses for To Kill a Mockingbird, less so for Cape Fear, and zip for the others. Too bad.
Final Thoughts:
Fans of Gregory Peck, even those who already own recent releases of To Kill a Mockingbird and Cape Fear, might want to consider picking up The Gregory Peck Film Collection. Four new Universal titles make it to DVD for the first time, and for the most part - and more importantly, for the right price - they're not a bad collection of later Peck efforts. They're not perfect, by any means, but they are entertaining. I highly recommend The Gregory Peck Film Collection.
---
Paul Mavis is an internationally published film and television historian, a member of the Online Film Critics Society, and the author of The Espionage Filmography.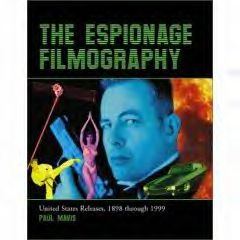 ---
C O N T E N T

---
V I D E O

---
A U D I O

---
E X T R A S

---
R E P L A Y

---
A D V I C E
Highly Recommended
---
E - M A I L
this review to a friend
Sponsored Links
Sponsored Links