Power Rangers: Jungle Fury - Way of the Master (Vol. 2)
List Price: $19.99 [Buy now and save at Amazon]
---
"Let's Ranger up!"
"Ready!"
"Jungle Beast Spirit unleashed!"
Hoping to give a double-dose of morphin' Ranger fun to the fans this Tuesday, Buena Vista Home Entertainment releases, in conjunction with Volume 1 of Power Rangers: Jungle Fury, Power Rangers: Jungle Fury - Way of the Master, Volume 2 which gathers together the next six episodes (7 through 12) of the latest Power Rangers installment (which I believe just finished airing its last episode sometime in November on Toon Disney, and ABC Kids). Although by no means at all an authority on the Power Rangers (so cut me some slack with the minutiae-parsing emails, Ranger experts), having grown up on U.S. syndicated episodes of tokusatsu classics like Johnny Sokko and His Flying Robot and Ultraman (and of course, all the endless viewings of the kaiju Godzillas and the like), these kind of shows are ingrained in my early TV DNA, so it's not exactly difficult to work up some enthusiasm for this latest round of high-flying, high-kicking, morphing Power Ranger action.
Adapted from the Japanese Super Sentai series, Juken Sentai Gekiranger (which aired in 2006, and from which most of the action scenes are taken for Jungle Fury), Power Rangers: Jungle Fury tells the story of three teenaged students who are entrusted with saving the world from the ancient evil of Dai Shi. Living and training at the secret temple of the Pai Zhua, the Order of the Claw, experienced students Theo Martin (Aljin Abella) and Lily Chilman (Anna Hutchison) have been chosen by Master Mao (Nathaniel Lees), along with arrogant, powerful Jarrod (Bede Skinner), to enter The Forbidden Room to learn the ultimate purpose of their intensive training (training that has revealed that the students possess incredible animal spirit powers). However, before this happens, Jarrod, by way of his ill-treatment of a younger cadet, proves he's ill-suited for Master Mao's plans, and he's replaced by inexperienced cadet Casey Rhodes (Jason Smith), who unwittingly releases a powerful tiger spirit when defending the young student abused by Jarrod.
Master Mao summons the three students to The Forbidden Room, and explains their destiny. Ten thousand years ago, an evil spirit named Dai Shi believed that humans should be erased off the world, with animals ruling in their stead. Fortunately, forces, including the Pai Zhua, were able to defeat Dai Shi, imprisoning the evil spirit in a casket - the casket that Master Mao now holds in front of Theo, Lily and Casey. Master Mao explains that the Order of the Claw's mission has thus been to learn, practice, and master kung fu in order to protect the world, should Dai Shi ever escape - and that Theo, Lily and Casey are now the sole guardians of that casket. Naturally, Dai Shi has to escape somehow, and his release is facilitated by the arrival of an enraged Jarrod, who demands to know why he was released from the Pai Zhua. Battling Master Mao, the casket falls and Dai Shi is released, killing Mao's physical form before the ancient spirit leaves to unleash a new "Beast War" against humanity.
Before he dies, Mao tells the students that they will have a new master, and to go to a certain address in Ocean Bluff (the site where Dai Shi was originally defeated and where Mao now believes he will go), where they will meet their new master. Finding themselves at the Jungle Karma Pizza restaurant, the kids are taken aback when they finally meet their new teacher: surfer dude R.J. James (David de Lautour), the most unlikeliest Pai Zhua master one could imagine. Laid back to the point of horizontal, R.J.'s slightly askew viewpoint is a constant challenge to his students - particularly when he insists that they work at his pizza place part time. But once he hooks the Order of the Claw recruits into the Morphin grid, downloading all of the past Power Ranger information and training into their DNA, the newly christened Power Rangers are "go!"
SPOILERS ALERT!
Events are starting to move into high gear with the next six episodes of Power Rangers: Jungle Fury, with R.J. taking a back seat to the villains and the chop-socky here. While I quite enjoyed R.J.'s antics during the first few episodes of the series, they're getting pushed aside now for more action, and more emphasis on the villains. Jarrod/Dai Shi in particular is getting fleshed out, with Good Karma, Bad Karma coming off like a kung-fu version of Dickens' A Christmas Carol. It's a good episode, giving Power Rangers: Jungle Fury a bit of depth in the villainy department - always a good move. Camille, too, gets more screen time, with her subplot concerning taking on her opponents' energy instead of deflecting it (a move that could prove fatal) as a way of becoming more powerful, which in turn, she hopes, will catch Jarrod/Dai Shi's eye. It's clear the writers have a soft spot for Camille, letting her meet Lily incognito at the Jungle Karma, and giving us a glimpse into her sad life (she loves Jarrod/Dai Shi...that's pretty sad). Luckily, though, the writers don't get too crazy and actually try and sell us on "serious drama;" she's soon back to her wicked ways when she conjures up Jellica the Sea Overlord. It's too soon to tell what the writers are going to do with the Sky Overlord, Carnisoar, although I do like how he's recalcitrantly evil - despite Camille's entreaties, he's constantly pushing for Dai Shi to wipe her out.

I also enjoyed the new masters that are introduced to the Power Rangers in these next six episodes. Master Phant, who lives like a hermit in a woodsy cottage, has an agreeably low-key manner that clashes nicely with his thundering Elephant Spirit force (his huge Jungle Mace is pretty sweet, too, when combined with the Jungle Megazord). Blind bat Master Swoop is another cool addition to the group (Power Rangers: Jungle Fury seems to have a lot of laid back, hip characters), with a funky, smart-alecky disposition to match his long black coat and wraparound shades. I'm not sure the casting or the design of Master Finn is as successful; something about the character's pirate-esque feel doesn't fit as the father of faux-slacker R.J.. I can't say I was too impressed with the CGIing for Elephant and Shark Spirits, either (the Shark in particular, was surprisingly weak). Now that it looks like the villains have been bumped up a notch with the overlords Jellica and Carnisoar, and now that the Power Rangers have worked out the kinks in their training, we'll have to see how far the writers will go in taking this good background and building an exciting, action-filled series.
Here are the next six episodes (7 through 12) of Power Rangers: Jungle Fury - Way of the Master, Volume 2:
Pizza Slice of Life
Camille discovers a traitor amidst Dai Shi's ranks: Naja. While she tries to enhance her powers by absorbing others' energies, Casey finds out what it means to take charge...of the pizzeria.
Way of the Master
Lily proves to be quite stubborn when she wants something: she wants Master Phant to teach her how to use the Jungle Mace in order to defeat Pangolin's steel-like armor.
Good Karma, Bad Karma
Jarrod returns to his past with Carnisoar, who hopes to erase all of Jarrod's humanity (in order for him to achieve total evilness), while Casey tries to get through to a young thief.
Blind Leading the Blind
Master Swoop has a hard time keeping Theo in the air as he teaches him levitation.
Pushed to the Edge
In love with Jarrod/Dai Shi, Camille brings forth Jellica from the sea to be his new master...with disastrous results.
One Master Too Many
Casey is tired of R.J.'s training methods and wants to experiment with something new: Master Finn, who just happens to be the estranged father of R.J..
The DVD:
The Video:
Interlacing was the biggest problem I noticed with Power Rangers: Jungle Fury - Way of the Master, Volume 2 (just like the first volume). Aside from that, the full-screen, 1.33:1 (too bad these aren't released in their original aspect ratios) video transfers for the episodes are bright, clean, and boldly colored. Kids won't care about the interlacing.
The Audio:
The Dolby Digital English 2.0 stereo audio mix is fine for these adventures, but can you imagine them in 5.1 Surround? Come on, Disney - step up to the plate! There are English subtitles and close-captions available, as well.
The Extras:
For this Power Rangers installment, Disney evidently decided no extras were needed.
Final Thoughts:
The comedy takes a backseat to the villains and the action as the writers beef up the conflicts in Power Rangers: Jungle Fury - Way of the Master, Volume 2. Carnisoar and Jellica are the Overlords advising Jarrod/Dai Shi and Camille, and they mean business. The Power Rangers branch out in their training with new advisory masters, and their mad skills are increasing daily. Can the writers of Power Rangers: Jungle Fury - Way of the Master, Volume 2 capitalize on this good set-up? We'll see. I highly recommend Power Rangers: Jungle Fury - Way of the Master, Volume 2.
---
Paul Mavis is an internationally published film and television historian, a member of the Online Film Critics Society, and the author of The Espionage Filmography.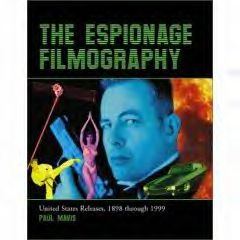 ---
C O N T E N T

---
V I D E O

---
A U D I O

---
E X T R A S

---
R E P L A Y

---
A D V I C E
Highly Recommended
---
E - M A I L
this review to a friend
Sponsored Links
Sponsored Links