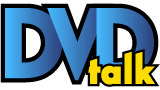 List Price: $39.95 [Buy now and save at Amazon]
---
The Movie:
Of all the films that have done a racial "vice versa" through the years, Lakeview Terrace is arguably the most interesting in recent memory. Abel Turner (Samuel L. Jackson, Pulp Fiction) is a career-long police officer in Los Angeles, and is widowed with two young children. He is one with rigid rules for the children, but raises them as best as he can, and even does a neighborhood watch of sorts. His rules are pushed and his dark side rears its ugly head when an interracial couple come into the neighborhood, and move next door to him.
Directed by Neil LaBute (Nurse Betty) from David Loughery (Passenger 57) and Howard Korder's screenplay, Jackson's character is clearly the antagonist. Abel is one person that you could love to hate as the abrasive neighbor, but he's much more than that. He's a mirror of sorts into the relationship that newlyweds Chris (Patrick Wilson, Watchmen) and Lisa (Kerry Washington, Miracle at St. Anna) have. It might be loving, but it's not without its own struggles of trying to deal with life as an interracial couple. It also shines a spotlight on the issues of trust and communication, which are problems in many marriages today regardless of who is white and who is black. When Lisa's father Harold (Ron Glass, Firefly) asks Chris whether or not they're going to have children, the tone seems to be less about his concern and care for the family, and that's not a good thing.
As the couple in the film, Chris has the bigger challenge in the film of absorbing the brunt of Abel's abuse and dealing with tempering familial expectations, and Wilson manages to pull this off very well. A scene early in the film when Chris comes home and Abel pays him a surprise visit helps frame the rest of their relationship. Chris doesn't know what Abel's problem is with him, but after it's spelled out in so many words, he decides to avoid subjecting himself to it further. It's unsuccessful of course, but it's admirable. Chris is more concerned with the health and welfare of Lisa, and pushes back at any inquiries about children or family because their no one's business. As Lisa, Washington is the closest thing to a heart that the film has, but the film is carried by Jackson, who turns in his finest performance since Jackie Brown in what might be the most underrated work he will ever do.
Ultimately, with all that occurs in the film, there's an underlying pity that you can't help feel for Abel. Growing up in South Central, he was more than aware of the pitfalls and traps one could fall into, never making it out of the neighborhood. But as he says to his partner Javier (Jay Hernandez, World Trade Center), he took overtime, double shifts, second jobs, everything possible to make money to get his family out of the old neighborhood, and into a good one. The death of Abel's wife several years ago seemed to leave him lost and without a purpose. And because he was so singularly focused on the best for his family, his belief structure didn't seem to evolve as the times did. It was through no fault of his own; he simply wasn't exposed or didn't have the time to be given some exposure to things like interracial relationships. But sometimes not all of us see things in black and white. You see them in blue, as Abel does.
For as effective and compelling as Lakeview Terrace is, it's not without its bad points. While you can understand why some of his antics are predictable and even comical at times, some of the stuff Abel does makes you shake your head. Other times the Jackson level of smack gave him a bit of a strut that would make him fall into old routines. In the sequence I mentioned earlier when Abel meets Chris for the first time, I almost thought he'd start saying, "Do you ever read the bible?" Along with that, the ending was sad in that it was telegraphed early on. It was so Season Three of Weeds. There are a couple of minor wrinkles in there but it doesn't change what happens.
That said, those distractions are minor, as behind what turns out to be an outstanding performance from Jackson, Lakeview Terrace is a thought-provoking story that is told in such a compelling way, it's effective and worth the attention. I urge everyone to see it because of the multiple aspects of each character it tends to, their weaknesses and motivations, and how enthralled you'll find yourself when you see it.
The Blu-ray Disc:
Video:
Using the AVC MPEG-4 codec, Lakeview Terrace is presented in 2.40:1 widescreen in all its 1080p goodness. The film replicates the evenings excellently in varying degrees from dusk to full out darkness, and in the daytime, whites are balanced enough to show you that it's hot out, but without blowing the whites out and ruining the picture. Background depth is excellent and image detail in the foreground is abundant (I could spot what time it was on Jackson's watch during the bar scene). There's some occasional image softness in the last fifteen minutes or so of the film, but overall it looks excellent on Blu-ray.
Sound:
I was impressed by the Dolby TrueHD 5.1 surround sound in the sense of how immersive it was. In the early scene about ten minutes in when Chris meets Abel, and Chris is sitting in his Prius, aside from the "man beats" sounding as clear as they would if you were sitting next to him, you hear a directional effect of a train in the rear speakers, which I was surprised by. Who would make that kind of detail in there? Most of the outdoor shots sounded great; one shot when Chris and Lisa are out by their pool in the back, the insects are replicated in a subtle bath of noise from all speakers that made me subconsciously want to move out West so I could hear those noises again (damn you winter!). Dialogue stays planted in the center channel, but it wavers in the second act a little, but otherwise this is one impressive sounding film.
Extras:
One pretty good extra, followed by some crap ones. LaBute and Washington join up for a commentary that's more driven by LaBute than anything else. He discusses casting choices, character backstories in previous drafts, shot breakdowns, you name it. Character motivations are given some more legs when Washington chimes in, and the pair discuss their thoughts on the actors. LaBute talks about how the film got a PG-13 which, when you watch it, is stunning. Washington recalls a lot of anecdotal stuff but she also seems to agree with a lot of what LaBute talks about. It's pretty active and covers things in and out of the production, and proves to be a fascinating track. From there, eight deleted scenes (13:49) follow, two of which are a PG-13 and R rated version of a scene between Lisa and Abel. Most of the scenes are unnecessary, though one appeared to have an uncredited cameo by LaBute collaborator Aaron Eckhart. "Welcome to Lakeview Terrace" is a section of three smaller features that you can play all at one if you'd like. "An Open House" (5:46) covers the cast and crew thoughts on the story and what the particular allure was to each of them, and what the cast thought of LaBute. "Meet Your Neighbors" (6:32) has the actors discussing their roles and what they thought of one another, while LaBute shares some more thoughts on the cast. "Home Sweet Home" (6:39) focuses on the production, stunts and production design, along with what the cast thinks about how LaBute runs a set. I'm still wondering why this was all broken into three parts, but this information is all topical. A trailer for "The Passengers" and the usual Sony Blu-ray material is the only other extra on this BD-Live enabled puppy.
Final Thoughts:
At first glance, Lakeview Terrace might be dismissed as another White Man's Burden, but it's an unfair categorization. It's full of engrossing storytelling and excellent performances, and whether you like it or not is bound to start discussion on racism in America, which is productive in any form. The technical qualities are better than I was expecting, but the scarcity of decent supplemental material is disappointing. I highly encourage everyone to at least view this to not only marvel at Jackson's performance, but also to stir the debate a little afterwards.
---
C O N T E N T

---
V I D E O

---
A U D I O

---
E X T R A S

---
R E P L A Y

---
A D V I C E
Recommended
---
E - M A I L
this review to a friend
Sponsored Links
Sponsored Links