Spongebob Squarepants - Spongicus
List Price: $16.99 [Buy now and save at Amazon]
---
Nickelodeon and Paramount will release SpongeBob SquarePants - Spongicus, their latest mini-collection of SpongeBob shorts. The first eight cartoons from Season Six are gathered here - Spongicus, Suction Cup Symphony, House Fancy, Krabby Road, Penny Foolish, Nautical Novice, Not Normal, and Gone - and they're a decidedly mixed bag of toons, which now, unfortunately, mirrors the overall hit-and-miss quality of this iconic animated show after almost ten years of production.
In my previous reviews of SpongeBob SquarePants DVDs, I've been aware of a noticeable drop-off in the series' quality since at least Season Five (after this many reviews, I won't go into extensive detail on the background of the show, or its place in current pop culture; please click on SpongeBob SquarePants: Season 4, Vol. 1, SpongeBob SquarePants: Season 4, Vol 2, SpongeBob SquarePants: Friend or Foe, SpongeBob SquarePants: Season 5, Vol. 1, SpongeBob SquarePants: Pest of the West, SpongeBob SquarePants: WhoBob WhatPants?, and SpongeBob SquarePants: Season 5, Vol. 2 for a more detailed overview of the series). SpongeBob SquarePants - Spongicus is pretty much split down the middle in terms of what works and what doesn't, which makes the decision of whether or not to buy the DVD problematic. Only about four of the toons here come close to the expectations we put on the classic SpongeBob shorts - and one can assume that they're showing up regularly on TV. So...why buy the disc, when half of it doesn't measure up, and when all of the toons from Season Six will eventually show up in two split season sets, anyway?

Again, as with the last individual SpongeBob DVD release, SpongeBob SquarePants - WhoBob WhatPants?, the main toon anchoring the collection - in this case, Spongicus - isn't worthy of being the headliner. Granted, it's the funniest title out of the bunch (although kids won't get the take-off on the Spartacus name), but as a SpongeBob short hefty enough to headline its own DVD, it's woefully inadequate. In Spongicus, Plankton erects a replica of the Coliseum in order to draw jaded, loyal customers away from Mr. Krabs' Krusty Krab restaurant with the promise of blood and guts - a funny notion that is pretty well dropped because this is, after all, a kids' cartoon, and because the writers don't have much to say about the central premise. Evidently, we're just to assume it's funny that the customers want to see some killing, without the script or the action actually commenting ironically on this theme. What's particularly disappointing about Spongicus is the fact that the writers do almost nothing in terms of parodying the epic film genre, either. With all the well-known clichés associated with the gladiator and sand-and-sandals genre, there should be enough material for twenty SpongeBob shorts (Pest of the West was much better at getting to the heart of parodying spaghetti westerns). But after the build-up of the Coliseum event, with Plankton presiding over the expected spectacle like Nero...nothing happens. The characters look funny in their traditional Roman garb; there's the promise of the "sea-lion" ripping Patrick apart (the notion of dimbulb Patrick being the unwitting gladiator is good), but eventually, it all just falls flat, with a paucity of action that's especially disappointing when compared to earlier SpongeBobs. The ending sums it up all too well. The gang returns to the Krusty Krab; they laugh uproariously (for no reason); they realize there's nothing really to laugh about; they stare off somberly for a moment, and then they file out dejected. It's supposed to be cutely ironic, but it's actually quite correct: Spongicus ain't funny.

Krabby Road is even worse in setting up the audience for something special, only to pull the rug out from under them by nonsensically denying them what they want. In the short, Plankton (fresh out of prison for trying to steal the "Krabby Patty" formula), tries again to secure the prized secret formula by tricking SpongeBob, Patrick and Squidward into joining his rock band, "Plankton and the Patty Stealers." Okay, fair enough - an amusing premise, and SpongeBob does look hilarious in his glam rock platform shoes and his Jimi Hendricks fro. But anyone reading that synopsis above - anyone who's a SpongeBob fan, I should write - is going to expect one thing, and one thing only from Krabby Road: and that's a song. If you're going to set up the guys in a rock band, you had better deliver a song, or at the very least, show them playing something. But no; Krabby Road perversely brings the viewer to the very end of the short, just waiting for the band to finally rock out, before the short goes to fade out. Even my little kids, who aren't exactly discerning critics, didn't understand the cheat (my four-year-old said, quite seriously, "How come no song?"). Why anyone involved with this toon would think it's okay to structure the short with the main expectation of having the group sing, and then not delivering, is anybody's guess, but that decision results in a criminally unsatisfying SpongeBob.
Both Nautical Nonsense and House Fancy are take-it-or-leave-it SpongeBobs, with isolated moments of fun among the dross. Nautical Nonsense doesn't have a lot going for it other than the final action scene where SpongeBob navigates an old wrecked ship that's been used as a boating museum. The idea of SpongeBob cramming for his boating license exam by reading an encyclopedia-sized book on the subject is funnier-sounding that it actually plays, although SpongeBob is always amusing when he sounds like a little know-it-all wiseass. House Fancy seems interminable during much of its running time, as the House Fancy TV show parody of all those cable "home reality" shows grinds on in pointless tedium with nary a laugh to be had. Luckily, a few hilarious moments help end it on a good note. The very creepy shot of SpongeBob spying on Squidward through his window (we learn SpongeBob has been doing it for days) is quite unsettling (and sickly funny), while the close-up of SpongeBob ripping off Squidward's toenail in bloody detail is reminiscent of the best early SpongeBobs (and Ren and Stimpy, for that matter). But while Patrick fouling Squidward's toilet is amusing, the toon goes to far into silly ridiculousness when the toilet comes alive and begs to be killed after enduring Patrick's "offense."
On better notes, Penny Foolish and Suction Cup Symphony have some good, sustained bits. SpongeBob's spider-like brain runs away from him in Penny Foolish, before he pops it back into his spongehead, and there's one of those great line-readings from an outraged "supporting" fish that the great SpongeBob toons always have (he yells, "Yeah, I don't even know what this IS!"), while Mr. Krabs has one of his series' best lines, describing his daily fiber: "It goes in like steel wool, but it comes out like an angel from heaven." Suction Cup Symphony has some very funny gross-out moments, including SpongeBob making "courtesy" noises to cover Squidward's supposed flatulence; Patrick being "probed" by SpongeBob ("Whoa!", says Patrick off-screen), and certainly one of the better visual gags: Patrick "breaking" his bottom, with two large femurs grostesquely sticking out of it.
Gone takes a good premise - SpongeBob alone in Bikini Bottom - and has some fun with the visuals as SpongeBob takes on the appearances of all his friends, as he "recreates" their lives out of loneliness. His smashing his boat through every wall of anyplace he goes is amusing, as is his eventual paranoia that his boat is out to get him (this is the kind of skewed thinking that made the original SpongeBobs so much fun). And finally, Not Normal is a very funny satire of all those 1950s industrial/school training films, where SpongeBob longs to be "normal." I absolutely love his middle-of-the-road, non-committal voice (it sounds suspiciously like Barney the Dinosaur), and his maddeningly standard greeting, "Hi, how are you?" The animators have rounded off SpongeBob to look like some kind of shiny ice cream bar, evening out his features beautifully in service of the toon's central theme. It's a one of the better SpongeBobs I've seen in quite some time; perhaps it's a harbinger of better toons to come in this sixth season.
Here are the 8 episodes of SpongeBob SquarePants - Spongicus, as described on the back of the DVD hardcase:
Spongicus
Plankton turns the Chum Bucket into a realistic replica of the Coliseum, complete with a man-eating lionfish!
Suction Cup Symphony
Squidward's inspiration for his musical entry in the Bikini Bottom Symphony Orchestra competition...SpongeBob and Patrick!
House Fancy
Jealous that Squilliam's on House Fancy, Squidward lures the show producers to his fancier house. Desperate to make his home presentable, Squidward lets SpongeBob help.
Krabby Road
Plankton forms a band that includes SpongeBob, hoping SpongeBob will write a song revealing the Krabby Patty ingredients.
Penny Foolish
Mr. Krabs thinks he sees SpongeBob pick up a penny from the ground. A penny that should be HIS!
Nautical Novice
Before a class trip to the Nautical Museum, SpongeBob memorizes the entire history of boating. Isn't that reason enough for Mrs. Puff to give him his license?
Not Normal
SpongeBob becomes "normal." And boy, is it boring!
Gone
It's the strangest thing: SpongeBob awakens to find everyone in Bikini Bottom is gone!
The DVD:

The Video:
As usual with these SpongeBob SquarePants DVD, the full screen, 1.33:1 video transfer for SpongeBob SquarePants - Spongicus looks terrific, with incredibly bright colors and a super-sharp picture. There were no big compression issues to speak of (although interlacing is noticeable from time to time). Edge enhancement is acceptable.
The Audio:
The Dolby Digital English 2.0 stereo audio track is perfectly acceptable here, with appropriately loud levels and some discreet directionality. All dialogue is cleanly and crisply rendered. Close-captions are available.
The Extras:
Gone is the usual animatic that one finds on these SpongeBob SquarePants DVDs for this SpongeBob SquarePants - Spongicus. Instead, there are a couple of galleries for Spongicus storyboards, as well as some character art. Lame.
Final Thoughts:
I can't recommend SpongeBob SquarePants - Spongicus because it's just not consistently funny enough to warrant a buy. Only half of the eight toons here really work (with only two of those up to the normally high SpongeBob standards), with the title toon, Spongicus, a particularly limp, uneventful disappointment. Wait for these to pop up on TV (the show is on constantly), or until Season Six, Vol 1 comes out. Skip SpongeBob SquarePants - Spongicus.
---
Paul Mavis is an internationally published film and television historian, a member of the Online Film Critics Society, and the author of The Espionage Filmography.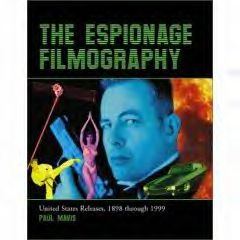 Sponsored Links
Sponsored Links