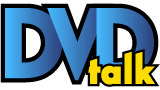 Ninja Collection Volume 1: 10 Feature Film Set
List Price: $19.98 [Buy now and save at Amazon]
---
The Film:

I'm probably going to get in some sort of trouble for this review, but honestly, I don't care. Ninja Collection is a three disc set of ten ninja movies. I watched four of the films all the way through, two of the films part way through, and with the other four I tried to watch them, but they were so terrible I never made it more than 15 minutes into any of them. So, what you're about to read is an abbreviated review of a ten-film collection that I did not watch in its entirety. If anyone has a problem with that, then I would challenge them to sit through all ten movies in this poorly produced package meant to lure unsuspecting rubes with an appreciation for schlock. Of course, the problem is there is a fine line that separates schlock and shit.


The packaging promises that "the history of the deadly Ninja warriors is presented for the first time in this 10 volume series." I suppose that is partially true, as the collection does include several ninja films from the 1960s, when the genre was in it's hey day in Japan. Keep in mind that these aren't your Americanized flicks like Enter the Ninja or A Force of One or Teenage Mutant Ninja Turtles. No, much of this collection is the ninja movies that played to Japanese audiences, but never found an audience here in the United States. And then some of the films are total crap. But between the good films (of which there is only one in this collection) and the bad films (of which there are anywhere from four to nine, depending on your taste), you certainly do not a true sense of "the history of the deadly Ninja warriors."


Ninjtsu (1957)--Here we have what amounts to the first strike against the Ninja Collection, a film that could easily be confused with director Hiroshi Inagaki's film of the same name that came out the same year, and starred Toshiro Mifune. But this is not that film (in fact, the real title is Ninjutsu Gozen-jiai. This is essentially the equivalent to children's film, but it is so confusing that it makes almost no sense, making it difficult to describe the plot. Most ninja movies are about subterfuge and espionage and magical powers, and when thrown into the mix with a convoluted story and bad subtitles such as this movie has, it all makes for a perplexing and unpleasant viewing experience.


Ninja Hunt (1964)--The only truly good film out of the bunch, this is actually a very solid movie...maybe even great. Jushiro Konoe stars as Wada, a ronin samurai whose clan has been wiped out by a sinister group of ninja. When the same ninjas threaten to destroy the Matsuyama clan, Wada and several other ronins are hired to weed out the ninja spies. Director Tetsuya Yamanouchi has several things going for, not the least of which is a story that is easy to follow. Yamanouchi's direction is assured, and the film is crafted more like a noir thriller than anything else, with Konoe leading a great ensemble cast. This is the only film in the collection worth owning.


Purple Hood Ninja (1958) and Purple Hood Ninja 2 (195?)--Okay, neither of these films is that bad (although I did not watch either all the way through), provided you're a serious fan of Japanese cinema. But if you're not, you may find it hard to keep a straight face, as Kataoka Chiezo plays a Robin Hood-like character called the Purple Hooded Man. Everywhere he goes, people say to him, "It is the Purple Hooded Man." To which he responds, "I am the Purple Hooded Man."


17 Ninjas (1962)--This was the film I was most looking forward to, as it is supposed to be a classic of 1960s Japanese ninja films. Man, was I disappointed. The story is a typically convoluted ninja tale of the struggle for power between two or more clans, and the ninjas employed to tips the scales one way or another. But it's presented as a jumbled mess with nominal action and too much hard-to-follow melodrama. I watched this one all the way through, hoping it would get better, until finally it was over, and I felt like I had been duped.


Hero of Swallow (1996)--Far from being a great film, this is the only other one in the collection really worth watching, and it isn't even a true ninja movie. This low budget Hong Kong production stars Yuen Biao as a marked criminal who robs from the rich and gives to the poor. If you've seen Iron Monkey, then you've seen a better of version a very similar film. Still, this is entertaining enough, but not enough to warrant actually buying this collection.


Ninja Power Force (1988), Ninja Kids Phantom Force (1987), Golden Ninja Invasion (1986) and Cyber Ninja (1988)--collectively, four of the worst films I've ever seen. I could not make it more than 15 minutes into any of these poorly produced hack jobs. I can't tell you what any of them were about, because they were disjointed messes that made little sense, and were so painful to watch that I have already pushed them from my memory.


Video:

The films in this collection are presented in various different widescreen aspect ratios as well as full frame. The picture quality ranges from bad to absolutely shitty. Some of the films look so bad you would thing you were watching them under water. The transfers are absolutely terrible, with discs freezing, skipping and the image "melting" during certain movies. Overall, the films in this collection look worse than many pirated videos. In fact, some of the movies appear to be taken directly from Asian releases.


Audio:

If the video presentation in this collection is simply terrible, then the audio is simply bad. Some films are presented in Japanese (or Chinese, as the case with Hero of Swallow), with poorly written, difficult to read subtitles. The there are the films that are poorly dubbed in English.


Bonus Material:

None.


Final Thoughts:

Only one movie, Ninja Hunt, is truly good. Everything else ranges from good, to watchable to the worst-crap-you-will-ever-see. But consider the the poor way this collection is put together, and the fact that four of the films are bad beyond human comprehension, four more range between not that good to okay, and Hero of Swallow is bad in a good way, there is no reason whatsoever to invest in this package. Maybe you could rent to watch Ninja Hunt, but the picture quality sucks, so even then it isn't really worth it. You're best bet is skipping this crap altogether, and trying to find a better quality copy of Ninja Hunt.
---
David Walker is the creator of BadAzz MoFo, a nationally published film critic, and the Writer/Director of Black Santa's Revenge with Ken Foree now on DVD [Buy it now]
Sponsored Links
Sponsored Links