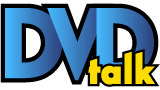 Duckman: Seasons Three and Four
List Price: $49.98 [Buy now and save at Amazon]
---




The first two seasons of Duckman finally came to DVD mere months ago, relinquishing any emotional problems that were caused to rabid fans that couldn't stop asking, "If The Critic can get a DVD release, then why not Duckman"? However, the first DVD set contained 22 episodes, a far cry from the 71 that made up the series in its entirety. Early speculation worried over the final seasons being split up in to two different sets, but you can put that worry to rest! The final 48 episodes are all available in a single, 7 disc set! However, with the first DVD set lacking in the extras department, the question remains as to how this set will try and make up for it. We'll get to that a little later in the review though.



If you were at the age where 'bed time' was just a synonym for 'when the sun goes down', more than likely there were evenings where you would sneak staying up late, occasionally catching an episode of Duckman while you were at it. Every minute you watched television when you were supposed to be asleep was a minute of sheer ecstasy, was it not? Duckman only enhanced the experience though, because it was obviously meant for adults, and it was also a cartoon! How could you not have stayed up to watch it?! There was the thrill of knowing that maybe you weren't supposed to be seeing it, and that may have also been the moment you realized not every adult was as lame as you originally thought!



Duckman provided joyous thrills for the youth of the 90's, and brought laughter into the lives of many adults. For those of you who never dabbled into the first animated show truly for meant for an adult audience, let's catch you up to speed.








Duckman is a private investigator, but saying that's really his profession is a little misleading. Oh, sure, he shows up to the office to battle wits with a Joe Friday-esque partner by the name of Cornfed Pig, and they'll take cases by the dozen. The only true private investigating Duckman can be credited with however, is that of the female form from afar.



He spends most of his time fighting a constant loneliness due to the loss of his wife, by living it up like a true bachelor. He'll smoke, spit, curse, stare, 'read' adult magazines, go from 0-to-enraged in .79 seconds, and he's all about number one. Jason Alexander voices the incompetent narcissist, so if you're a fan of Seinfeld, there are plenty of moments to remind of you some of the most maniacal rants George Costanza ever had to offer... on an episode by episode basis!



However it's not all fun and games for the horn ball with a license to stalk. There's actually some intelligence amidst the sea of hormonal confusion, and believe it or not, there's a heart somewhere in there too!



He misses his darling wife, and he's reminded of it more and more each day, as he's living under the same roof as his pain in the ass sister-in-law, and his gassy comatose mother-in-law. However, there are other things in life he needs to think about. His children are forced to endure seeing their father as a humiliating mess, and I can only imagine what that can do to someone's sanity. He yearns for someone else to be his better half, because he spends a lot of time being fearful of the idea he may die alone.



We had plenty of insight into who Duckman really was in the first couple of seasons, and although the final two seasons don't go out of their way to follow any more of a story line than the first two, seeing Duckman carry on his life episode after episode seems to add more depth to his character than ever before. It's not like the character Duckman itself, or even the show, changes its formula to add this depth though, it's just pretty much like being around a friend you've known for a long time. They may not be changing drastically, but the quality time sure goes a long way in uncovering the pieces of who they really are.








Duckman was always an incredibly quirky and crude show. The animation isn't anything spectacular, and at first glance, the production values could come off as amateurish. That's exactly how it was intended to be though, and it's one of the many reasons why the show was beloved by so many people. It was unique and had its own voice, which to this day hasn't been replicated. It never insulted the intelligence of its audience, and it never changed its tune for the sake of some whiny adults that complained the show was too mature for a cartoon. The series never played by any of the rules that were paved by other sitcoms/animated sitcoms, and that much was clear all the way up to the final episode, which had anything but a typical ending for a series.



If the premise alone isn't enough to sell you, and you insist on some insight on the overall presentation or tone of the show, then take this into consideration. Imagine taking detective mysteries, old school film noir, political and social satire, pop culture spoofing, a touch of 'awwww' to warm the heart, a spit's worth of family values, and blend it all together with a dash of hormones and just a pinch of insanity. That's pretty much what you'll find consistently throughout each episode of Duckman. It's well written, and the voice acting from Jason Alexander is fantastic. Heck, the vocal work is also entertainingly twisted from guest stars Tim Curry, Ben Stein, Eugene Levy, Ice-T (as himself), and even Brandon Fraser.



It may have been a low-key adult sitcom under the guise of animation, but the celebs certainly knew where it was at!



I'm raving about the series here, I know. Growing up, I didn't quite 'get it'. It wasn't until I got a bit older that I truly appreciated Duckman for what it was. However, that's not to say there aren't a few rough spots along the way.



The fourth season seems to drop off a tad in quality, but it's still a season that holds a wealthy cache of hilarity. The drop in quality is only when it's compared to the first three seasons, but it's still quite a bit better than most of the drivel on television even today.








Although this show still continues to have a growing fan base, thanks to the internet and DVD, it's a show I would highly recommend everyone checks out before they make a blind buy. There's a quality to Duckman that can't be beat, but it's certainly not a show for everyone. There are a great deal of people out there that prefer to shut their mind off and see shows that are 'in your face' with the funny, such as Family Guy. If you want something that's grounded a little closer to reality (as odd as it is to say that about a show that stars a raving duck), and a little more subtle with its humor, then you'll most likely appreciate this show.






Video





The video quality is certainly good enough for a show that never had a tremendous amount of ratings, or even love outside of its fan base for that matter! Presented in its OAR of 4:3, the color palette is surprising eye popping for an animated product done on film, and the contrast between vivid color saturation and dark levels are complemented nicely with great black levels.



There are some extremely minor issues throughout the third season, such as little pieces of dirt here and there, some interlacing that can be seen from time to but is never excessive or distracting, and you may get some softness for certain clips throughout each episode. Remember though, this was done with film, not a computer.



The film quality is fairly consistent throughout season three, but it all seems to get a little shaky throughout season four. The quality tends to flop around, making the final season far less consistent than as we've seen for the first three seasons thus far.



For the exception of season four, if you already own the first DVD set, then you can pretty much expect the same in terms of quality.






Audio





There's a Dolby Digital stereo track available in English. The sound effects throughout the series are represented well from left to right, providing as good of an experience as you can through stereo. There's not a lot of bass or any emphasis at all during louder sequences, but I don't believe this is a result of the transfer. The show was on USA starting in 1994. It's probably fair to assume that the sound mix was never intended to be 'full'.



There's closed captioning, but no subtitles have been included for this set, which is a minor feature maybe to some, but it's a simple thing to include. There are many who need subtitles so there aren't black bars with text covering important aspects of the picture, and some simply like to use them when they need to have the volume low enough to not hear everything.






Extras










The first boxed set didn't offer the extras a show like Duckman deserves. After all, late night spot on television or not, we're talking about a show that was a stepping stone for other adult themed animated shows! Unfortunately, it appears the second boxed set doesn't offer a ton of features either. You would think each disc would offer some sort of extras, sprinkling the amount of content the show deserves across the entire set. Unfortunately, it's not until the final disc that we get to the special features.



Video of the Original Animatic Drawings and Animation from the Unaired Pilot with Everett Peck and Gregg Berger - Finishing off at close to the 16 minute mark, this featurette provides footage from the original unaired pilot, while featuring voiceover and interview footage in between with Everett and Gregg. It's informational enough, but it doesn't really provide any depth in the areas the fans would love to know about. It's a decent enough extra perhaps for the first set, but as the beginning piece to the final release we'll see for Duckman, it doesn't really impress all that much.








Walk Cycles, Expressions, Storyboards and Pencil Tests - This is only about a minute in length, and briefly shows rough pencil animatic tests, as well as a few still pencil sketches.








Selected Storyboard Scenes from "I, Duckman" - About three minutes in length, this is just a musical montage of storyboards from the mentioned episode.








Easter Egg - What the Hell Are You Starin' At? - Only about 20 seconds in length, this Easter egg is a brief clip of someone spray painting a large, black and white Duckman on a wall sized piece of paper.








Seriously, this is it? A triumphant return to DVD for a series that paved the way for adult oriented animated sitcoms, and this is all that could have been offered? The series is fantastic, and the set is more than worth owning due to the fantastic episodes that are available, but CBS DVD really dropped the ball on the extras. It's truly sad when the first set in series on DVD contains better extras than the closing set!






Overall










Duckman is now finally complete on DVD, and there's not a single fan out there that can worry anymore if the first DVD set sold enough to warrant another.



This second set offers a fantastic third season that's right in line with the first two seasons as far as quality goes, but the fourth season seems to be the point where Duckman loses a little steam. That's not to say the final season is bad by any means, it's still quite good.



Numerous animated sitcoms exist today, and they all poke a bit of fun at the world we live in, but I dare you to find a single show that's as witty about it as Duckman. It's not just the content or message that's trying to reflect on pop culture and life in every episode that makes this show a gem, it's the execution of it as well. The animation is uniquely rough, and a great artistic choice. Even when one of the main characters isn't on screen, you can immediately tell that you're watching an episode of Duckman. The voice work is great, too. I mean, come on! You pump George Costanza with 18 pots of coffee and feed him anger pills, and you basically have Duckman, one of the most dynamic animated characters of our time!



The video presentation is fairly decent, and the audio is pretty much as accurate to the original source as it can be. The only true downfall to this set would be the lack of extras. It would have been amazing to have commentary on all, or at least some of the episodes. It would have been extremely valuable to hear Jason Alexander and other people that were part of Duckman's production, talk a bit about their experience working on the show. CBS DVD seems to have a knack for putting the best of the best on DVD; it's just too bad they couldn't do this one justice. Because of the decent, but not great video quality, lack of subtitles, and a lack of extras, I can only give this set a recommended rating. I can't stress how much this show is worth the money on its own, but everyone should at least watch a few episodes before committing to a blind buy as this show is not for everyone.

-About the Author- Michael Zupan is primarily a film guy, but has a variety of places where you can enjoy his work otherwise. Check Bytesizeimpressions.com for video game op-ed pieces and podcasts, and be sure to check out the sister site, Byte-Size Cinema, linked up top. This writer also contributes significantly to in-print magazines such as Minecraft Explorer and Fortnite Explorer!
---
C O N T E N T

---
V I D E O

---
A U D I O

---
E X T R A S

---
R E P L A Y

---
A D V I C E
Recommended
---
E - M A I L
this review to a friend
Sponsored Links
Sponsored Links