History (it took me long enough to quit calling it The Hitler Channel, now I have stop calling it The History Channel?) gathers up three rough-and-rowdy samples of what has now been dubbed the "real men in danger" subgenre of reality TV with the American Originals Megaset, featuring the complete first seasons of cable hits Ice Road Truckers, Ax Men, and Tougher in Alaska. Although not mentioned on the front of the American Originals Megaset DVD box, History has included eight episodes of their Dangerous Missions series - an apples-and-oranges fit for this megaset of reality TV programming, along with a bonus addition of the mini-follow-up, Ice Road Truckers: On and Off the Ice. Let's briefly look at the individual series.
ICE ROAD TRUCKERS - THE COMPLETE SEASON ONE
"You become a pro fast, or you wash out. That's life on the ice road."
Programming trends in television have always been cyclical and imitative, so when the WWII documentaries started to wear thin over on The History Channel, and the home redecorating and personal makeover shows on The Learning Channel and The Discovery Channel seemed to cannibalize themselves, everybody was waiting for the next "big thing" in niche cable programming. Certainly the success of Deadliest Catch on The Discovery Channel back in 2005 took everyone by surprise (although shows like Modern Marvels had already been laying the groundwork for Deadliest Catch's success), and with its socko ratings came, of course, "knock-off" programming (that's not a pejorative - just a fact). Ice Road Truckers, produced by the same people who created Deadliest Catch, garnered even higher ratings for The History Channel, solidly securing the "real men in danger" subgenre of reality TV for probably years to come on cable TV (until, of course, the next "big thing" comes along).
Filmed in Canada's remote, harsh Northwest Territories, Ice Road Truckers looks at the truck drivers who haul precious cargo to and from newly discovered diamond mines 350 miles away from the N.T.'s capitol, Yellowknife. During ten months of the year, the surrounding lakes and spongy permafrost make the diamond mines largely inaccessible; traditional roads can't be built over the water and permafrost, and boats and airplanes can't haul the massive drilling equipment that's needed. That's a job for a semi-truck. And only during a two month period, when the winter cold is at its lowest and the ice deepens to at least 28 inches, can "ice roads" be formed over the frozen water. Bulldozers clear a path through the snow, and portages connecting the frozen lakes are created by forming water and snow to make the artificial bridges, resulting in a treacherous, slick ice road that can successfully weather over 10,000 semi-loads of vital equipment and supplies.
If you've ever walked across a frozen river or lake, or even over a big frozen puddle, you know that's an unnerving sensation - particularly when you can see down through the ice, and hear it cracking as you walk. Now imagine driving over that water (which can be over 80 feet deep) in a huge semi, connected to a trailer carrying tons of equipment that would drag you to the bottom of the lake in a matter of seconds, submerging you in freezing water that could bring on an instant heart attack or hypothermia in a matter of minutes? As thin as 28 inches sounds, even more disturbing is the knowledge that the ice gives as the trucks drive over it, sending out a constant undertone of cracking as the road bows under the weight of the semi. Because the ice is flexible, the trucks can only travel at a low rate of speed, or a "pressure wave" of water will form under the bowing ice which could cause a break-through ahead of the truck. As well, the trucks can never stop on the ice, either, because the weight of the loads and the vibration of the engines could send the trucks straight through the cracking, failing ice. So trucks must drive in spread-out convoys, taking well over 10-hour trips at a time to get up to the mines, only to head back down again for another load. And that's if they make it in the first place, because the extreme cold of the Northwest Territories plays havoc with anything mechanical. And getting stranded in a semi without power can spell death in a matter of hours for the drivers.
Ice Road Truckers would make for an interesting documentary if it only focused on the actual process of making and driving the ice roads, as I described above (and indeed, the impetus for the series was a 1999 History Channel documentary, included in this box set, which aired as part of the Modern Marvels series). But to make a series, you need characters, and Ice Road Truckers has more than its fair share of those. The drivers in this first season of Ice Road Truckers include Hugh Rowland, "The Polar Bear," a owner/operator who practically lives on the ice (he's constantly driving a load) and who can be found lifting weights in the cab while he drives. Two of Hugh's drivers are featured this season: Drew Sherwood, a rookie to the ice roads who's a hard-luck case if there ever was one (never-ending mechanical problems - many of them due to his own lack of experience), and Rick Yemm, Hugh's "best friend" who nevertheless clashes with his boss Hugh over his truck's mechanical problems (a faulty heater for his feet), and who gets called a "little girl" by Hugh. T.J. Tilcox, a 21-year-old rookie who looks quite a bit younger, shows his mettle over the season, suffering a serious injury but sticking the job out, earning respect from bosses and other drivers for his grit. 25-year-old Jay Westgard looks even younger than T.J., but he's considered one of the best drivers on the ice road, with a stated preference for taking the most dangerous, heaviest, most oversized loads - delivering them successfully, time and time again. And finally, there's Alex Debogorski, a fascinating veteran ice road trucker who also serves as a lay preacher (after living a rather rambunctious youth in and out of the law). Pulling big loads to support his 11-children family, Alex is the kind of natural leader who exudes competency and professionalism - along with a healthy dose of "who cares" attitude.
I enjoyed Ice Road Truckers primarily because it took me somewhere I've never been (it seems like Alaska has always been treated as an afterthought in our television history), and showed me the mechanics of a job I didn't know existed - nor one that I could even have imagined was possible - that's what makes for compelling television. Watching these kind of adventure reality shows, I want to see how stuff works; I want the nuts and bolts of what goes into getting the job done, while appreciating the efforts of individuals who have chosen this frankly crazy profession when nobody else seems to be lining up for the chance to drown in frozen waters. Now of course, Ice Road Truckers isn't above fudging a few of the facts in the pursuit of compelling TV; for instance, we don't learn that the trucks, for safety reasons, roll in convoys until about mid-way through the series, making some earlier episodes where truckers seemed to be out all alone on the ice road, a little dodgy, truth-wise. Still, the series does own up to its little editorial touches (a plus in these kinds of frequently dishonest reality shows), and the "cast" is agreeably eccentric. And those drivers aren't afraid to lay it out there as to why they're doing what they're doing: money and bragging rights (as Alex says, the "dash for cash" is ultimately about who has the "biggest pecker," a funny and honest line). Ice Road Truckers sets out to honor not only the ingenuity of man, but his guts, too, while subtly celebrating the single greatest instigator of technological advancement: money (a crude, refreshing peon to that apparently vanishing concept of capitalism).
---
AX MEN
"You run in for the job, and you run out for your life."
Don't call them lumberjacks (apparently, they don't like the checked red-flannel/suspenders stereotype that goes with that word). Call them loggers, or better yet, ax men. Ax Men, created by the same people that produce Ice Road Truckers looks at four logging companies operating in Northwestern Oregon. Harvesting second-growth "roads" of timberline (replanted sections of forest from over fifty years ago - yes, they knew all about conservation way back then - so relax, tree-huggers), these four companies face a variety of roadblocks in their efforts to earn a buck: restrictive governmental policies on where and how they can harvest trees, the declining construction market that has made logging less profitable, the physical isolation of the harvesting sites (adding to the expense of shipping the trees), the advancement of robotic tree-felling, the unforgiving Oregon weather (a catastrophic hurricane hits the area this season), as well as the sheer danger of felling these 60 foot-plus, monster trees on slippery wet, treacherous mountain slopes.
The series looks at four logging companies: Gustafson Logging, a 35-year-old logging company out of Astoria, with crew foreman Darrell Holthusen the most prominently-featured employee this season; Pihl Logging, a 25-year-old logging firm based in Vernonia, Oregon, run by company owner Mike Pihl; Stump-Branch Logging, a relatively new company (12 years) run by owner Melvin Lardy, out of Banks, Oregon; and J.M. Browning Logging, out of Astoria, Oregon, which was started in 1985. Cross-cutting back and forth between the separate companies (who don't come into contact with one another in the series), Ax Men "creates" an on-screen "competition" between the loggers, keeping a running tally as to who cuts and hauls away the largest number of tree loads within the fall season. It's clear, though, from watching the footage that the companies themselves are not involved in a contest or race to beat one another, as there is no interaction between any of the principles
That fake "contest" is an unnecessary suspense-builder, a framework imposed on the episodes, I would imagine, because someone thought Ax Men needed to ape Deadliest Catch's and Ice Road Truckers' similar fake competitions It's unnecessary because the footage featured here is more than compelling enough in conveying the dangers and sheer physical hardships of logging; we don't need to believe that there's some kind of race to see who's going to haul the most logs. I can't remember if there's ever been a TV series about loggers, but I fondly remember reading Ken Kesey's Oregon logging novel, Sometimes a Great Notion in college, and eventually catching its vastly inferior film adaptation by Paul Newman. And there's a scene in that movie which I kept thinking about while watching Ax Men - the drowning death of Richard Jaeckel, playing a logger trapped under a huge felled tree that slowly rolls him underwater - that to this day is one of the most cringe-inducing death scenes I've seen in films. Nothing like that, of course, happens in Ax Men, but there are several scenes where close calls with flying choking cables and runaway logs and stumps come close to killing workers down in the treeline, while almost every scene in Ax Men conveys the extremely arduous nature of the work, and the happenstance dangers that lurk in logging (according to the narrator of the series, over 100 U.S. loggers have died each year in just the past ten years).
As with Ice Road Truckers, Ax Men generates suspense by detailing how, exactly, its dangerous occupation is carried out. If you think the loggers just go and start chopping down trees, Ax Men is an eye-opener. At first, yes, timber fellers do go into the particular "road" (section) of trees they're going to fell, and start toppling trees, but the skill required by these cutters to place the trees precisely where they should land - without killing themselves should a tree splinter or break apart, thereby endangering the cutter - is impressive indeed (regular Pihl Logging employee, Dwayne Dethlefs, really shines here, an old-pro tree feller with an ornery, weary demeanor lending credibility to his years of mastering his trade). Then, the loggers scramble down over the fallen trees and treacherous branches and place choker cables on them, which are then pulled up by a "sky line" cable back to a yarder or yoader, which has a huge, tent-like pole (wired down) that holds the skyline. Watching the men not walking but running over these shifting trees is nerve-wracking enough (the men constantly worry about getting pinned or crushed by the pick-up-sticks trees), but when the electronic "all clear" is sounded by the hook tender to jack up the sky line, it's frightening to see those loggers dashing away from the logs at full tilt. And they run like this all day (remember that the next time you bitch about a hard day at the office - and then think about where all that paper came from on your desk). Watching a young company like Stump-Branch Logging (owner Melvin Lardy relies on second-hand equipment and a small, young crew to stretch every dollar of his small contracts) utilize a crazy-looking technique like "jammer logging" (where the yarder swings the choker cables around like you would a grappling hook, letting it fly off into the trees like casting a fishing line - a fishing line that could snap a man's head off like a dandelion), just further reinforces the feeling the viewer gets that these workers are of another time and place in American labor - when most jobs were truly dangerous.
There's an extra element to Ax Men, not really found in Ice Road Truckers, that I found particularly interesting, an economic factor - namely, the sudden drop in the construction business - that lends an added subtext of suspense to the series. In Ice Road Truckers, everybody is getting fat. The diamond mines are operating at capacity, and the truckers can have as many assignments as they can handle; the amount of money they make is dependent only on how badly they want to grab it up. But in Ax Men, it soon becomes apparent that notwithstanding the already penurious governmental and environmental limitations inflicted on the logging industry, the ups-and-downs of the construction industry also buffet the loggers, with the down-turn in the housing market in 2007 severely impacting their ability to earn money (a devastating hurricane, as well, causes disruption through the destruction of the few roads and access routes the loggers use to get to the isolated sites). That day-to-day struggle to survive - added to the already arduous, dangerous duties the loggers perform - gives Ax Men an edge that I found compelling.
The only element of Ax Men that I wished the producers had pursued more fully - brought up once or twice in resigned statements of facts by several of the loggers - was the notion of the culture of the logging community dying off with the industry. These are proud, hard-working men who have this business in their blood (it's surprising how many of them come from families who have done this for generations); it's a way of life as well as a way of making a buck for them, and the continued decline in the logging industry within the United States borders is choking off that worthy way of life - a loss of a rich segment of the American heritage that is never mentioned when one hears someone bleating about the plight of spotted owls or tree frogs. Let's hope the producers of Ax Men delve a little deeper into this aspect of the series in the upcoming second season.
---
TOUGHER IN ALASKA
"In Alaska, we love the land...and we know it can kill us."
Hosted by Geo Beach, Tougher in Alaska sets out to show us "lower 48s" what it takes to live and work in Alaska - a task many of us probably take for granted, let alone even think about, but which a viewer won't forget after watching this entertaining series. Alaska's climate has been in the news recently (how's that ice sculpture of Algore holding up?), what with record-shattering low temperatures, so one can only imagine how the various jobs profiled here (during what appears to be a break in the truly heinous weather in Alaska) have been affected. Tougher in Alaska looks at jobs as "glamorous" and exotic as gold mining, to as thoroughly mundane as sewer repair, and shows how incredibly difficult they can be in Alaska's challenging climate. The series is chock-full of facts and figures about what it takes to live and work in Alaska - some of them quite shocking (while on average, four workers per 100,000 die on the job here in the lower 48, thirteen per 100k die in Alaska), while the travelogue aspects of the show are well exploited, giving the viewer a good sense of the grandeur - and the almost terrifying indifference - of the extremes of the Alaskan terrain and climate.
With episode titles like Gold Mining, Logging, Wild Waste (sewage treatment), you can get a basic idea of where Tougher in Alaska is going; it's not unlike Dirty Jobs' structure of finding obscure occupations that only a handful of hardy souls would contemplate keeping as daily grinds. But Tougher in Alaska goes one step further, covering all kinds of jobs (not just the "dirty" ones), such as salmon fishing and police work, and shows how difficult any occupation is when you do it within millions and millions of acres of harsh terrain, isolated from the rest of the world, with a climate that, to put it mildly, resists the continued efforts of human beings to survive it.
Tougher in Alaska can be a little confusing at first, since the filmmakers employ a somewhat unconventional way of linking the various segments within the separate episodes. While individual sections of each episode are filmed at various times during the year (as Beach explains in narration), the cutting back and forth between these sections can get confusing when we forget where, exactly, Beach is, and what time of year he's there. As for Beach himself, I would imagine he's going to be an acquired taste for many viewers. Evidently an Alaskan himself, and a bit of a jack-of-all-trades, Beach can be overemphatic and faux-robust in those overdone intros and fade-outs, while some of the "jokes" written for him would make Berle blanch ("We're hot-footin' it over to Coldfoot..."). Beach is best when he's quieter, listening to the people he meets, showing an obvious sincerity and respect for what they do. We "get" that everything is tougher in Alaska just by watching the footage; we don't need Beach to oversell it.
The show is at its best when it presents us with the sometimes mind-boggling efforts that must be employed for the simplest tasks in Alaska (the Wild Waste episode is a real eye-opener, when you learn how few Alaskans have piped-out sewage, and how primitive it can get at the outer fringes of the settlements - the steam hoses to unclog frozen raw sewage pipes are wild, indeed), as well as when we meet the dreamers, the adventurers, and the ordinary citizens who carve out a living near the Artic circle. In Gold Mining we meet two older scallywags who ginned up a makeshift dredging barge to look for gold on the bottom of Nome bay (those guys should have their own show), while in Deadly Winter, we meet Bill Blizzard, who quite seriously is looking to kill the wolf that killed his beloved dog (he goes out every night in the subzero weather with a scoped rifle...just waiting). In Artic Troopers we meet a solitary, enigmatic man who lives all alone in a very nice cabin, miles and miles away from anyone because he simply wanted to "get away," as well as solitary Alaska Wildlife Trooper Andy Evarts, a young married man with a wife and kids who flies planes and snowmobiles over his "beat"...which is the size of New Mexico (he needs his own show, too).
These are the entrepreneurs, the doers, the dreamers that make up Tougher in Alaska, and they're a fascinating array of characters. It doesn't matter that the show sometimes gets very silly (the Dangerous Earth episode with its loony global warming hysteria - which is then undercut in the very same episode where they describe an ever-expanding glacier that's "bucking the trend" - how'd it do that?). And it may be frustrating to see these last-frontier survivors trying their damnedest to live in an area that's overflowing with resources (half of our coal reserves are in Alaska), and yet those resources are locked down tight by environmentalists and goofball governmental policies that say, "Look, but don't touch"(if you ever needed a better lesson on how restrictive environmental policies actively encourage and promote foreign out-sourcing, watch the heartbreaking Logging episode, where the totally unnecessary destruction of Alaska's once-thriving logging industry is examined). But ultimately, Tougher in Alaska is an encouraging sign that there are still bands of hardy American stock out there that see life as an adventure and a challenge to be met with ingenuity and resolve and good humor - not with pissing and moaning and navel-gazing post-modern angst.
The DVD:

The Video:
My understanding is that the stand-alone releases of three series included here were full-screen transfers. However, for the American Originals Megaset, all three are presented in non-anamorphic, 1.78:1 widescreen. The images don't look cropped; however, since I didn't see these when originally broadcast, I can't see definitively if these have or haven't been cropped for a widescreen effect. As with most History releases, interlacing and edge enhancement is a factor, but overall, the images are acceptable, with a general sharpness and correctly-hued color values.

The Audio:
The Dolby Digital English 2.0 stereo tracks for the American Originals Megaset series are adequate, with moderate loudness levels, but limited separation (too bad we can't hear those trucks roaring to life, or those chainsaws cutting into those 70-year-old trees, in 5.1). There are no subtitles or close-captions.

The Extras:
Since these episodes aren't listed on the front of the American Originals Megaset cover (which is shaped like a book, and which unfolds with split clear disc holders for the 17 discs inside), I'm going to treat them like bonus material - especially since the Dangerous Missions episodes seem so out of place here. Taken from the 1999-2002 History Channel series, these eight episodes - Suicide Missions of D-Day, Marine Raiders, Forward Observers, Pathfinders, Rescue Swimmers, Merrill's Marauders, Assault on Iwo Jima, and Hostage Negotiators are excellent introductions to their subject matter, with re-creations, interviews, and historical footage utilized to put over a dynamic documentary (in other words, typical History fare). I can see how someone at History thought these Dangerous Missions episodes might be a good fit with the American Originals series, because, after all, they're stories of real men performing dangerous "occupations" (although it's odd to equate serving in WWII with an "occupation" as we define the word today). I felt uncomfortable with the inclusion of these documentaries primarily because after watching them, it made the newer series seem lightweight by comparison - in what is risked for those jobs. There's no denying that logging and ice road trucking is dangerous, life-threatening jobs. But putting them up against service men who died fighting for their country is an uncomfortable, unnecessary apples-and-oranges match-up that seems ill-suited to the purpose of this box set.

In addition to the Dangerous Missions episodes, we get Ice Road Truckers: On and Off the Ice, the mini-follow up to the successful first season, where the truckers get together at a diner and swap b.s. about trucking and what really went down during that season in front of the cameras. It's a fun look back at the season, with all of the truckers coming off as fairly ingratiating, modest guys (I love it when Alex says urban freeway drivers are the true heroes). Other bonus features include the original pilot episode for Ice Road Truckers (which features a pretty cool historical overview of the ice roads). Bonus footage for Ice Road Truckers includes five featurettes - Meet the Truckers, Overcoming the Challenges, Perils of the Ice Road, Behind-the-Scenes, and The Countdown - all which are interesting looks at the series' production (but not exactly necessary). Additional footage is also available for Ax Men (about 28 minutes' worth) and Tougher in Alaska (about 45 minutes' worth), but again, they're only supplemental - you could easily skip them. For a boxed set of this size and price, I'm a little disappointed in the amount and quality of the extras.

Final Thoughts:
"Real men in danger." That new subgenre of reality documentary programming pretty much nails the appeal of the three series featured in the American Originals Megaset: Ice Road Truckers, Ax Men, and Tougher in Alaska. Giving us a glimpse of hazardous occupations performed under arduous (at best) conditions, the series in the American Originals Megaset remind us that, despite the pervasive, media-perpetuated view that we all sit around clacking away on laptops ....(as I clack away at my laptop, typing this...), there are still Americans out there - more than the pop culture acknowledges - that work their asses off for a living. The American Originals Megaset is perfect weekend viewing when you want to block out about 37 hours of TV time for some heavy-duty macho head games. I highly recommend the American Originals Megaset.
---
Paul Mavis is an internationally published film and television historian, a member of the Online Film Critics Society, and the author of The Espionage Filmography.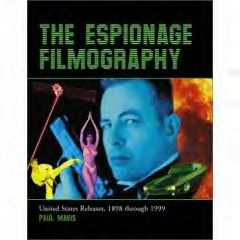 ---